When someone, i.e. you, wants to decrease their body fat, increase their strength or muscle mass, or simply improve their health through general fitness and activity… They need a plan. More specifically, a personal trainer or an app that acts as one in order to provide that plan.
See, we have two types of people reading this article right now.
Person A is a personal trainer, fitness coach, or online coach who DOES training for a living. That might be you. If that's you, YOU GET IT. I don't need to explain why this is important.
However, you may need some accountability or better systems for your OWN training so that you can continue practicing what you preach and living in a body that represents your product well.
Not to mention as trainers, it's hard to train ourselves… isn't it?
Well that's because you often make decisions based on emotions, instead of logic. Which is normal 𑁋 you're a human being! But in order to navigate through that and get more out of your training, you need to hire that logic elsewhere (i.e. personal trainer, for a personal trainer).
Person B who is reading this article is NOT a trainer, they're an everyday gym goer who isn't a professional in this field. Therefore why on earth would we expect them to know everything as if they were? 
You wouldn't expect someone who isn't a mechanic to know what to do when their car blows a gasket and stops running, would you? No 𑁋 you'd expect them to hire a mechanic.
Which is why for these individuals, it's also crucial to have a system in place to guide you through your training journey. Something or someone to tell you WHAT to do in the gym, exactly HOW to do it each time, and WHEN to change things up within the routine.
Well… Our app, The Tailored Trainer, does just that.
It's a personal trainer in your pocket, literally. 
So in this article, I'm going to break this all down for you and explain what a personal trainer app even is, how it works, why you may need one, what the pro's and con's are of having a trainer in real life vs. the one on your phone, some tips to keep you motivated to get to the gym in the first place, and last but not least 𑁋 7 tips on how to take full advantage of our personal trainer app, The Tailored Trainer.
What Are "Personal Trainer Apps" and How Do They Work?
Personal trainer apps are exactly what they sound like; they're apps that utilize software to guide you through your workouts and training journey, much like a personal trainer would.
If we think about what a personal trainer does for us, it boils down to a small (but important) list of things:
Provide you with training programs (workout plans)

Teach you how to execute the exercises properly, with great form.

Help you avoid injuries, aches and pains, by doing things correctly.

Periodize the plan, so there's progression built in for you to continue improving.

Give you support and accountability, so that you stay consistent.
This list is a list of critical elements that provide you with the results you desire. However, not all personal trainers provide all these aspects.
I was a trainer in the gym for 6.5 years before I built my online fitness and nutrition coaching company. During that time I focused on over delivering on each of these aspects and that's still my priority today.
But I saw many other trainers fall short on these things. I saw plenty of trainers copy other people's workouts and throw them at their clients, instead of tailoring them to the individual at hand. I saw them lack the experience needed to truly teach proper form and execution, therefore seeing their clients get injured or acquire aches and pains. I saw them fail to periodize anything, which led to short term thinking and the client coming into the gym month after month without showing any signs of improvement.
I saw and still do see A LOT of this in our industry!
At best, these poor quality trainers are just motivators and supporters. Which is awesome… but let's be real, you go to them FOR A RESULT. Not a pat on the back and a high five for driving to the gym.
But after years of training, I realized that not everyone can afford personal training.
I had clients spending a minimum of $350 per month just to see me ONCE per week. So there were clients paying that and all the way up to $1,000+ per month for a trainer!
I valued training enough to know it was worth it and my time wasn't something I was willing to give up for free or cheap. But I knew there had to be a better way to reach more people, train the masses, and do it at a rate that was feasible for ANYONE.
And then, The Tailored Trainer was born.
I priced it at $27/month so it was less than $1/day and everyone could afford it.
I also implemented EVERYTHING on that list, so that it was as good as the best trainers and better than the average ones.
So what is a personal trainer app? And how does it work?
Well, it's a trainer in an app. The programming, the support, the exercise education, the form checks, the demonstrations, the periodization, the individualization… it's all this, wrapped up into a state-of-the-art software that goes with you everywhere you go.
It works by logging in, deciding on a program, asking any questions you need (to your trainer, who is just a direct message in the app away), and implementing the right program, for you, into your calendar. 
Then, you just follow along and progress as the training weeks go by!
Is This Really Like Having A Personal Trainer In Your Pocket? (Personal Trainer vs. App Comparison)
Short answer, yes. Because as described above 𑁋 except it's accessible wherever you go and about 1% of the cost you'd pay for a personal trainer.
Now, does that mean this is for EVERYONE….?
I'd say no, if I'm being honest. 
Even though I do not sell personal training anymore and just offer this app, I still would rather you spend your money where it's going to give you the biggest return of investment.
And for some, that's with an in person trainer.
This advice goes to anyone who can relate to or struggles with these two things:
1.) You hate the gym.
If you just don't like training, aren't ever motivated to workout, and don't enjoy lifting (or have a big enough driver, via your goal physique, to get you there)… you may need to hire someone in person.
When you do this, you have a designated appointment with a real human being WAITING on you to arrive. That is a level of accountability that an app or any software cannot provide.
Your peloton won't do it for you either! You just NEED another HUMAN BEING to work with.
Now, we also do this via online fitness and nutrition coaching. In fact, our primary business is based on that and we only created the app once we realized we we're going to be able to serve everyone and not everyone could afford to work with us privately.
So if this is you, but you don't feel like you necessarily need to go INTO the gym to work with a personal trainer 𑁋 rather, you just need a personal coach: CLICK HERE NOW.
2.) You're brand new to lifting.
The beauty here is that you're about to walk right into what we call "Newbie Gains". This is the phenomenal aspect of just starting out that basically means you're going to get amazing results, very quickly. Dramatic change happens when you're new to lifting weights because your body hasn't experienced the physical stressors you're about to place on it and therefore it adapts rapidly.
But that's good news, for the app or a personal trainer
What I'm referring to here is being so new that you don't actually know HOW to lift, because lifting is a skill that requires practice and oftentimes great teaching.
So if that's you, you may need to spend some time in the gym with a personal trainer first in order to develop the skills required to execute a program properly.
Yes, our personal trainer app has video demonstrations, notes, and execution tips 𑁋 because even advance individuals need guidance!
But there is nothing like a great personal trainer being hands on, if you're brand new.
Tips To Stay Motivated To Get To The Gym 
Now, the first things to remember when trying to stay motivated for the gym are that you a.) need to have a goal because without a goal you have no direction and b.) need a plan because there's nothing that crushes motivation more than guessing and spinning your wheels, while you get nowhere (due to lack of structure).
So if you don't have a goal, SET ONE. You need to set a goal, visualize that goal, and REALLY commit to it. That goal IS your motivation. 
I recorded a podcast that covers motivation and goal setting, that you'll really enjoy and get a lot out of if this is you who struggles with setting goals 𑁋 Click Here and Listen.
Lack of structure can be quickly fixed by just downloading our app, obviously. 
But the point isn't the call to action, for our app… the point is that you need a plan and having a plan makes you feel confident about your journey, which is very empowering and motivating in of itself.
Some other tips that will help you get and stay motivated, are: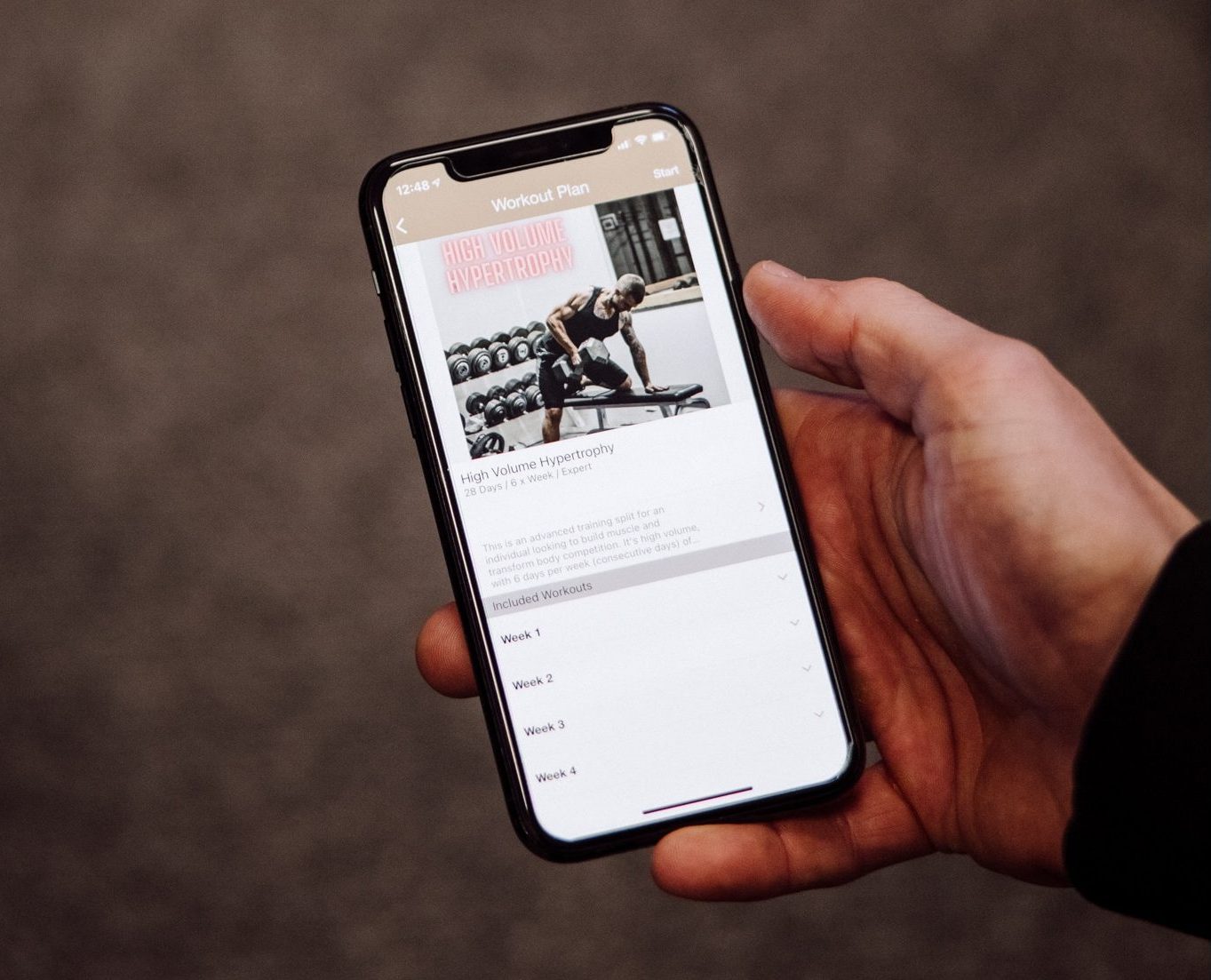 Our 7 Training Tips To Take Advantage Of Our Personal Trainer App 
To wrap up this article, I want to give you 7 simple tips that will allow you to take full advantage of our Personal Trainer App and get the best results possible.
Utilizing The Metric Tracking System For Progressive Overload
Progressive overload is the process of slowly adding intensity (load) or volume (reps) over time, so that you continue to get stronger and challenge your body more.
So whether you want to train to lose fat, get stronger, build muscle, or improve health 𑁋 this has to be an element in your training and cannot be missed. It's what creates results, literally.
So within our app, the best thing you can possibly do is to utilize all the different metric tracking systems we offer. Track your weight, loads lifted in the gym, reps completed each set, sessions completed, personal records, etc… As you track, the app will accumulate personalized data and make future recommendations for you when you're lifting.
DM Your Coach For Tips, Tricks, Adjustments, and Guidance
There's a feature in the app that allows you to directly message myself (Cody, the creator) and our head training coach (Bryan, co-coach in the app) for help. This means you can literally have a trainer on hand, at all times, to answer any questions about training or help you make modifications as you go.
Avoid Program Hopping
Program hopping, also known as Training ADHD, is when you jump from program to program far too often or too quickly. This eliminates principle #1 to take full effect 𑁋 progressive overload. Because if you're jumping ship too quickly, your body cannot progress and fully adapt.
This means that once you start a program, it's best to see it all the way through. Even if that means it's a 3 to 6 month plan!
Can you switch prior? Yes, of course. There are over 20 programming options for you to choose from. So if it's not the best plan for you and you (or the coach you DM'd) knows it, then switch it up.
However, sticking with the plan allows maximal progress to occur.
And don't worry, the program DOES change week to week and month to month 𑁋 so you'll never get bored or feel unchallenged, since it keeps evolving for you.
Stick To The Order of Operations
There are many times where people feel the need to swap exercises around or change the order of programming because of equipment at the gym not being ready or being used by someone else, which I understand.
But programming workouts is an art…
So every stroke of the brush is intentional.
In other words, every single exercise, rep, set, sequence, tempo, rest period, and ordering of it all 𑁋 is on purpose! It's designed that way to be optimal. So by any means necessary, keep it the same.
Be Active In Our Community and Share Your PR's!
The facebook group for the app and the tailored trainer family is there to build culture, connect with other like minded individuals, consume exclusive content, and ask questions. So if you want more support and more answers, jump in and get active!
Share PR's to motivate others, ask how other members are doing with ____ program, ask your coach for advice on progressions and regressions, etc….
Read The Notes and Exercise Details
Every exercise, within each program on our personal trainer app, has a notes feature. This is CRUCIAL to look at because as a coach, I leave you details on how to perform the specific exercise OR how it should be progressed (which cannot be shown in the demonstration video).
This is also where I leave your instructions for RPE and RIR (effort), tempo, exercise substitution options, intensification techniques (drop sets, EMOM's, myo-reps, partials, etc…), and more.
This will just allow you to take more advantage of the specifics within the great programming inside the app.
Review Our Content, To Understand The Principles of Training
Last but not least… check out the rest of our content! Our blog has HUNDREDS of articles, as does the podcast and our youtube channels (Cody McBroom and Tailored Trainer and instagram page. So go into these platforms and LEARN about all this stuff, completely free, so that you can enhance your knowledge of training 𑁋 therefore enhancing your results from your training, too.