Why You Should Hire An Online Fitness and Nutrition Coach
First and foremost, it should come as no surprise that you should hire an Online Fitness and Nutrition Coach if you need to lose weight. Obesity is one of the primary health concerns of society today. Not to mention when we get healthy, build muscle, and lose body fat, we also increase our ability to fight off illness and disease, avoid injuries in and out of the gym, and improve our mental health and well being as well.
So I don't really need to make much of an argument here on why we should be prioritizing our health with a fitness and nutrition coach, do I…?
Didn't think so… which is why, in this article, I'm going to be approaching it from a different angle. The angle of why online fitness and nutrition coaching may be superior and what is included within that, which makes it different.
Now, before you think I'm here to give you a 3,000 word sales pitch on hiring an online fitness and nutrition coach, give me at least a paragraph to prove to you that's not the case.
I know I'm biased… I am an online fitness and nutrition coach. But I've also been a personal trainer for clients in person – in fact, that's how this all started. Well before I became an online coach, I was a personal trainer at a training facility working 6 days a week, coaching hundreds of people over the course of several years.
So this article comes from a place in comparison of the two, actually. I want to talk about the reasons why coaches in general are key to your physical and mental success, while also pointing out specific keys to why an online fitness and nutrition coach may be a level up above the rest.
And by the end of it, whether you hire me or my team to work with you (or any other coach for that matter) or not – you're going to have 7 massive takeaways that you will actually be able to immediately implement into your physical journey.
That's right – NO MATTER WHAT, I want you to leave this blog with some big keys that will set you apart to help your results reach the next level. Coaching or not.
By the way, I recorded a podcast for this article as well. So if you'd rather listen to it, check it out below – or on iTunes, Stitcher, and Spotify.
1 – It's all about systems.
This is the biggest reason why fitness and nutrition coaching is acquired by people, it provides the structure and the systems needed to take results from average to unbelievable.
And oftentimes, this is why people actually hire coaches – even though it's not the deep why behind it. They have an emotional buy-in that oftentimes they're unaware of, but more on that later… Let's talk systems.
Training Program Design is an extremely complicated practice that takes years of studying, experience and implementation to be mastered. It is quite literally the system of training and fitness.
Macronutrient Prescription is another deep concept of nutrition that seems simple on the surface, because it's 3 numbers you follow – protein/carbs/fat – but within those numbers comes individual needs, hormonal and neurological benefits/detriments, recovery implications, performance enhancement, personal preferences, and so much more (by the way, I give away a free guide on this – grab yours here).
Metrics are the way we track all of this, because without metrics to show what is working and what's not… Well, how do you actually see results over time? You don't. So being able to have a system around your metrics to not only track the progress, but also ensure the progress, is a massive key component to online fitness and nutrition coaching.
And each of these three categories can actually spider web into many more micro categories because everyone is so individual and their individual needs must be met within the coaching relationship – that's why we're big proponents of an individualized coaching approach. It's how we fit the plan to the lifestyle and not the other way around.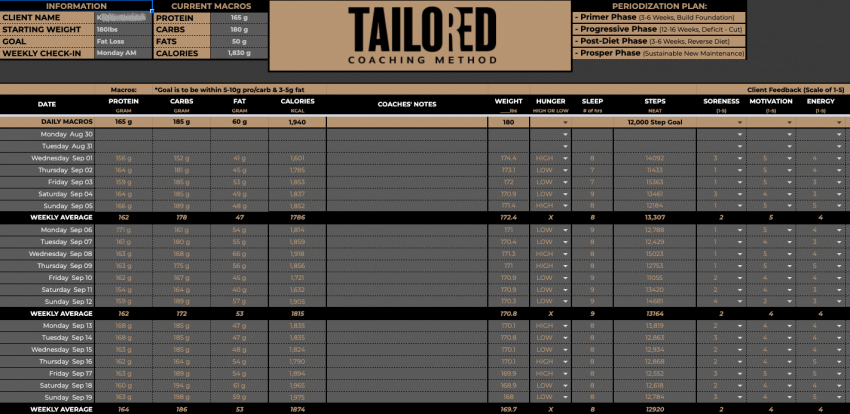 2 – Accountability.
This is like the glue that holds all the pieces together. I should almost put this last, because oftentimes none of it works without this piece. But the truth is, this is too important to NOT have it at the top.
In fact, a study done by The American Society of Training and Development found that you're 65% more likely to complete a goal if you have accountability from someone and you can increase that success rate to 95% if you have scheduled accountability appointments with someone.
95% increased success rate!! That's insane. And it's from ONE simple thing… accountability.
Meaning two individuals could be doing the SAME exact things, yet one has structured, consistent, accountability and because of that they will see a 95% increase in their results compared to the other. If that alone isn't enough to invest in a fitness and nutrition coach, I don't know what is.
But what exactly is accountability and what does it look like in practice?
Accountability is being in touch with a coach constantly.
Accountability is having real conversations and frequently communicating about what's going well and what's not going well that needs to be improved.
Accountability is simply support, because without that it feels like you're alone in the game.
Accountability is having trust in someone, so they can guide you to the final destination you're seeking.
Accountability is having someone in your corner that cares about you, who you actually care about just as much – therefore neither of you wants to disappoint the other.
Accountability is a simple check up to keep a little fire under your ass constantly, which just keeps your motive higher than it would normally be.
Accountability is everything when it comes to seeing results and it's used in every single area that coaching is available – which nowadays is literally every industry.
3 – Consistency.
Now that you have the systems and you have some accountability, you can finally have some serious consistency.
We all know that this is one of the biggest factors in seeing serious results, because there's no quick fix – let's be real.
Even the detoxes, cleanses and whatever else can help you shed 7lbs in 7 days are not really a quick fix, because after those 7 days you gain the majority right back and actually never learned a thing about how to truly get in shape. They're like taking a couple shots of tequila…. You feel great and have a blast while doing it, but in the morning you regret doing it and tell yourself you'll never do it again.
It's a short-term gratification.
Online Fitness and Nutrition Coaching is like a great wine. It's been aged, took a long time to get this good, you can trust its quality, and it actually lasts a while. And when you're done, you feel good about your decision and don't regret a thing.
When speaking of wine, it's because you sipped slowly, enjoyed your time, and you probably don't have nearly the hangover you did with your tequila shots.
When speaking of fitness and nutrition coaching, it's because your results stuck, you learned a lot during the process, you had a good experience, and afterwards you don't need to recover or bounce back from anything at all.
As funny as that analogy may sound, it describes it pretty well because consistency is the key and without it you will just cycle in a loop of frustration.
You need to spend weeks and weeks, if not months, practicing the protocols taught in a good online coaching program in order to see the results they provide AND for them to last a long period of time.
But now that you have the systems and the accountability, it's not that difficult to stay this consistent either. Your coach keeps you on point, you have the exact roadmap to get there, and you're supported during the process.
4 – Education.
This is where a lot of fitness and nutrition coaches actually drop the ball, but also where the best coaches rise to the top of the crop.
"Education builds compliance."
That quote is something I've always practiced. My team stands by every client we serve, and I truly believe it helps us create the results our clients see. In fact, it's why massive educational platforms like NASM, who once upon a time ONLY certified in-person trainers, now are promoting Online Fitness and Nutrition Coaching Certification Courses.
Now, whether or not the courses give you what you need… I don't know, I haven't done that. But what I do know, is that as a fitness and nutrition coach — you NEED to be furthering your education constantly. But guess what… you also need to be furthering your clients' education level, too! Because in order for them to have buy-in and great adherence, they need to understand the processes and methods being implemented.
But we're focused on you today, the client. So look… the reality here is simple; when you go into an online fitness and nutrition coaching program or begin looking for an online coach to take you on – you should be searching for coaching that also provides you with proper education.
Unfortunately, many fitness and nutrition coaches try to keep their strategies and methods to themselves, as if their macronutrient protocols are some form of black magic that only their own personal wizardry is capable of handling.
See what we tell our clients on the very first free consultation call, is that we know they're not going to work with us forever. We tell them that we acknowledge that they're going to leave us eventually and we fully support that.
I know I know… world's worst sales pitch. But hear me out…
This is proof that we care more about them seeing results (and keeping those results) than anything else at all. Because of that, we build their trust and trust is so important in this coaching relationship.
But it also opens up the door for education.
It lets them know that we NEED them to be ready to learn. To be open to expanding their knowledge base. To understand that without proper education, things become a lot more confusing and confusion leads to inconsistency and lack of compliance. It's the buy-in to a healthy journey.
When we educate, people see better results because things make sense.
Would you change everything in your diet just because someone told you to? Probably not. But what if they told you to change ________ because of ________ and it'll respond in your body in ________ ways while affecting ________ hormones and your pushing your performance like ________.
Now you have buy in. Now it makes sense. Now you believe in the method. Now you will be consistent and compliant.
Education is one of the biggest factors in successful online coaching, which is why our goal is to teach our clients as much as possible – it's what leads to results that stick.
5 – Empathy.
Online fitness and nutrition coaching is having someone who is not only empathetic in the sense that they put themselves in your shoes, but in the sense that they've actually BEEN in your shoes before.
Really good online coaches have walked the walk.
They've had their own personal transformation.
Genetically gifted or not, they've had personal struggles with their body that they needed to overcome. Oftentimes it's the un-genetically gifted individuals that have the most compassion inside coaching, though.
They know what being self-conscious and lacking confidence feels like, too.
They know what it feels like to be stuck, hitting plateaus, and not having the immediate answer.
They understand the frustration of being patient and trusting the process.
The main point here is simple – THEY UNDERSTAND.
The evolution of becoming a coach, something I took from a great mentor named Garret J. White, is:
LEARN → LIVE → TEACH.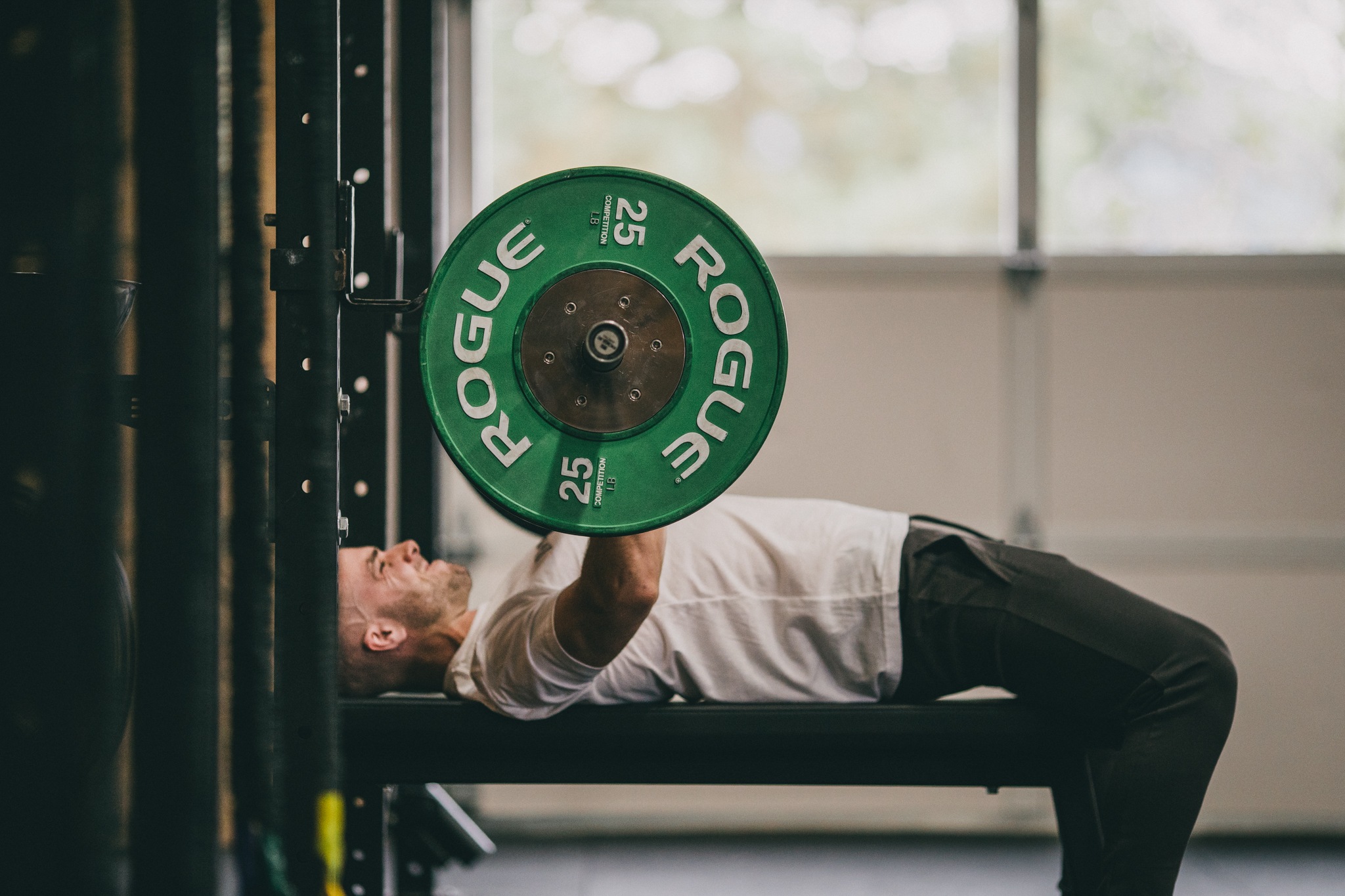 6 – Assessing and Adjusting.
I often tell people when talking about fitness and nutrition coaching in general that, "The magic lies in the adjustments."
The reason I say this is because you'll never give someone a training program and a macro intake once and just watch the results happen over time.
You create a baseline.
Establish their fitness and dietary foundation.
Manipulate after 2-3 weeks from there.
See what happens, how the body adapts, and figure out what's working and what's not.
Consider where they have struggles with adherence and adjust to make things easier.
And over the course of weeks, you're adjusting many different variables until you somewhat find their sweet spot. This is where you actually do stop tweaking, let their body take in all that you've given it, and begin to watch it really make changes.
But notice there were many steps after the initial protocol was laid out for the individual.
This is because we need to constantly assess progress (what's working and what's not) and make adjustments according to the metrics we find from those assessments.
Part of this, in good coaching, is called biofeedback. Biofeedback markers are the things we look for to let us know what's going on physiologically and neurologically, and then determine what will happen physically due to those markers. Things like sleep, stress, mood, cravings, hunger, performance, fatigue, sex drive, and more.
(To Read a FULL Article on Biofeedback Alone, CLICK HERE NOW)
7 – Go Giver.
Last but not far from least, is the simple act of giving.
This is why I am a fitness and nutrition coach. I just love helping people. Period.
But part of that means giving as much as I can without ever asking for anything in return. This is exactly what I've done for the past 8 years in my fitness/nutrition career.
Good coaching is first helping for free, just to give and help for the sake of improving someone's results.
All that being said – the reason I'm telling you this, is because this is what you should search for in an online fitness and/or nutrition coach. Someone who wants to help, just to help.
Someone who will give you some guidance, answers, and strategies to move forward for no reason other than to just help you out.
Now, I will also add that sometimes it's not as easy as it may seem. In my career, I've answered literally thousands, if not tens of thousands, of questions, emails, comments, messages and DM's, etc…. and there have been A LOT of situations where the question was just too individual for me to give guidance without coaching, but I've never sugar-coated that.
Example:
"Hey Cody! I love all your content and get so much out of it, but I'm a little stuck and hoping you can help me out a bit with this. 
I'm 5'4", 157lbs, want to drop about 15-20lbs, train 4 days a week in the gym, consume 1,730 calories, and have a history of hypothyroidism. Within those calories, where do you think my macros should be?"
That's such a specific question, one that I honestly have gotten before – I obviously tweaked it but literally get similar questions with this exact level of specificity – that I cannot truly provide answers without going so in depth into the person's lifestyle, training, dieting history, etc…
And then, my ability to help her be successful is much more related to the adjustments we'd make along the way rather than one single macronutrient intake I could tell her to follow at the beginning.
But in many other cases, the questions we get are as simple as:
Do you prefer a higher carb or lower carb approach when trying to chase aesthetics?
Do you think we can blend crossfit and bodybuilding together intelligently?
What are your favorite protein sources to eat, personally?
Do you use refeeds or cheat meals with your clients?
Do men and women need to train differently?
And the list goes on… this is exactly why I created a podcast, so I could help answer people's questions in detail FOR FREE (check it out, right here).
Putting icing on the cake, giving you the main reason why an online fitness and nutrition coach may trump any other form of coaching – is because it's constant. When you leave the gym, they're with you. When you're at home in the kitchen, they are available. When you need answers randomly throughout the week or while traveling for a week, they're one email away.
In fact, a recent study compared weight loss groups and programs to that of an online group and the online group actually outperformed the rest and the logic behind it was this very reason.
To bring all this down to a conclusion… Here's why you should either a.) Hire an online fitness and nutrition coach or b.) How you can learn from all the reasons to hire one and use them yourself:
Systems matter. Get yours in place.

Accountability is the glue that keeps the strategies and methods together in the long run.

Get relentlessly consistent and you're going to see 10x the results.

Seek education, because education builds compliance.

Empathy is a key because we need to find resources we can relate to AND that relate to us, that's how this stuff becomes believable and achievable.

The magic is within the adjustments. So constantly assess progress along the way and tweak things as you go (but never prematurely).

Seek those who want to give more.
---
Want to Improve Your Meal Plan but Don't Know Where to Start?