WHAT IS A LEAN BULK?
Lean bulking is the process of building muscle, while minimizing or avoiding fat gain. It's a common pursuit sought out by many lifters, because it's thought of as a way to give you the best of both worlds – being lean, while also being muscular, too.
However, most people confuse lean bulking with body recomposition. Body recomposition is the process of LOSING fat while BUILDING muscle, which is possible in some scenarios but is very hard to achieve (read our body recomposition guide, here). 
And although lean bulking can achieve a similar looking physique (i.e. – lean and muscular), the process of lean bulking is different than recomping. Again, recomping is a simultaneous process of losing fat and building muscle. Lean bulking is the process of strictly building muscle mass, but doing so in a way that minimizes or eliminates the potential fat accumulation along the way.
So if we were to define what lean bulking actually is, it would be a muscle growth plan that allows you to stay lean and avoid excess fat gain during the process.
If you read that and wondered to yourself, "why would you attempt to gain muscle in any other way?" – you're not alone! That's a very common question asked, especially if you're semi-new to fitness and physique transformation.
The reason you would not attempt to lean bulk is because you're too advanced to do so. See, the only real unfortunate side of lifting weights is that as you get better and better at it and accumulate more time spent working on your body… the less you get out of it. I know, it sounds terrible.
But this is because your body adapts as you push it further and further, but you only can adapt so much (naturally – i.e. without performance enhancement drugs).
An easy way to understand this is with the "lemons squeeze" analogy. Over time, as you train and diet, you squeeze the juice out of your lemon. You can keep squeezing and squeezing, to keep getting lemonade out of the lemon. But there's only so much juice you can squeeze out of the lemon. This is much like your body, because after years of squeezing the lemon (i.e. training in the gym and dieting properly) you will squeeze the lemon dry.
Now, the difference between YOU and a lemon is that you're a physical human being, with many complex physiological processes. A lemon is just a lemon.
So what you CAN do, once you feel like you've squeezed the lemon dry, is intentionally overfeed while lifting to gain muscle mass. When you do this, you WILL gain body fat. However, for some advanced individuals this is the only way to continue building muscle and reaching their full potential.
This is where a commonly used, and often enjoyable, yet semi-destructive, process called dirty bulking comes into play…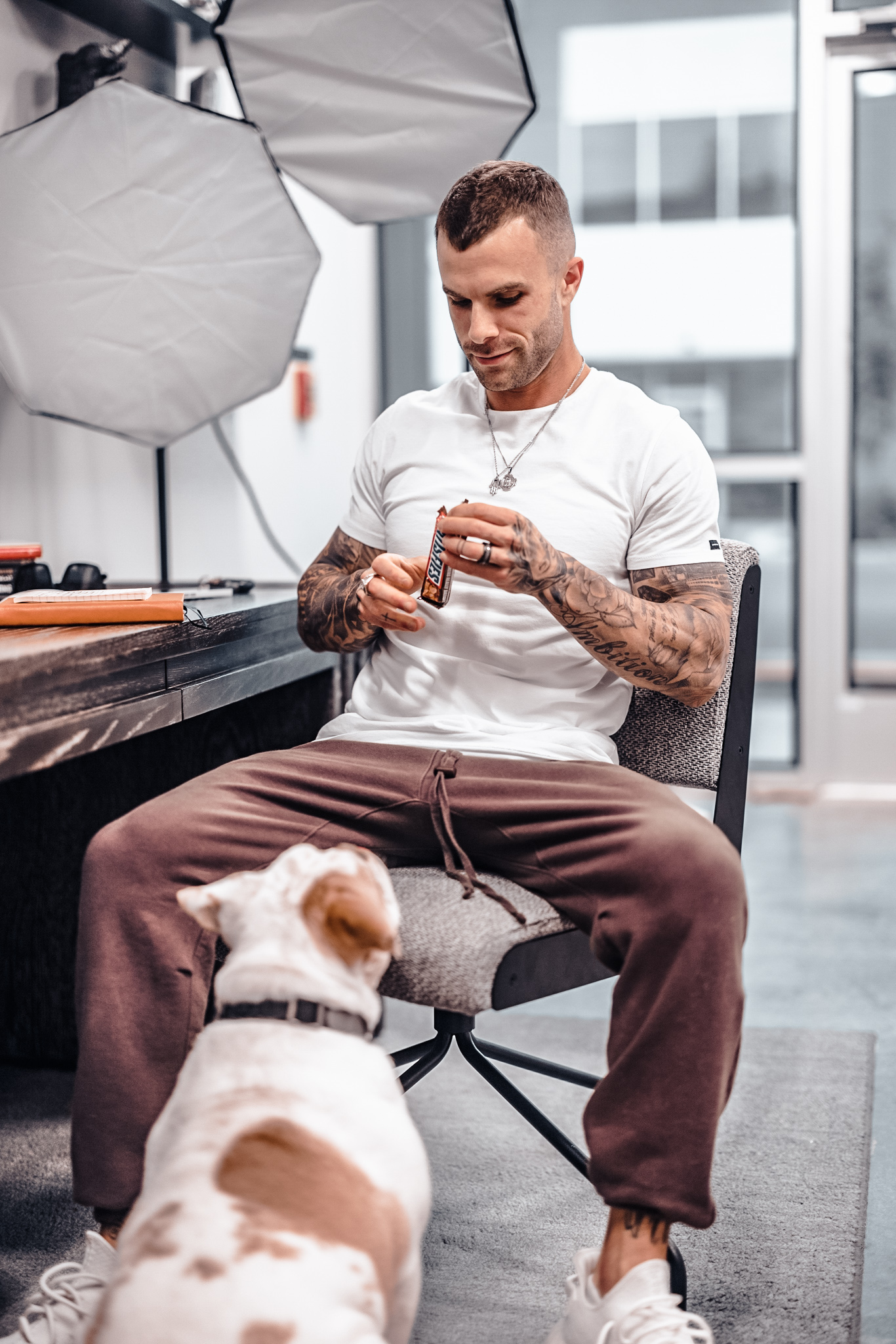 WHAT IS DIRTY BULKING
Dirty bulking is letting the dog off the leash, from a dieting perspective. It's when you intentionally eat any and everything insight, as a way to increase calories well beyond maintenance and gain weight at a fast rate.
The reason this is enjoyable, for some, is because you get to stuff your face with junk! 
In the past, there were recommendations for gaining weight to drink a jug of milk per day or pour olive oil on every meal you eat and to have cheat meals regularly throughout the week. Doing this absolutely ensured a caloric surplus, which is required for muscle growth when you're not brand new to lifting weights and looking to build muscle mass. So in one sense, yes it gets the job done.
The problem with this approach is that overfeeding to this extent also ensures a large amount of fat gain on your body, which also causes health issues and risks amongst more simple roadblocks during your muscle gain journey – things like lethargy, digestive stress, and the need for a serious fat loss phase post-bulk (which can also lead to muscle loss, because you have to go through extreme diets to remove the damage done).
Those are quite obvious issues with dirty bulking, though. Two not-so-obvious issues with dirty bulking are the unfavorable macronutrient ratio for muscle growth and the mental determinants that come along with body fluctuations and intentional fat gain.
A favorable daily macronutrient intake/ratio for muscle growth is one that is moderately high protein (0.8-1.2g/lb of body weight), low fat (0.3-0.5g/lb of bodyweight or 20% of calories), and high carb (whatever's left/as many as possible). When we dirty bulk, fats are often much too high and protein is commonly left behind.
This is because junk food and calorie dense foods, such as olive oil or milk, are also high in fats. Fats support health and hormonal function, but beyond the minimum daily requirement they do next to nothing for muscle growth and physique changes. Research also shows that carbs are more difficult to store as body fat, compared to fats (1)(2) – which sounds obvious, yet so many people claim that "eating more fat burns more fat"… Yes, that's true… BECAUSE YOU'RE EATING MORE FAT! Of course you'll burn more total fat if you're ingesting more, but you know what else you'll do more of with that fat? Store it. You can read more about why carbs are more difficult to store as fat in our research review for the topic, here.
Carbohydrates on the other hand, are the body's primary fuel source when training and because training is how we build muscle mass in the first place – it's extremely important to eat enough carbs so that we can train with enough volume and intensity to actually grow muscle tissue effectively.
Last but not least, we have to remember that muscle tissue is 60-65% water and carbohydrates are what help bring water into the muscle cell and tissues. This means without carbs, we cannot adequately hydrate and fill up the muscle either. 
We'll dive into how to calculate your macros for a lean bulk shortly.
My next issue with dirty bulking is the mental detriments it may cause. This happens in two different ways: 1.) Your brain has many neurotransmitters that can greatly impact mood, motivation, drive, attitude, and more. The way we eat can determine how our brain produces and uses those neurotransmitters, making it potentially more difficult to be positive and motivated while eating junk food all the time. 2.) When we rapidly put on body fat, not only will we fail to see the muscle we're building underneath all the fat tissue (causing us to under-appreciate what our hard work is going to), but we will also increase the likelihood of having negative body image issues play out in our minds.
Because of these two aspects, I see no justification for dirty bulking. Even if you're advanced and need to go into a serious surplus to see noticeable gains, you're better off doing so with a smart macronutrient ratio and avoiding excessive amounts of junk food in your diet.
WHO SHOULD LEAN BULK?
You may be thinking, after reading everything thus far, that you're someone who should be lean bulking. But how do you really know? It's pretty simple, actually, and I've broken it down into 4 aspects, which will help you determine if lean bulking is right for you.
EXPERIENCE LEVEL:
Experience level comes into play for the simple reason, which was explained in the beginning of this article, that the longer you're in the gym training, following a diet, and actually changing your physique – the less gains are made, per period of time (week, month, year). So as you become more and more experienced, the less likely you are to see a lot of progress with lean bulking. That does NOT mean you can't use it and it won't work, it just means that your timeline increases and the rate at which you see progress decreases. 
I would classify your experience level as the following: Beginner (<2 years), Intermediate (2-5 years), and Advanced (5+ years). I also believe these numbers can change depending on HOW you're training and dieting, because I've met many people in my time as a trainer who have been lifting for 5 years but doing the wrong things that entire time. Therefore they got newbie gains when they began using my systems and training with better methods. But assuming you're following evidence based training methods and diet protocols, those timelines will be accurate. 
CURRENT BODY FAT PERCENTAGE:
Your current level of leanness matters a lot here. Now, the obvious thing to note is that you're already lean if you want to lean bulk. This is simply because during a lean bulk, we're attempting to build pure muscle with zero fat gain. That means we have to start out lean, to begin with.
The part that is not so obvious, and matters the most, is that you're not too lean. If you're completely shredded, like "stage-ready lean", then you're actually TOO lean to lean bulk. You will need to add some body fat to your body first, because your body will not be physiologically healthy or primed to build muscle without doing so. Being too lean increases cortisol (stress), decreases testosterone, and generally hurts your performance due to poor energy and potential joint/leverage issues. Ultimately this all boils down to a lower total training volume and recover-ability, which are two major factors in the muscle growth process.
CURRENT MUSCLE MASS:
If you have a lot of muscle to build, meaning you're pretty far away from your current genetic potential, then you're in a great place for lean bulking (or any muscle growth plan, really). But if you've squeezed your lemon dry, you need a more aggressive approach and should step into a more hefty calorie surplus in order to see notable gains.
There's some research on FFMI, Fat-Free Mass Index, that can help us determine what your actual genetic potential is. Menno Henselman, who I've had on The Tailored Life Podcast (Episode 741), actually has a really good calculator that you can use to find your FFMI/genetic potential HERE.
If you decide to use this, take it with a grain of salt. It's not perfect, but it can help us see what could be possible for us if we fully commit to accomplish our best physique.
The main point is simple… if you're 10 years into this and have put on 40+lbs of muscle in your lifting career thus far, lean bulking is a longshot. But if you're 5 years or less into this, have a decent physique, but clearly have room to grow (and you can intuitively confirm that) – then you're probably a good fit for lean bulking.
LEVEL OF PATIENCE:
One main reason people do NOT lean bulk is because it definitely takes longer, meaning it requires more patience and a more detail-oriented eye in regards to progress made. When lean bulking, it's a slower process overall and you need to accept that you'll be making inches of progress instead of feet.
When we aggressively gain, we see the scale go up at a faster rate and that tells us we're making progress. When we lean bulk, we may not see that scale go up some weeks and some weeks we might see it go up just a little. So you'll need to pay attention to your measurements, your progress in the gym, the progress photos you take, your biofeedback, and more…
HOW TO LEAN BULK
Now… Let's talk about how we actually go about lean bulking!
The following sections of this article are going to be more straightforward and direct, simply giving you the answers to the most commonly asked questions regarding lean bulking.
This will give you the foundational steps to determining your caloric intake, what your macronutrient requirements will need to be, any supplements you'll want to include for lean bulking, how to choose the best foods for your lean bulking diet, and how you should be training during a lean bulk.
Once you have those methods and strategies to execute on your lean bulk, I'll then give you an idea of how long you should expect to follow your lean bulking plan and what to expect as your journey progresses along.
LEAN BULK CALORIES
To find your lean bulk calories, we first have to determine what your maintenance caloric intake should be. This is the amount of total calories you need to ingest on a daily basis in order to simply maintain your body weight, while keeping all physiological processes at homeostasis (in other words, just be healthy and sustain normality).
To do this, you can use many different formulas and equations such as the Harris Benedict formula or the Mifflin St. Jeor formula. You can also simply track your calories and bodyweight every day for 1-2 weeks, then average both out to find what your maintenance intake is – this is likely the most accurate route to take and something I discuss, amongst many other things, inside our free nutrition guide The Tailored Nutrition Method.
But for this article, I want to keep it simple and efficient for you! So below, you'll find a maintenance calories/TDEE calculator you can use, completely free, to determine your maintenance intake.
Now that you know what your maintenance intake is, we need to create a slight surplus in order to initiate the muscle growth process. The goal here is pretty simply to put you into a small, but effective, calorie surplus to encourage muscle growth and weight gain at a consistent, but slow, pace.
My advice here is to create at least a 3-5% surplus and no more than a 10% surplus, to start. This may seem small and that's because it is! In the reverse, during a fat loss phase – while creating a calorie deficit, this would be very effective at producing notable results. However when we're trying to build muscle, we don't need much of a surplus at all because the training process is what creates the stimulus for growth, NOT eating food.
This is also because we're trying to lean bulk here! Which means slow and steady is the only path to take, seeing how we want to stay lean while adding muscle mass.
Some individuals tend to have a more adaptive metabolism, which may cause them to need a more aggressive approach. This is because their metabolism is more responsive and adapts much faster to changes in their intake. Meaning that once they bump calories up slightly, their metabolism (and body) will compensate by burning those calories off through different forms of NEAT. This causes zero weight gain to occur, which means no real muscle mass is being built.
In these scenarios, you will need to start with 10% and potentially increase beyond that.
However for those who do not have a very adaptive metabolism, you will be better off going the slower route and starting with a minor 3-5% surplus and increasing by 3-5% per adjustment until reaching an acceptable rate of gain (which I'll break down soon).
And if you'd like to learn more about how to figure out whether you have an adaptive metabolism or not, you can find out by watching this video here OR by just recalling your dietary history – i.e. if you gain weight easily, go slow, and if you struggle to ever put weight on, go fast.
To conclude the calories topic, let's run through an easy example of someone looking to lean bulk who calculated their maintenance intake to be 2,500 calories (for simple math):
| | | | |
| --- | --- | --- | --- |
| MAINTENANCE  | 3% SURPLUS | 5% SURPLUS | 10% SURPLUS |
| 2,500 | 2,575 | 2,625 | 2,750 |
As you can see, these are SMALL increases in calories. This gets debated quite often but the truth, and what science shows, is that our bodies can only physiologically build so much muscle mass per day, week, month, etc. So being impatient and too aggressive with calories just gets you fatter, not more jacked. The slight increase facilities recovery, while the training stimulus creates the growth process.
LEAN BULK MACROS
Now that we have our calories all figured out, we can move onto distributing those calories into lean bulking macronutrient targets (protein, carbs, fats). And as I alluded to previously in this article, we're going to want to follow a higher protein, high carb, and low fat approach – because protein is required for muscle tissue repair and regrowth processes, carbohydrates fill and fuel the muscles to perform in the gym, and fats just make sure the lights stay on.
To give a little more context, protein is going to be required for keeping amino acids in your bloodstream to increase rates of muscle protein synthesis (growth process) and decrease rates of muscle protein breakdown (degradation process). There are countless other benefits to protein, as it's a nutrient we literally cannot live without. But in terms of building muscle, this is the primary thing we tend to be concerned about.
Carbohydrates are also very anabolic, which often gets forgotten in the midst of all the media of the diet industry today. Carbohydrates hydrate the muscle to allow less injuries and better recovery, stimulate insulin which can help regulate both amino acid and glucose uptake into the muscle cell, and even decrease cortisol which can prevent the catabolic nature of stress itself, increase thyroid output and physical performance (due to them being the primary fuel source of the body). Ultimately, carbs are the most important nutrient to fuel harder training and hard training builds muscles – PERIOD.
Fats are going to play a key role in hormone production and some molecular processes in the body. They are also an essential nutrient, which means we literally cannot live without them. However, we do not need much to survive (compared to what people in the butter-bomb-paleo crowd claim), adding more doesn't supercharge their hormonal effects once we're beyond the minimal daily requirements, and the negative effects associated with lower fat intakes are far less likely to occur when we're not in a calorie deficit (which you won't be, since you're lean bulking).
That all being said… Where should your macros be at, exactly?
Well, it's very individual and with our clients we will detail that out to the exact gram. However, for the sake of this article and writing this to the masses – we're going to give you the best ratio for lean bulking.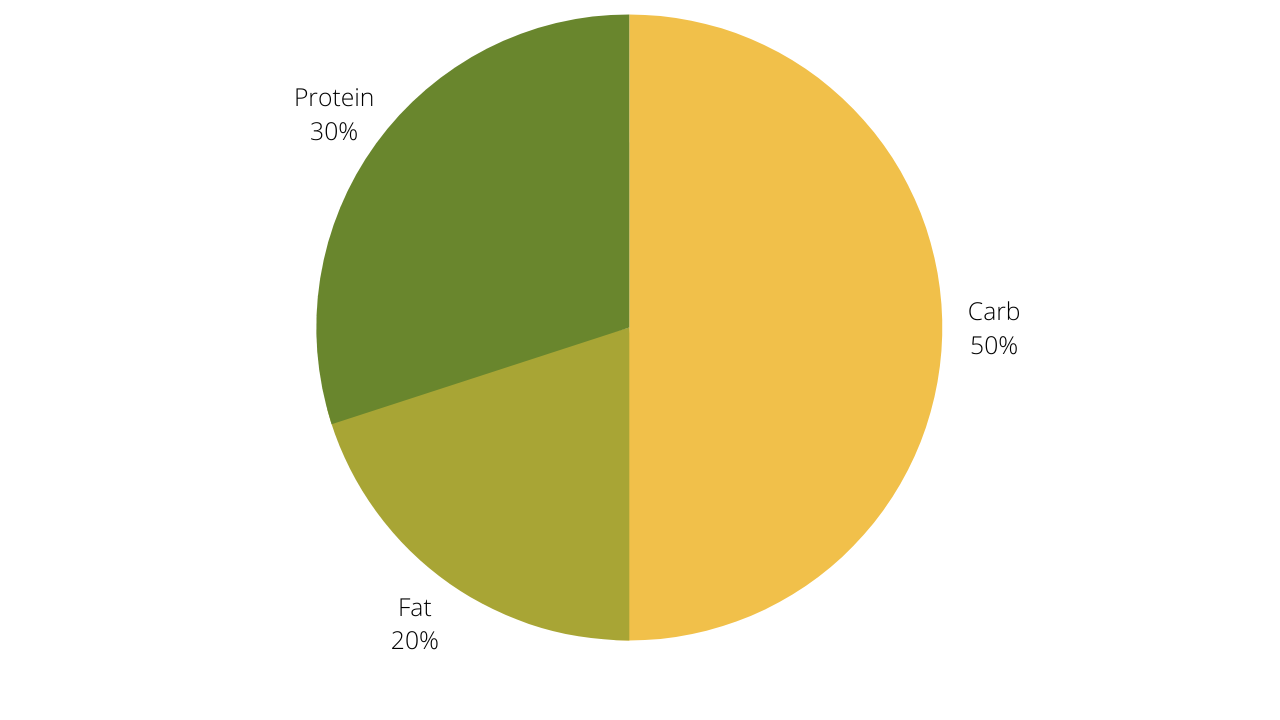 This ratio is a starting place; a 30/50/20 split gives you a higher percentage of carbs to work with, just slightly more protein than what's necessary (as a way to cover our bases and keep our diet very thermogenic), and enough fat to support health without going overboard.
However, as you add calories (assuming you need to adjust as you go on) – you will do so via carbohydrates, which will increase the percentage of carbs and decrease the percentage of protein and fats. You don't need to worry about that, though, because you will only use the percentage method to create your initial intake and from that point on you will worry about the exact grams of macros you're consuming daily.
Here's the same example, broken down into macros and adjustments going forward for you to better understand this process:
CALORIES (10% SURPLUS)
PROTEIN
CARBS
FATS

2,750

206.25g

(825 cal)

343.75g

(1,3750 Cal)

61.11g

(550 Cal)

ADJUSTED TARGETS (ROUND UP/DOWN):

2,740

205g

345g

60g

5% CALORIE ADJUSTMENT, 3-4 WEEKS INTO DIET:

2,880

205g

380g

60g
As you can see in the table above, we had our set targets based on the 30/50/20 macro ratio. That gave us some targets, which we then rounded up or down to the nearest 10th numeral (for sake of easier tracking – there's zero reason to get that granular anyway). Then we adjusted, when a plateau came about, by finding what 5% of the total calories was (137 calories) and gave that 5% bump up to carbohydrates. Since carbs have 4 calories per gram, that gives us 34.5 which added to 345 is 379.5, which we rounded up to 380g of carbs as our new daily carb target.
LEAN BULK SUPPLEMENTS
Supplements play a role here, without a doubt. But it's one of the simplest sections to cover because unless it's an illegal substance, nothing magical is going to happen. So don't expect wonders to occur when you pop a pill from GNC!
When we're lean bulking, we don't have to worry about much because we have enough food coming in to support most of our micronutrient and stress response needs, really. So there will only be a handful of key supplements to focus on:
CAFFEINE/PRE WORKOUT

– this will drive greater performance in the gym, based on research, and when supplementing with a

pre-workout that also has ingredients

to help with hydration, blood flow, joint support, and more… we're just increasing the likelihood of our performance improving, that much more. But this is simple, really; if we perform better, we lift heavier and with more volume, which causes us to grow more muscle.
CREATINE MONOHYDRATE

–

Creatine monohydrate

is one of the most scientifically studied and effectively proven supplements to help build muscle. It's affordable, safe, and extremely effective, by helping hydrate the muscle, increase recovery, limit injury risk, improve cognitive function, and help generate more fuel to train hard. We have an entire guide on this supplement, that you can

read right here

.
INTRA-WORKOUT CARBS

– This is a semi-debated topic, but has recently been supported more so by the evidence based community due to a

recent meta analysis

coming out on the topic of pre, intra, and post workout carbohydrate consumption. This study essentially showed that training with high volumes (which you want to do, in order to lean bulk and build muscle), can generate better hypertrophy and performance results when carbohydrates are supplemented in. This acts on many processes, such as replenishing glycogen rapidly and reducing cortisol levels to improve recovery/growth processes as well as simply giving you more energy to push yourself further in each set. Because of this, I think it's viable to include some intra workout carbohydrates to fuel better gains. If you want to take it up a notch, using a product like

intraformance from 1st Phorm

will allow you to also get electrolytes/sodium, fructose, and essential amino acids – all in one.
BEST LEAN BULK FOODS
When it comes to choosing the best foods during your lean bulk, there's a very simple answer and a slightly more nuanced answer – both of which I think are appropriate to bring into the discussion, so that you can make the best personal decision of what foods to eat for lean bulking.
The first, and very simple answer, is that your calories and macros matter most. Therefore it's not completely necessary to get overly focused on the foods you're eating and as long as you're able to consistently hit your macros, you'll be able to achieve the lean bulking results you're after.
This is the "Flexible Dieting" philosophy, which is one we definitely prioritize with our clients at Tailored Coaching Method because it's the best known way to get results, while also allowing in the foods we enjoy (which increases individual adherence and consistency). In fact, I wrote an entire blog about this called What is The Easiest Diet To Follow?
Now, the more nuanced answer is the more appropriate one for anyone who considers themselves a more advanced lifter and dieter. I'd say it's more appropriate for lean bulking, too, as we're going to have to optimize the little details if we're to make the absolute most out of every meal, in order to build muscle while not gaining body fat.
And that more nuanced answer is that 90% of your diet should consist of whole foods that are easy to digest, accurate to track, and repeatable in your routine.
Easily digestible, whole foods, are going to agree with your gut and digestive system the most, have a more optimal level of nutrient absorption, keep you more satiated than processed foods, ensure you're less bloated (and can see the progress more easily), and last but not least – they're the most accurate to track.
That last point is the most important, for most people to remember.
Food labels can be around 25% off, legally. This means that if you're eating something that is 200 calories, it could be 150 or 250 calories without you knowing it. Now, that's not the end of the world (or your diet)… however, if you're stacking those processed food items up over the day you could be hundreds of calories away from your lean bulking targets (above or below).
But when we eat foods that aren't packaged and processed, with a label stuck to the box, that margin goes away and we can more closely measure or track what we're consuming. This simply leads to more precision with the diet.
Lastly, when we repeat these foods day to day – we eliminate fluctuations in the diet, be that fluctuating inaccuracies and inconsistencies OR fluctuations on the scale, because our body is USED to what we're ingesting/digesting.
This is going to actually improve your ability to plan ahead and be consistent, because you don't have to think about what to eat day to day, AND research actually shows that it may lower your incidents of over-eating, as you're less likely to over-indulge when you consume the same meal regularly.
So in conclusion, the best foods to lean bulk are essentially just REAL foods. They're those that fit your macros, can be accurately tracked, digest well with you personally, and can be easily repeated in your meals throughout the week. But to give you a little more value, let's break those down in a table below that you can take grocery shopping with you if needed:
PROTEINS

Fish

Chicken Breast

Lean Cuts of Steak

Lean Ground Beef or Bison

Ground Turkey

Non-Fat Greek Yogurt

Low Fat Cottage Cheese

Egg Whites

Whey and Casein Protein

Pork Tenderloin

CARBS

Potatoes

Whole Grain Bread and Pasta

Quick Oats / Oatmeal

White Rice

Fruit of Any Kind

Veggies of Any Kind

FATS

Nut Butter

Olive Oil

Avocado

Egg Yolks

Coconut Oil

Fish Oil

Tree Nuts

Trace Fat From Meat, Fish, Etc…
RATE OF GAIN WHEN LEAN BULKING
Rate of gain when lean bulking can be pretty easy to break down and as you look at the table below, you'll feel as if it seems extremely slow. Well… that's because it is!
Lean bulking is a marathon, NOT a sprint.
So you need to be ready to practice patience and embrace the process! Part of that means tracking performance in the gym, taking progress pictures weekly, measuring circumference every 2-4 weeks, and paying close attention to the biofeedback improvements you see along the way. This is something we practice with our online 1-on-1 coaching clients, because it allows a client's patience and consistency to increase massively when they SEE and FEEL the none-scale improvements happening week after week.
But because we are still attempting to gain muscle mass here, we should see the scale move slightly every 2-4 weeks. So the table below shows a monthly rate of gain, rather than a weekly rate of gain. The reason for this is because sometimes people's body's can take longer than others and you may not see any movement on the scale for 1, 2 or even 3 weeks. Then out of nowhere on week 4, your body weight swings up more than expected. In the coaching space we call this the whoosh effect and although there are a lot of theories as to why it happens, it's best if we just leave it at… it happens!
| | |
| --- | --- |
| EXPERIENCE LEVEL | MONTHLY RATE OF GAIN |
| BEGINNER | 1 – 1.5% of total body weight |
| INTERMEDIATE | 0.5 – 1% of total body weight |
| ADVANCED | Up to 0.5% of total body weight |
So for the sake of this article, we'll use a 175lb individual as an example with these numbers AND provide a weekly breakdown, in the case that someone did respond on a weekly basis:
| | |
| --- | --- |
| EXPERIENCE LEVEL | MONTHLY RATE OF GAIN |
| BEGINNER | 1.75 – 2.6lbs/month (0.45-0.65/week) |
| INTERMEDIATE | 0.85 – 1.75lbs/month (0.25-0.45/week) |
| ADVANCED | 0 – 0.875lbs/month (0.2-0.25/week) |
Again, these numbers do not look impressive. I know. However, even at an advanced level this means you could potentially build nearly 1lb of pure muscle, without any fat, per month. Doing that for several months, consistently, is a very impressive amount of muscle and would help build an insanely impressive physique over time. We just need to envision the long term, while ignoring the desire to jump on the fast track.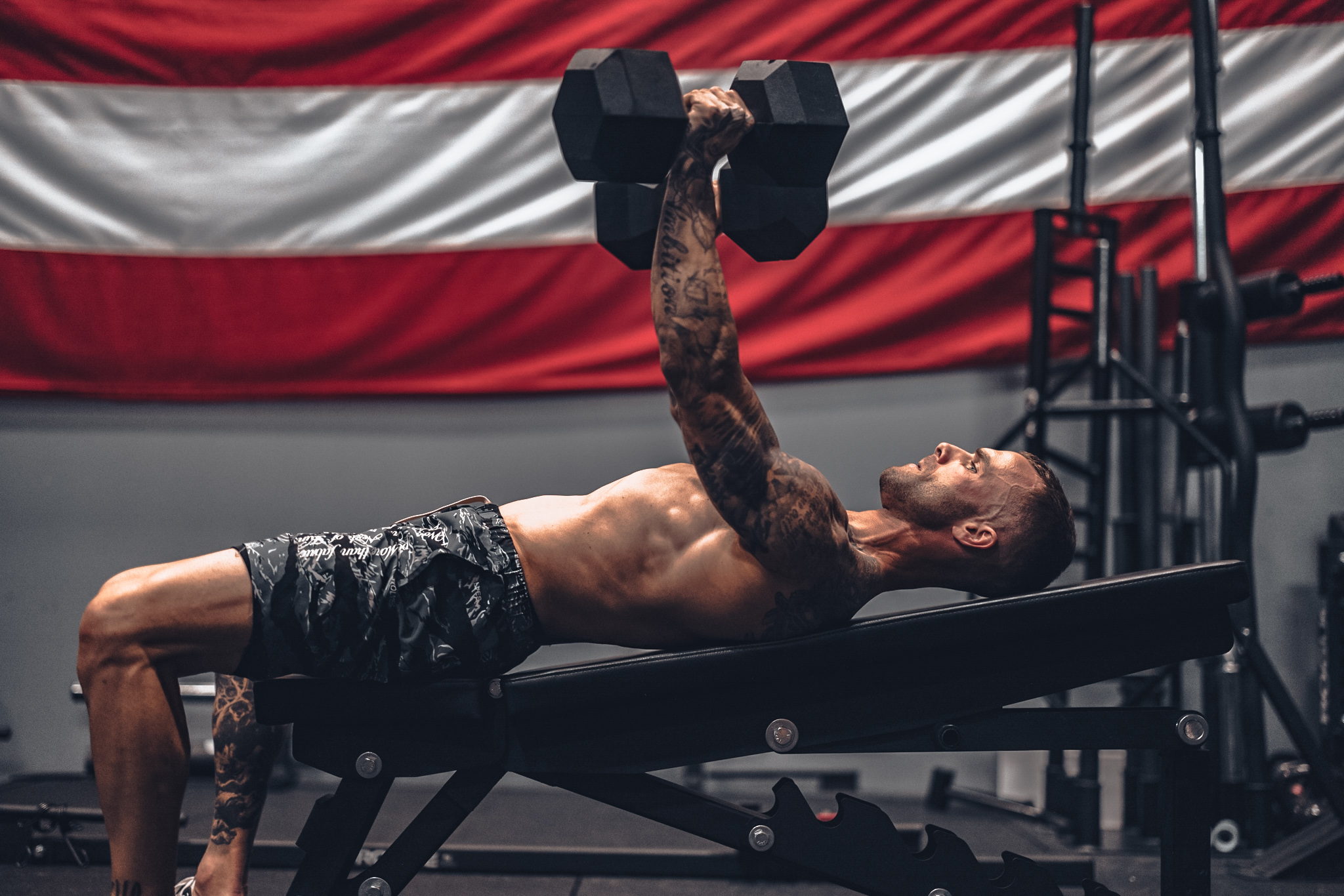 LEAN BULK CARDIO & TRAINING PROGRAM
Last but not least, we have to touch on the training and cardio aspect of lean bulking. And when I say "touch on", I mean it – because this could be an entire itself! In fact, we have countless articles, podcasts, and free guides that I think would do this far better justice. 
But for this article, I'm going to leave you with…
5 Training Tips For Lean Bulking:
1.) Your training shouldn't change, just because you're "lean bulking" compared to any other kind of bulking! You still need to follow the scientific principles of hypertrophy.
2.) Don't program hop! If you constantly go from one thing to the next, you'll never spend enough time doing the same thing in order to actually progressively overload the movement patterns you're doing. If you need a program to follow, check out our app.
3.) Periodize your training to suit your individual preferences. The research has shown us that periodization is far more important for strength, than it is for muscle growth. What's important is that you're progressing, which doesn't require long-term periodization. So instead of overthinking this aspect, choose a model that motivates you to train hard and keeps you excited to get in the gym. Whether that approach is daily or weekly undulating, block periodization, or nothing at all – do what's best for YOU.
4.) Use RPE or RIR, correctly. The RIR and RPE scale were made to help us train close enough to failure, while still avoiding over training. This is useful because we NEED to train very close to failure in order to stimulate maximal growth. But training at failure all the time requires so much more recovery AND increases risk of injury. Therefore, using these scales becomes one of the most valuable tools in order to gauge your effort in the gym. 
5.) Do SOME, but not TOO MUCH, cardio… I suggest doing 1-2 days of conditioning, while keeping a high step count. The 2 days of conditioning should never exceed 40 minutes and they should look less like fat loss cardio and more like athletic training. This will keep you functional, while also developing your energy systems properly. The aerobic system in particular is extremely important for optimizing fuel utilization and recovery between reps, sets, and sessions. All of which helps you perform harder and stay leaner, while lean bulking. 
CONCLUSION ON LEAN BULKING
Lean bulking, once again, is the process of building muscle while limiting fat accumulation almost completely, if not completely. It's not an easy task, but it is a possible one! So if you have patience and want to prioritize your health and level of leanness, while still building muscle, this is the right journey for you to embark on.