Following a diet can be hard – psychologically, physiologically, and physically. Meaning, the diet is just going to wear down at your body, it will wear down at your mind and body's operating and hormonal systems as well.
While the definition of a diet is primarily defined as the restriction of calories, in this context we're referring to it as more of a blanket statement. Nutrition plan, eating regime, diet – all synonymous here, because we're not only writing this article for those who are interested in losing body fat or changing their aesthetic appearance, but also for average individuals looking to maintain weight or improve performance, too.
[Rather listen to this? Cool, I recorded a podcast on it as well and you can listen on iTunes or anywhere else that Podcasts are available, or simply hit play below – I also recorded a preso on it, which you can find at the end of the blog]
Carb Cycling Table of Contents
What is Carb Cycling?
The basic premise is pretty simple; we have high carb days and low carb days. This cycling approach lets us undulate carbohydrate intake, and therefore total daily calories, day to day. 
A more advanced approach would have high, moderate, and low days – we will get into the different variations and applications of carb cycling here shortly.
The reasons to carb cycling have changed drastically over the years, because it was first created or coined as a strategy to optimize the training window, utilize insulin sensitive moments, and to an extent show a recomposition (simultaneous fat loss and muscle growth).
In other words, it has been marketed as the best way to diet for fat loss for years now.
Problem with that statement is that it's just simply not true. There is no BEST way universally.
Part of the reason we've (evidence based community) moved away from carb cycling is because there have been COUNTLESS studies done on daily intake at this point, so we have a slightly different view point of whether or not carb cycling is even beneficial from a fat loss or hypertrophic perspective – because in most situations, it doesn't make much of a difference.
I'll explain a few just to paint the picture and give some context before diving into the application of carb cycling:
→ One study done to compare a ketogenic (ultra-low carb) diet with a moderate carb (more balanced) approach, showed no difference in weight loss when calories and protein were equated. What this shows is that the manipulation of fats and carbs doesn't matter for weight loss, as long as a calories deficit is achieved and adequate protein is consumed.
→ Dr. Walter Kempner did an experiment with obeses individuals where they only consumed carbohydrate rich foods; this was called The Rice Diet. They basically just ate rice (with some additional fruit and fruit juices) but nonetheless, they were only consuming carbohydrates. But they maintained a caloric deficit throughout the experiment, leading to an average loss of 141lbs and improvements in blood markers across the entire group.
→ Now, we also have studies that show an improvement in recovery from weight training when utilizing a carb cycling approach. In this, as well as others, we really just see the significance in increasing carbohydrates around the training window in order to elicit better recovery – most likely from a glycogen replenishment, cortisol mitigating, and potentially improving proteins efficiency post workout.
Based on these few things, we can assume two main things….
Cycling carbs or calories up and down may not give us much benefit from a fat loss perspective (at least from a theoretical thought process).

Carbohydrates shouldn't be restricted if you're weight training. We know that it's the body's preferred fuel source, it improves recovery from training sessions, and it doesn't inhibit fat loss.
Why Would You Carb Cycle, Then?
We just somewhat debunked it, however there are still a few applicable scenarios where carb cycling can be advantageous and aid you in multiple different phases of dieting.
And no, it's not just because the jacked bodybuilder at the local gym does it (although, you should always investigate into why something just works for someone – usually there's more to it and science can prove why it's working, even if they don't fully understand it).
SCENARIO #1 – Improved Adherence
Adherence and consistency are the king and queen of the dietary kingdom. We know that a caloric deficit is required and in many conversations, I've said that calorie balance is in fact the king at this table… however if you can't adhere or stay consistent, does it really matter?
This is where we have to know principles and consider methods. Principles never change, methods do. Carb cycling is a method and it may allow you to adhere better to a caloric deficit. 
I proved that as long as calories are met, carb cycling is irrelevant but let me show you in an infographic: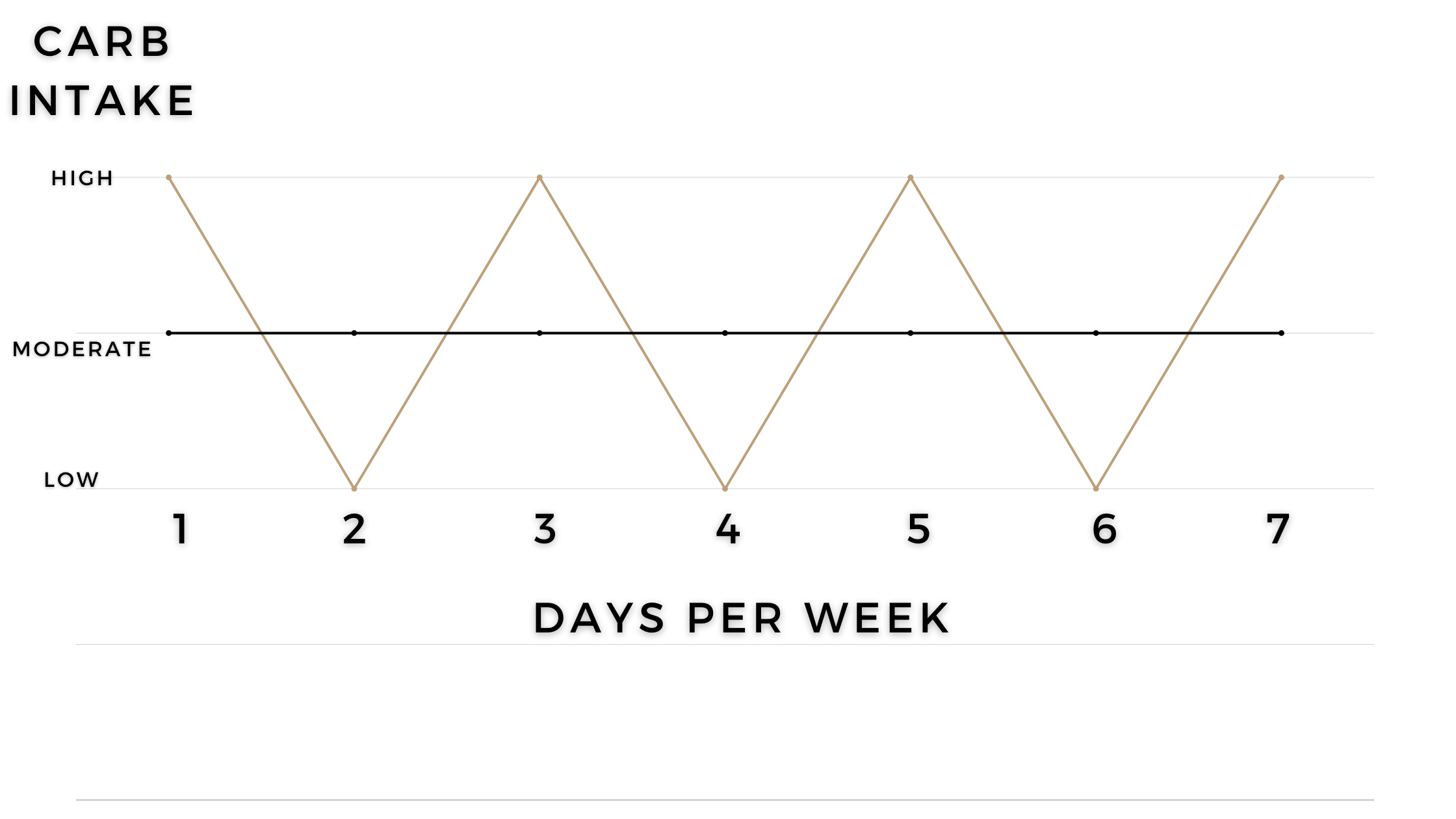 As you can see; 7 days a week alternating high and low days OR 7 days a week with a linear intake across the week.
If you consider the highs and lows, by the end of the week it will mirror the moderate intake on average. This is why it's so important to consider weekly average intakes for individuals looking to lose weight. We cannot go off a day to day, because those days add up.
Now, back to this specific scenario.
Adherence is the number 1 priority and at times, for certain individuals, a carb cycling approach might actually allow for better adherence and easier consistency.
Adherence is the ability to consistently perform any act, task or practice. In this case, a calorie deficit is that practice.
But what if having a moderately low intake every day just wears at you mentally?
That's where carb cycling becomes more applicable and beneficial, for the average person just trying to lose fat.
For some clients we work with, it can be tough to have a pretty low intake every single day. It's not brutal, they're not suffering, but it withers at them over time.
For these clients, we implement a carb cycling approach that allows them to have truly low days, which are a grinder, alternating with truly high carb days – which allows them to experience better biofeedback, performance, and flexibility.
Alternating up and down like this, makes those low days easier than the moderate days after weeks of dieting (in most cases).
We also know that increasing carbohydrates temporarily can increase thyroid output, which is going to have a downstream positive effect on hormones and metabolism AND has been shown to help control hunger levels – again, making adherence easier.
Now, the other element we have to consider is that planning becomes harder if our diet is changing day to day. So if this causes more stress to an individual, we're staying far away from it.
SCENARIO #2 – Improved Performance
This one is somewhat debatable, because having low days can cause us to under-recover and potentially under-perform in the future. So although the high days may refill glycogen and promote better energy in the gym, the low days may cause the exact opposite effect and the net benefit is low due to the contrast.
In one study, they showed that complete glycogen replenishment took up to 24 hours to be achieved.
What this means is that if you train in the morning, it'd be smarter to carb cycle by having MORE calories on your off days or at least on any day that falls before a training session.
If you train in the evening, you can get away with this improving performance because you'll have all day, likely 2-4 meals, prior to training in which you can get in an adequate amount of carbs to both replenish what's been depleted from the previous low day (or training) and support glycogen levels for better training performance.
In another study, done on competing bodybuilders, researchers showed that carb loading the day prior to a competition increased muscle girth and thickness (fullness), which led to judges identifying improvements from before to after as well (which is anecdotal, but coupled with the data it's helpful).
What this would tell us is that it may NOT be great to carb cycle for performance, if it means you're bringing your carbs too low the days prior to training.
However, we also have to remember that any athlete who is serious about training hard and optimizing performance, is most likely NOT in a deficit in the first place. So their low days might actually be at maintenance, while their hardest days in the gym may be in a slight surplus due to adding some peri-workout carbs (more on carb timing soon).
In this case, we are more than likely going to improve performance undoubtedly.
SCENARIO #3 – Increased Muscle Mass
Now we just went over the fact that simply increasing glycogen stores is going to fuel better, harder, and more high volume training. So that alone tells us that more carbs = more muscle.
We'll go over nutrient timing in a sec, which will show you how timing carbs around your workouts can also fuel cortisol management, muscle protein synthesis, and glycogen replenishment for faster recovery, also leading to more muscle growth.
But another key aspect of carbs that people forget to understand is that they're anabolic, by themselves.
For a long time guru's made insulin out to be the boogeyman. This mystical thing that causes obesity in the general population; but with plenty of research done over the years, we've realized that this is just not the case. 
Insulin doesn't make people fat. 
Over consuming calories makes people fat.
High insulin levels are associated with over consuming calories and therefore it gets correlated with obesity, which then leads to people misunderstanding the difference between a correlation and causation.
But for muscle growth, this insulin spike is actually a good thing and when we consume carbs we directly influence our insulin levels (they rise with consumption of carbs). 
This is going to blunt the cortisol response we have to training or life stress in general, because cortisol and insulin have an inverse relationship – meaning when insulin goes up, cortisol goes down. So from a post workout perspective AND from managing daily stress, which can cause delays in recovery and therefore muscle growth, this is a positive thing.
And beyond all this… insulin also has a positive effect on amino acids in the body. Insulin regulates amino acid and glucose uptake into the muscle cell. This means if insulin is not spiked or elevated regularly, you will have a tough time building an appreciable amount of muscle.
But let's conclude this with a great visual created by Precision Nutrition, mimicking work from Davidson College Dept of Biology…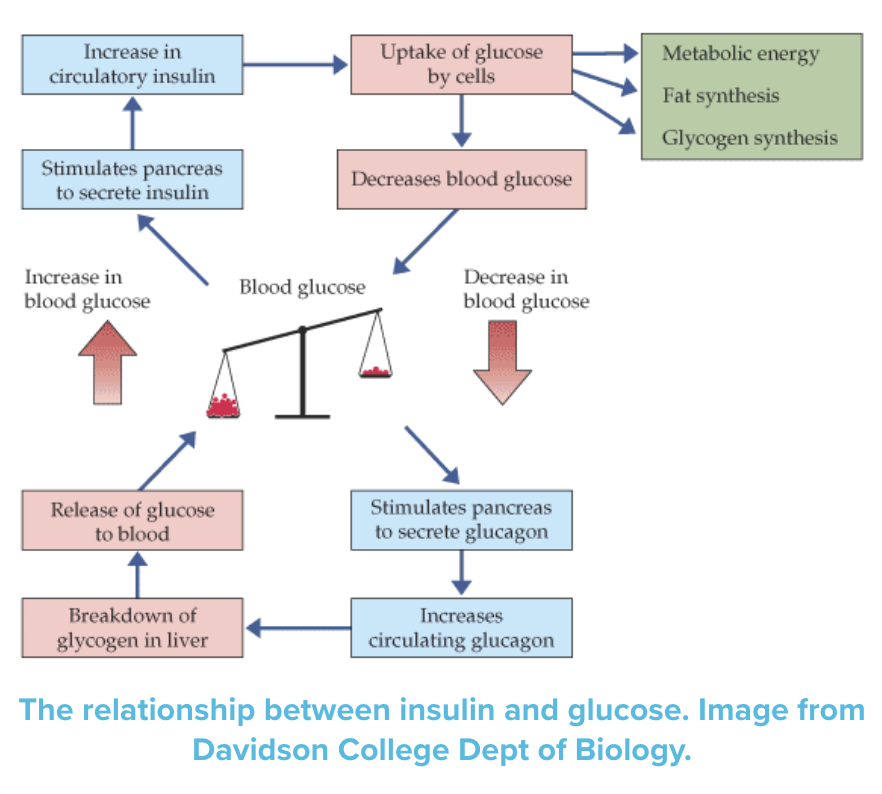 Carb Cycling To Improve Nutrient Timing
Nutrient timing has been a funny thing to follow in the evidence based community for the last decade.
At one point, it was all that matters.
Daily calories? Who cares about that, are you drinking your post workout shake immediately after training?
Then the pendulum swung and it became obsolete.
Nutrient timing? Stop worrying about that, if your daily intake is met then you have nothing left to do.
And once again, the pendulum is swinging back as we're starting to see more focus on nutrient timing with the discover of Chrononutrition, intra-workout carbohydrate products like Highly Branched Cyclic Dextrin proving to improve muscle growth and recovery in athletes, and the everlasting ways of the common bodybuilder.
So, where do we stand at Tailored Coaching Method?
Right in the middle. Like most things, because extremes rarely ever lead to positive outcomes.
Nutrient timing matters for improved energy, digestion, recovery and adherence. We have to build the plan around your training and daily schedule in order to optimize consistency.
Pre, intra and post workout nutrition becomes more and more important the leaner you get and the more intense your training becomes.
It's also fairly important when someone has a high stress lifestyle AND is participating in an intense training regime, because we're trying to manage and mitigate the cortisol responses and fluctuations which that individual is experiencing.
So what does science tell us about nutrient timing around the training window? If positive, then maybe carb cycling can be beneficial as it may allow for more carbohydrates in the diet on intense training days.
General Recap Of Nutrient Timing Research:
→ High volume training depletes liver and muscle glycogen stores, therefore a high-carbohydrate diet that maximizes glycogen stores may be beneficial for an individual training in this fashion.
→ If rapid restoration of glycogen is required, due to extremely high volumes or long durations of physical activities, an aggressive refeeding of carbohydrates that are high glycemic is appropriate. To enhance that, add caffeine into the mix (3-8mg/kg) and combine the carbohydrates with a protein source.
→ Splitting up an adequate protein intake (0.8-1.2g per lb) across 3-5 meals per day, evenly, has been shown to improve Muscle Protein Synthesis.
→ To maximally stimulate that muscle protein synthetic response from training or a protein based meal, a bolus of 20-40g of protein, rich in EAA's, is recommended. This applies to the post workout window as well; MPS will increase maximally by having protein within 3 hours of training.
→ Consuming casein protein (30-40g) prior to sleep can acutely increase muscle protein synthesis and metabolic rate throughout the night, without influencing lipolysis (breakdown of fats, i.e. fat loss). This may improve recovery, muscle mass and body composition.
→ Pre training (1-3 hours prior) carbohydrates can refill muscle glycogen, help prevent muscle breakdown post workout (glucose and aminos will still be present from the pre workout window, stimulate the release of insulin allowing anabolic signals to take place, and increase blood glucose levels to help performance and avoid hypoglycemia.
→ Combining carbohydrates sources, such as starch and fruit (glucose and fructose), utilizes multiple glucose transporters in the body. This may increase carbohydrate absorption rates and further stimulate an improved rate of performance.
Diet Breaks and Refeeds, A Form Of Carb Cycling…?
Most people do not look at diet breaks and refeeds as a form of carb cycling, rather they just look at them as refeeds or breaks from the diet. But if we strip away the titles, we're temporarily increasing carbohydrates before brining them back down to the deficit baseline (i.e. cycling).
Because of that, I think it's important to bring them up, along with the benefits behind them, for this carb cycling blog.
What Are Refeeds?
A refeed is classified as 1-2 days of eating at or slightly above maintenance, via an increase in carbohydrates. Although this isn't going to be a magic bullet to speed up your metabolism or improve your hormones physiologically speaking, it is a great addition to a diet and is part of nutritional periodization.
As I mentioned above, the main benefit here is likely psychological. It's simply a break from the diet. A sense of relief. Some normality. Which is important!
This is going to help you adhere for longer, be more precise with your tracking (we find in studies without refeeds, people's accuracy begins to dwindle as the diet proceeds on), keep your motivation higher, improve your performance in the gym short term, help blunt cortisol and other stress related hormones, and potentially improve sleep quality temporarily.
Those aren't necessarily going to improve your hormonal profile directly by any means, however I'd argue that indirectly you could see some physiological improvements over time when using these refeeds and diet breaks.
For application, it tends to be best when performed with 2 consecutive days in a row rather than 1. You may have these every 5 days, 7 days, 10 days, 14 days, or even 21 days. It's very individual and the amount of diet fatigue accumulated during a deficit varies from person to person.
However, as you learned earlier in this article, increasing carbohydrates temporarily has a positive effect to your training performance and recovery, amongst a few other things. So although 2+ days seems to be most effective, 1 day can still be beneficial. 
What Are Diet Breaks?
Diet breaks are typically 3-7 days long. This is where we have a true break from the diet by taking 72 hours or more of eating more calories, ideally just like you would do with a refeed (increasing to maintenance via carbohydrates).
The reason for this is because carbs are going to be stored as muscle glycogen predominantly and are more unlikely to store as fat, compared to what an increase in calories via fat would do. Which is why carb cycling is typically a better approach than simply calorie cycling, even though you cannot do one without the other.
All the benefits discussed in this article regarding increasing carbs or refeeding, apply here but typically in a greater amount, as you can imagine. You're simply getting MORE of the relief, break, refuel, and recovery.
For application, these tend to be needed far less often because of their duration. So it's purely dependent on the individual. What I tend to find is that people with more muscle tissue on their bodies, going into a more aggressive deficit, or who simply accumulate diet fatigue faster, need these diet breaks more frequently.
I tend to follow a 3 week on/1 week off approach for most, but this can be adapted to be 4 weeks, 5 weeks, 6 weeks, and up to 8-12 weeks. Again, it's highly individual.
Putting It Into Practice:
→ 6 day deficit / 1 day refeed
→ 5 day deficit / 2 day refeed
→ 7 day deficit / 2 day refeed
→ 10 day deficit / 2 day refeed
→ 10 day deficit / 3 day refeed
→ 14 day deficit / 3 day refeed
→ 21 day deficit / 3 day refeed
→ 3 week deficit / 1 week diet break
→ 4 week deficit / 1 week diet break
→ 6 week deficit / 1-2 week diet break
→ 8-12 week deficit / 2-4 week diet break
As you can see, there are MANY ways to spin this! You have to find what works best for you, while also learning to work with your body's adaptation process (balancing between enough and not too much, to continually achieve your pre-determined outcome).
Carb Cycling Structures
With actual carb cycling, we're approaching it from more directly and quite literally cycling carbs up and down throughout every week.
And although this does "refeed" you throughout the cycle, it's referred to as carb cycling due to the nature of it's undulating pattern.
There a few patterns to use when carb cycling, but one specific one that we recommend most:
→ Low, Low, Moderate, Low, Low, High
→  Low, Low, High – Repeat
→  Low, High, Low, High, Etc.
→ *3-4 High (Training), 3-4 Low (Rest)
The last one here, that is starred, is what we typically recommend because it's simply easier to plan and put into practice.
All the preceding styles of carb cycling, do not match a 7 day calendar repeatedly. What this means is that week 1 Friday might be high carb, week 2 it's low and week 3 it's moderate.
There's nothing wrong with this from a theoretical perspective or on paper; I mean, it's proven to work!
But it's hard for the average individual to go through their day to day life, changing their macros on a daily and weekly basis without the direction of a calendar week to plan from.
Rather, by pairing up your high carb days on your training days – it's set in stone. You can plan your diet easier and more consistently, leading to much better adherence.
If training in the afternoon, which we typically suggest if possible, then it's a great route to take as well because this allows us to drive carbs into the cell and elevate insulin most on your heavier training days. Which as we went over earlier, is beneficial for performance and muscle tissue.
Either way, what we're doing here with these carb cycling approaches is simply depleting carbohydrates and then replenishing them. By doing this, we deplete and refuel, influence insulin levels in an intelligent manor, have more flexibility during a diet on some days, fuel training and recovery, and when in a fat loss phase – achieve a weekly deficit for fat loss. 
Conclusion:
So… should you carb cycling?
Well, I'm not sure. YOU have to make that decision! Or you can hop on a call with one of our coaches – apply here now. When you do this, you'll get a free opportunity to deep dive into your goals and the roadblocks getting in your way, as well as a breakdown of the direct path for you to get there, before even committing to coaching.
But that's obviously what we encourage and suggest most, because it's a more direct path to making progress.
However, if you decide to attack this alone – I think the smartest way to approach carb cycling and whether or not it's for you, is to literally map it out on paper.
What does it look like?
What would your intakes be?
What days would be high carb vs. low carb? Why?
And will this strategy help you achieve your goal faster or more easily?
If so, then dive into it. If not, consider a linear intake.
---
SOURCES:
https://legionathletics.com/carb-cycling/#is-carb-cycling-good-for-weight-loss
https://www.precisionnutrition.com/all-about-carb-cycling
https://jissn.biomedcentral.com/articles/10.1186/s12970-015-0109-4
https://jissn.biomedcentral.com/articles/10.1186/1550-2783-8-S1-P7
https://jissn.biomedcentral.com/articles/10.1186/1550-2783-3-1-28
https://jissn.biomedcentral.com/articles/10.1186/1550-2783-10-4
https://jissn.biomedcentral.com/articles/10.1186/s12970-017-0189-4