Nutrition periodization is something that I've been passionate about teaching for a long time now. Partly because I'm just a geek when it comes to diet research… but also because it was something missing from the general coaching space.
We see periodization inside sport, olympic lifting, powerlifting, and sometimes in advanced bodybuilding. But what about the everyday man or woman who just wants to get ripped? Maybe they don't want to compete in anything at all, they just want to create their own best physique.
See, that's where we spend the majority of our coaching at. Yes we work with some WWE Wrestlers, some Advanced Bikini/Physique Competitors, High Level Athletes and even some Actors. But 90% or more of our clientele are probably just like you and me. Normal, everyday people, looking to get jacked and/or leaner, so they can just look good naked and feel confident in the summertime.
People assume because it's not competitive that periodization isn't important, but that's a major misunderstanding. In fact, it's a huge mistake! It's one of the biggest mistakes and it's causing SO many people to have subpar results or not achieve results at all; rather just spin their wheels wondering why all their hard work doesn't pay off.
Periodization is the process of planning and manipulating variables over time in order to achieve a specific result. That's all. In other words, it's just planning and adjusting a diet as time goes on.
The purpose of doing this is to not only achieve better results, because the human body and metabolism are very dynamic elements – therefore a completely linear approach is highly unlikely to work long term, but also in order to sustain the result longer after it's achieved, phase between goals and the needs of your body, reduce some of the metabolic adaptations and consequences that arise from dieting, and ensure that your psychological health is managed properly throughout the diet.
Because this is my 3rd article on this topic (I've also shot a video, recorded 3 podcasts, and created probably 97 IG posts regarding the topic), I wanted to create an article regarding my updated stance or position. This is not to say that those previous articles were incorrect by any means, but there has been so much more research done on the topic of diet breaks, refeeds, diet phases, and more, that we know twice as much about nutrition periodization at this point. 
Add to that, our team has grown to hold 6 nutritionists and 2 interns (coaches in training) and has coached 1,000+ of people over the last few years. With that, comes a lot of experience and anecdotes. So yes, science has updated and I will be referencing a lot of it… but part of being evidence based doesn't solely mean looking at research and applying it exactly how it was examined, it means understanding the research, considering it into your practice, and screening it's application alongside your own personal coaching experience.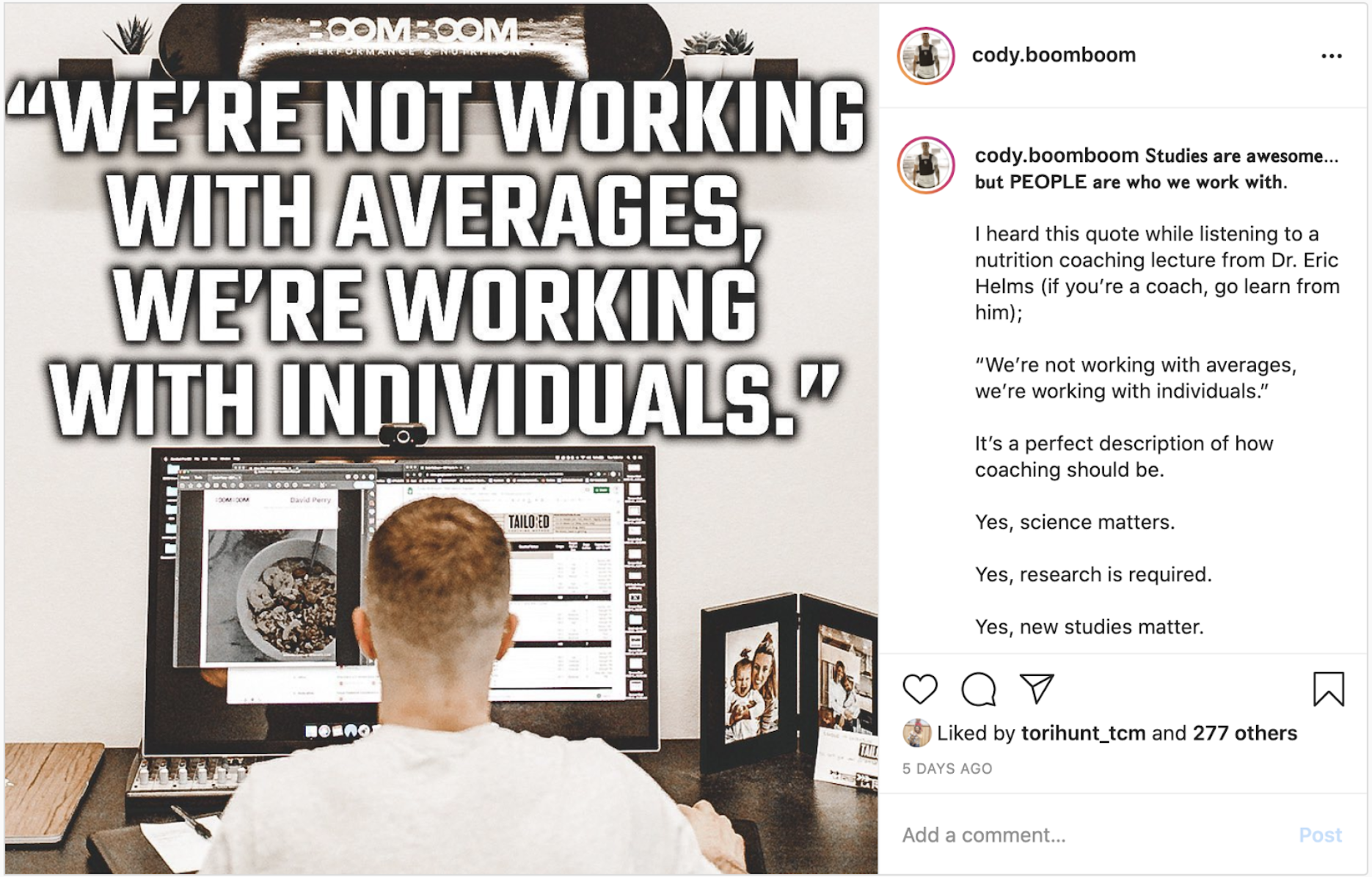 When working with REAL people, studies are just one small part of the equation.
It's hard to study an individual, but it's very easy to study averages. But averages don't paint the whole picture. Again, this doesn't mean that studies don't matter – studies set the path in motion and give you concrete direction, we need them. But with experience, you learn more about human interactions, connections, psychological differences, hormonal changes, adherence and consistency, and more… 
Ok, I think I've set the stage for what this article is going to be, now. I'm 600 words in, so I better start giving you some ACTUAL coaching applications.
We're going to cover a few things today:
Long Term Periodization (12-18 Months)
Diet Breaks and Refeeds
Short Term Periodization (1-4 Weeks)
Periodizing For Life/Social Events
Application: How Should You Periodize?
LONG TERM PERIODIZATION (12-18 Months)
The main thing to map out here is your long-term goals and the phases of your diet that fall within the path to getting there. Meaning, if your goal is to have more muscle and less fat – it's not likely that you're going to have a straight shot there, simultaneously building muscle and burning fat. It's almost impossible. Rather, it'll take phases of dieting where you're cutting, gaining, and maintaining.
If your ultimate goal is fat loss and you could care less about being jacked, just want to lose weight – it gets a little easier, but still requires phases of dieting because you cannot linearly follow a deficit for months on end. You'll burn out, wreck your body, and psychologically burn out from the process as well.
I'm a big graph person, so let me show you what I mean inside a graph: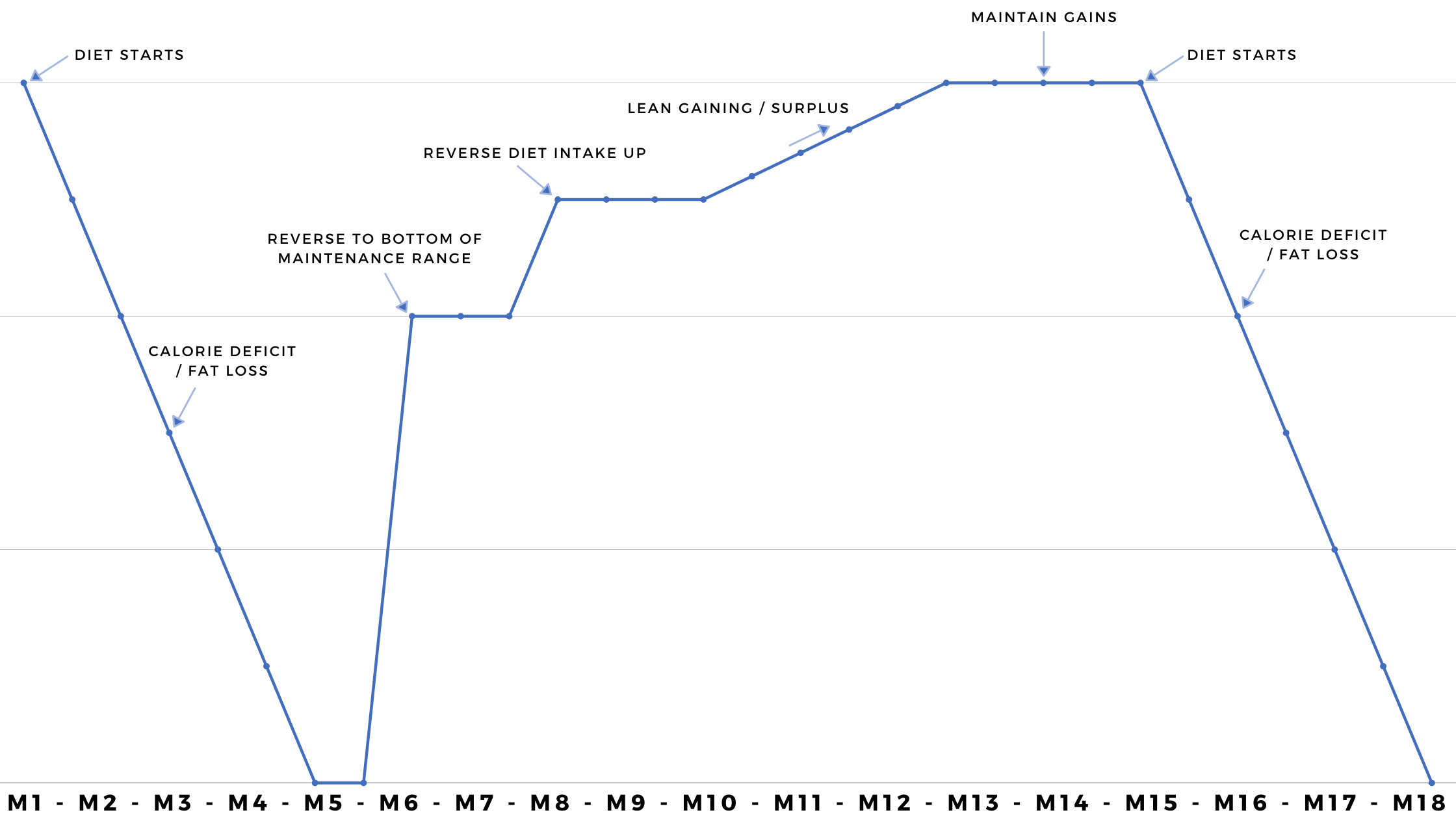 That shows a 5 month diet with a couple weeks at the end to just hang out down there, make sure that your new weight and body fat percentage are there to stay.
Then we take an immediate bump up in your calories to start the reverse diet, but in a way that is more geared towards a recovery diet. This is a faster paced reverse that gets you out of the deficit by a good amount, right away. The reason we prefer this is because the longer you stay in that lower calorie diet, the more likely you are to suffer from the variety of diet fatigue symptoms that could pop up and occur. So let's get you out asap and get you to the bottom of that maintenance range (big key there – i.e. maintenance is a range, not a static number, which means we need to bring you right up to your new predicted maintenance but only to the bottom of that range, to avoid weight regain).
After this immediate and more aggressive bump up, we hang there for a couple weeks to establish a new baseline, stabilize weight, improve recovery, and simply feel better from a biofeedback standpoint. Then we take a slow and gradual approach to the reverse diet, bumping up a bit higher and seeing what we can get away with without being too greedy.
Once you've successfully reversed, it's time to maintain your new bodyweight. This is our transition period. We've cut, we've reversed, and next – we're going to try and put on some muscle. But if we get trigger happy, we're more likely to accumulate body fat in the process.
But after maintenance is established and we feel confident about maintaining a decently lean physique at our new intake, it's time to increase calories more and get into a slight surplus to accomplish some lean gains. 
We'll hang out here for at least 3 months, but upwards of 6 – if your overall goal is fat loss, still. If your goal is muscle growth, this phase could stretch out to be 8-12 months.
Finally, we maintain again (transition period) and then dive into our second round of cutting.
But by the end of this… we're 18 months in. 1.5 years in total.
THIS… is nutrition periodization for the long-term setting. And the reason it's so important is because each stage takes a toll on your body, takes time to actually work and produce results, and requires specific transitions between each phase in order to sustain the result achieved in the prior block of time.
So… what does this look like for you? Well, as I always love to say… it depends.
Right now you need to decide what your long term goal is, because that's your finish line. You can't even create a successful blueprint to reach your goals if you're unaware of what the goal actually is.
Once you figure out what your goal is, you'll need to look at your personal life and decide when it is best to attack each goal. An example would be summer… is that the best time to cut? Honestly, probably not – even though you'll be shirtless or in a bikini more often, you're also busier with BBQ's, social gatherings, and more… making it difficult to stick to a deficit. So you'd want to factor that in and maybe cut before summer, transition and maintain through summer, lean gain in the fall and winter, and repeat the process come new year.
Regardless, there are some guidelines to follow when planning things out:
→ Typically a cut will last anywhere between 12-24 weeks.
→ Whatever you decide on your timeline, knowing that a fat loss rate of 0.5-1% of total body weight lost per week is ideal, add 2-4 extra weeks to accomplish it.
→ Transition/maintenance phases are mandatory if you want to sustain the progress made.
→ Reverse diets shouldn't be too slow out the gate, but can slow down after reaching the bottom of your maintenance range (predicted).
→ Muscle gaining phases should be a minimum of 12 weeks long, but are more beneficial when stretched to 20-24 weeks long (hypertrophy takes time).
DIET BREAKS AND REFEEDS
This has been such a cool topic to follow in the literature over the last 10 years, because more and more research has been done – actually debunking many of the benefits we once believed to be true.
Originally, you just needed a cheat day. One all out day to eat as much as possible, because it would boost your metabolism by increasing leptin and ghrelin.
Then it was realized that this cheat day should really just be one meal because people were going on binges and gaining too much fat.
But wait, it's carbs that trick the leptin and ghrelin hormones to spike… So maybe we keep it for a full day, but make sure it's only coming from carbs.
Actually, you need 2 full days because hormonally speaking there is no benefit in a single 24 hour bout. We need 48 hours.
Scratch that, it needs to be 3-days (72 hours).
You know what? Let's make it a full week, that's guaranteed to work.
On second thought, I don't think these actually work… it seems to just be psychological relief and some glycogen replenishment with very minimal, if any, direct physiological changes. So just do whatever you like most and allows you to adhere best.
Slightly kidding with that dialogue, but it's actually fairly accurate and anyone who seriously follows the research will know. We actually reviewed a recent diet break study in our June edition of Research Roundup (Blog Here or Podcast Here).
REFEEDS
A refeed is classified as 1-2 days of eating at or slightly above maintenance, via an increase in carbohydrates. Although this isn't going to be a magic bullet to speed up your metabolism or improve your hormones physiologically speaking, it is a great addition to a diet and is part of periodization.
As I mentioned above, the main benefit here is likely psychological. It's simply a break from the diet. A sense of relief. A normality. And that's important!
This is going to help you adhere for longer, be more precise with your tracking (we find in studies without refeeds, people's accuracy begins to dwindle as the diet proceeds on), keep your motivation higher, improve your performance in the gym short term, help blunt cortisol and other stress related hormones, and potentially improve sleep quality temporarily.
Those aren't necessarily going to improve your hormonal profile directly by any means, however I'd argue that indirectly you could see some physiological improvements over time when using these refeeds and diet breaks.
For application, it tends to be best when performed with 2 consecutive days in a row rather than 1. You may have these every 5 days, 7 days, 10 days, 14 days, or even 21 days. It's very individual and the amount of diet fatigue accumulated during a deficit varies from person to person.
DIET BREAKS
Diet breaks are typically 3-7 days long. This is where we have a true break from the diet by taking 72 hours or more of eating more calories, ideally just like you would do with a refeed (increasing to maintenance via carbohydrates).
The reason for this is because carbs are going to be stored as muscle glycogen predominantly and are more unlikely to store as fat, compared to what an increase in calories via fat would do.
All the benefits discussed above with the refeeds, apply here but typically in a greater amount, as you can imagine. You're simply getting MORE of the relief, break, refuel, and recovery.
For application, these tend to be needed far less often because of their duration. So it's purely dependent on the individual. What I tend to find is that people with more muscle tissue on their bodies, going into a more aggressive deficit, or who simply accumulate diet fatigue faster, need these diet breaks more frequently.
I tend to follow a 3 week on/1 week off approach for most, but this can be adapted to be 4 weeks, 5 weeks, 6 weeks, and up to 8-12 weeks. Again, it's highly individual.
SHORT TERM PERIODIZATION (1-4 Weeks)
Short term periodization is simply using those refeeds and diet breaks in a cyclical structure on a monthly basis. This is the act of planning your refeeds, calorie cycles, and diet breaks out in advance and then following a methodical approach in executing them.
I suggested multiple strategies above and they all fall into this category.
→ 5 day deficit / 2 day refeed
→ 7 day deficit / 2 day refeed
→ 10 day deficit / 2 day refeed
→ 10 day deficit / 3 day refeed
→ 14 day deficit / 3 day refeed
→ 21 day deficit / 3 day refeed
→ 3 week deficit / 1 week diet break
→ 4 week deficit / 1 week diet break
→ 6 week deficit / 1 week diet break
→ 8 week deficit / 1 week diet break
So what's next?
Next are maintenance phases or blocks. This falls into short term periodization and long term periodization, because how long that maintenance phase is depends on the next goal.As shown in the graph above, if the maintenance phase is simply a transition from a cut to a lean gaining phase, it can be much shorter because you're purposefully going to be increasing calories to get into a surplus.
But on the contrary, if you diet for a full 16-20 weeks, get a good amount of results and are a bit burnt out, but truly not at your goal weight yet – you'd take a different approach. Here, you would take a longer maintenance phase, somewhere between 4-12 weeks, before returning back to another deficit to try and lose weight again.
Example of a couple clients I have in this position right now:
→ Cut 20-30lbs in the beginning of the year and spring.
→ Reverse and maintain through summer for 3 months.
→ Return to cut to drop another 10-20lbs during the fall.
The reason for this goes beyond just making summer time flexibility easier, which is super important… it is also in place because you cannot continually diet! That's the entire point of this article; it just won't work and you will get burnt out, I don't care how resilient and disciplined you think you are.
By taking this 12 week period off the diet, not only are you more mentally fresh – you have probably reversed some of the metabolic adaptations that occur during dieting, you've lowered and better managed stress, hit some new PR's, and maybe even built some new muscle tissue. You're literally in the perfect position to go into a deficit.
If you didn't take that time to recover and re-prepare, you would've continued the diet and it would've slowly stopped working – be that from metabolic adaptation or lack of adherence. This would mean you'd be spinning your wheels; in a deficit without any return of investment. Stressing the body out for no good reason!
PERIODIZATION FOR LIFE AND SOCIAL EVENTS
This topic is quick and simple.
The way you adjust your long-term periodization plan (both quarterly and yearly) should be based somewhat on the social obligations you have over time.
Are you attending or in any weddings?
Big birthdays coming up?
Vacations?
Camping trips?
Summer break with your kids?
High stress season at work?
Starting a business?
Nothing at all, with plenty of time to plan ahead?
Worldwide pandemic that allows you to stay home and control your diet completely?
The list goes on… but there are things bound to come up and many of them will make a difference in how effective the diet will be. Some will allow greater compliance and better results. Others will make adherence 10x harder and results more difficult to come about.
If you look at your calendar and factor these in, you can plan diet breaks and maintenance phases in the right spots. For those looking to gain muscle, too, you can plan your cut in the easiest time to adhere, the times where you have complete control, and save your maintenance and gaining phases for the times where you have a lot going on or need a little more flexibility.
If you're like me and your work is in the office or gym, you coach people for a living, and have very little hobbies outside of studying training and nutrition… you can plan it all at your own free will!

[Kidding… not really…. but kinda….]
APPLICATION OF PERIODIZATION
For this section, I'm going to close things out with two different simple step by step lists for you to periodize your diet:
OPTION A:
Talk to a Tailored Coaching Nutritionist

Go Over Your Goals and Periodization Plan

Let Us Do The Work For You!
If, however, you want to tackle this on your own… here's what I'd suggest:
OPTION B:
Study Nutrition (Read

my ebook

,

The Muscle and Strength Pyramids

, or

Fat Loss Forever

– *optional, but helpful)

Set your long term goal (what's your ultimate physique look like?)

Pinpoint all your social obligations over the course of the year.

Set up your diet phases where you have complete control and optimal adherence.

Do not go over 24 weeks of dieting unless you have 60+ pounds to lose and are implementing diet breaks.

Set up a cycling of calories by implementing refeeds, and/or diet breaks in your calendar.

Set dates and durations for maintenance phases.

Plan for an aggressive, then gradual, reverse diet to transition from those cutting to maintenance phases.

If looking to build muscle, follow this exact list but place in your muscle gaining phase where the fat loss phase is because that's your priority (unless you have fat to lose first, then it would fall after the maintenance block).