How To Use TDEE and BMR Calculator To Lose Weight
BMR (Basal Metabolic Rate) and TDEE (Total Daily Energy Expenditure) Calculators live ALL over the web nowadays. We have one embedded into this blog here for you, below. 
You may be wondering "What is BMR, and why does it matter to me?"
Before we show you how to calculate BMR to help you lose weight,
I want to explain what BMR actually is and why it's important to understand.
Then dive into what TDEE is, how the two relate, and specifically – why you cannot begin to count calories meaningfully without knowing what yours is.
And then finally, how to USE the information here, including the calculator, to start dieting for successful weight loss.
What is BMR? 
Basal metabolic rate (BMR) and resting metabolic rate (RMR) are used interchangeably by most people, so we'll do the same here. There are some nuances between the two, but that isn't important for what we're diving into here.
BMR/RMR is the amount of energy expended by everything in the body at rest, essentially it is the amount of energy we need to maintain weight if we didn't do any activity. BMR accounts for the majority of our daily energy expenditure (60-75%).
When we lose weight our bodies become smaller, so we require less energy in the resting/basal state, which is one part of metabolic adaptation that occurs during weight loss and what can make reverse dieting so difficult for many people. 
We cannot control much of how our body changes our BMR with weight loss. There is some individual variability involved in this, too, but for the most part we cannot do much outside of manipulating our exercise, NEAT, and nutrition in order to slightly mitigate some of these metabolic adaptations. For example, high protein diets tend to reduce the loss of lean mass when dieting and increase TEF (Thermic Effect of Feeding – i.e. how many calories are burnt during digestion). We can also increase NEAT or even simply maintain our maintenance NEAT when dieting, by tracking steps, to try and avoid our body's natural response to a lower calorie intake (which is to subconsciously lower our NEAT). This is important because lean mass accounts for a large portion of our BMR and ~80% of our TDEE.
What is TDEE?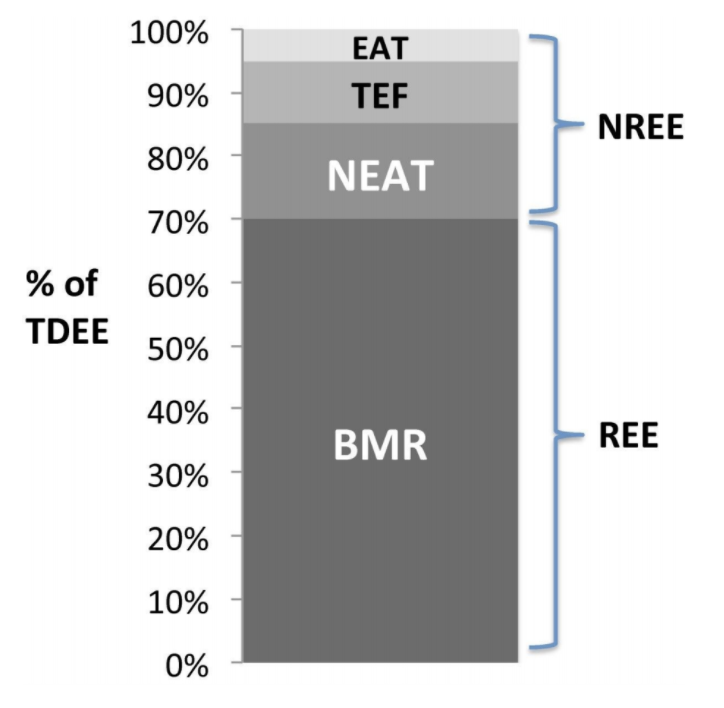 There are a number of factors that contribute to what make up TDEE, those being: RMR or BMR, the thermic effect of feeding (TEF), exercise activity thermogenesis (EAT), and non-exercise adaptive thermogenesis (NEAT). These four components make up total daily energy expenditure (TDEE). 
Since we've already broken down BMR or RMR in the previous section of this article, we'll dive into all the other components that make up TDEE here.
The thermic effect of food (TEF) is the increase in metabolic rate after ingestion of a meal. Evidence suggests that TEF is influenced by macronutrient composition of the mail, meal size, and possibly age and physical activity level. It accounts for 5-10% of TDEE. High protein and higher carbohydrate meals increase TEF more than meals high in fat.
When we lose weight we generally eat less, which means that TEF may decrease slightly. However, there isn't any change in TEF that causes metabolic adaptation more than we would expect by eating less food, so we don't need to worry about it for now — just make sure you're eating a high protein diet because protein.
Exercise activity thermogenesis (EAT) is the energy we expend when we exercise. This could be cardio, resistance training, or high intensity interval training. 
When trying to lose weight we may increase EAT, and as our body weight decreases we expend less energy for the same workout. Plus, our bodies adapt to exercise to become more mechanically and metabolically efficient so we use less energy, unfortunately. This is also why relying solely on cardio to lose weight is a very ineffective long term strategy for weight loss.
Non-exercise adaptive thermogenesis (NEAT) is the energy we use for everything that is not sleeping, eating, or exercise. NEAT accounts for 10-20% of overall TDEE. 
NEAT increases with overfeeding and decreases with dieting, and is the largest contributor to metabolic adaptation. In one study, non-resting energy expenditure accounted for a 300 calorie per day decrease after correcting for body weight. In some special cases NEAT can account for up to 30% of TDEE.
This is why tracking steps on a daily basis, while aiming to increase them or at the very least maintain them, during a fat loss diet is a very smart idea. It's heavily documented in research as an effective method to increase fat loss, maintain better cardiovascular health, and also potentially mitigate and/or prepare for metabolic adaptation.
How to Calculate BMR and TDEE
Now that we have a better understanding of what all these terms are and what they mean… It's time to figure out what YOUR actual BMR and TDEE are.
In the BMR calculator below, you'll be able to figure that out. You will enter your personal data/information and it will provide you with a specific calorie target. It will take your BMR, after understanding the basic personal data you've entered in (age, weight, gender, height) and then will use an activity multiplier based on your unintentional (NEAT) and intentional (EAT) activity.
This will provide you with your TDEE, which is the total amount of calories you needto maintain your current body weight. Once you've done that, continue reading this article to learn more about what to do with that information so that you can not just maintain your current physique – but progress to the physique you actually desire.
 Try the
BMR calculator
below:
---
Creating A Calorie Deficit To Lose Weight
There are COUNTLESS diet plans out there with catchy names that promote and promise fantastic results, making it unbelievably confusing and difficult for the average person to make a smart decision with their nutrition.
But the reality is, they ALL have the same thing in common:Restriction.
They restrict a specific macronutrient (i.e. keto), a specific food group (i.e. paleo), or even a specific period of time (i.e. intermittent fasting). In reality, they're all simply restricting calories – which means they're creating a calorie deficit; the key to losing weight and exactly what thermodynamics is all about.
This iswhy using something like this BMR calculator is so useful and impactful towards your body composition aspirations and goals!
This method allows you to see the caloric values instead of food groups or any other anti-lifestyle-oriented diet protocol suggested by the instagram guru's out there.
When we understand the caloric values of food and exactly how many calories we need to consume to maintain our weight, we can do two very important things for fat loss:
Create a calorie deficit without restricting foods. This means we can be flexible with our diet and not avoid all the things we enjoy or love to eat, making the diet far more sustainable long-term.

Utilize a system that allows us to adjust the diet as the fat loss journey progresses or plateaus.
To successfully create  a calorie deficit, you'll want to take whatever number the calorie calculator above gave you and create a negative energy balance from it — i.e. a calorie deficit.
We recommend starting with somewhere between 10-25%, for initial fat loss. This suggestion is based on research that tends to show in fat loss studies. When looking at research focused on weight loss or body composition changes, through dietary interventions, the typical deficit created is somewhere between 15-30%.
Now, we're suggesting 10-25% because we have so much experience working with clients that we've determined adherence becomes extremely difficult for the vast majority of people when we surpass a 25% deficit. We also know some individuals' lifestyles or activities don't lend them the ability to even pass a 10% deficit without feeling the negative effects too much.
So for these reasons, we interpret what we see from the research and suggest 10-25% in the beginning.
Now, I say "in the beginning" because this is just our starting point and the other reason we like to suggest 10-25% at the beginning, which is far greater than the amount we'll adjust throughout the diet, is because your body needs an initial kickstart to get into the fat loss process.
As discussed earlier when referring to metabolic adaptation and written about in much greater detail in our Reverse Dieting Blog, your body will adapt to the diet rather quickly by compensating for the deficit in calories created — i.e. NEAT lowers, hormones slow down, etc.
Knowing this allows us to better understand that if we were to create, say, a 5% deficit as our initial calorie deficit… we'd probably get nowhere!
In fact, I've seen it and it's MORE frustrating than anything for the individual. What happens is they create this 5% deficit, which they do feel because they're consciously eating less and having to actively track their intake, and their weight doesn't drop much at all, if any at all, because it's not enough for their body to dip into a true deficit.
Instead, their body and metabolism adapts rather quickly and is able to compensate for the deficit created. Now they're still getting some physical fatigue from eating less, definitely experiencing some psychological fatigue from both following a "diet" as well as not seeing any significant results, and they're left with nothing to show for it.
Does that sound like a good plan to you?? Didn't think so.
So for this reason, we like to jump into a deficit that we know for certain will create some initial weight loss and get the body moving in the right direction, without any concern of adaptive thermogenesis outworking our starting calculations.
There's not much research to prove the theory we have as to why this may happen, outside of the literature on metabolic adaptation, but I tend to teach a concept called "The Maintenance Range" — this is the idea that we don't have a set in stone maintenance caloric intake, but rather a range that we need to get out of in order to create successful weight loss via a deficit.
This makes a lot of sense because we never have the exact same day, same sleep, same workout, same foods, same water intake, same stress levels, etc… So how could we possibly burn the exact same amount of calories every day? We simply can't. 
Which means the calculation above is not your set in stone maintenance intake, but rather it's likely the dead center of your maintenance range. But this also means you'll need to make that 10-25% deficit in order to dip out of that range; where in that 10-25% you fall is hard to say, because everyone is individual and has a different level of adaptiveness to their metabolism.
Adjusting Your Calorie Deficit Based on the BMR Calculator
The next step would be to understand HOW to adjust your diet along your journey.
The truth is, this is a big ol' "it depends" answer — this is why we coach hundreds and hundreds of people every month. Each one of our clients is different and needs a different approach; but more specifically, they all reach different plateaus for different reasons. This means that their dietary adjustments need to be different as well.
My basic and most general suggestion here would be to adjust 5-10% when you reach a small plateau (one that lasts at least 1 full week, but usually best when seen for 2-3 weeks straight). This is far less than the starting deficit — but that's on purpose because if you're already in the deficit, we don't need to push hard every adjustment. We just need to nudge you further along.
My more specific and, I'd say, a better suggestion would be to apply for our coaching — if you click here right now, you can jump on a free strategy call with a coach. We'll be able to chat with you about where you're at, where you want to go, and exactly how we'll help you get there. Having a guide for your journey is far more productive than going at it alone, wondering where to go and how to get there.
Last but not least, I'd also suggest you download our free Tailored Nutrition Method ebook. This is The All Inclusive Guide To Mastering Your Diet and will break down all this and more, over the course of 80+ pages.
Wrapping Up
We can wrap this up pretty easily by just stating how important understanding what your BMR, RMR and TDEE is. It's the foundational principle of losing weight, really. Because without it, you won't be able to kick off your diet properly in the first place.
So go ahead and calculate your maintenance intake with the BMR calculator above and consider how large of a deficit would be best for you. Once you know your numbers, you can reach out to us for coaching or start by reading our free eBook to determine where your macros should be within that caloric intake.