This is not a guide for how to quickly lose 10 pounds of fat, so don't get confused by the term weight cutting. There are NO quick fixes that provide sustainable results and chances are you'll lose quite a bit of muscle if you choose to crash diet… 
In this guide, we are using the term "weight cutting" to refer to an athlete literally weight cutting for a specific sport event, such as a BJJ competition, powerlifting meet, weight class required sporting event, etc…
Many combat sports, like boxing and judo, as well as weight lifting sports have specific weight classes that athletes must conform to in an attempt to even the playing field of competition.
Athletes must attend a specified weigh in date and time to ensure they "make weight" for the class they want to compete in. Athletes then compete later that day or the next day depending on the sport.
This process of "making weight" for an athlete is very different than wanting to lose a few lbs before your vacation. If that's your goal, be sure to hop on the phone with one of our coaches ASAP!
But in this guide, we are discussing strategies for athletes who need to cut weight to make a specific weight class and be the most competitive in their sport. We will cover:
→ Choosing a Timeline
→ Mindset
→ Setting Food Intake
→ Cutting Water
→ Creating a Post-Weigh In Plan
Keep in mind that males and females will have different experiences when cutting weight. It's typically easier for men to drop more weight in a short period of time so know that there may be differences in how a female athlete vs. a male athlete responds to different nutritional strategies.
Key Takeaways:
→ Athletes that compete in weight category sports cut weight in order to be the most competitive in their sport.
→ There are methods to plan out your weight cut over time or to drop weight quickly and drastically (including diuretics, laxatives, and excessive sweating), the latter of which can be detrimental to performance and health.2 
→ By manipulating carbohydrate and fluid intake ahead of time, athletes can make weight without excessive sweating and water manipulation.
→ Serious health risks may arise with consistent weight cutting.
→ Creating a proper post-weigh in rehydration and meal plan can help mitigate any decreases in performance after "making weight."
→ At Boom Boom Performance, we recommend athletes plan as far in advance as possible to create a weight cutting plan that helps them maintain performance and negate some of the negative side effects that come with intense dieting.
There is no one way to cut weight but here are the strategies we've used with BBP clients, which have had great success!
Choosing A Timeline
First, we need to make sure that you, as an athlete, are ready to diet. If you've been eating in a calorie deficit for an extended period of time, are overstressed, or not in a solid place mentally, cutting will be much more difficult.
In this scenario, I'd recommend a recovery phase before diving into weight loss. This might be a reverse diet or simply a period of time at maintenance to truly balance stress and recovery and find homeostasis for your body.
If you've been at maintenance, have stellar biofeedback, and are ready to cut, we can move into a weight loss phase in preparation for your event. 
When setting a timeline, we need to know how much weight you'll have to lose for your event.
If you have 12+ lbs to lose, I'd suggest a slow and steady (12-16 week) approach for your cut. This is a much more sustainable method of fat loss for athletes looking to keep weight off long term.
With a slow and steady approach, I like to allow an extra 2-4 weeks and aim to be ahead of schedule. For example, if my powerlifting client needs to be at 72 kg by September 1, I want to be within a few lbs of that weight 2-4 weeks before that date. 
This "wiggle room" in your timeline not only helps your athletes get used to how their lifts feel at their competition body weight, but can mean the difference between coasting into your weigh in feeling good or having a high stress weigh in week while manipulating hydration levels.
If you have less than 10 lbs to lose, you may opt for a fast and drastic approach to your weight cut, but I don't typically recommend this. 
One reason being that it downright sucks because a drastic calorie deficit is needed to lose 10 lbs in a matter of weeks. When you cut calories by 40-50% for a fast and drastic weight cut, you will feel terrible and be miserable – almost guaranteed. Not to mention you will definitely need to cut water, which can be dangerous and unhealthy.
For the sake of this guide, we'll stick to the slow and steady approach to weight cuts.
Mindset
Before you even begin to cut weight, you should know that it's going to be hard. It's never fun to diet intensely while manipulating hydration and energy expenditure – all of this on top of the stress of your upcoming event.
Some studies have even shown an impact on mood, perceived rate of exertion, and cognitive function in athletes who cut weight.3
Be mentally prepared heading into your cut by knowing that you will be hungry and you will be challenged. Before you even start your cut, find support from your family and friends and be sure to remove any processed foods that don't fit into your plan from your house.
We also recommend adding in relaxation exercises 2-3 times per week to help balance out your stress and recovery. Some ideas include journaling, meditation, deep nasal breathing, etc.
All of this is another reason why you should always work with a coach. Your coach will be in your corner to keep you accountable and get you where you need to be.
Setting Your Food Intake
To lose weight you must be in a calorie deficit – we know this. Your individual calorie deficit will depend on how long you have until your event and how much weight you need to lose.
If we assume you have 12-16 weeks to cut weight, a moderate deficit of 10-20% should be sufficient to start.
Protein 
When setting macros, we always want to set protein intake first to maintain lean body mass and keep satiation high. We recommend about 1 * body weight in grams of protein as a good starting point. This may need to be increased depending on the athlete's progress over time.
Carbohydrates 
Studies have shown that a higher carbohydrate diet helped to better maintain muscle glycogen (and therefore performance) than a lower carb diet with similar calories.3 Therefore, we recommend keeping carbohydrates as high as possible during a cut.
And we know that carbohydrates are stored as glycogen in our muscles and in the liver. Glycogen holds about 3g of water for every 1g of carbs. Therefore, we will need to decrease carb intake to lower water retention and decrease body weight.
One study showed that a decrease in carbs combined with training and an energy deficit achieved about a 2% body mass reduction while maintaining strength, power and anaerobic capacity measures.5
So we know that carbs must be restricted, but also play an important role in performance. Therefore, we recommend adding in frequent high carb refeeds and diet breaks throughout a weight cut as the timeline allows.
Fiber
Fiber plays a large role in the contents of your gut. For example, you don't want bulky, fibrous foods in your diet, drawing water into the gut and slowing bowel movements as you near your weigh in date.
We recommend reducing fiber intake at about 7 days out, which has been shown to cleanse the bowel without the harmful side effects and stress of certain diuretics and laxatives.4 
Unfortunately, we can not give exact macros or calories because the requirements will vary greatly between athletes. 
Cutting Water
Please note that cutting water can be very dangerous. It's not healthy or safe to dehydrate your body and manipulating hydration levels can come with many risks. 
That being said, cutting water is a strategy used by many athletes in order to encourage your body to flush any excess water and can be a useful strategy to a certain point. 
Studies say it may be safe to cut up to 8% of your weight in water, but I don't recommend cutting that much weight via water due to the health risks and potential hit to your athletic performance.1
When To Cut Water
If you do decide to cut water, do NOT cut water to early. If you cut water too early you will feel terrible, see a big drop in performance, and potentially work against yourself if your body realizes you're trying to dehydrate yourself and amps up its defense system to hold water.
If you cut water too early, your body will increase aldosterone and ADH, which will lead to water retention and a "puffy" look/feeling.
I recommend increasing water intake before you plan to cut water at about 7-10 days out (AKA water loading). So if you typically drink 1 gallon of water a day, bump that up to 1.5-2 gallons the week heading into your event.
Start to decrease water intake about 12-16 hours before your event. Only sip water in these final hours and your body should continue to flush the amount of water it was used to consuming (1-1.5 gallons) but you're replenishing much less than that, leading to loss of water weight.
To further dehydrate yourself, you may use a hot bath or sauna to induce sweating. If you choose to do this, be sure to have a buddy with you at all times. Hot baths or sauna sessions of 10 minutes the week of your event can lead to 5-6lbs additional weight loss from water.1
To reiterate, we are not providing medical advice and advise caution if you choose to cut water to make weight.
Creating a Post-Weigh In Plan
What comes after weighing in? Rehydrating and refueling!
After your weigh in, be prepared with water and electrolytes to restore proper hydration levels in the body. Pedialyte, Nuun tablets, and gatorade are all good to have on hand.
Don't chug water because you could upset your stomach. Instead, sip your electrolyte drinks and within 30-60 minutes you should notice physical improvements.
Your post-weigh in plan should also include plenty of carbohydrates to replenish glycogen stores. The amount of carbohydrates needed will depend on how much recovery time you have before your event.
We recommend sticking to mostly high glycemic carbohydrates and/or carbohydrate-rich fluids (to simultaneously help with rehydration) and foods you know you can easily digest to reduce GI discomfort so close to competition.
Focus on protein and carbohydrate intake post-weigh in when performance is the goal. Your fiber and fat intake will be lower, but since these nutrients can slow digestion it's best to limit them.
Cutting weight (specifically rapid weight loss) has been linked to poorer performance in submaximal, long duration activity, but has less of an effect if the event is high intensity, short duration.3 Meaning with a proper nutrition strategy, you should be able to negate some of the negative impacts from your cut and succeed in your sport.
Case Study #1 – Shari, Powerlifter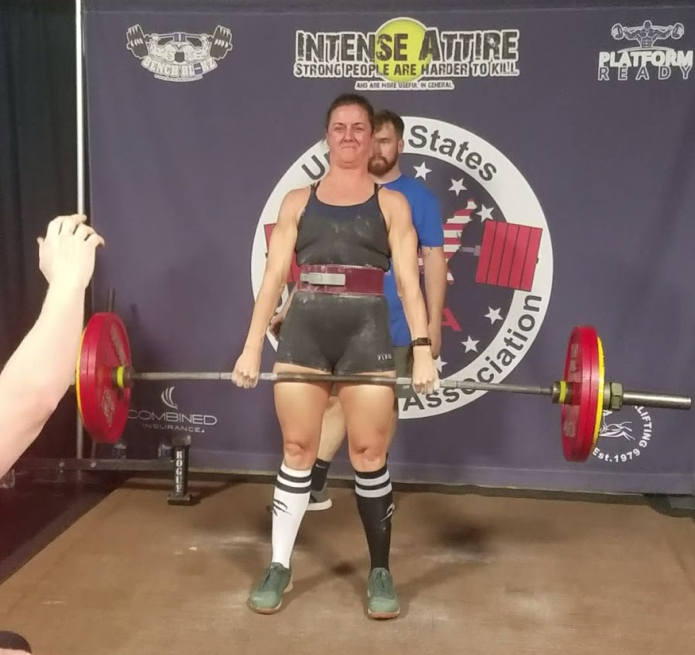 Shari and I have been working together for over a year. We spent the first 3-4 months in a "pre-season" recovery phase finding homeostasis for her body. This meant working calories up, finding her true caloric maintenance, balancing stressors with recovery, and preparing to cut for her first powerlifting meet.
Shari's meet #1 was in September and we needed to cut 10lbs so we started her cut in May to allow plenty of time. During this time, she deloaded training every 4-6 weeks, cut back CrossFit and shifted training to a powerlifting focus, and we included a refeed or diet break (about 10% calorie bump from carbs) every other week. 
At four weeks out, we were already making weight and Shari was still hitting PRs. This is why slow and steady cuts can be amazing because Shari was able to push performance throughout the whole cutting phase!
To dial things in during the last 4 weeks, we cut out any snack foods, decreased sugar, and were shooting for 100% whole foods. At 2 weeks out, we added in 30 minutes of LISS 2-3 days per week and started to decrease fibrous foods.
We also shifted her focus from training (since she was deloading heading into her meet) to sleep and stress management. 
A drop in sleep or an increase in stress can greatly impact body weight last minute. Be sure to keep 7+ hours of sleep and relaxation activities a priority heading into a weigh in!!
One week out I asked Shari to text me daily to update me on her weight. We solidified her post-weigh in food and rehydration plan and cut water the evening before her weigh in. Shari won her class in her meet!!
Then, Shari decided she wanted to compete again 2 months later. We used the 2 weeks following her meet to increase calories quickly and get food intake back up to her TDEE (about 500 calorie/day increase). We spent about 6 weeks maintaining at this higher calorie intake to give her body a recovery period after the previous cut.
Shari stayed lean through the quick recovery diet and her body responded really well to the calorie increase. Because of that, she was only about 2 lbs above her competition weight at one month out from meet #2.
Because we now knew how her body responded to the first cut and she stayed very consistent and diligent in between meets, we hardly had to cut heading into her second meet.
We slowly worked calories down while keeping 2-3 refeed days per week until her final week. That last week we added back in LISS cardio, started loading water, cut sugars, and dialed in food quality. We again eased off water the day before her weigh in just to be on the safe side. 
Shari weighed in even lower at her second meet and set state records in all her lifts!
Case Study #2 – Jordan, Powerlifter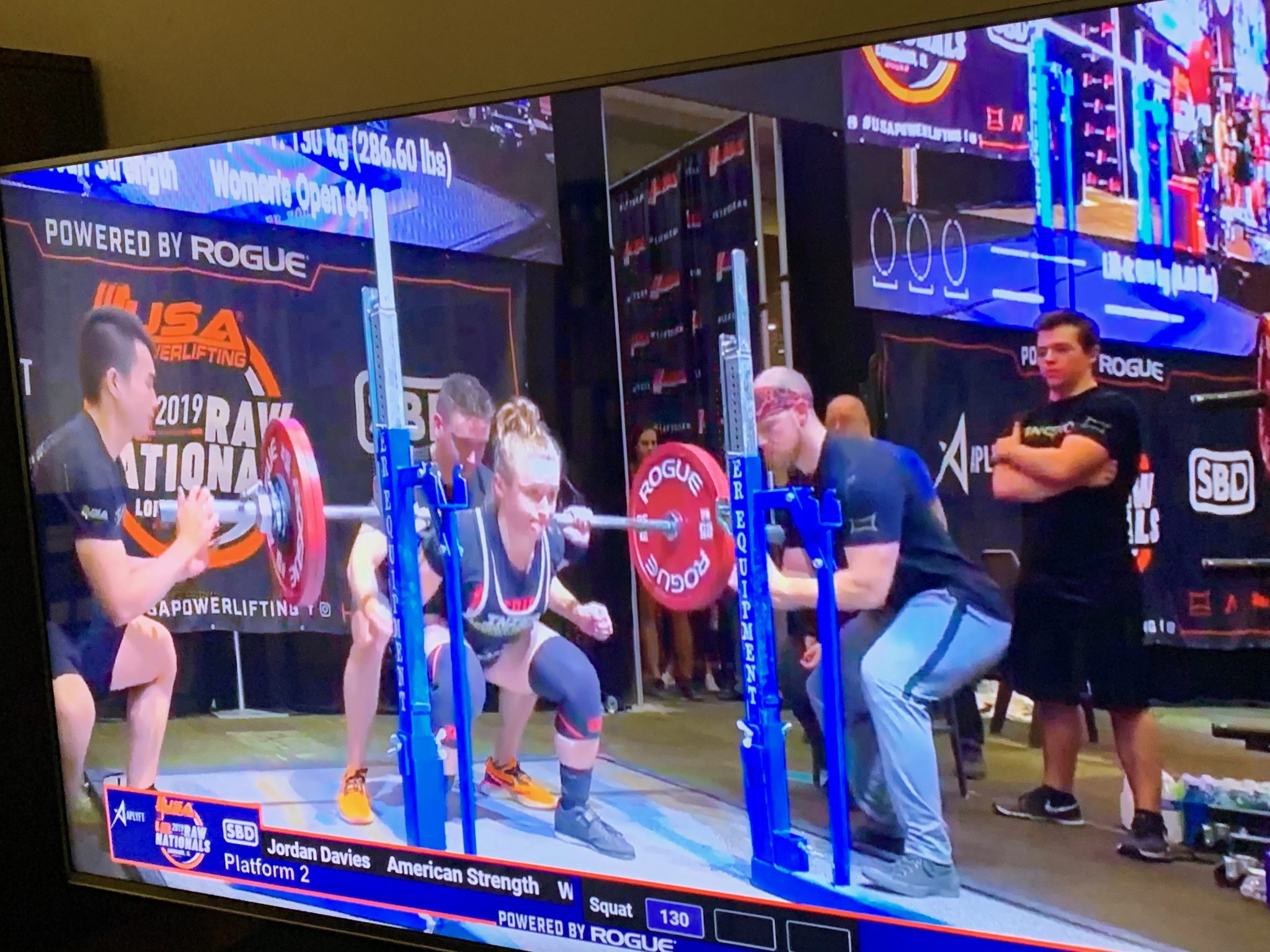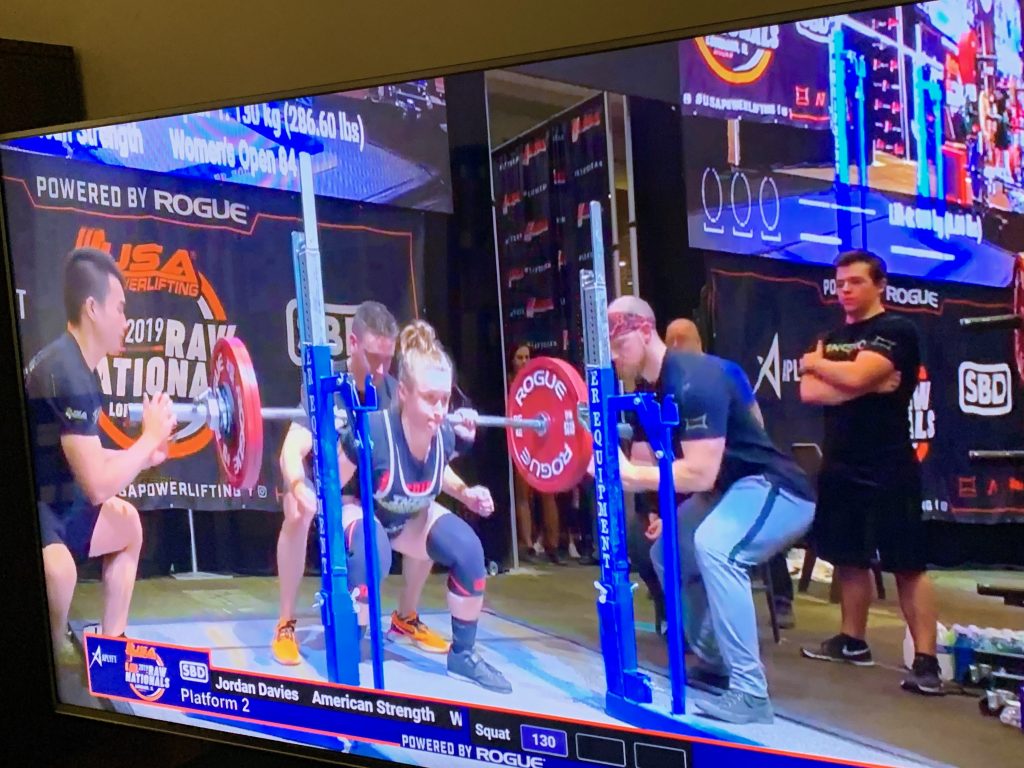 Jordan and I (Cody speaking, now) have been working together for well over a year. But the timeline I'm going to share with you today was about 9 months long, which will be a bit different compared to the next case study I share will be like.
During this 8 month period, Jordan lost 20lbs to make weight in her new weight class. She went from 182 to 162lbs, in a snail paced fashion. I know, not very exciting… but it worked! She lost the weight needed, made her weight class for regionals, and kept her performance high – in fact, she set MANY personal records during this 9 month period, which is why we chose this slow process to get to her goal weight.
When Jordan started with me, we knew she had a meet and that we had a long time to before stepping on the platform. So with that, we decided that a slow process would be best. So our first step in this was deciding just how much weight we wanted to lose and what our rate of loss would be. We knew 20lbs was the goal and that we had 9 months, which meant 2.2lbs per month. This is VERY slow when you have 20lbs to lose; almost too slow in my experience. It's unmotivating and hard to commit to a diet, because it's such a small deficit and takes so long.
Rather than putting her through that, the goal was to double that rate of loss – 4lbs per month – and get to her goal sooner, so we could refeed her and reverse into the meet. This amounted to 1lb per week, which in my experience is a perfect rate of loss for most people.
First step was dialing in macros, without even creating a deficit. Based on her TDEE and her current diet, we had her calories at 2,140 with 1 refeed at 2,440 (more for psychological purposes and to have it there before the grind started – it helps to see how the body responds to an influx in calories and carbs, since you know you'll need to play with this later on AND make weight). From this, we did not drop calories – but rather, just put her macros in a more favorable position for performance and recovery. Increased protein to about 1.1g per lb, bumped carbs up and dropped fats down to the minimal needed for health requirements.
We stayed there and hit our 1lb per week for the next 3-4 weeks, until we needed to adjust. We followed this pattern, by dropping calories 5% each time a serious plateau hit, until she reached her goal of 162lbs. This process took about 6 months, which was 1.5 months longer than we planned… but guess what? That's why you plan for more time! Life happens.
From here, we reversed her weekly caloric intake up strategically by adding in 2 refeeds per week at her maintenance calories. So now she was following a 5 day deficit with 2 days of refeeding. This allowed us to more easily maintain her weight AND test out how more calories would affect her body. Her body responded really well! She maintained the weight loss and it fueled her performance.
We carried this on through her meet, placing those 2 refeed days right before her meet so that she would be fueled and because we had a solid 2 months of practicing this calorie split – we knew her weight wouldn't fluctuate uncontrollably and cause her to not make weight.
Only things we changed during the week of the meet were training tapering and cleaning up food quality, just to avoid bloating. We also ensured that her pre meet meals were equipped to fuel performance, which meant utilizing multiple glucose transporters by eating a combo of fruit and starch pre workout (her choice was blueberries and oats, because she was used to that) and a side of egg whites with 1 whole egg. I also had her salt this meal with pink himiliayn salt. She sipped on HBCD and EAA's throughout the meet, just to make sure performance didn't sink as she went through the lifts.
She did well, qualifying for nationals – which we're in prep for as we speak!
Case Study #3 – Rose, BJJ Athlete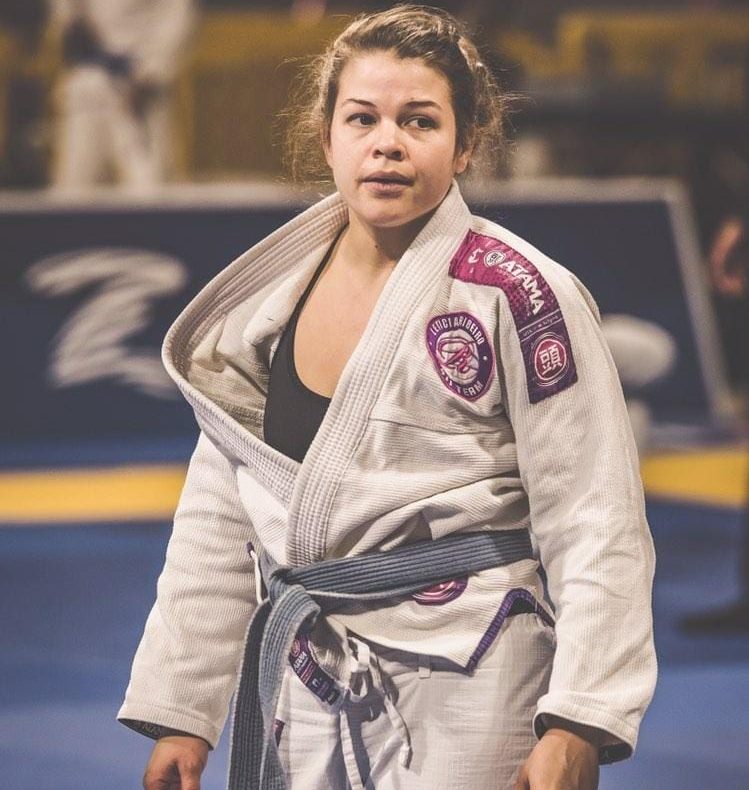 Rose and I (still Cody speaking, here), have also worked for well over a year. In fact, we worked together until she was qualified to do it solo – then she went through an ACL tear, had surgery and came back to me under eating, with some muscle loss, and having been out the gym/off the mat solid amount of time.
First step after her rehab was training. She followed a modified conjugate split out of The Elite 4 days per week, while training BJJ 3-5x per week (this accumulated as her body became more proficient).
We spent 5 months bringing her calories up from less than 1,500 calories up to almost 2,000 (weekly average, because we had a cyclical intake/approach). During this time, she lost about 10lbs – from 145 to 135lbs. But she still had about 3-4lbs to lose in the final few weeks to make her weight class of 133lbs.
So after successfully reverse dieting her, building up her intake/metabolism, and restoring some loss muscle, we decided to make an aggressive approach to the cut in order to get her ready.
We dropped carbs fairly low, to about 125g, and gave her a refeed day at 200g (maintenance level) every 4th day. This refeed wouldn't reverse metabolic adaptation or be a magic pill, but it would refuel her performance and keep her mind in the game. So we followed this 3 low/1 high split for about 3 weeks until her competition. 
What this did was allowed to cut a little extra fat, keep stored glycogen low enough to not cause the scale to jump up, and allowed us to monitor her body weight around the higher intake days (which we'd purposefully place pre comp so that she was fueled). 3 weeks was also long enough to cause a significant loss (she was 1lb below what was required), while not causing any long term issues or adaptations.
This was perfect because we reversed her to get healthy and perform well, a more sustainable result. Then we cut hard with frequent refeeds to make weight, keep recovery high, and be able to monitor weight fluctuations. And then we were able to immediately bring her right back up to maintenance, where we ended her reverse, without causing any excess weight gain.
Her pre meet food protocol was very similar to the powerlifter, except with the intra carb strategy. During a BJJ match, you can't sip on carbs – so instead, she chugged down a gatorade right before getting on the mat.
Closing Thoughts…
In summary, remember that all athletes will have different requirements for their specific sport, different weigh in procedures, post-weigh in plans, etc. but there are some overarching principles you can follow:
Plan far enough in advance for a weight cut to help your athlete feel better overall, maintain performance, and keep last minute water manipulation/dehydration to a minimum

Create a proper post-weigh in rehydration and refeeding plan to help mitigate any decreases in performance after weigh ins

Using refeeds throughout a slow and steady weight cut can be a great tool to keep performance and biofeedback high for the athlete

Consider implementing a quick recovery diet protocol after the event vs a very slow reverse diet to emphasize recovery and transition to a post-season/off season

Remember that cutting weight is a major stress on the body and can be detrimental to one's health if done repeatedly without proper recovery periods
Work with a coach you trust to help you reach your ultimate athletic performance goals!
---
Sources
NCI Nutrition Coaching Specialist Level 2 Certification. Philips, J and Zipper, T. The Nutritional Coaching Institute 2019.
Franchini, E., Brito, C.J. & Artioli, G.G. Weight loss in combat sports: physiological, psychological and performance effects. J Int Soc Sports Nutr 9, 52 (2012) doi:10.1186/1550-2783-9-52

https://jissn.biomedcentral.com/articles/10.1186/1550-2783-9-52

Kordi, Ramin et. al.

Combat Sports Medicine

. Springer, 2009.

http://www.pthomegroup.com/sites/default/files /my%20liberary/Combat%20Sports%20Medicine.pdf#page=9

Wu, K.L., C.K. Rayner, S.K. Chuah, K.W. Chiu, C.C. Lu, and Y.C, Chiu (2011). Impact of low-residue diet on bowel preparation for colonoscopy.

Dis. Colon Rectum

54:107-112.
5. Sawyer, J.C., R.J. Wood, P.W. Davidson, S.M. Collins, T.D. Matthews, S.M. Gregory, and V.J. Paolone (2013). Effects of a short-term carbohydrate-restricted diet on strength and power performance. J. Strength Cond. Res. 27:2255-2262.
---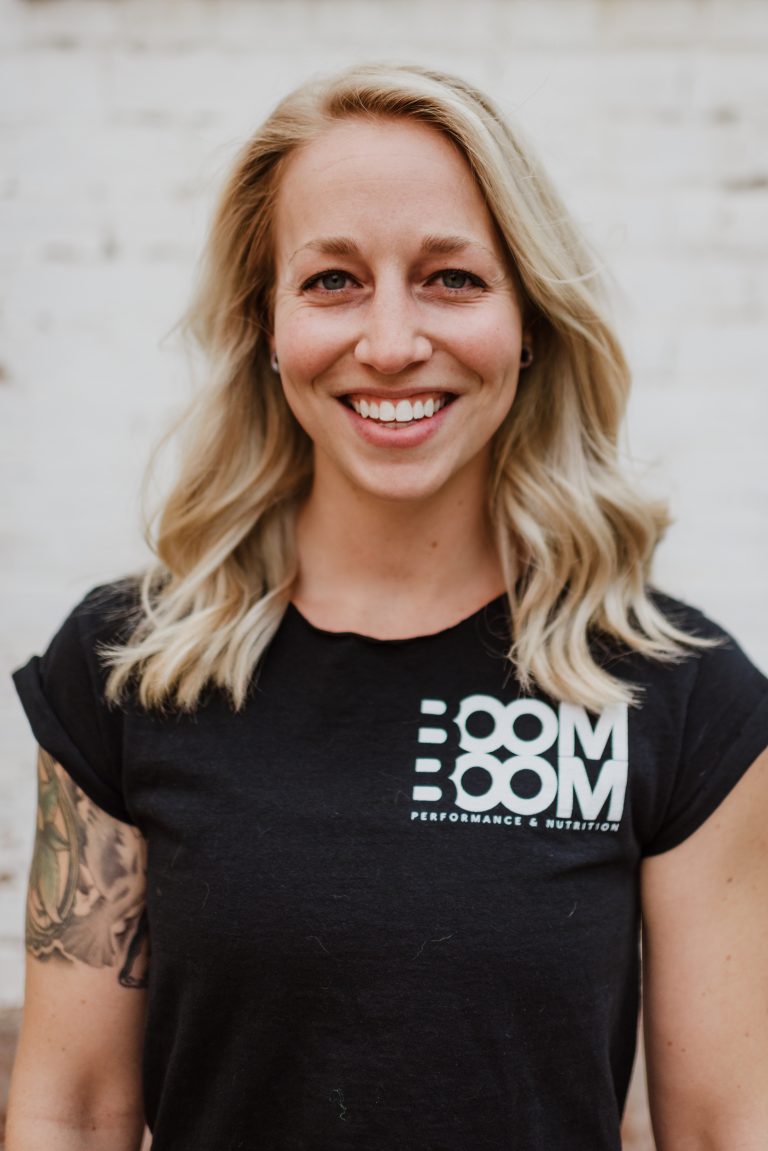 This is a blog written by Caroline Ofenstein. Caroline is Certified With Precision Nutrition, NCI, CrossFit, and is also a Boom-Boom Performance Nutrition Coach. Caroline is our go-to source for CrossFit Nutrition AND bridging the gap between Aesthetics and Performance, which is where she has recently pushes a lot of her focus in order to help people understand how they can achieve both performance and the lean physique we all strive for.