While there aren't many supplements we at BBP recommend to clients, protein powder is one supplement that we always suggest adding in to your nutrition plan.
Whether your goal is weight management or gaining muscle mass, adding in a protein supplement can help you hit your goals.
Why Use A Protein Supplement?
Protein is made up of amino acids, which are the building blocks of your muscles, tissues, bones, and blood, and is an essential nutrient that your body needs to function and survive. Protein plays a role in repairing and building tissues, coordinating bodily functions, and even supporting your immune and endocrine systems.
Eating a diet high in protein has been shown to help build/maintain muscle mass, burn extra calories through digestion, and is the most satiating nutrient keeping you fuller for longer (which can come in handy when in a calorie deficit).
One of the main reasons we recommend protein supplements is to help you recover from your workouts. Intense workouts cause damage to your muscles and you need to repair that damage to preserve muscle mass. This is important whether your goal is getting a "toned" or lean physique, or if you want to put on size.
Protein supplements can even be used as a meal replacement or added to a quick smoothie when you're low on macros for the day and need to squeeze in some more protein.
How Much Protein Do You Need?
Protein is a macronutrient (that you might be familiar tracking in your food logs), meaning we need it in large quantities. While the Dietary Reference Intake (DRI) in the US only advises 0.8 grams of protein per kilogram of bodyweight, this number really only prevents a state of catabolism and is less than optimal, especially for athletes.
Individual protein recommendations will vary depending on your personal goals and unique situation, but we typically recommend 0.8-1.2g/lb of body weight. If you are very physically active, you might need slightly more and if you are sedentary, slightly less.
It's also important to note that your protein intake might vary depending on your consumption of protein sparing nutrients – carbs and fats. For example, if you are in a gaining phase and need to take in additional carbs, the need for protein will be less. On the other hand, if you are in a calorie deficit and have very low carbs/fats, the need for protein will be greater.
All Protein Supplements Are NOT Created Equal
Consuming protein helps you maintain your weight, stick to your nutrition plan, and has a positive impact on building and maintaining muscle. But before you choose from the myriad of protein supplement choices available, there are some key traits that you should look for:
Digestibility/Time to Digest
If your main goal for a protein supplement is to support workout performance and recovery, you will want a quick digesting protein that you can consume post-workout. On the other hand, you may need a supplement to beef up your daily protein intake to support your nutrition and physique goals. In the latter case, a slower digesting protein that keeps you full longer may be a better choice.
Bioavailability/Amino Acid Profile
To have the most impact on muscle repair and growth, you will want to look for a complete protein source with a full amino acid profile. This is something to look closely at if you want a vegan protein as many vegan protein supplements are deficient in one or several amino acids.
Potential Allergens
If you have dietary restrictions or food intolerances, you will want to pay attention to potential allergens in protein supplements. For example, look for products that are dairy-free or gluten-free.
Source & Certifications
Since protein supplements are concentrated, buying high quality products is essential. Look for organic products when possible or those that are third-party tested to ensure purity and decrease your potential exposure to toxins.
PRO TIP: Search for a supplement you're interested in at labdoor.com to see specific test results.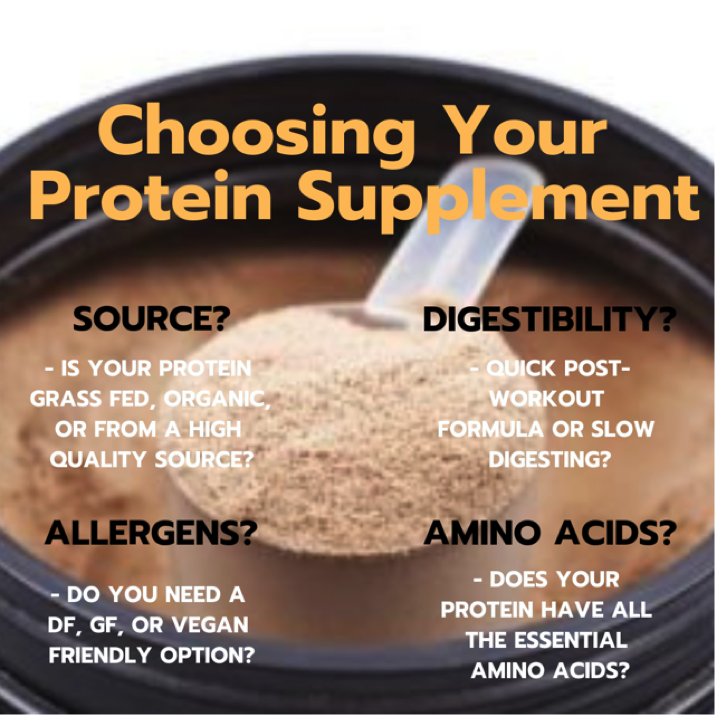 To help you follow the above key traits to look for in a protein supplement, we are going to score several popular protein supplement options on three categories:
Digestibility:
How fast can the body digest the protein and get it to your muscles?
1 = slow digesting
5 = fastest digesting
Bioavailability:
What is the amino acid structure like? If performance and recovery are your goals, you want a complete protein supplement with all essential amino acids.
1 = missing essential amino acids, poor bioavailability
5 = complete protein with all essential amino acids
Allergens: 
Does the supplement have a potential allergen/irritant?
1 = contains potential allergens and may cause GI stress
5 = very little potential for gut irritation, hypo-allergenic
Whey Protein
Whey protein is a dairy product with a high proportion of amino acids and is considered a very high quality protein. Whey protein can also be digested very quickly, making it a great supplement choice for those wanting to gain muscle and recover faster.
There are three categories of whey: whey concentrate, whey isolate, and whey hydrolysate. Whey protein isolate is easy to obtain from a reputable supplement company, and is very pure being 90% protein, low in fat and carbs. Additionally, whey isolate products have about 99% of their lactose removed and therefore may be a good option for those with dairy sensitivity.
If you are extremely sensitive to dairy or GI upset, you may want to invest in whey hydrolysate, but be prepared to pay a higher price.
PRO TIP: Although sometimes more expensive, we often recommend a grass fed whey isolate because of the purity and digestibility. Grass fed whey protein supplements have also been shown to contain a higher level of beneficial fatty acids (omega-3s). Not only are you supporting a healthy & happy cow's natural diet by purchasing grass fed whey, but you also get the benefits of additional anti-inflammatory fatty acids!
Score:
Digestibility – 5 (fastest digesting protein supplement, about 1 hour)
Bioavailability – 5
Allergens – 3 (dependent on type of whey)
Beef Protein Isolate
Beef protein powder has been growing in popularity as a substitute for whey protein since it is dairy-free, gluten-free, and soy-free, but what exactly is beef protein isolate?
Unfortunately, the powder you get here is not a grass fed filet ground into powder. Collagen and gelatin make up most of the protein in beef protein isolate. This makes beef protein isolate an incomplete protein and lacking in some of the essential amino acids and BCAAs found in whey.
The amino acids are the tool that aids in muscle recovery, so athletes should always be aware of the amino acid profile in their protein powder.
Since these beef powders are mostly unidentified parts of a cow, you want to be very careful where you buy your product. Anything from a cow can be labeled as "beef" on an ingredient list so buy from a company you trust to guarantee that you aren't getting purely collagen, gelatin and cow scraps.
Score:
Digestibility – 3 (two to three hours)
Bioavailability – 3
Allergens – 4
Pea Protein
Pea protein is a 100% plant based, gluten free, and dairy free protein. It is a complete protein made through a hydrolysis process. One 2015 study showed that pea protein helped build muscle thickness following resistance training and would be a great alternative to whey protein for athletes.
Pea protein would be a better option than some other plant-based protein powders, like rice protein, because of its amino acid profile. But one negative of pea protein might be what some people call a "slightly dirty" taste. If you don't mind the taste and have trouble digesting whey, pea protein might be the right choice for you!
Score:
Digestibility – 4 (about 1 hour)
Bioavailability – 4 (contains all EAAs, but low in methionine)
Allergens – 5
Egg White Protein
Egg white protein is a fat-free protein option and has a similar protein content to one serving of whey. However, since this supplement is made from purely egg whites, it is missing all of the nutrients found in egg yolks.
Egg white protein will not provide you with the same muscle building benefits or nutrients as whey protein and therefore would be a less optimal choice. I would only recommend egg white protein if you are positive you don't have any sensitivity to eggs and can't digest whey.
Score:
Digestibility – 2 (about 3 hours)
Bioavailability – 3
Allergens – 4
Casein Protein
While whey is a liquid by-product of making cheese, casein is the curd part of the cheese making process. Casein protein is a slow digesting dairy protein that is also a complete protein.
Casein is digested slowly, but keeps amino acid levels elevated for longer in the body. This is one reason many people recommend casein protein as a nighttime supplement, to help your muscles recover as you sleep.
A recent study showed that casein might be a good option for a pre-workout protein when doing fasted cardio to increase fat burn. Specifically, the study concluded that casein protein allowed for more fat oxidation than whey (or no calories at all, i.e. fasted) before moderate intensity cardio workouts.
"These results indicate rates of energy expenditure and fat oxidation can be modulated after CAS protein consumption prior to moderate-intensity cardiovascular exercise and that fasting did not lead to more fat oxidation during or after exercise" – JISSN
However, if you choose to do strength workouts fasted (as opposed to fasted cardio mentioned above), choose whey and not casein to get the amino acids into your bloodstream quicker with a faster digesting protein.
All of this makes a lot of sense, too, as casein isn't as insulinogenic as whey – so GH (Growth Hormone) will remain high with just casein, and you'll be more likely to oxidized more fat in the acute sense.
So this is a great option for those doing 'fasted' cardio that don't want to truly 'fast' or prevent muscle protein breakdown while doing cardio, but if you're going to consume ANY carbs at all pre workout, then you're going to shift over to glucose as your primary fuel source anyway, so you will want to use whey with the carbohydrates to get a greater protein synthetic response (this is beneficial to strength training).
All of that being said; If you have trouble hitting your daily protein intake goals, need a nighttime high protein snack that will slowly digest while you sleep, or typically do fasted cardio, casein protein would be a great supplement to have in your cupboard.
Score:
Digestibility – 1 (more than 4 hours)
Bioavailability – 5
Allergens – 3
Vegan Protein Powders
As mentioned above, pea protein is a great choice for a vegan protein supplement. Other options include hemp, rice, and various seed protein powders.
One specific product worth mentioning is Vega Sport, which has a very similar amino acid profile to whey protein, 30g protein per serving, and no artificial ingredients.
However, it is also worth noting that many plant-based protein powders may contain higher levels of contaminants. This is mostly likely due to having fewer processing steps than products like whey. According to a study by the Clean Label Project in 2018, plant-based protein powders had up to 75% higher heavy metal content than non-plant based protein supplements. Most levels were still below the federally acceptable level, but it is something to consider when choosing your supplements.
You are now ready to tackle the very wide variety of protein powder options available to you! Whether you are looking to build muscle and choose a grass fed whey protein isolate or want to try out a vegan option just to boost your daily protein intake, there is surely a supplement out there that will work specifically for you.
Keep in mind that protein supplements are still exactly what they seem – supplemental to an already solid diet. Avoid relying completely on any supplement to fill your macronutrients and instead stick to 1-2 servings per day and get the rest of your protein from whole food sources.
---
Additional Sources:
The Ultimate Protein Guide – https://tailoredcoachingmethod.com/protein-guide/ 
"All About Protein Powders" – https://www.precisionnutrition.com/all-about-protein-powders 
EASTOE, J. E. (1955). The amino acid composition of mammalian collagen and gelatin. The Biochemical journal, 61(4), 589-600.
"FAST & SLOW PROTEINS" https://reflexnutrition.com/blogs/community/fast-and-slow-proteins-choose-wisely-for-maximum-results
"Isolation and study of the functional properties of pea proteins." https://www.ncbi.nlm.nih.gov/pubmed/11712241
---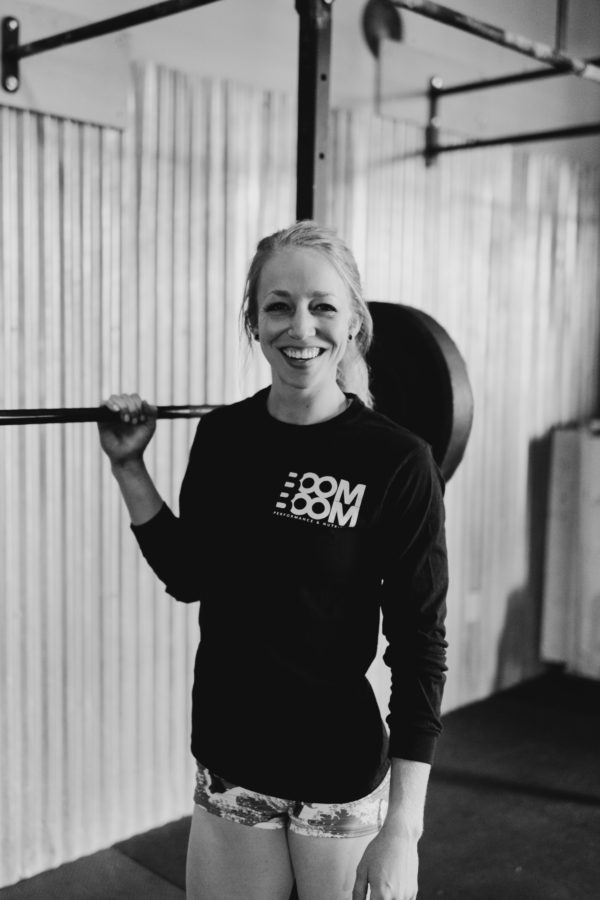 This is a blog written by Caroline Ofenstein. Caroline is Certified With Precision Nutrition, NCI, CrossFit, and is also a Boom-Boom Performance Nutrition Coach. Caroline is our go-to source for CrossFit Nutrition AND bridging the gap between Aesthetics and Performance, which is where she has recently pushes a lot of her focus in order to help people understand how they can achieve both performance and the lean physique we all strive for.