First, let's define hypertrophy and why you may want to strive for it:
hy·per·tro·phy
/hīˈpərtrəfē/
nounPHYSIOLOGY
The enlargement of an organ or tissue from the increase in size of its cells.
Pretty basic and to the point. Enlargement of (muscle) tissue is what we're after and talking about here.
So why would you want to build more muscle tissue? As you can imagine, I have quite a few reasons as to why it's important:
→ Better health.
→ Stronger tendons, bones, and ligaments.
→ Easier fat loss.
→ Better aesthetic appearance.
→ Lower risk of injury.
→ Higher metabolic rate.
→ Improved hormone panel.
I don't need to continue…. However, I could! The point with this is simple, we DO want hypertrophy and this applies to both men and women. When we achieve more muscle tissue, we're not only stronger in the physical sense – we look better and are healthier.
Muscle isn't something that is overly apparent, either. Take this split shot of me, for example. I've been training for 9 years, trying my hardest to build as much muscle as possible naturally! In the left shot, I'm flexing and posing – at a body fat level that is my typically sustained level of leanness. In the right shot, I have a shirt on and am relaxing (shots taken 30 min apart).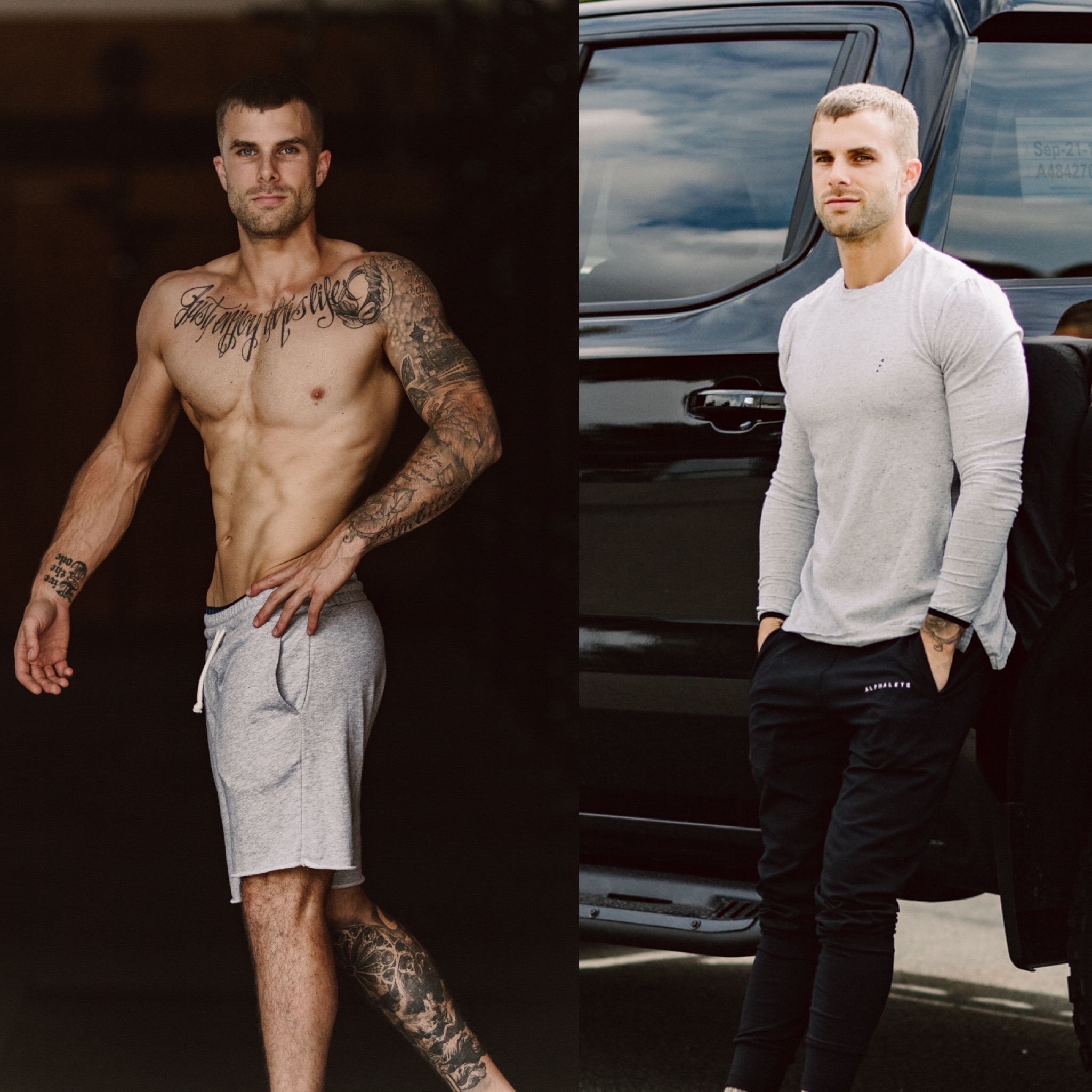 The point here is simple… There are A LOT of natural lifters who look jacked shirtless, but throw a shirt on them and they're a very average looking person. I'm the most average person, genetically speaking, which makes me a great example of realistic physique goals. But here's another great example of a natural lifter named Matt Ogus: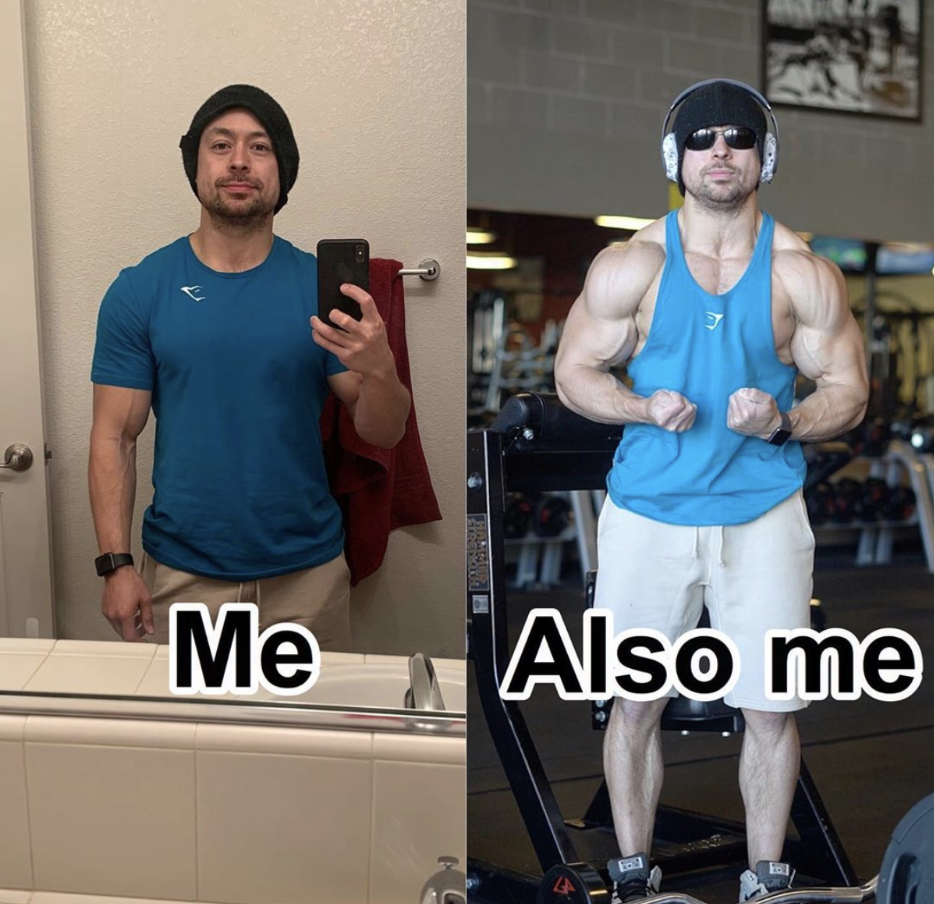 Clearly a HUGE difference here and it's great when people like this post things like this, because oftentimes we ONLY see shots of the right, when that doesn't paint a fully accurate picture of how you'll look when adding a solid amount of muscle tissue (you won't always get or look huge, nor do you look like you're flexing 24-7).
Muscle tissue is smaller than fat tissue when we compare it pound for pound. This means that even if you added a few pounds of muscle, you're not going to look like a roided out Olympia competitor (speaking more to the women here). No, adding a few pounds of muscle will actually make you look LEANER! Because in the process, you're likely stripping off body fat and "tightening up" for lack of better terms. But the end result is actually a smaller frame, with added muscle mass in the right places – your traps, lats, delts, quads, hamstrings, biceps… your body will spread the muscle tissue evenly and you will look proportional. Whereas when you're overweight, your body often stores it in unfavorable places – belly, love handles, hips, low back, etc.
Here's a diagram to better explain what I mean here: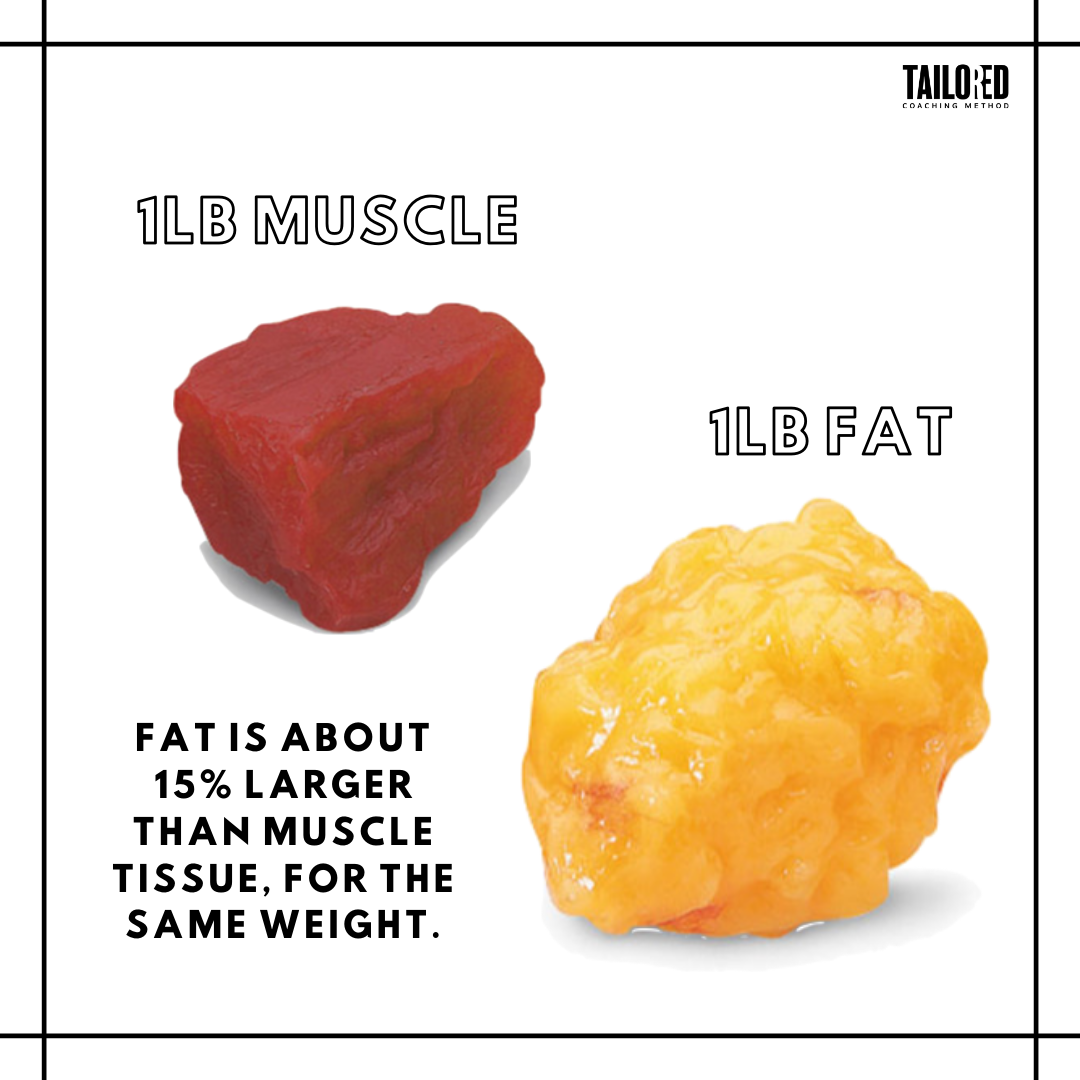 Knowing that fat is larger than muscle allows us to relax a bit and realize if the scale shows ZERO progress, but we look significantly better… we're losing fat and building muscle, which is the most ideal result we can work towards. This is also why we should always remember that gaining a pound of fat is much more noticeable than gaining a pound of muscle – in fact if you did train pound for pound, you'd look DRAMATICALLY leaner and more athletic, while weighing the exact same on the scale.
Now that we understand what muscle is and why we may want to add some muscle onto our frame, let's get into The Hypertrophy Guide – which covers EVERYTHING you need to know about building muscle. To gain access, click the image below to download the entire PDF Manual for free: