I honestly can't believe that just over a year ago I was going hard in the CrossFit kool aid and dreaming about the next Open. Fast forward to today where I just won all three of my classes in my first bikini competition! 
If you would have told me in 2018 that in a year's time I'd be fully spray-tanned orange and wearing a sparkly bikini in high heels on stage, competing in a bikini competition… I would have said you were nuts!! A bikini competition just wasn't on my radar.
Well I'm here to confirm that literally anything is possible with hard work, consistency, and determination. But please keep in mind that this blog details my experience and my experience only and this shouldn't be read as a "guide" to your first bikini competition.
I decided to make the transition from CrossFit to bodybuilding at the end of 2018 because my body couldn't keep up with the high intensity WODs anymore and I wanted to see if I could drastically transform my physique.
I had never really gotten the aesthetics I wanted from CrossFit workouts and while I loved the high intensity WODs, I also consistently felt beat up and running on low energy.
When January 2019 rolled around, I decided to go all in on a new goal and committed to signing up for a bodybuilding competition by the end of the year. 
I had heard about how tough it was to get "stage lean" and frequently get asked about bodybuilding competitions so I thought I should put myself through the process and figure out what this tanning and posing craziness is all about.
I'm happy to report that I can check off my goal as of October 2019 and even came home with 3 first place wins in each of the classes I entered! And boy, did I learn a lot and put my body to the test in a whole new way!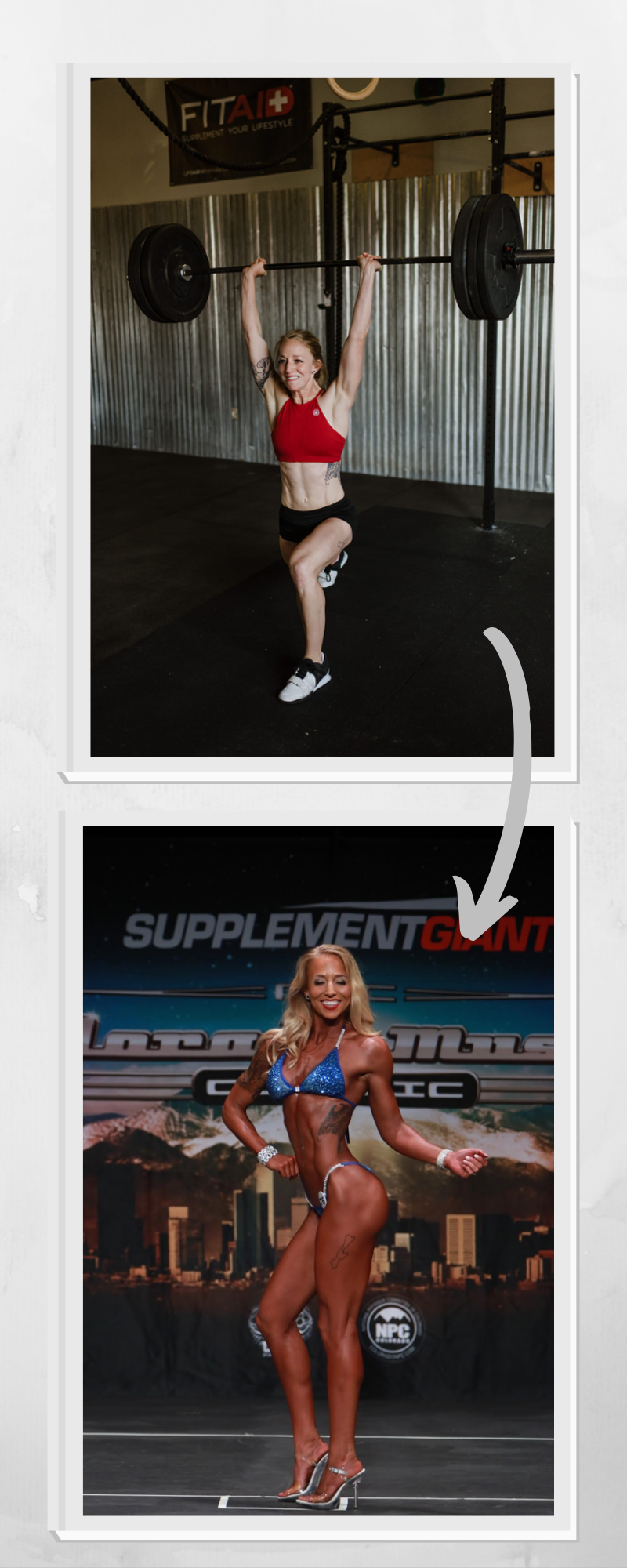 Let's dive into the details of how I went from a competitive CrossFit athlete to an NPC bikini athlete over the past year.
Step #1 – Get Stronger
I'm embarrassed to admit that in the thick of my CrossFit years, I was very judgemental towards women who competed in bikini shows.
I thought things like, "you don't have to train hard to wear a swimsuit" and "all they do is stick out their butts."
What I quickly learned, though, is that bodybuilders – including bikini athletes – work just as hard as any other athlete (if not harder).
I have never had to be so on point with my training and diet as I did while working towards this goal. And first things first, I had to put on some muscle mass. 
Look a little closer at some of the top bikini athletes in the world and you'll notice just how much muscle they have. This is not a competition of the cardio queens. 
Judges look for developed shoulders, strong and shaped glutes, and rounded hamstring development. Think developed upper body (but not "too" muscular) with a tiny waist and a banging booty (but also conditioned/lean). You have to be pretty muscular – but just the "right" amount – and you have to be lean to be a contender in the bikini division.
So to kick things off on my journey to get on stage, I had to crank up my training volume and put on muscle. More on my lean gaining phase HERE.
For most of my contest prep I was lifting 6 days per week and slowly increased cardio from zero to a few HIIT sessions to very frequent LISS & HIIT towards the end.
I really enjoyed my training and challenging my body in a totally different way from CrossFit. As with any change in training, it took some getting used to and feeling a little out of my element in the gym… But in the end I fell in love with the new training split and it sure as heck did dramatically change my physique, as you can see below. 
Can we just take a second to appreciate the lean gainz from 2018 to 2019?!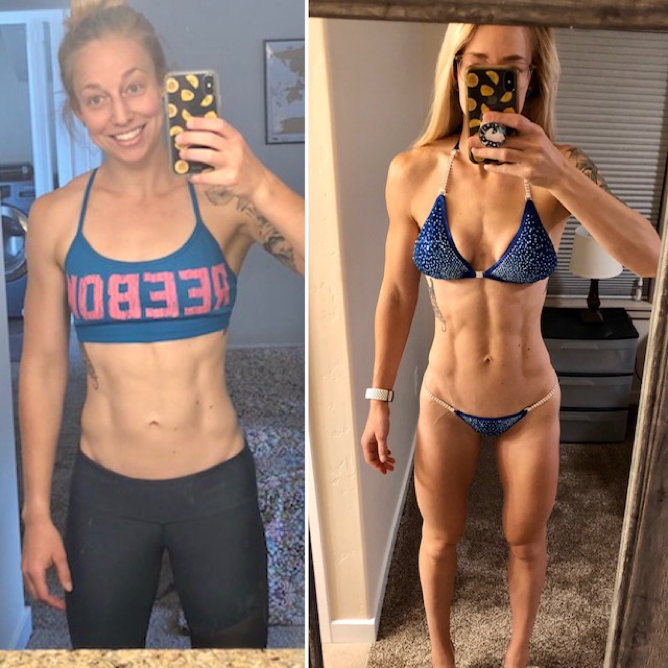 Step #2 – Diet
One reason why I say bodybuilders preparing to get on stage might be the hardest working athletes out there is because they have to be 100% strict with their diet. There is NO flexibility when your goal is to get on stage.
And unlike performance-driven athletes, who have to be on point with a high amount of calories, bodybuilders have to be on point with hardly any calories. Cue the hunger pains and cravings!
The zero-flexibility diet was really hard for me to adjust to because I'm a big fan of simply tracking macros and aiming for at least 90% whole foods. I went from a nutrition protocol I was comfortable with to an incredibly strict meal plan.
Thankfully, I had pretty frequent refeed days until about one month out from my show. But as the show date got closer, calories dropped quickly, cardio increased, and my food options became fewer and fewer.
This included no sugar and no alcohol (and a very sad social calendar). At a few weeks out, my strict diet extended to include no artificial sweeteners, no dairy, and no gluten. 
At about 4 weeks out, we really cranked things up a notch with a big calorie cut and went up to 6 days of lifting plus 6 days of cardio. This is where I started to feel fatigued daily, slept over 9 hours a night, started noticing a downturn in performance, and was spending close to 2 hours in the gym every day.
I also increased my posing practice at this time and committed to at least 3x per week running through my routine in my high heels. I worked one-on-one with a posing coach throughout my contest prep and it was invaluable!
Everyone might make it look easy on stage, but let me tell you – posing correctly and hitting the right angles that the judges want to see is TOUGH! 
I was so very wrong when I thought all bikini competitors did was stick out their butts… The soreness I would feel after posing classes and my ones-on-ones was just as bad as any soul-crushing WOD!
All in all I dieted for about 3 months, and was still not prepared for how difficult peak week was.
Peak week is the last 5-7 days leading up to a show. This is not a "magic" week where you might lose another 5lbs of fat or gain more muscle, but it's where you optimize everything to look your best on stage. 
My peak week got down close to 1100 calories per day, 30-45 minutes of steady state cardio daily, and included eating only chicken, fish, and greens. Yuck.
I wouldn't recommend this type of intense diet to anyone who isn't getting on stage. It was incredibly challenging to adhere to, killed my social life, stressed my marriage, and left me feeling tired and weak.
But I was determined. I knew the risks and challenges ahead of time and I wanted to push myself through this no matter what. 
The more extreme the goal, the more extreme the commitment and the sacrifices.
Step #3 – Get on Stage
Unlike other sporting events and competitions, one does not simply show up to a bodybuilding competition. 
Oh, the preparation!! 
Here's a snapshot of what my schedule was like the weekend of my show:
Thursday:
→ Meal prep like crazy because every meal was incredibly specific heading into show day
→ Last sauna session
→ Last chance to shave your whole body (your body needs to be hairless for the tanning process)
→ Last full workout + cardio session
→ All other appointments done ahead of time (waxing, nails, etc.)
Friday:
→ Noon – drive to Denver
→ 3PM – check into host hotel
→ 4PM – check in with NPC and get competitor number
→ 5PM – first coat of spray tan
→ 7PM – last meal and cut water
Saturday (show day):
→ 5AM – spray tan top coat
→ 6AM – finally get to eat some carbs!
→ 7AM – makeup & hair appointments
→ 10AM – athlete meeting at the venue
→ Noon – get tanning touch ups, get "glazed" with oils, and pump up
→ 1PM – bikini prejudging starts (this is where the judges move competitors around to compare physiques – the closer to center stage you are, the better you will place)
→ 3PM – bikini prejudging wraps up = quick break!
→ 5PM – back at venue for night show/finals
→ 8PM – bikini goes on for finals & awards
→ 9:30PM – show wraps up
→ 10PM – eat a cheeseburger & drink a beer!!
As you can see, this is no small production! It was a whole weekend event with multiple appointments, meetings, strict meal times, and of course, the few precious minutes you get to strut your stuff on stage.
I ended up spending quite a lot of time backstage with the other competitors and that was actually a lot of fun! Swapping diet struggles and joking about being hairless and tan AF… I met some really cool people and am grateful that bodybuilding brings so many unique individuals together!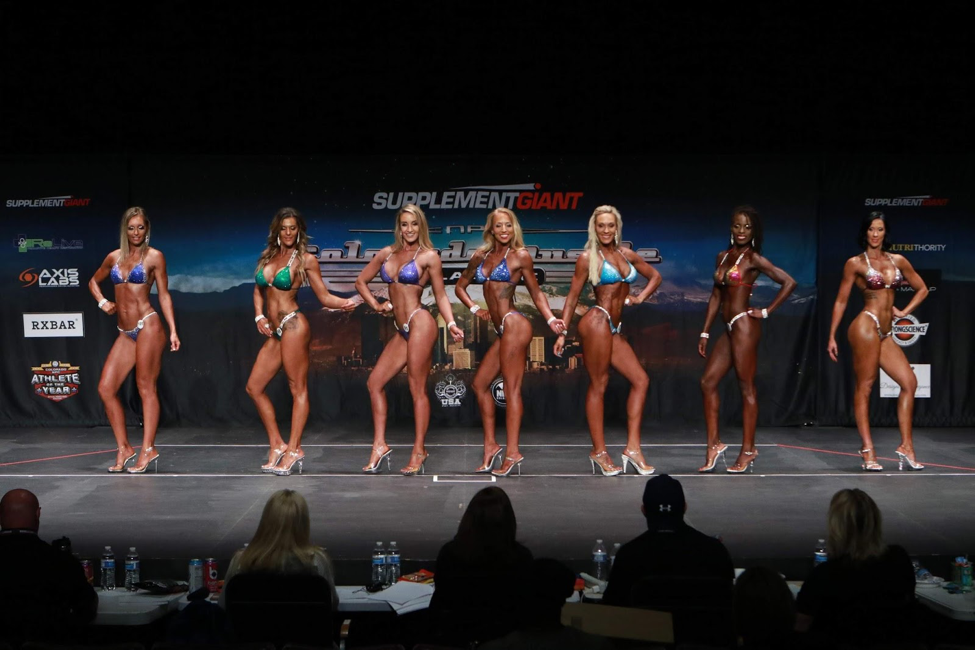 Step #4 – Recovery
As I write this, I am still in the thick of my recovery stage. 
Thankfully my coach gave me a big increase in calories (about 600/day) and a deload week the week after my show and I immediately felt like a new human! At two weeks post-show I was back up to 2100 calories and about 4lbs heavier.
I'm aiming to put back on about 8-10 lbs because it is entirely unrealistic to maintain stage leanness. Not to mention my health has suffered dieting down this low in body fat. 
I also lost my menstrual cycle so my #1 priority right now is getting my hormonal health back as we increase calories. I knew this might happen and, although not discussed frequently, I believe it's pretty common in female bodybuilders. Typically, if you lose your menstrual cycle that means your hormone levels are not within optimal range for health and longevity. 
An estimated 50-80% of active women have some type of menstrual disorder due to low energy availability (calorie intake – energy expenditure).1 The long term consequences of sub-optimal hormone levels can affect your metabolism, athletic performance, sleep, stress, and perhaps most importantly, loss of bone mass.2 More on getting your period back HERE.
Losing my period served as a good reminder to myself that chasing my leanest physique is NOT at all equal to maintaining good health. And it's clear from how much my workout performance stalled out that getting this lean also comes with performance sacrifices. 
I also could not have predicted how lost I would feel after the big competition weekend. I've been working for almost a year toward this goal and now that it's over I'm having a hard time figuring out what to do next.
Technically, based on my wins, I qualified to compete at the national level and a chance to earn my pro card and become an IFBB Bikini Pro. That would be the first step towards working towards professional shows and a chance to compete at the Olympia, the long term goal of many professional bikini athletes.
While my ego says (screams?!) definitely push on and go for it, my hormones and biofeedback say it's time to take a step back and hit the cruise control for a while.
Either way, the come down from such hard work and discipline for so long has been tough to deal with! I am doing my best to stay present and appreciate everything I've achieved this year instead of immediately looking for what's next.
A maintenance phase without any intense goals or pressure is probably just what my body needs! 
I am incredibly grateful to everyone who helped me along my journey to becoming a bikini athlete. Thank you to everyone who sent me words of encouragement along the way. 
I learned SO MUCH about how hard I could push myself and the sport of bodybuilding as a whole.
Here are just a few of the key takeaways I learned from going all in on my bodybuilding goals.
→ The mind/muscle connection (mentioned frequently in the bodybuilding space) is key not only to your gains, but also to good form. It was really important to get that hard squeeze/contraction in my training reps to fully engage the muscle I was working. It made me very conscious of my form and hitting quality volume = win/win!
→ Using machines (vs. barbells and free weights) is NOT a sign of weakness. Same goes for watching yourself in the mirror. It can be incredibly helpful to check out your own form and to include machines to target different muscles in a new way.
→ Call me a bro, but I fell in love with the "pump" you get after a solid bodybuilding workout, which I had never experienced with other training modalities. Don't knock it 'till you try it!
→ Bodybuilding is a SPORT. I'm embarrassed to admit how hard the younger version of me judged people who got on stage in the bodybuilding space. I had no idea the long hours in the gym, the disciplined diet, and plain old hard work that goes into putting on that sparkly bikini.
→ If I could pick one word to describe contest prep, it would be all-consuming. Getting on stage takes serious dedication in ALL areas of your life. If you're someone that's competed in bodybuilding while working a 9-5 job or while raising kids, hats off to you!!
→ Posing practice takes similar amounts of effort and skill as trying to PR your Diane time in CrossFit. The burn in your low back is real!!! I couldn't have had the progress I did without my posing coach Tory (@thewrightwhey).
→ Bodybuilders KNOW fat loss. The ultimate physique is literally the end all, be all – so don't be surprised when your coach recommends a clean "bro" diet and functional bodybuilding training when your goal is a leaner physique. This is also why all of us, coaches at BBP, study the science of bodybuilding! It WORKS and applies to many clients, even who are not competitive (losing fat, is losing fat).
→ Bodybuilding can be a lonely sport, unlike your average CrossFit class. Having a coach and support from my family and friends was invaluable!
And maybe more important than anything else, I have learned that every fitness modality has a lot more in common with each other than differences. I hope we continue to see crossover in sports because we could all learn something from putting on a different athlete's shoes (or high heels)!
Want to see more of my journey? View my Instagram stories @CarolineOfenstein_BBP and please feel free to message me with any questions!
---
Sources:
De Souza MJ et. al. High prevalence of subtle and severe menstrual disturbances in exercising women: confirmation using daily hormone measures. Hum Reprod. (2010) 25(2):491-503.
McDonald, Lyle. The Women's Book A Guide to Nutrition, Fat Loss, and Muscle Gain. Vol. 1, Lyle McDonald Publishing, 2017.
---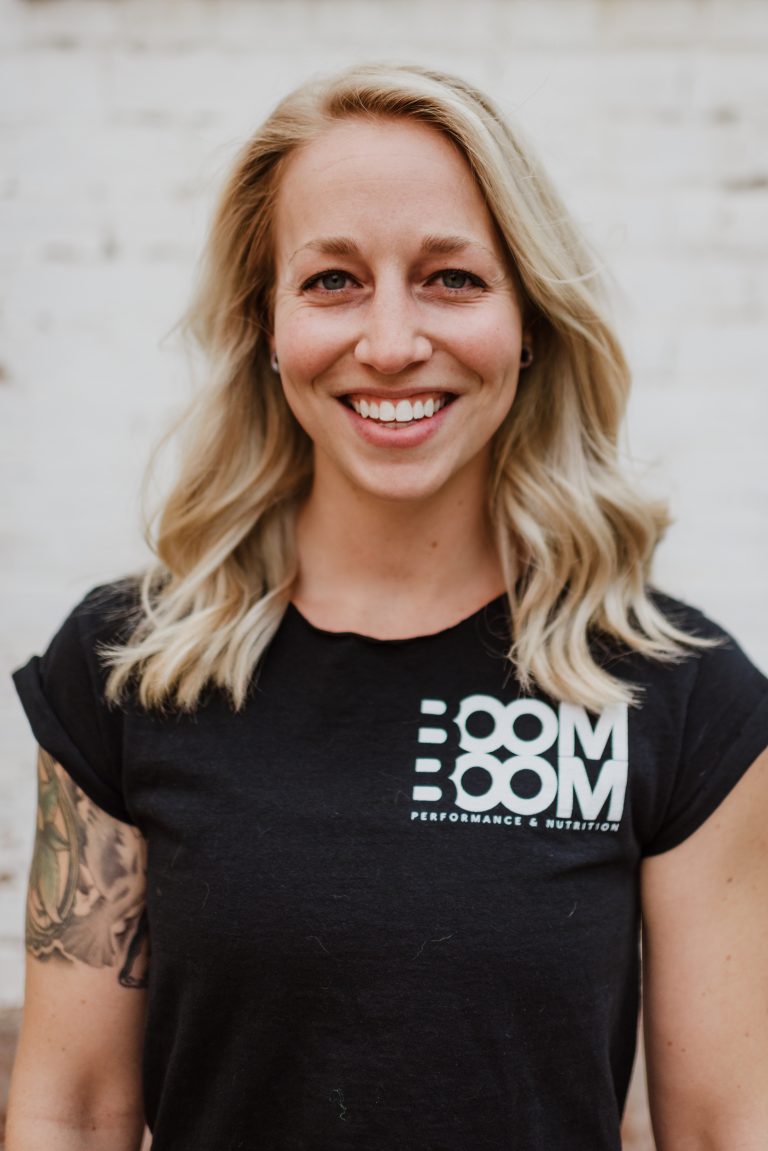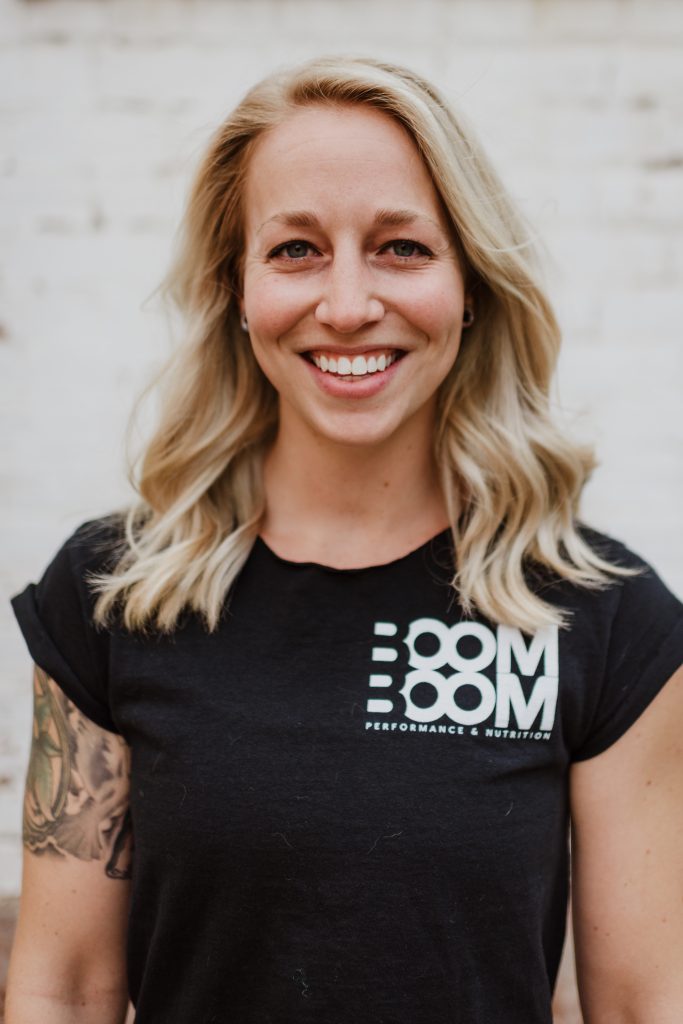 This is a blog written by Caroline Ofenstein. Caroline is Certified With Precision Nutrition, NCI, CrossFit, and is also a Boom-Boom Performance Nutrition Coach. Caroline is our go-to source for CrossFit Nutrition AND bridging the gap between Aesthetics and Performance, which is where she has recently pushes a lot of her focus in order to help people understand how they can achieve both performance and the lean physique we all strive for.