Your gastrointestinal (GI) tract is a complex organ system that digests food from your mouth all the way through to excretion. An estimated 60-70 million people suffer from some sort of GI issue according to the National Institute of Health.
Your gut contains trillions of different bacteria and in an ideal world we would balance the diversity in our gut through our diet and lifestyle. Unfortunately, many people do not have that balance.
Do you ever experience bloating, gas, constipation, diarrhea, or IBS symptoms? These are examples of common gut issues that can be caused by environmental toxins, over consumption of processed foods or sugars, lack of nutrients in your diet, chronic stress, overused antibiotics, and more, leading to growth of harmful bacterial and a microbiome that's out of whack. This overgrowth of bad bacteria is also called gut dysbiosis, which can lead to chronic inflammation and eventually cause disease.
Since over 70% of your immune system resides in your gut, having a balanced gut flora is something everyone should strive for to improve overall health.
Enter probiotics.
What Are Probiotics?
As defined by Dr. Roy Fuller, probiotics are a "live microbial feed supplement which beneficially affects the host animal by improving its intestinal microbial balance."
Probiotics are live microorganisms that have been shown to be beneficial for human health, including the potential to aid digestion, enhance the immune system, and reduce lactose intolerance, however, we are still in the preliminary stages of scientific studies. Probiotics were first discovered over 200 years ago and researchers are still learning more and more about the different roles these beneficial bacteria play.
You can obtain probiotics from various supplements or from fermented foods. Probiotic supplements have spiked in popularity recent years due to the potential beneficial influence on gut health, but remember, there are no "magic pills" that can undo a poor diet.
There are various different strains of probiotics that each have different applications. The species Lactocbacillus and Bifidobacterium are most commonly found in our foods and supplements today and have been linked to improved intestinal health as well as the reduction of the certain disease risk, like H. pylori, a "bad" bacteria that can cause intestinal infections.
Soil based organisms (SBOs) are another type of probiotic worth mentioning that can help increase diversity in the gut. This type of probiotic is set apart by its ability to release spores after being ingested that feed "good" bacteria. SBOs are generally well tolerated and are guaranteed to survive in the gut, unlike other strains/supplements that may die before finishing their journey into the GI tract.
Studies are still very young in the probiotic field and there is great debate as to which strains can treat which ailment best. For example, one strain of Lactococcus might not have the same effect as a different strain of the same species. More clinical studies are needed to determine effectiveness and long term safety of treatment by probiotics.
Fermented Foods
While there are many probiotic supplements available today, fermented foods are a great, natural way to get your dose of probiotics without taking a supplement. Probiotic supplements taken orally may be destroyed by our stomach acid, negating any positive effects, which is another reason why consumption of fermented foods is a great option for those of you craving a probiotic boost.
"Fermentation in food processing is the process of converting carbohydrates to alcohol or organic acids using microorganisms—yeasts or bacteria—under anaerobic conditions."
Fermentation commonly makes people think of crafting alcoholic beverages, which is the conversion of sugars (i.e. fruit) into ethanol (i.e. wine). The fermented foods I discuss below are created using a similar process that produces organic acids to preserve and enhance the foods.
During fermentation, beneficial bacteria can grow, giving fermented foods their probiotic content. Eating fermented foods has been linked to increased bioavailability of nutrients, improved digestion, and treatment of IBS and other GI issues. The ingestion of these live microorganisms also increases microbial diversity in the gut, which can help reduce inflammation and increase antioxidants in the body.
Fermented foods are cultured and enjoyed worldwide – tempeh and kefir in Asia, sourdough bread and kombucha in the Americas, sauerkraut and skyr in Europe, and the list goes on!
Some other fermented foods you can find in your grocery store today include kimchi, miso, pickled veggies, cultured yogurt products, and more. I recently fermented my own coconut water from kefir grains and loved learning the fermentation process while getting a healthy & tasty beverage out of it (recipe below)!
Your Fermented Foods Shopping List:
Kefir – This drinkable yogurt might be the next perfect addition to your smoothies! As an added bonus, kefir has fewer milk sugars than regular milk making it less likely to give you any digestive issues if you're sensitive to dairy. Kefir can be high in sugar so read your labels! Some brands I prefer are Maple Hill and Wallaby Organic.
Kombucha – 'Booch is delicious, but can also be high in sugar which is required to ferment the tea. Look for low sugar brands like Humm, Brew Doctor, and a few of GT's flavors. Make sure you note the serving size of the kombucha you buy as many bottles are actually 2 servings.
Yogurt – Most yogurts will have live cultures and they should list the strain(s) on the container. When choosing yogurt, be sure to check sugar content and opt for a plain flavor. I like Greek yogurt or skyr because they are typically high in protein and you can easily find a brand low in sugar (i.e. Siggi's, Wallaby Organic, Maple Hill Grass Fed, or Stonyfield Organic).
Fermented Veggies – My go-to brand for fermented veggies is Wildbrine. They boast a label with just a few simple ingredients and have a variety of products including classics, like spicy kimchi, and funky options like fermented coleslaw.
Probiotics On Your Ingredient Label
The health industry has capitalized on the popularity of probiotics and added them to everything from yogurt to chocolate to smoothies. However, the addition of probiotics to various foods isn't a 100% guarantee that you will reap the benefits of live beneficial bacteria.
The "live & active cultures" seal you see on various yogurt products is meant to be reserved for those products with 100 million cultures per gram. Unfortunately, some companies measure that number at date of manufacture, which is going to be much lower by the end of the product's shelf life or the date you actually eat it.
Due to the variability in shelf life and time between manufacturing and eating, we'd have to study each food on a case by case basis to see if the microorganisms survived and would make it to your gut. Dairy products might be the only exception as yogurts have long been a vessel of probiotics and studies have shown high survival rates in yogurt cultures.
So You Want a Supplement?
Since probiotics are a supplement and not a drug, they are not monitored by the FDA. Do your research to find a high quality supplement and make sure you are buying from a reputable source. There are also no recommended doses/RDA for probiotics, but common supplement dosages for adults range from 5 billion to 10 billion CFUs per day.
(We Suggest Checking Out LabDoor.com – Where You can See All Supplement Rankings)
If you suffer from GI discomfort, we suggest you visit your healthcare provider first and have some tests done to look for any underlying issues that could be made worse by probiotic supplementation (i.e. SIBO).
Everyone's microbiome is different and complex so listen to your body after introducing probiotic supplements or fermented foods. Some people may not need any supplementation of probiotics and for others, there can be too much of a good thing. Overdosing on probiotics can lead to an irritated gut and cause bloating, gas, and/or diarrhea. Also, if you are sensitive to histamines, be sure to seek out low histamine or histamine reducing strains of probiotics.
Start small when adding in new fermented foods and always drink plenty of water. We recommend no more than one tablespoon of fermented foods (or a few sips of a fermented beverage) to start and see how you feel. Keep in mind it may take a few weeks to notice any changes to your GI tract.
Want to try your own fermentation experiment? Check out the coconut water recipe I used below, plus my new favorite mocktail!
Fermented Coconut Water
I adapted this recipe to my liking & omitted the sugar:
https://wellnessmama.com/37279/coconut-water-kefir-recipe/
Hydrating the kefir grains is the most time consuming step, but the whole process is pretty dang easy! You know your coconut water is fermented when it has a slight tangy taste. Since I left out the sugar, mine was ready in about 24 hours. After I strained my kefir grains from the coconut water, I rested them in sugar water and then started on a new batch of coconut water a few days later.
CC's Spicy Fermented Coco-rita
(alcohol-free)
Ingredients:
-1/2 lime
-1 pinch ghost pepper salt (or you could use sea salt + a few slices jalapeno)
-8 oz fermented coconut water
Fill highball glass with ice. Squeeze juice from half a lime. Add in pinch of spicy salt. Pour fermented coconut water over the other ingredients and stir/shake to combine. Sip & pretend you're on a beach while your body reaps the benefits of fermentation.
---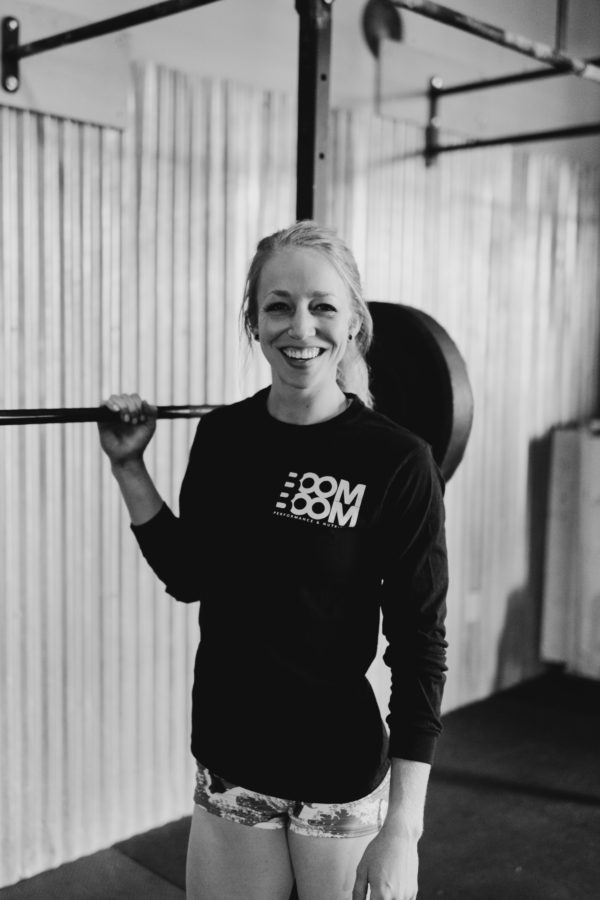 This is a blog written by Caroline Ofenstein. Caroline is Certified With Precision Nutrition Coach, NCI, CrossFit, and is also a Boom-Boom Performance Nutrition Coach. Caroline is our go-to source for CrossFit Nutrition AND bridging the gap between Aesthetics and Performance, which is where she has recently pushes a lot of her focus in order to help people understand how they can achieve both performance and the lean physique we all strive for.
CLICK HERE NOW, TO APPLY FOR COACHING WITH CAROLINE
---
Sources & Further Reading:
https://www.ncbi.nlm.nih.gov/pmc/articles/PMC4045285/ 
https://www.gutmicrobiotaforhealth.com/en/guide-difference-fermented-foods-probiotics/
https://draxe.com/what-is-fermentation/