So you're growing a human (or maybe thinking about growing a human) and therefore, you're a badass!!! 
I can't speak from experience, but that is NO small task. Your body is no longer 100% your own and your health, fitness, and well-being are now a bigger priority than probably ever before.
I work with many moms and future moms, but am not (yet) a mother myself. Even though I have not been pregnant myself, I wanted to craft this blog as a resource for women who need more information on how to create a fit and healthy pregnancy.
I used various resources (see detailed list at the bottom of this page) and expert opinions to write this blog that I hope will help not only myself in the future, but all the other future & current mothers out there!
Let's dive in.
What You Need To Know:
→ Your diet before you conceive is almost as important as what you eat during your pregnancy in terms of your baby's health & development
→ You don't actually need to "eat for two" and additional calorie needs are much less than what many people assume
→ Healthy fats and nutrient-dense foods should make up a major portion of your diet when pregnant
→ Safe exercise during your pregnancy is beneficial for your health and can even help ease labor & delivery and postpartum recovery 
→ While you can likely continue on with any exercise you're currently doing, there are a wide variety of fitness programs available that are specifically designed for moms and moms-to-be to help keep you active throughout your pregnancy
→ Losing weight after having a baby starts with proper nutrition and a slow and steady approach to fat loss
→ Considering the concepts and methods in this article may allow you to have a faster and easier delivery, a overall healthier baby, and a faster return to your normal body postpartum
Pre-Pregnancy
When you see that positive sign on your pregnancy test, you're already about two to four weeks pregnant. This is why it's important to prepare your body to grow a healthy baby even before getting pregnant.
The healthier you are before you conceive, the better chances that you'll have a happy and healthy pregnancy!
This is because your health is essential to your baby's health.
A mother's nutrition will be the foundation for the baby's development and overall health, making your diet a top priority. 
Eating a nutritious diet when pregnant has been linked to reduced risk for birth defects, good fetal brain development, and can even reduce negative pregnancy symptoms like morning sickness and fatigue.
To ensure you get the necessary foods and nutrients you and your baby will need, fill your diet with high quality protein sources, vegetables, and healthy fats while limiting refined sugars/carbohydrates, vegetable oils, and artificial sweeteners.
Recommended foods to consume pre and during pregnancy include:
→ Protein: eggs (pasture-raised when possible), organic & grass fed meats, seafood, dairy products, organ meats
→ Vegetables: leafy greens, tomatoes, asparagus, mushrooms, zucchini, cauliflower, broccoli, peppers, cucumbers, and many more
→ Fats: nuts, seeds, full fat dairy, avocado, fatty fish, coconut
→ Fruits: berries, apples, bananas, grapefruit, and more
→ Starches: potatoes, sweet potatoes, oats, whole grains
If you're considering getting pregnant, the guidelines for basic health are very much the same as those for anyone else in the general population:
→ Eat mostly whole foods
→ Exercise regularly
In a nutshell – stick to the basic habits you practice with your BBP coach and focus on healthy nutrition habits while eating enough calories when you are trying to conceive.
I mention eating enough because it is not advised to diet while trying to conceive. Your body weight can directly influence your baby's, just like your nutrition quality will influence your baby. 
Underweight mothers are more likely to give birth to smaller babies while overweight women tend to give birth to larger babies and are also at risk for more complications such as gestational diabetes. 
If you are thinking about getting pregnant, talk with your healthcare professional and your nutrition coach to ensure you are at your best health before conceiving.
Nutrition During Your Pregnancy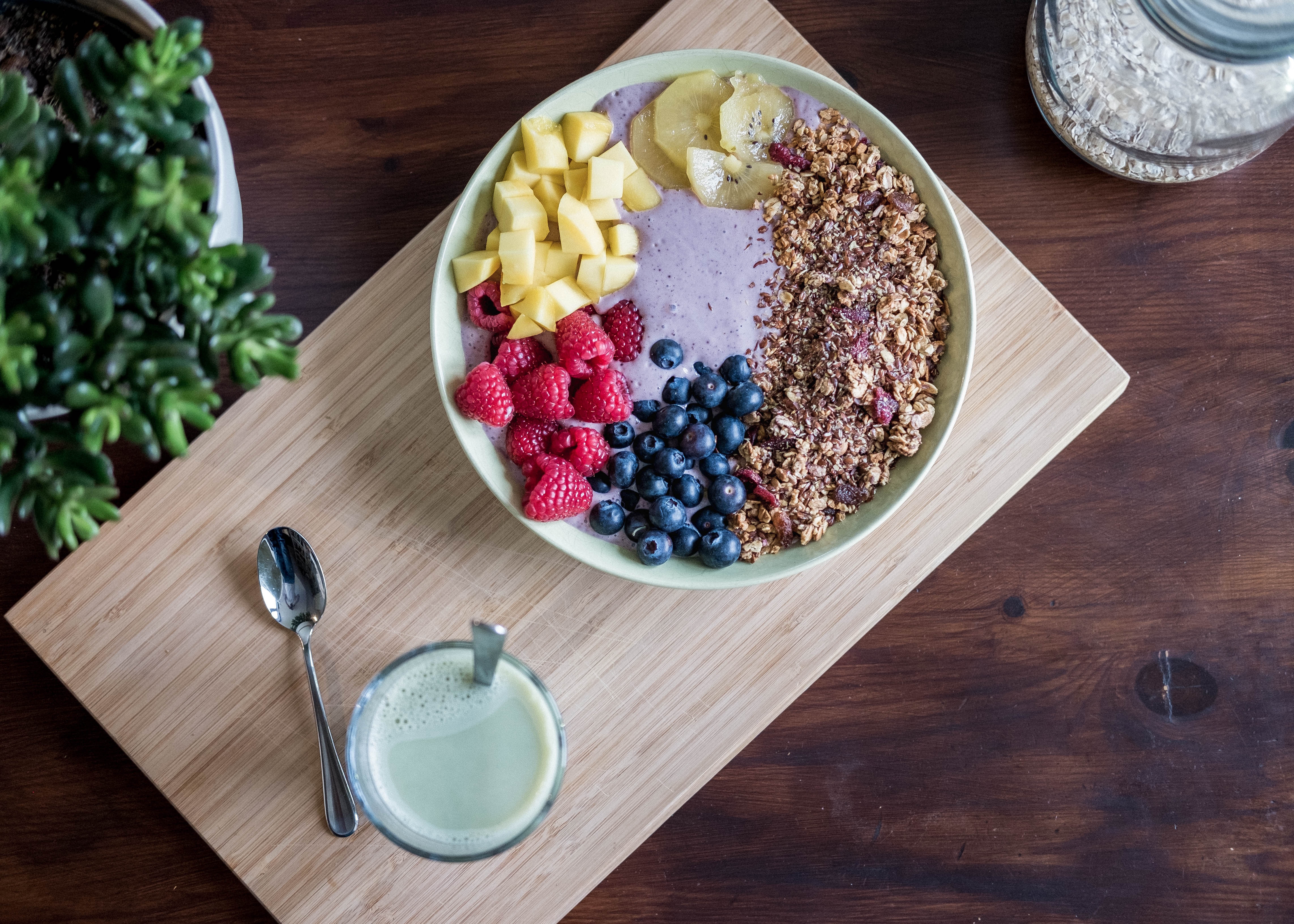 Nutrition guidelines for during your pregnancy are very similar to those above for dialing in your food intake pre-conception. 
Fill your daily diet with adequate protein, fruits & veggies, lots of healthy fats (especially those high in omega-3s), and avoid processed carbohydrates and sugars. 
You've probably heard that you need to "eat for two" when you're pregnant, but most current research suggests that you don't actually need that many additional calories.1 Energy requirements will vary by individual, but your increased need for food when pregnant might be smaller than you think.
At the beginning of your pregnancy, researchers estimate that you only need an additional 150-300 calories per day.2 This is equivalent to a big handful of almonds or ½ cup Greek yogurt with fruit.
As your baby grows throughout your pregnancy, energy needs may increase closer to 300-500 calories per day and your need for micronutrients will also increase.
Suggested micronutrients to include in your diet during pregnancy (with some food suggestions high in those micros) include:
→ Vitamin D (pasture-raised eggs, fatty fish)
→ Omega-3s (pasture-raised eggs, wild caught seafood)
→ Calcium (dairy products, seeds, nuts)
→ Magnesium (avocados, nuts)
→ Iron (shellfish, organ meats, legumes)
→ B12 (organ meats, prenatal vitamin)
→ Folic Acid (prenatal vitamin, leafy greens)
It may be a challenge to get in the micronutrients required for you and your baby's health entirely from your diet so talk with your healthcare professional about supplementation as needed. 
Keep in mind that no supplement can replace a healthy diet, but is meant to supplement an already healthful way of eating!
Fitness for Your Pregnancy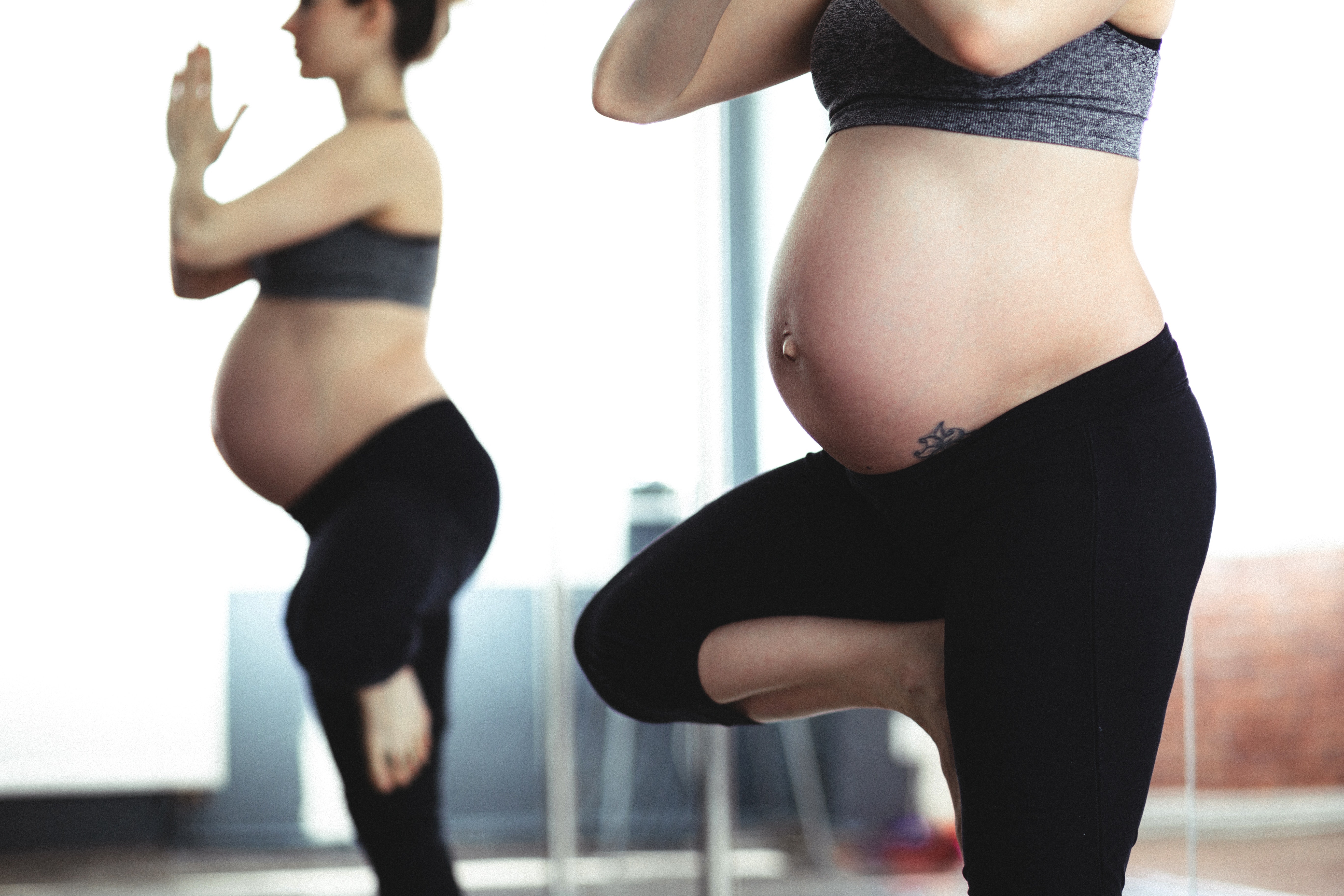 Keeping up with some type of physical activity while pregnant is beneficial across the board. Exercising during your pregnancy can help with labor, faster recovery postpartum, and can even improve your energy levels throughout your pregnancy.
The benefits of exercise that we all experience, such as increasing strength, improving sleep & energy levels, and boosting lung and heart health, all carry over to pregnant women who continue to exercise.
Not to mention, muscle strength and control, which we improve through exercise, can directly come in handy during labor as well as recovery postpartum.
So we know that staying active is part of a healthy pregnancy, but how should your workout routine change once you become pregnant?
First off, you can likely stick with your current training as long as you continue to feel good during your pregnancy. Some exercise movements that may need to change as your belly grows include planks, push-ups, sit ups, and plyometric moves.
Additionally, any exercises that put extra stress on your core or pelvic floor will likely need to be avoided as your pregnancy progresses.
Keep in mind that what's considered "safe" in the gym might be a little different for everyone so be sure to consult your doctor and listen to your body.
I have heard many sources advise to not start any new training routine after you become pregnant, however I don't believe this applies to everyone.
One study found that inactive women were 3x more likely to develop high blood pressure and 1.5x more likely to exceed their weight gain goals during pregnancy than women who exercised three days per week.
If you have been sedentary pre-pregnancy, there is no reason you shouldn't add in some light to moderate activity when you become pregnant as long as you are cleared for exercise by your healthcare professional. 
Still not convinced? In a review of several studies, one research summed it up by saying, "evidence continues to grow in support of the notion that exercise during pregnancy is beneficial for fetal health and well-being, extending into childhood. Benefits for offspring are observable related to body weight and composition, cardiovascular health, and nervous system development. Exercise during pregnancy may elicit a prenatal programming effect, creating a healthy environment in utero during a critical time of organ development."
Case closed! Move your body if you're an expecting mama.
And for the women who were very active before conceiving, you can likely continue your moderate to high intensity workouts throughout the majority of their pregnancy, while keeping safety a top priority.
It's also important to know your motivation behind working out when pregnant. Now is not the time to be working towards new PRs or trying to lose fat and change body composition. Instead, I'd recommend drawing motivation from asking yourself, "How can I grow my baby to the best of my ability?"
Whether you are a CrossFitter, runner, bodybuilder, group fitness fanatic, or just getting into training, it might be hard to shift from your personal fitness goals to your pregnancy goals, but remember that this shift is temporary! 
Work with your doctor and fitness professionals you trust to find the "new normal" for fitness during your pregnancy.
And as you make changes to your fitness routine, continue to manage the stress from your training. Balancing your life stressors with adequate recovery will play a major role in your healthy pregnancy by keeping your mindset positive and allowing your body to devote proper energy and resources to growing your baby and not dealing with added stress.
Here are some additional fitness resources for expecting moms:
→ "Exercising and Pregnancy: How to Plan Your Strength Training Workouts" 
→ BIRTHFIT
→ "Pregnancy Strength Workouts for Each Trimester" 
Losing the Baby Weight
We all want overnight results, and I know a lot of new moms who want their pre-baby body back overnight, too! 
But the hard advice to hear is… Don't rush! Fad diets and quick fixes are not the answer here.
It took you nine months to gain weight and grow your baby, so why expect it to take way less than that to lose it?
Gradual weight loss can 100% be achieved as you slowly add back in additional exercise and continue your whole foods-based nutrition plan. Keep in mind that it might take some time for you to lose weight – and that's OK! 
During your postpartum journey, focus on bonding with your newborn and eating enough high quality, nutrient-dense foods to support breastfeeding, as recommended by many medical professionals.
Breastfeeding can require up to an additional 600 calories/day and eating a balanced and varied diet will help provide adequate milk supply for your baby.
Even if you do not breastfeed, focusing on eating whole foods and slowly adding back in pre-baby training will keep you on track with a healthy postpartum lifestyle.
Try to avoid putting too much pressure on yourself to "lose the baby weight." As hard as it is to take it slow, a conservative approach will be worth it in the long run knowing you and your baby are both healthy.
To build a solid foundation for your future fat loss, continue managing stress and taking care of your general health by monitoring biofeedback while you let your body heal from bringing a new life into the world.
No matter where you are in your journey, we'd love to help you reach your fitness, health, and personal lifestyle goals through our 1-on-1 coaching. Click here to schedule a FREE strategy call with a BBP coach!
Resources and Further Reading:
Mac Nutrition University. Module 5.2: Key Considerations Before, During & Post-Pregnancy

Nichols, Lily.

Real Food for Pregnancy

. 2018.

Girls Gone Strong "How To Have A Healthy Pregnancy"

https://www.girlsgonestrong.com/pregnancy/

Coconuts and Kettlebells

and their podcast Well-Fed Women 

NHS Choices (2017) – Have a Healthy Diet in Pregnancy

RCOG (2011) – Why Your Weight Matters During Pregnancy and After Birth

Infant and Toddler Forum (2014) – Early Nutrition for Later Health
---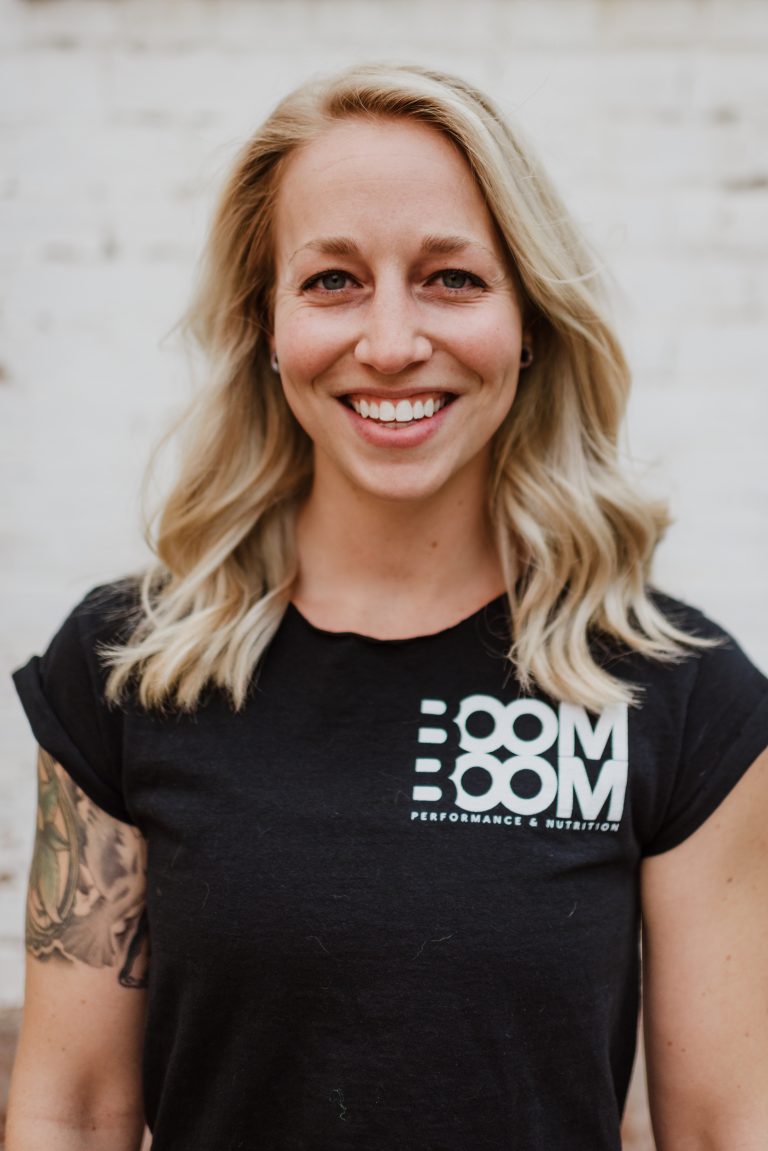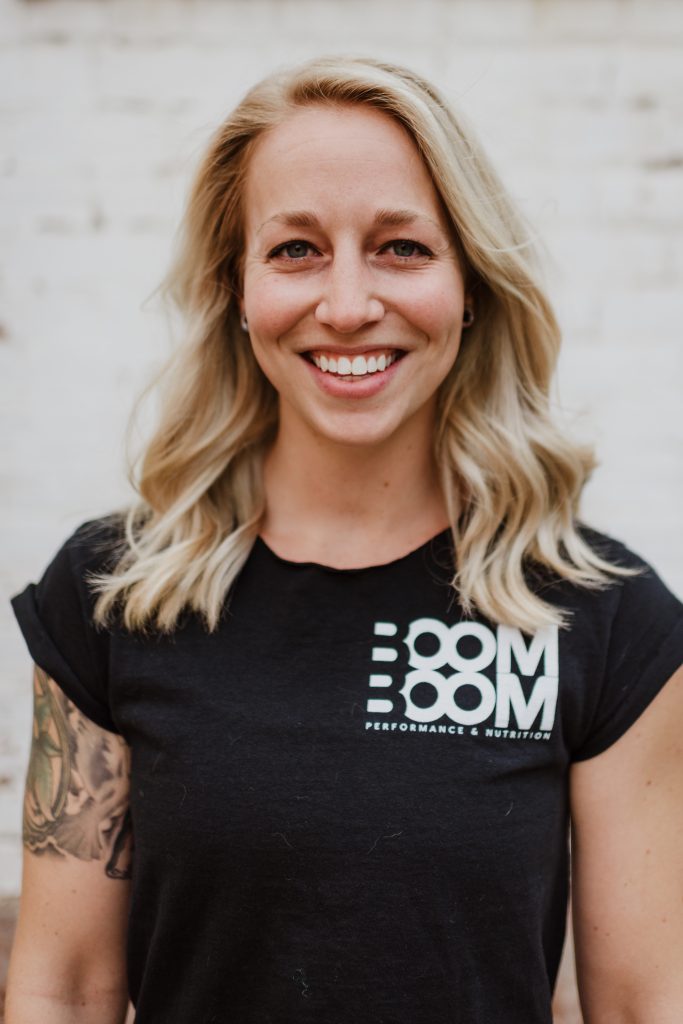 This is a blog written by Caroline Ofenstein. Caroline is Certified With Precision Nutrition, NCI, CrossFit, and is also a Boom-Boom Performance Nutrition Coach. Caroline is our go-to source for CrossFit Nutrition AND bridging the gap between Aesthetics and Performance, which is where she has recently pushes a lot of her focus in order to help people understand how they can achieve both performance and the lean physique we all strive for.