"Some races are lost with a 0.05% difference, sometimes less. In a lot of sports, nutrition can make a difference of 1%-3%, sometimes even more. In that respect the role of nutrition is huge. It says if you don't get it right, you don't give yourself a chance."  – Asker Jeukendrup
Physiological Demand of Exercise:
Before we get into any specific fueling or weight loss strategies, it is important to understand the mechanisms of fuel usage during training! 
An average person consumes ~ 2000-2500 calories/day to maintain their weight.
Tour de France Riders consume ~

4,500 calories WHILE riding alone!
Plus an additional 2,000 calories for proper recovery and fueling. 
Basically what this means is, your body has it's normal demands PLUS the demands of exercise! You can optimize performance by understanding how your body works!
We can think of our bodies like cars where carbohydrates act as our primary "gas or fuel". When your gas tank is full, things are pretty easy, however, as you train, your gas is depleting. 
Muscle glycogen and blood glucose (CARBS) are the most important substrate for the contracting muscle. Fatigue during these long endurance events often occurs when muscle glycogen/blood glucose is depleted and your body starts to tap into other stores and fuel stores. 
This is why peri-workout nutrition is especially important which we will get into a little later.
The goal of training to improve performance is to promote a range of physiological and metabolic adaptations to allow the athlete to work at higher power outputs/speeds and delay the onset of fatigue leading to a decline in exercise intensity. 
To meet these goals we depend largely on carbohydrate (CHO)-based fuels to sustain rates of muscle energy production. Despite some literature around high-fat, low-CHO diets for endurance athletes, fat-rich diets do not improve training capacity or performance when compared to carbohydrates. Hawley – 

PRE-WO: Have a well-rounded diet. Eat enough FUEL:
CHO, FAT, PRO
INTRA-WO: Need to fill up with FUEL: CHO
POST-WO: Need to replenish FUEL: CHO +
fix any damaged parts: PRO  
Eat so you are able to train, not the other way around. To feel better before, during, and after training and races, you need to think about nutrition! 
Your macros and calories are individualized based on your body type, training goals, and fuel management which is often determined by the guts ability to handle substrate (if you need an individualized nutrition plan, for you – click here now and apply for our world renown coaching).
PROTEIN:
Essential for growth, repair, and recovery of muscles. 
Protein ingestion for athletes should fall in a range of ~1.4-2.0g (2.2g being the average)/kg of bodyweight. Or 0.8-1.2g/lb of bodyweight. 
General protein guidelines during the day:  20-40 grams of protein per meal, 3-5 meals per day. 
FATS:
Also a source of energy and important for proper vitamin absorption.
They are stored in fat tissues,  break down slower than carbs but supply "endless" energy. Fats are fundamental components of cell membranes, playing roles in signaling and transport, nerve function, providing insulation and vital organ protection, and are the source of essential dietary fatty acids.
Fats should be ~25-35% of your daily caloric intake. As research has shown that athletes who chronically restrict fat to <20% of total energy are at risk of low intake of fat-soluble vitamins and essential fatty acids.  
CARBS:
Carbs are our main source of energy. They are stored in the muscles and liver, break down fast and provide quick energy.
Carbohydrates should be the focus of your nutrition plan. As the body burns through existing stores of glycogen, external carbohydrate is needed to fuel performance and recovery.
The joint position stand of the Academy of Nutrition and Dietetics (AND), Dietitians of Canada (DC), and the American College of Sports Medicine (ACSM) recommends that
moderate exercise (1 h/day (h/day)) requires 5–7 g per kilogram of bodyweight per day (g/kg/day) of CHO,
 moderate to high intensity exercise (1–3 h/day) mandates 6–10 g/kg/day. 
Ultra-endurance athletes with extreme levels of commitment to daily activity (4–5 h of moderate to high intensity exercise every day) may need up to 8–12 g/kg/day [8]. 
Fueling for Training/Peri-Workout:
The number one priority to maximize your training is to eat ENOUGH to fuel your body and recover throughout the course of the week. 
Research on a  high-carbohydrate diet and elevated muscle glycogen on exercise performance suggests that "supercompensation" muscle glycogen levels can improve performance compared with low to normal glycogen by 2-3% in events lasting more than 90 min.(Hawley, Schabort, Noakes, & Dennis, 1997), (i.e. time to complete a predetermined distance).
Pre-Training Meals
The size and composition of your pre-training meal depends on a few factors:
Timing of the meal vs. training start time.
Duration/intensity of training.
Knowing what your gut can handle.
Have 2-3 hours before training? 
My rules of thumb when it comes to pre-training meals is to have a mixed meal. Combine:
A "simple" and "complex" carbohydrate. (35-60g) 

A full serving of easily digestible protein (20-30g)

A moderate amount of fat (8-15g). 

A low-moderate amount of fiber (5-10g).

~16-20 oz of water. 
Only have 30-60 minutes or need a little more fuel?
Carbs are king here! Choose an easily digestible carbohydrate that is ~25-40g carbs. 
Carbohydrate intake during training: 
Specific Carbohydrate Guidelines for athletes:
Exercise less than 30 minutes: no extra carbohydrates needed.

Exercise between 30-75 minutes: small amounts of carbohydrates as tolerated (~10-15g)

Exercise between 1-2 hours: small amounts, up to 30g/hour. 
Exercise between 2-3 hours: moderate amounts, 60g/hour.

(Optimally glucose and maltodextrin)
>2.5 hours: Large amounts, up to 90g/hour of multi-transportable carbs. 
When the intake is higher than 60 g/h, it is recommended to use carbohydrate mixes that use different transporters for example, starch and fruit (glucose and fructose).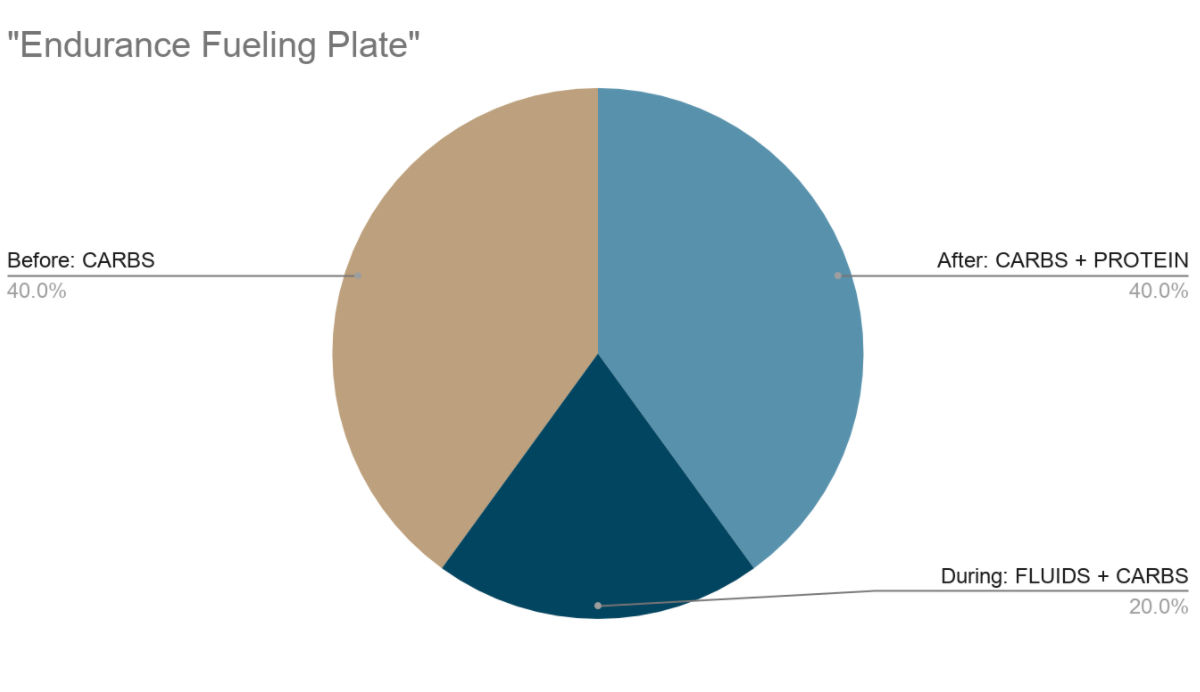 Post-Training Meal:
Your post training meal is possibly the most important one of the day. This meal is essential for muscle recovery and regeneration. You should aim to consume your post workout meal ASAP or within 45 minutes of your session.
This should be a carbohydrate heavy meal (40-60g) with a full serving of protein (20-40g) and moderate fat (0-8g). 
A Quick Note on Hydration.
Hydration and electrolyte planning is very specific to the individual (sweat rates, sweat sodium content, exercise intensity, body temperature, ambient temperature, bodyweight, kidney function).
Adjust according to individual variations Follow thirst mechanism, monitor parameters (bodyweight before training vs. after or urine color). 
600 mg/hour
Aim to consume ~at ~400–800 mL/hour (13.5-27 oz/hour) both throughout the day and around training. 
To maintain adequate sodium levels,the ACSM recommendations for sodium intake during exercise is to start with ~300–600 mg/h (1.7–2.9 g salt). 
Lifestyle & Season Planning! 
Whether you are someone who is competitive in your sport (plans races out and has an actual "season") or someone who recreationally enjoys endurance training as their primary mode of exercise, it is super important to periodize your training year! 
I recommend aiming to achieve your ideal "race or season" body composition at least 4-8 weeks before your first event or peak of the season. 
Weight maintenance should be achieved ~ 4-8 weeks before a race/competition.
This allows you to practice race scenarios and feuling at that bodyweight
Will allow you to maintain current muscularity while increasing efficacy and skill! 

Will allow you to dial in peri-workout fueling strategies while macros stay the same. 
Weight Change:
If you want to lose weight before racing, it is very possible and should be done in your off season 1-3 months before the serious race or training season starts! The WORST thing an endurance athlete can do is under fuel. 
The reason for this is, you can use this time to taper training and focus on doing what is necessary to maintain endurance and lean mass while in a slight deficit. 
This rate of loss should be relatively slow ~0.5% body weight/week or less. 
With the reduction in calories should come changes to your training plan. This is also why we focus on weight change in the off season. Aim to focus on improving performance with 80% of your training at a low to moderate aerobic threshold, 10% at a moderate-high, and the final 10% at high intensities. It is also important to focus on strength training to maintain lean mass, and be smart about fueling. 
Dietary fat

is where the biggest drop in calories should come from.

With a minimum set at ~ 0.35-0.45g/lb. 

When reducing carbs, try to keep at least 75% of your normal carbs and take from rest days/lighter training days.

Carbs should be at least ~4-5g/kg if you train <6hrs/week and upwards of 8-10g/kg if you train >18 hours/week (1 kg= 2.2 lb). 

Protein should never fall below 2.2g/kg in a deficit and can be as high as 4g/kg. 
Dieting as an endurance athlete is a different beast because you need to be in tune with your body. Your body uses so much food for fuel during training, so we don't create TOO big of a deficit. You do not want you to have any crazy hunger. You also don't want to be training for "fat loss."
In order to determine your rate and duration of fat loss, you must calculate your energy needs to maintain your weight. In my experience, the BEST way to do this is to track your typical "maintenance" intake for 2 weeks and see how your body responds. 
You can use calculators to find maintenance but that caloric value is very much impacted by your diet history as the metabolism adapts overtime. 
From there, create a moderate calorie deficit: Aim to consume ~250-500 fewer calories per day than your body "burns". From there, evaluate what happens over the first two weeks. 
If you are losing too quickly, performance becomes impaired, you are feeling overly hungry, tired and lethargic. This shows that you need more food. 
I ALWAYS implement higher calorie days with my endurance athletes especially.
Remember that gas tank we talked about? That is so important here! 
If you are dieting linearly, you may lose weight fast but you also may plateau fast. Recent research shows us that the adaptive response to exercise in muscle is influenced by "manipulations of dietary fat, carbohydrates, and calorie intake within training phases, or in the immediate preparation for competition, can profoundly alter the availability and utilization of these major fuels and, subsequently, the performance of endurance sport (events >30 min up to ∼24 hr)."
This is why I use a couple specific strategies with my athletes to maintain metabolic rate, lean mass, and optimize performance especially during a dieting phase. 
Strategy #1 – Refeeds:
Strategically increasing your caloric intake through additional carbohydrates, over a two to three day period. 
This stemmed from the concept of cheat meals back in the day. While they are different, the philosophy is the same. 
1) refuel the body's muscle glycogen, leading to increased performance, and
2) spike the body's hunger hormones, leptin and ghrelin, which directly impact the speed of your metabolism.
We found out later that it takes a minimum 48 hours of "overfeeding" or "refeeding" to actually spike leptin and ghrelin at all. So in order to attempt at maintain your metabolic rate, we likely need somewhere between 2-14 days of refeeding.  
Refeeds can be used to refill your gas tank after training on a low to moderate intake for a period of time. Refeeds for endurance athletes will likely need to be more regular.
5 Days Low, 2 days high

4 Days Low, 3 days high
| | | | | | |
| --- | --- | --- | --- | --- | --- |
| Daily Intake |  140 Protein  |  230 Carbs  | 50 Fat | 1,930 Calories | Monday-Thursday |
| 3 x Refeed intake | 125 Protein | 280 Carb | 55 Fat | 2,115 Calories | Friday-Sunday |
| Weight: | 140 lbs | | WK AVERAGE | 2,009 | |
I will typically plan refeeds around my athletes most demanding training day or days. Ideally we will refeed the day before, day of, and sometimes day after a long or intense session to optimize performance and recovery before going back to the lower intake. You can read more about refeeds HERE. 
Strategy #2. Carb cycling:
Alternating between higher and lower intakes by manipulating carbohydrates to fuel performance or improve adherence. 
The theory is, on training days when your body is using more carbs as fuel, you should have a higher intake while on non-training days your body won't need as much fuel. I take a very personalized approach when using carb cycling with my endurance athletes for a few reasons:
You are usually training at high volumes or intensities more days than not.

You should be consuming enough to adequate fuel performance and recovery.
This is why I like using a three day approach consisting of: Low, moderate, and high carbohydrates.
This approach allows both metabolic flexibility, the ability to fuel training and replenish glycogen stores, and also put you in a calorie deficit across the span of a week. 
For example, say you maintain your weight (based on current activity level) on 2300 calories/day or (2300 x 7 days) 16,100 calories per week. 
Across the span of the week I would want to reduce your intake by ~300 calories per day (300 x 7 = 2,100 calories per week). If we then take 16,100 – 2,100 = 14,00/7 = 2000 calories per day.
Instead of using a linear approach, we would have two-three different intakes to optimize higher carb days to allow greater fuel usage, improve biofeedback, and negate down-regulation of the metabolism. 
For example, if you were a runner who did 2-3 easy/short runs per week and 1 long with 2-3 days of resistance training this is what we would do to put you around that 2,000 calorie mark. 
| | | | | | |
| --- | --- | --- | --- | --- | --- |
| Low |  140 Protein  |  200 Carbs  | 50 Fat |  1,810 Calories  | 2 Days: Easy run/rest |
| Moderate | 140 Protein | 250 Carbs | 50 Fat | 2,010 Calories | 3 Days: Lift or moderate run |
| High | 125 Protein | 300 Carbs | 55 Fat | 2,195 Calories | 2 Days: Long run or double training day |
| Weight: | 140 lbs | | WK AVERAGE: | 2,006 Calories | Fat: 0.35g/lb+, protein: 0.8-1g |
Tips & Tricks:
Be ready to adapt this and add/reduce food when weight either drops too quickly or biofeedback start to stink.

You can play with adding 15-25g to your high day and see if your weight continues to trend the way you want it to.

If your weight isn't dropping the way you'd like, I suggest reducing your weekly goal of ~2000 cals/day by 150-200.

Do not let your low days get too low, remember, your low days help you recover too. 
You can read more about carb cycling HERE. 
Of course, there are many other strategies being used today however, they are much more complex (Train low, train high, etc). 
To summarize here, friends:
The WORST thing you can do for your physique and performance is under eat during your training/season. 
Carbohydrates are your primary fuel source during exercise and recovery but the other macros still matter! 
Workout timing can make or break your performance so find what works for you and stick with it! 
PLAN your season and ensure you have enough time to successfully achieve your goal race weight or body composition prior to diving into the training season.
Lastly, if you want to LEARN how to manage your nutrition and gain knowledge and skills that'll last a lifetime, hire a coach! 
---
SOURCES:
Asker E. Jeukendrup (2011) Nutrition for endurance sports: Marathon, triathlon, and road cycling, Journal of Sports Sciences, 29:sup1, S91-S99, DOI:

10.1080/02640414.2011.610348

Jeukendrup, A. E. Nutrition for endurance sports: marathon, triathlon, and road cycling." J Sports Sci 29 Suppl 1: S91-99, 2011. 

Jeukendrup, A. (2014). A step towards personalized sports nutrition: carbohydrate intake during exercise." Sports Med 44 Suppl 1: 25-33, 2014.

Hawley JA, Leckey JJ. Carbohydrate Dependence During Prolonged, Intense Endurance Exercise. Sports Med. 2015 Nov;45 Suppl 1(Suppl 1):S5-12. doi: 10.1007/s40279-015-0400-1. PMID: 26553495; PMCID: PMC4672006.

Burke LM, Hawley JA, Jeukendrup A, Morton JP, Stellingwerff T, Maughan RJ. Toward a Common Understanding of Diet-Exercise Strategies to Manipulate Fuel Availability for Training and Competition Preparation in Endurance Sport. Int J Sport Nutr Exerc Metab. 2018 Sep 1;28(5):451-463. doi: 10.1123/ijsnem.2018-0289. Epub 2018 Sep 25. PMID: 30249148.

Vitale K, Getzin A. Nutrition and Supplement Update for the Endurance Athlete: Review and Recommendations. Nutrients. 2019 Jun 7;11(6):1289. doi: 10.3390/nu11061289. PMID: 31181616; PMCID: PMC6628334.