Many people question whether or not getting sore after a workout (training session) is a good thing. Many people also argue about whether or not you should continue to get sore as you progress in the gym, becoming more and more experience (i.e. more years under your belt).
Well, the truth is, like most thing regarding fitness and nutrition, we don't have a clear-cut or black-and-white answer on this. So we have to speculate a bit, based on what research on muscle soreness shows us and our anecdotal experiences of getting sore from training, as coaches and trainees.
My opinion is pretty straight forward…
Gettin sore from a workout is a good thing, but has diminishing returns in the sense that if you get too sore or the soreness lingers on for too long (i.e. extended DOMS) it will decrease training performance in subsequent training sessions or workouts. We also shouldn't stop getting sore, because soreness comes from overload and novelty — both of which become more difficult as we progress, but are still required for muscle growth (results in general) to occur. This means some is good, too much is bad, and as we train longer and longer the soreness effects lessens, as does big leaps in progress.
Now… that's my opinion and summarized answer to the question. However, I want to dive into each aspect of getting sore after training so that you can understand what it is, why it's happening, and how we see the relationship between muscle growth and soreness being, so that you can form your own opinion and begin to monitor your own levels of soreness as you progress inside your training.
But first, a cool scientific graph to paint the picture for you…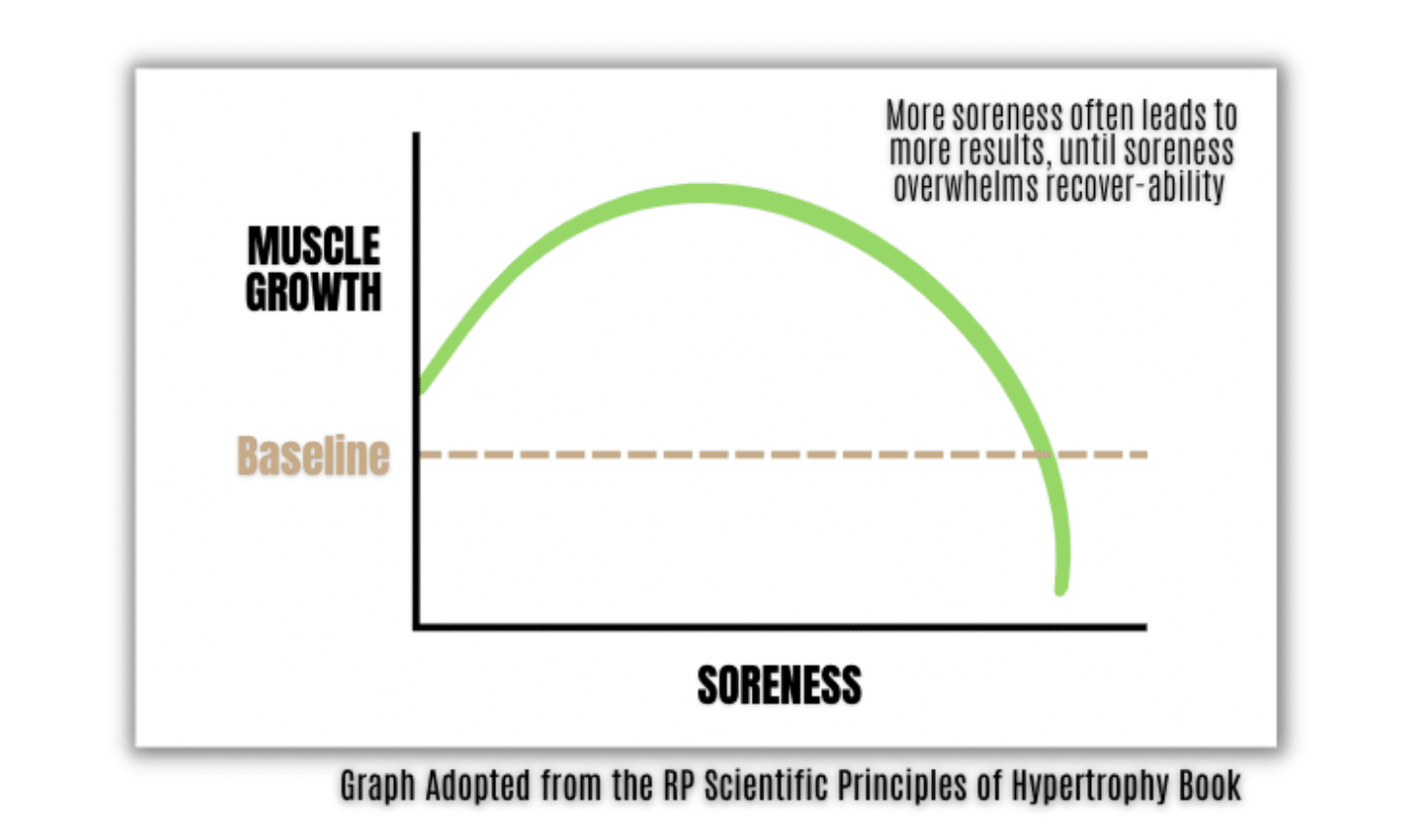 This graph, made by RP – credit to them for doing so, shows a simple look at how soreness works. You will get sore and it will be linear with the results you see, but over time there is diminishing returns in the sense that you cannot continually get sore and expect better results to continue happening.
What is Muscle Soreness?
Well… Soreness is essentially just damage to the muscle tissue (i.e. muscle damage).
For a long period of time it was believed that muscle damage lead to muscle growth, however the truth is we don't actually know. Studies haven't proven that it's required for muscle growth, but they also haven't completely ruled out the fact that they're not required. So as of now, I'd say it's safe to assume it's more than likely just an indirect part of muscle growth — meaning it's part of the process, but may not be the direct causation.
So Do You Even Need To Get Sore, Really?
Most people's first thought when understanding what soreness is and it's relationship to growth, think…. "If it's not causing growth, why experience it?!" — which is understandable!
Knowing that soreness is muscle damage and that although muscle damage might not lead directly to muscle growth, but is however a part of the muscle growth journey… I think it's best to say some is helpful and necessary, but too much is counterproductive and unnecessary.
Experiencing soreness can be a signal, telling you that you're training productively (near max efforts) to build muscle. Lack or complete absence of soreness can also mean your training may not be as productive as it potentially could be (training too far away from failure/max efforts).
Which leads to our next commonly asked question…
How Often Should You Feel Sore?
Muscle soreness shouldn't linger on for days and days, but it also shouldn't be absent for weeks on end either. So in practicality, here's what I suggest:
If you're sore for days and it's negatively impacting future sessions, reduce volume or intensity.

If you're never sore at all, it's time to increase volume or intensity OR the exercises you're using.
Soreness and Experience Levels:
It's also important for me to state that as you become more and more experienced, it's very likely that you will experience less and less soreness. But this lines up well with the proven fact that as you become more experienced, your rate of muscle gain slows down dramatically.
So although nothing here can be proven, I still believe SOME soreness is good for everyone and too much simply isn't.
Managing DOMS (Delayed Onset Muscle Soreness):
Last but not least, we need to manage all of this in order to create an optimal stress / recovery relationship. This is because stress and recovery are essentially battling each other during the muscle building process.
(1) Stress needs to be great enough to elicit an adaptation response, but (2) recovery has to be prevalent enough to allow that adaptation to fully occur. Therefore if we have too much muscle damage, recovery can't keep up and a continued stimulus in proceeding gym sessions cannot be accomplished.
Take Home Points:
Muscle damage isn't good or bad, it's just a thing that occurs from hard training.

However, hard training is required for muscle growth, therefore soreness due to muscle damage is part of the process in which we cannot (and should not) avoid.

Soreness shouldn't linger on for days OR cause future training sessions to suffer, but also shouldn't be non-existent as that may mean your training isn't productive.

Soreness that lingers too long is a sign that you need to lower volume or intensity. NEVER being sore, is likely a sign that an increase in volume or intensity is necessary (or a change in exercise selection).

As we gain more and more training experience, we will get less and less sore (as our gains will be less and less prevalent, too).