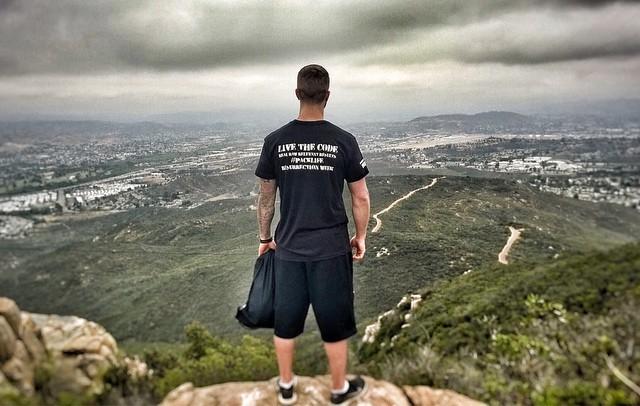 The second day of the most eye opening week of my life has arrived and to be honest, at this point, I've felt like 3 days have already gone by because of how much was accomplished on Day One of Resurrection Week.
[If you have not already read Part 1 of this 4 Part Article Series… Click here, I HIGHLY recommended checking out the first before reading Part 2.]
So there I laid, on the shitty hide-a-bed in which they claimed to be a "Second Queen Bed" when we rented out our room, when my alarm obnoxiously went off waking me up sporadically.
As I woke up I realized a couple things that stood out in my mind very clearly…
First one being that I slept amazing well, despite the mattress, compared to the first night being there in which I couldn't sleep due to anxiousness and stress of what was awaiting me.
This was probably due to the three brutal sand workouts… or the boxing… or the mental breakthroughs…
Well whatever it was, I was sore from head to toe in some places I haven't felt in a LONG time.
Second thing I noticed was how unbelievably clear I was. As if I was Bradley Cooper in the movie limitless and was on whatever that crazy drug was that had him doing a million things at once, amazingly well!
But truly, I felt abnormally clear. I felt as if I was hearing things in the background perfectly well, I was smelling different scents from around our hotel room, it seemed as if I could feel my body's muscular soreness in a more detailed way then ever before, and ultimately I felt so present within my body it was almost scary.
But it brought me peace. 5 Minutes went by before Adrian woke up for some coffee with me, but it felt as if 10-15 minutes had passed…
This might sound crazy, but this is 100% truly what happened as I awoke up that morning. In fact I am literally reading this out of my journal, that I had with me, right now.
At this moment, a light bulb went off in my head.
-> THIS WEEK IS GOING TO CHANGE EVERYTHING <-
So Adrian and I get up, slug down a greens drink, grab a cup of coffee and head out to meet the crew at the gates of The Pack HQ to find out what was in store for us next.
It's funny to reminisce about these parts because at the time what was one of the scariest things, walking into the unknown, is now one of the most memorable and was always the most rewarding experiences in the trip.
Now that we've all gathered together outside the doors and we're waiting to see what is coming, a big shuttle van pulls up.
Krebs and Luka walked out of the gates and said, "Let's go boys. Luka and I are in the front, hop in the back."
So we did, without question of where in the hell we're going… Even though that is exactly what was running through each of our minds.
Once we all got seated and buckled up for the drive, Krebs simply said, "We're going to meditate til we get there. Everyone lean back, close your eyes, and I'll let you know when to wake."
[During Day 1, we learned about what meditation REALLY is and how important it is if you want to become more present in every aspect of your life. We went through specific mantras that had created meaning to us personally and created our own anchors to attach these mantras too. It has become a staple in my daily life and I believe in it 100% as it is shaping the way I look at things in my life, increasing my focus and clarity, and allows me to be so much more present in everything I do.]
I remember the exact moment he said this to us, I thought to myself "Yes! Exactly what I needed, some time to be to myself and let my thoughts about yesterday run wild".
And so we followed directions, started running our mantras through our heads and got into a good state of meditation.
The best part about my experience with meditating on this trip was that I've never been a person who could sit still, be quiet, or simply be "to myself". I've always had a negative attitude towards meditating because I thought I sucked at it, simply because I couldn't stop my mind from running into thoughts that we're not going to serve me or give me power.
But with these mantras, I had so much more clarity and power. Meditation, thanks to what they taught me, was one of the best things to happen to me.
And the cool part about getting deep in to meditation is that the time flies by, we must have drove at least 30 minutes away but it didn't feel nearly that long to me.
So when the time was up and we stopped the van, I opened my eyes feeling clearer then I've ever felt in my entire life.
I looked out the window and saw a California Mountain, A.K.A. a dry ass trail!
If you're a fellow Washingtonian like myself, you know that the trails around here are covered in huge green tree's and rivers… this was far from that, but one thing it was – BIG.
So we all get out and Luka huddles us up and says, "Ok guys, I'm leading the pack on this hike. I'm going to be pushing the tempo, try to keep up and remember… There is ALWAYS a lesson to be learned".
We took off and just like he said, he was pushing the tempo! So naturally, as the competitive person I am, I told myself "I will not let him lose me on this hike".
We're walking pretty damn fast up this mountain, slowly dissipating from the rest of the guys and I cant help but notice Luka is constantly looking over his shoulder at me… as if he is trying to lose me or something.
Oh wait, I think he is trying to lose me.
So with my cocky attitude I say, "Don't worry bro. You're not going to lose me, I'm sticking on you like glue."
His response?
"Oh ok… We're sprinting!"
And there he goes, taking off in a full-blown sprint up this damn mountain.
Now I had two choices, give in to my mind which was telling me "No need to compete, you're sore as hell and plus look at that view!".
Or remember what the fuck I just learned about myself the day before!
I CAN. STOP DOUBTING. DO NOT FEAR. YOU CAN PUSH YOURSELF HARDER THEN YOU THINK.
So I sprinted up that bitch right there with him! And when I say sprint, I really mean an all out sprint. We got up that mountain in a really short time and it was so unbelievably worth it
Why?
#1 – I proved myself. Not to Luka, although I am sure he was slightly impressed I kept up which is cool, but I did it for myself. To show myself I CAN do this and I WILL do this as long as I continue to believe in myself.
#2 – I made it up the mountain well before the rest of the crew and that provided me with two very valuable things. First one being that I got to spend some one on one time with Luka, in which turned into an extremely valuable conversation about life. And the second one being it gave me extra time to sit and enjoy the unbelievable scenery of ALL of San Diego (which you can see pictured above).
But I will say; at this point we're smoked! And in my head I am thinking "Wow, that was a killer workout".
But I thought too soon…
So the rest of the crew got up to the mountain and Luka gave a short speech, along the lines of this:
"That was a hike, in which you walked. How tired are you guys now? (Everyone was beyond tired).
Yet we're all fitness pro's and gym owners… So the lesson is simple, DO THE SIMPLE.
We constantly over complicate things and avoid the simple things we need to do to stay on point with who we're supposed to be and who others look up to us to be.
We get so sucked into the business; we forget to take care of our bodies. And remember, that is why we got into this industry! Because we enjoy training and we wanted to help others do the same.
Yet now we cannot even hike up a mountain without being completely gassed.
But the great thing about it all is that the lesson is over yet.
Down below that hill is a pile of big rocks, in which we will be using as weight during your TFW Hurricane training session you will all be doing on top of this mountain".
Now if you do not know what a hurricane session is, first of all you need to check them out! In my opinion one of the absolute best fat burning workouts that still involves strength training.
The way it works is simple, do a variation of a sprint and then perform two strength exercises after it. You would do this for 3 rounds as fast as possible, and then you'll move onto the next station, which are also 3 rounds. There are 3 total stations making a hurricane, 9 total rounds.
So here was our Mountain Top Training Session:
Station #1 (Sprint or Rock Carry up the hill at the top of each round, alternate each round)
            -Boulder Goblet Squats x10
            -Push Ups x10
Station #2 (Sprint or Rock Carry up the hill at the top of each round, alternate each round)
            -Boulder Front Loaded Reverse Lunges x10
            -Boulder Overhead Press x10
Station #3 (Sprint or Rock Carry up the hill at the top of each round, alternate each round)
            -Boulder Burpees x10
            -Plank on Boulder + Shoulder Taps x10/side
As I write this out I realize, it may not look like much… But I promise you, when doing this on top of the mountain AFTER that hike… Lets just say it kicked every single one of our asses
So after the sweating and groaning, we all finally complete the workout and get to rest for a bit. We grab a quick bite to eat and some water while they broke down the second lesson…
"How many of you did not think you could finish that?
Did you guys immediately tell yourselves you couldn't do it when we told you what we were going to do?
How many of you would've said, "There's no way", if we told you last week what you'd be doing today?
Do you see how our minds can allow us to believe that we can't, even know deep down we really can and actually want it badly.
The mind will always try to quit before the body does… And you ALL just proved that you saw your limit, went past it and succeeded.
Now I want everyone to find a good spot on this mountain top and meditate."
This shit hit me hard, because personally I have been self-sabotaging myself for a long time.
Constantly doubting myself, always in fear of the unknown in my future, and questioning my abilities to succeed. At the end of the day, it is my mind trying to comfort me by telling me to stay right where I am.
Because I am used to it, I know I'm safe right here and nothing will change if I just chill.
But I want change. I want more. I want it ALL.
Happiness, the career, the relationships, the body, the mindset, and the life I imagine myself living when I'm dreaming.
And the best part about that all, is I CAN. But I had to get out of my head and start taking action on what needed to happen and who I needed to become.
The meditation session I had on the mountain was to this day the best I've ever had in my entire life. I felt a huge rush of endorphins being released in my body and mind as soon as I finished that hurricane session.
Although I was tired physically, I felt more alive and energetic then ever. It was unbelievable.
So I took this time to find the most remote place to get away as possible, simply because I wanted to take advantage of the scenery and be to myself.
So I crawled down a path, in which had a huge sign saying "WARNING: Off Limits To Hikers!" but at this point I really did not care, to a huge rock hanging over the edge of the cliff. It had a massive rock behind it as well, creating an "L" shape so I could lean up against that and relax.
I draped my shirt over my face to block the light and began to run my mantras… The reason this meditation was so great was because I could hear the wind blowing by my face and up the mountain, I was listening to the birds fly and chirp as they flew around me, I had the fresh air being breathed into my body, and after that workout my body was fully ready to just let go and be still to relax as much as possible.
So many ideas, realizations, and vivid memories floated through my head at this time, and that is when I felt the true sense clarity and presence within my own body.
Just when I noticed myself smiling, I removed the shirt from my face and the most unbelievable thing was going on next to me…
A Humming Bird, I'm no bird watcher or expert but I this was a Humming Bird, was literally just floating next to me… Not scared or intimidated at all. It just chilled there for a bit, looked over and then slowly floated away.
I was blown away at this, but this is when I realized it was all coming together. I was at peace, I was ACTUALLY present with myself and in that time, I was no longer feeling anxiety or stress, and it was right then that I believed in it all.
We then gathered back up to head back down and of course, Luka says…
"I'm running down the mountain. Who's coming with me?!"
**Tumbleweed rolls by his feet**
So naturally, as everyone was silent I raised my hand and said, "Fuck it. I'm down".
We ran all the way back down and honestly I am so glad I did!
First of all, walking down that slowly and feeling the muscle soreness every single step of the way sounded MUCH worse. And secondly, it was just down right fun
We we're jumping off rocks and running together with smiles on our faces the whole entire way down.
We then drove back to town, got some lunch together as a group and then went back to work. But more of the mental work, which was reflecting on the day we just had and what our minds do to us to hold us back and how we CAN push through those
So I will leave you with this lesson, the biggest lesson I learned from this entire day.
YOU ARE ENOUGH.
That was my big take-away. Because that is exactly what I proved to myself.
I was tested. Tested by the sprint/hike, tested by the workout, tested by the meditation drills, and tested by the run back down.
And although each situation started with me doubting myself and fearing the situation, I came out on top and proved my mind wrong.
I learned I CAN avoid stress and anxiety. I CAN train a lot harder then I normally do. I CAN learn to be present and meditate. I CAN continue to push, even when I truly believe I have no more fight left in me.
I'd have you consider that we all have that fight left in us and that we all can push just a little bit harder, to obtain true happiness in our lives.
So look for the tests, they happen to us every single day.
Watch for the next time something in life tries to create doubt and fear, or tell you that you can't do something.
When this happens, stop and take a deep breath. Recognize the situation and remember that you CAN.