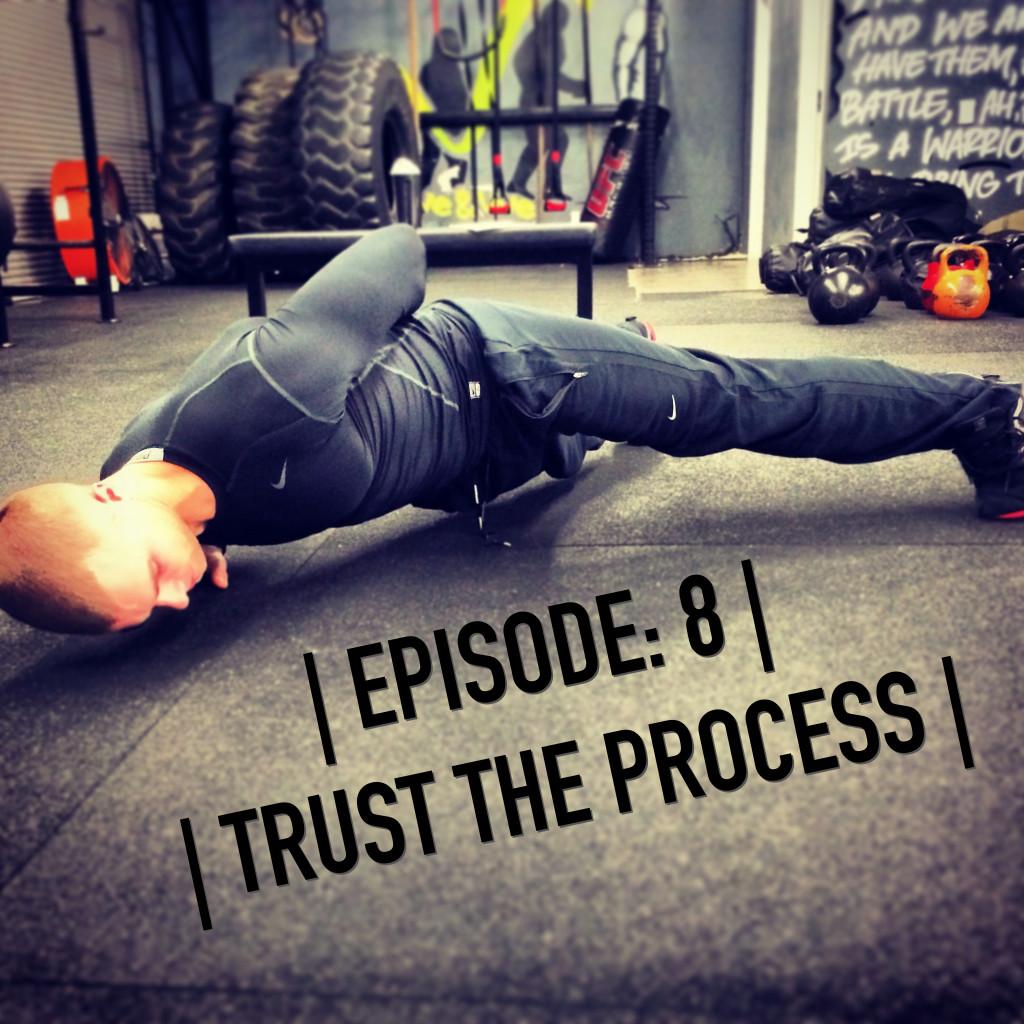 Week 7 is complete, week 8 is here and my physique show feels like it is right around the corner! Nervous and excited at the same damn time!
I'm going to get right to the lesson to learn for the week because there is no point in recapping this week… [I cut calories, stepped up cardio and STILL haven't had a cheat meal… that's my week]
So what is the lesson? You NEED to trust the process. This can be very difficult when your training and dieting your ass off, especially as time goes by.
We all want immediate feedback or success, but it is never going to happen like that. No matter what you're striving to succeed in, it will never be handed to you with ease.
So as I have been going through this journey to get shredded, I have really learned to trust the process. Because we must understand were not going to see results everyday, every week and sometimes not for a whole month. But if we keep pushing relentlessly, it WILL come without a doubt.
It's those of us who can understand and trust this fact that will succeed. Again this goes for everything we do in life, not just fitness.
Week 1, didn't see much progress. Week 2, I guess I seemed a little bit more filled out… at least coach told me I did. Week 3, nope… still not much. Week 4, ok… I look a bit leaner. Week 5, WHOA! I'm seeing it and I'm happy Week 6-7, daily improvements.
You see, I didn't see crazy results til after an entire month, BUT I trusted my coach and the process he had planned out for me. I knew that I had to continue improving and being 100% on point for it to pay off in the long run and it truly is now.
This is how I refer to my online success as well. Understand that my career plan was to create noise in the online fitness community by starting a blog, which would later turn into a membership site for online coaching.
For just over two years now I have been writing articles on a weekly basis, just to get to the point I am at today [which by no means is even CLOSE to my goal].
But I now have a good amount of subscribers, a big amount of followers/readers and I have over a handful of online training/nutrition coaching clients who are getting amazing results. So day-by-day, I am moving towards y goal and trusting the process with each and every step I take.
So from this you need to take action to make the same progress I just now explained, within your own personal goals. Just how can you do this?
First, get a plan of attack. This is the biggest and most important step without a doubt! You wont get far without your map. So make sure your create the perfect map to get you to your destination in the most efficient way.
Regarding fitness, this would include a training program and a diet. Not a 30 day crash diet though! Put together, or have a coach put together, an 8+ week process to lifestyle change. Once you have this mapped out, move on to the next step.
Second step, take action! Start the plan, set a date and hit it hard every single day!
It's simple! Start on a fresh week and have a deadline date because you need to see the light at the end of the tunnel. This is why it I am able to not have any cheat meals, which I used to have on a weekly basis. I know it WILL be over once I cross that finish line, I can see it and I am motivated to make it there.
Third step, stick with it! This is the hard part and exactly where "Trusting the process" comes into play. You must stick with this and be in the zone EVERY SINGLE DAY!
Have reminders, set wallpapers, daily quotes, or whatever it needs to be to keep you motivated for that end goal. Just make it happen. This is also where a good coach comes in handy because they are right there with you helping you stay strong, make adjustments and helping with decision-making.
Again this can be put into play with anything. Figure out your plan, take action and set a deadline. You have your map; you starting your trip and you know when you need to cross the finish line.
JUST MAKE IT HAPPEN!
This 12-week journey [which has turned into 13 weeks because I miss calculated dates when starting this…] has taught me so unbelievably much thus far and it hasn't even got to the most difficult part yet.
In 5 weeks I will be on stage posing in a physique competition… This is crazy to me! Although it is on my bucket list [I know I'm pretty damn young for a bucket list… but hey, might as well start early] so I know I will be happy when it's done.
The part I'm nervous about isn't the fact that I might not win, shit I could honestly care less about winning… It's the fact that I will be in front of a crowd full of people, shirtless and being compared to other guys who do this for a living. On top of that, the crowd full of people will have people I am very close to in it…
Yeah this makes me a little uncomfortable… ok pretty damn uncomfortable! Even a bit weird, because I used to kind of joke about the spray tans and posing that comes along with the competitions.
But I know this will make me grow, become stronger and the overall experience will pay off in the long run by allowing me to become more educated in my industry.
So far I am pretty pleased with my experience, as difficult as it has been. But the biggest pay off is that I inspired many others to take a big leap of faith and start their own transformations.
I have multiple clients who have now hopped on diets and added training sessions into their plans so they too can make a big change.
My girlfriend has started an 8 week transformation, which I like to believe I helped start.
My own father came to me, told me I inspired him to work harder and be the best he can be at what he does. He even switched up his diet to get healthier! Catch him doing push ups in the living room on a regular basis now as well!
I also had over 15 people, around the world, sign up with me as online clients to start their own transformation to a better, healthier and most importantly happier version of themselves.
All that right there, is the pay off. That is what wakes me up in the morning, inspires me to write this article right here and what drives me to kill each and every single day with everything I got inside of me!
If this article is making you feel how I am feeling right now, which is PUMPED UP!
[Literally I am typing like a mad man because I am firing myself up right now!]
Make a plan, take action and crush it! Right now! What are you even waiting for?!
I'm calling YOU out! No more waiting to get better, no more waiting to make a change and no more waiting to have the life you always wanted to live!
If ANYONE of you needs help with this, contact me at [email protected]
I will be more than happy to have a FREE consultation about creating a plan and taking the steps to achieving it. If you need more, than let me coach you. But either way, do not hesitate because I am WILLING to HELP YOU.
Take Action…