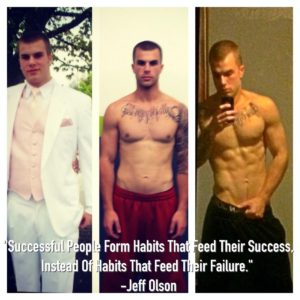 I am officially six days away from the half way marker of this 12-week journey… Few things run through my mind when I realize this.
First thing, only half way?! Holy Shit!
Second, I am pretty proud of myself. Although I have been on a pretty strict diet and training plan for the last couple years now, this is by far the most hardcore approach I have ever taken. No cheat meals, weighting every single thing I eat, two a days, lots of cardio, and meal prepping all on a daily basis… I haven't missed a beat! That feels tremendous.
Third, the results are already crazy which gets me pretty fired up to see what week 12 brings me. I even set up a photo shoot with the photography beast Gene Fox so that I can have professional work showing all that I have accomplished.
What this all truly makes me realize though, is lifestyle/habit changes are more possible than people make them out to be. It is a scary road to embark down, but once you've taken the road and driven down for some time you will be more confident than ever and ultimately extremely satisfied you did so.
It took me less than 6 weeks of my life to make an extremely positive and influential change on my life. In the last 5 ½ weeks I have increased my knowledge on nutrition by double, created more self-discipline than I could imagine, completely erased the word "craving" from my thought process, helped many others create nutrition changes in their lives, received insane results physically, and inspired a ton of people along the way.
So my advice for you in this article today, is to take that step. Make the moves you need to make to create a lifestyle change and habits that lead you to happiness.
Here is what you need to do, step by step. [write down as you read]
1.) Establish The Change Needed-
This is the BIGGEST step by far and usually the step people are actually afraid to take. But in order for you to be successful and happy, you must establish what it is that you need to change. So what exactly is it in your life that needs to change so you can pursue your goals?
2.) Ways To Create The Change-
Without this, step one is pointless. You've established WHAT the change is that must be made, now how will you do it? I suggest stemming on a pad of paper. Write down what the change was and then make stems off of that change stating any and all steps that must be taken to accomplish it. These "ways" or "stems" are what will become your habits along the way. Once you decide what they are, make them habitually and stick with them.
3.) Review Daily-
This is key in success as well. Once you have your change established and your ways (habits) established as well, write them down in a schedule like list. You will then go over them every night to prepare for the next day. This will plan out your day perfectly, avoid any stress associated with last-minute problems, and overall save you time and stress.
4.) Reminders-
I'm not going to sit here and try to bullshit you, there were struggles and still are. I want sushi and beer more than anything, almost every day. But I set reminders for myself to stay engaged and motivated. So that could be changing your wallpaper, having positive affirmations or quotes written out for you, or reminders in your phone that say little things to keep you on your toes. The point is, have something that is consistently keeping you on your path. Mine is the front page of my journal…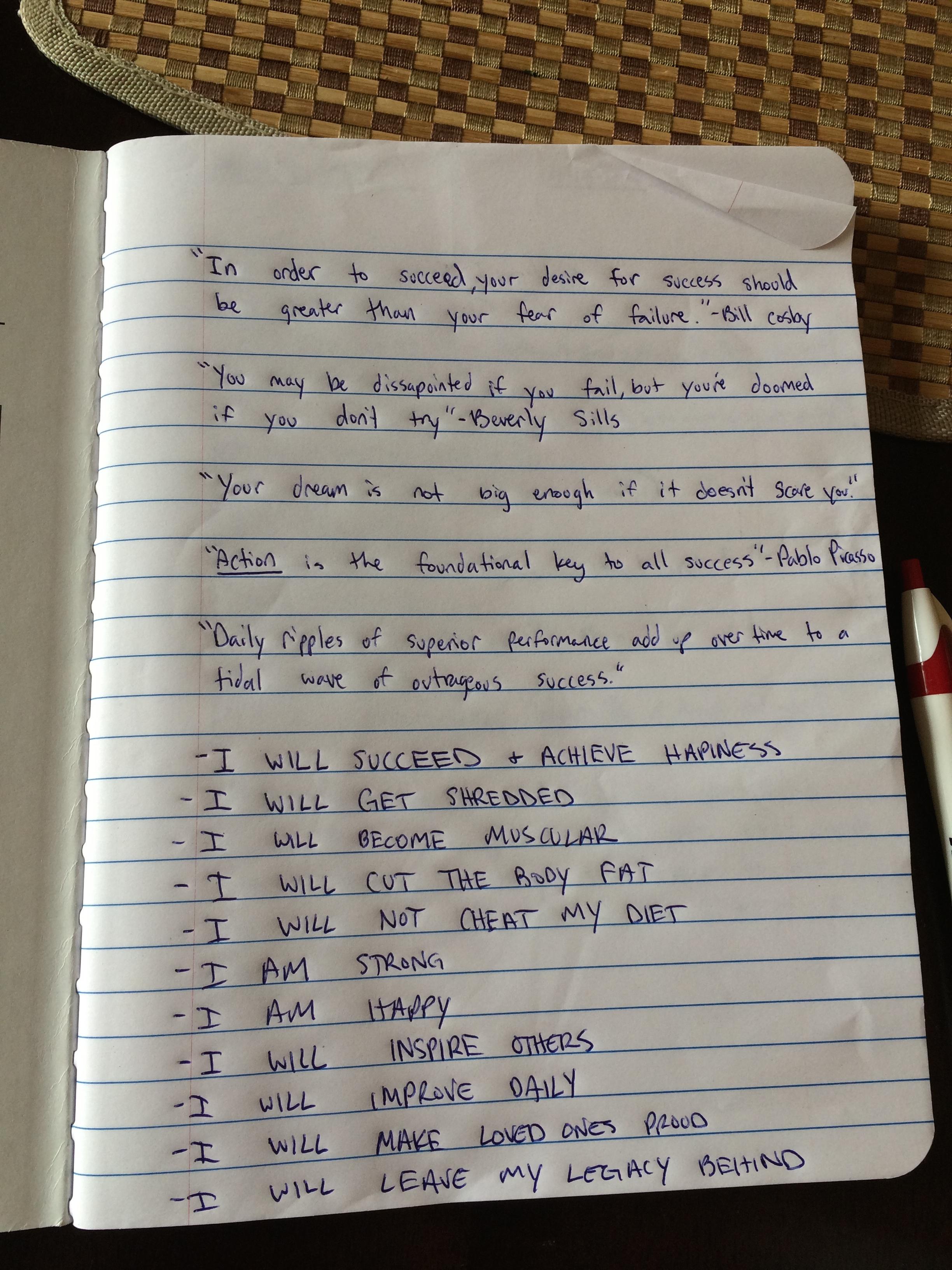 5.) Rewards Yourself-
This does not mean having a cheat meal or poppin' bottles at the end of a positive week. This means positive, un-sabotaging, rewards for your hard work and dedication. Last week, I went and got a massage. It was amazing, relaxed me, relieved stress and ultimately I felt like I deserved it. So go buy yourself something nice, get a massage, your hair done, or whatever it may be. But reward your hard work, and then get back to the hard work.
The things I just shared with you above are the exact things that helped me stay 100% compliant on this journey. Of course, the scale and proper nutrition helped tremendously but the mental aspect is in my opinion the roughest part of the experience.
One of my biggest goals of taking on this journey was so that you all could benefit from it just as I am. So please, read this and apply it so you too can experience the results I am experiencing.
[If any of you are struggling to make results come true because of nutrition, meal planning or diet in general; please contact me at [email protected]. I am now taking on nutritional coaching, separate from in-house training and I would be more than happy to assist you in that part of your journey]