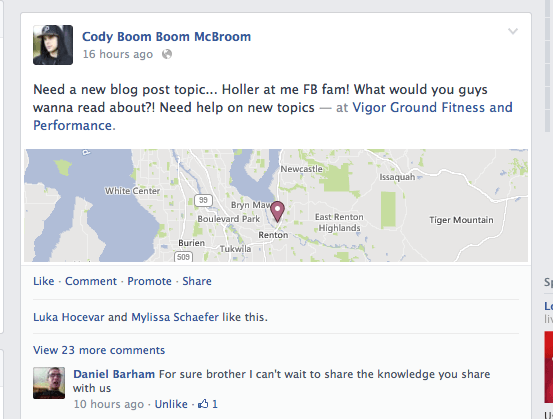 Love posting a status asking what y'all want to read about and getting TONS of feedback… Lets me know a few things:
First off, you guys actually read my blog! Best part for sure.
Secondly, you guys trust my knowledge and info, which you should. I study and am surrounded by the best in the business daily to make sure I'm giving you the best, up to date, information.
And the third reason, it gets tough to come up with quality topics on a weekly basis. I have a list of ideas because I constantly think of new stuff, but some take too long to write-up to have it in time and also I got to make sure you guys are interested, not just me!
So this week I picked a client's, of Vigor Ground Fitness, question on protein intake.
[If you commented a question on my Facebook status, don't think I forgot. It's coming]

As you can see by the screen shot above, she's consuming about .8g of protein per pound of bodyweight, from almost all whole food sources. Her friends are concerned she's consuming too much and it will affect her liver negatively.
First off let me start by saying, it is not too much. Especially the way she trains (she's trains like a BEAST 5-6 days a week… Shit, she may need to start throwin' skittles with Marshawn!).
Because she trains so often and when she trains she's lifting heavy weights at a higher intensity, she's breaking down muscular tissue regularly. In fact she's breaking a lot more than just muscular tissue down, because working out isn't just beneficial for your muscular system.
Now most people get confused with this… "Your breaking down muscle?!"
This is a good thing. We break it down and recovery stronger, bigger and/or firmer, and ultimately healthier. So yes, we want to break down the tissue and systems.
But to make sure we can recover properly and effectively enough, we need to consume an adequate amount of protein. For easy math the best solution is to multiply your bodyweight by 1g of protein and that'll be your intake (assuming you train regularly 3x a week or more).
Although your liver does process everything that travels into or through your body, this is nowhere near too much for it to handle. I have consumed 2-2.5g of protein per pound of bodyweight for a long time with absolutely no problem. I know people who consume .5g that still gain muscle and I know people who consume 3g and don't have liver issues.
Now understand, you do not need 3g per pound of bodyweight, but you should be consuming more than .5g if your training heavy and hard 3 or more times per week. The big problem is that people are over-thinking protein intake.
There are multiple key reasons why you need a good amount of protein:
1.)  Thermic Effect of Eating– Plain and simple, you burn calories eating. Your body uses energy (calories) to absorb and digest the food you consume. The great thing about protein is that it literally takes more than 4-5x the energy that carbs and fat takes. In an easier way to understand, your body burns more calories digesting protein than it does digesting fats and carbs. So if you want to consume a large amount of any macronutrient, it's definitely protein.
2.)  Recovery- Another very simple reason to have ample protein in your diet is to recover. As mentioned early, if you are sedentary then of course it is not as crucial to get a ton of protein in your diet and this is the reason why. If you do not do anything that needs recovery or tissue repair, you don't need as many nutrients that treat tissue damage. First off, if your reading this article I am assuming you are training because that is what this blog is targeted towards. And lets say you don't train, I can still assume you want to lose fat and look good which by reason #1 you should know that you need protein to do that anyway. BUT, the point is this; tissue gets broken down when we train and to repair that tissue, allowing it to become stronger and more efficient, we need protein (amino acids specifically) to get this job done.
3.)  Reduces Cardiovascular Risks– Several studies have been done and have proved that increasing protein in your diet, while lowering carbohydrates, can improve your cardiovascular health by a big shot. It lowers LDL Cholesterol (bad cholesterol) and increases HDL Cholesterol (good cholesterol).
4.)   Increases Supply of Auxiliary Nutrients- This is a big one that is often overlooked. The easiest way to explain this would be saying that the high protein foods we eat are almost always high in other key nutrients that benefit performance and muscle growth. Meat is a huge protein source for us, but it's also a great source of creatine, amino acids, conjugated linoleic acids, etc…
5.)   Hormonal Benefits- Protein has been shown to also benefit us hormonally, specifically the growth hormones. IGF-1's response to exercises and feeding has been shown to increase when a persons diet is higher in protein. This directly correlates to muscle gain and fat loss.
At the end of the day, high protein diets work! They help us build muscle and burn more fat. On top of that, higher protein diets have not been shown to have any negative effects on the average or trained person. The only time this differs is when somebody is ALREADY under a serious liver or kidney condition, but that is a different story.
I recommend all my clients to be on a higher protein diet, because quite frankly… It works.
A good macronutrient breakdown is having your protein at about 40% and your carbs and fats at about 20-30% each. But it truly depends on your goals and body type before you can break down specific macro percentages.
1g per pound of bodyweight is my RECOMMENDATION, I'm no doctor so I am not prescribing anything to you… Just recommending. But I am confident enough to say that if your training like you should, be that is not too much protein nor is it too little. It is a great number to shoot for.
Hope this answered the question! If you have any more confusion on the topic, feel free to contact me about it.