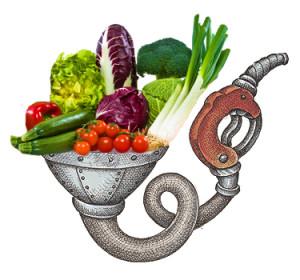 This is a question that I personally have had to ask many clients, even myself multiple times.
Most people respond with… Why on earth would I eat more, if I want to lose weight?
It can be pretty damn confusing at times and also can seem contradicting to some, especially with all the media and people talking about needing a calorie deficit to lose weight. This can be true, but people take it out of hand most of the time.
Well it pretty much comes down to the simple fact that your body needs the proper amount of fuel (food/calories) in order to work hard enough to burn fat. Let me break this down for you a little more.
Calories are needed for multiple reasons, repairing tissue, energy demands, and daily functions from nervous system all the way to brain function.  When people intake too many calories the body will just store the calories as fat, which most of us realize. This is what gets people usually thinking less is more, which is not always the case here.
When you live a lifestyle of eating too many calories, you will become over weight. And when you initially decide to go on a diet, a calorie deficit will help you lose weight, but not in the long term. So at first your body will have enough stored fat for it to use as energy and it will be burned.
But the problem here lies within the long-term lifestyle and habit changes. Once you lose that beginners weight your body will slowly start holding onto the only energy it has stored, which is when you need to start consuming more calories.
Ever notice that most people lose a bunch of weight at the beginning, but then end up plateauing shortly after? This is exactly why.
If you do not start consuming the proper amount of calories, then your body will begin to get its fuel from muscle tissue and this is exactly what we want to stay away from.
There are multiple reasons we do not want our body's to burn muscle for fuel, first being that muscle looks good! Nobody wants to lose weight and be skinny fat, the goal is to be lean and toned. Secondly is that ones amount of muscle mass is a big factor in determining our metabolic rate. The less muscle we have the slower are metabolic rate will be. This is mainly because muscles constantly need fuel to be used and to recover properly, therefore the more muscle you have the more fuel you'll need to burn and your body will crank up the metabolism to do so.
It truly becomes a frustrating cycle of calories in versus calories out. The less you eat the more likely it is to go into starvation mode, which will cause your body to burn muscle tissue for fuel. This will in turn slow your metabolism down, which makes your body burn less and hold onto more… which leads to weight gain. BUT, if you eat too much and do not use the calories during exercise, it will also get stored as fat.
I do not want to scare you into a stressful calorie schedule but it is a good idea to start tracking your diet to find your sweet spot of calories. Because there truly is a perfect number of calories to hit for most people, not too much and not too little.
So where do you go from here? Now you start getting used to tracking your diet and eating the right nutrients at the right time. It also helps to eat frequent yet smaller meals throughout the day to keep your metabolism high… oh yeah and workout! Exercise is the key to all of this; it is a needed element in the goal of getting lean or losing weight. If you need help doing so or figuring out exactly how many calories you should be hitting, then its time to find a coach.
Remember, don't stress; just plan ahead and figure out what works for you!