1.) Go Harder – You should be training hard. "Duh Boom Boom"… Yeah, well many of us out there simply aren't doing it or have the accountability of getting it done. So it needed to be said!
2.) Add 2-3 Cardio Sessions Per Week – Cardio sucks, I know. But it works and sometimes sucking it up and getting it done can make a huge difference.
3.) More H20 – Boring, not sexy and you already knew that, but it works and none of us are tracking or seeing if we're getting enough. So drink up waterboy!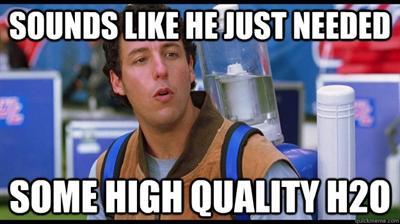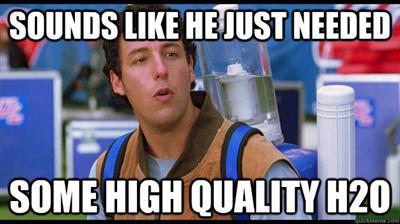 4.) Ensure Consistent Progression – Do you record your workouts? Monitor progress? Have a coach? Well, if not you should do one of the above. It helps. [Click Here for a free article I wrote all about how to progress the right way]
5.) Sleep More – Plain and simple, you need more and so do I. That's when we recover and when we recover, we improve.
6.) Create An ACTUAL Caloric Deficit – Many people reading this "eat clean" or loosely track calories, well if your fat loss has stalled and needs a kick-start – then you should focus on accuracy until it picks back up.
7.) Check Your Surroundings – Whom are you hanging out with? Where is your current job? Who do you live with? Are they all promoting the goal you want to achieve? If not, change what you can and for the things you cannot or do not wish to change, be blunt about your goals and your desire to reach them. Nobody will stop you if you make it clear you won't be stopped.
8.) Put Away The Phone – Stop texting at the gym and train.
9.) Get A Gym Buddy – We all go harder when we have someone to lift with.
10.) Join A Motivating Gym – If your gym is simply un-motivating and filled with people walking on treadmills, join a gym that has people screaming, laughing, doing ninja kicks and having a blast while they lift some heavy shit… If you're in Seattle, check out Vigor Ground Fitness and watch me and my peeps do all of the above.
11.) Get Caffeinated – Studies proved it over and over again; caffeine is a supplement that actually works. It gets you fired up and helps push you harder during training, to burn more fat.
12.) Eat More Protein – I believe it's safe to say 75% of people getting into a fitness and nutrition plan are under-eating protein. Shoot to eat your bodyweight in grams daily, it'll help satiety, recovery, and will burn more calories.
13.) Place Heavier Carbs Around Training – Think of your muscles like a sponge and carbs like water, when you train. Because insulin sensitivity changes during and around training, your body better absorbs and utilizes carbs for muscle – not fat storage – so by placing carbs around your workouts, you can possibly save yourself from some fat storage.
14.) Eat More Greens – You probably don't get enough, but this can help lower calories while still keeping you full and healthy. A greens supp like Onnit's EGN is a good start.
15.) Try Creatine – Creatine is a proven supplement, the shit just works. It's for recovering better, therefore to build more muscle and strength… But guess what happens with more muscle and strength? You lift heavier and harder, burning more calories.
16.) Meditate – Yup, meditation burns fat… Well, not exactly. But it calms you the fuck down and that can help your hormones settle down and balance, then you can burn more fat.
17.) Take A Hike – Literally, take a hike. Or a walk or bike ride or play with the kids. Just get moving. NEAT (Non Exercise Activity Thermogenesis) can make a huge difference; track your steps and start getting more in daily.
18.) Stop Eating Out So Much – Nothing against restaurants, in fact I'm HUGE on flexible dieting and being able to do so. But if you're doing it too often, you're probably eating more calories than you think. Take a break from it and….
19.) Prep More Meals – Spend some time once or twice a week and meal prep.
20.) Take The Stairs – Just like #17. Makes you move more. In fact, lets say it one more time since it's that important and America is lazy…
21.) Park Further Away – I wasn't kidding, had to say it again. Move more.
22.) Add Finishers To Your Workouts – Take 5-10 minutes to add a HIIT interval finisher like battle ropes, KB swings, shuttle sprints, sled work, etc…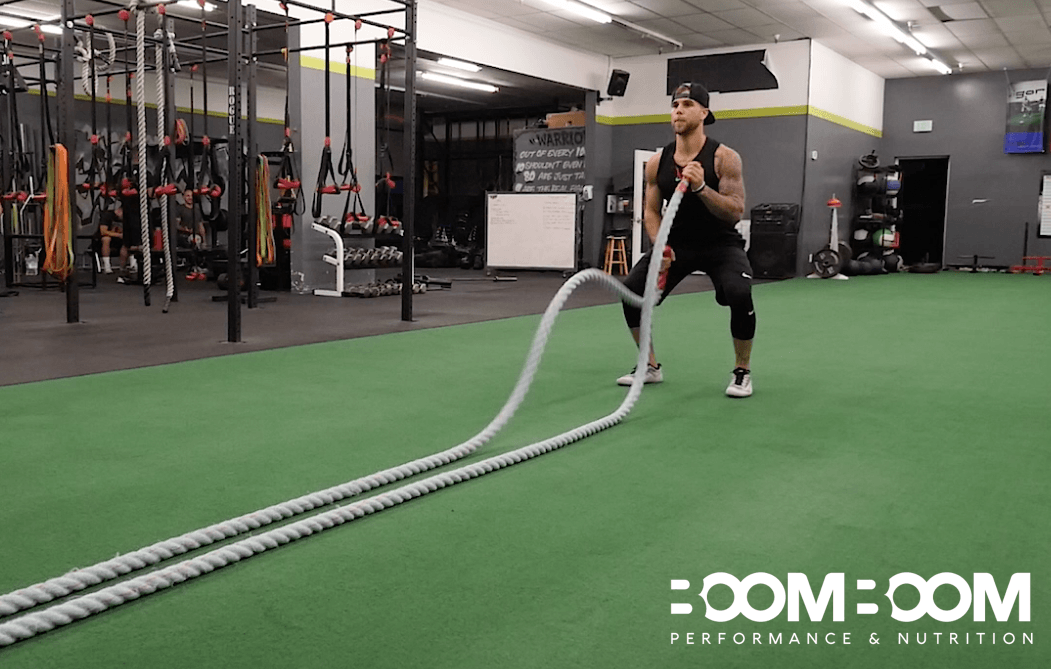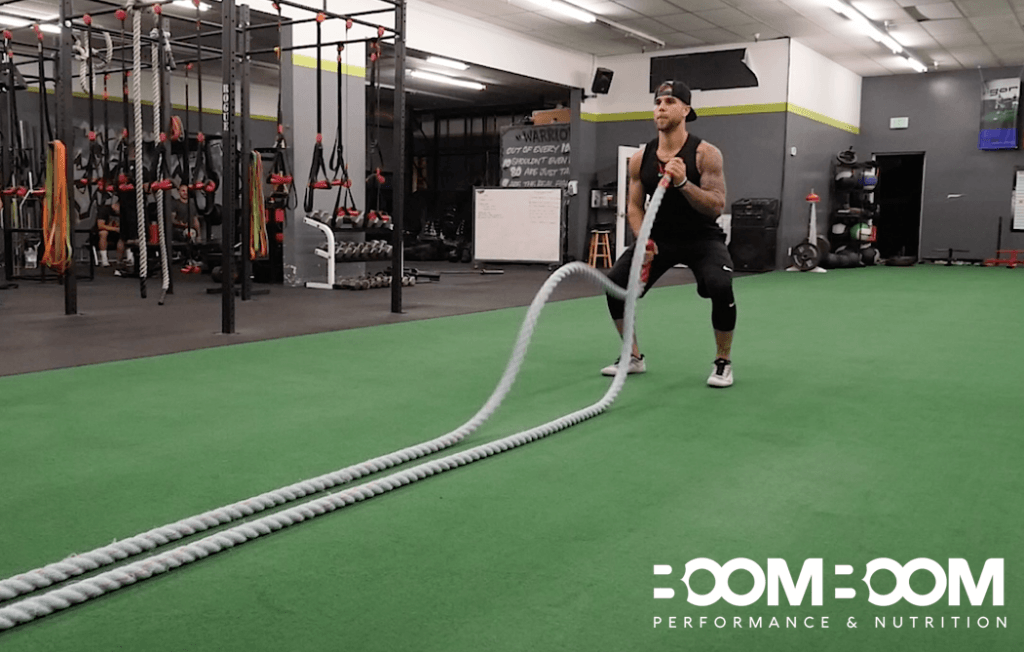 23.) Take Some Fish Oil – There is no "quick fix supplement" but 75% or more of Americans or those following an western diet have a bad ratio of Omega-3 to 6 fats, so upping the Omega-3's and lowering the 6's can be a game changer.
24.) Get A Journal – Write your workouts, write your diet, write your feelings, write it all… Accountability and Awareness will improve and THAT will change a lot.
25.) Set A Goal – Many people just don't know why or what they're doing it for, figure it out by setting a real goal that means something to you.
26.) Tell A Friend, or 50 – Once again, accountability is huge. Tell some friends or post about your goals and journey on social media, you'd be surprised what that does for you.
27.) Get A Coach – If you're seriously struggling to progress, this is probably your best option. An expert with experience and an unbiased opinion always makes a huge difference, click here to see how I can help you personally.
28.) Implement Mobility – It's debatable that mobility itself burns fat, but it may burn a few extra calories… What is absolutely debatable is that mobility improves your performance and if you perform better, you burn more fat. [Check out a 5 minute hip mobility I did with my guy Theo Bowie HERE]
29.) Spread Your Nutrients Evenly – If you're eating 5 meals each day, it may help to evenly distribute your protein and fats throughout those meals.
30.) Separate Your Nutrients – This comes into play when we've done literally everything else to push that scale. But the idea here is simple, when you have your higher carb meals (around training) you'd lower fats significantly and when you have your non-carb containing meals, you'd have more of your fats. The reason is because the body may tolerate carbs better with the absence of fats in the meal (this is a tactic used during contest prep in some cases towards the tail end of competition prep and like I said, doesn't).
31.) Intermittent Fast – You could do this daily, once a week or even once a month. The main benefits here are creating a bigger deficit and giving the gut some relief from constant digestion. My personal opinion of what works best is adding this in once a week by fasting 16-20 hours on your non-training day. This can make your weekly caloric deficit bigger, without doing much. [Check out my latest Intermittent Fasting article HERE]
32.) Learn To Cook – I can't explain how much better dieting is when you actually can cook (or date someone who does). Low calories foods that are filling do not have to taste like shit so learn how to get your chef skills on point.
33.) Get Stronger – Too many people focus on higher rep training thinking it burns more. In some cases it very well may, but if you don't get stronger you cannot push more weight in those higher rep ranges.
34.) Build Some Muscle – This is for the ladies too. More muscle = less fat and more calories burned at rest.
35.) Take A Break – Sometimes we just get burned out, so take your foot off the gas a little bit… This can be done in two ways:
36.) Deload Training – If you're training 4-6 days per week and majority, or all, of those sessions are high intensity (strength training or HIIT) then your CNS probably needs a break. Take a week or two to drop volume, lower intensity, and do some LISS instead of HIIT cardio.
37.) Diet Break – This is for less people then above, but if you've been dieting for multiple months back to back – then it may be time to pull back. My suggestion is 1 of the following 3 concepts.
38.) Add A Refeed Day – Adding a day where you bring calories back up to maintenance via carbohydrates once every 1-2 weeks can help a lot (if you don't know your maintenance, multiple your daily carb intake by .5-1 on one day). This will replenish glycogen for training and just give you a mental break, can help long-term fat loss.
39.) Add A Diet Break Week – This is where we take a full week to do what I suggested above, this is best done for people who have been dieting for 3-6 months or more and progress has stalled a lot or stopped completely. Taking a week can do the same as above, but also help improve your hunger and metabolic hormones (possibly getting things moving again).
40.) Take A Maintenance Month, or Two – If you've been dieting for 6+ months, this will help. It's also for those people who have hit a new low weight and are afraid of jumping back up in weight. During this, we take a month to maintain the weight we're at by slowly bringing up calories to maintenance or close to it (like a mini-reverse diet). The goal is that we're helping the body adjust to the new low bodyfat level, versus trying to keep pushing it and falling off the wagon or harming the metabolism. It's hard to not want to keep pushing, but sometimes the best approach for maintaining long-term fat loss is to diet for 3-4 months, maintain for 1-2 months, and repeat yearly.
41.) Drink Tea – This isn't a "Green Tea burns body fat!" gimmick… This is my way of suggesting that you pick zero calorie beverages over what you're drinking now. Tea vs. Mocha. Diet Soda vs. Soda. Vitamin Water Zero vs. Juice.
42.) Eat More Salads – One of my favorite things to prep when dieting are salads. Not because salads are necessarily healthier than other choices, but because you can put a TON of romaine lettuce to keep you full with practically no calories attached to it.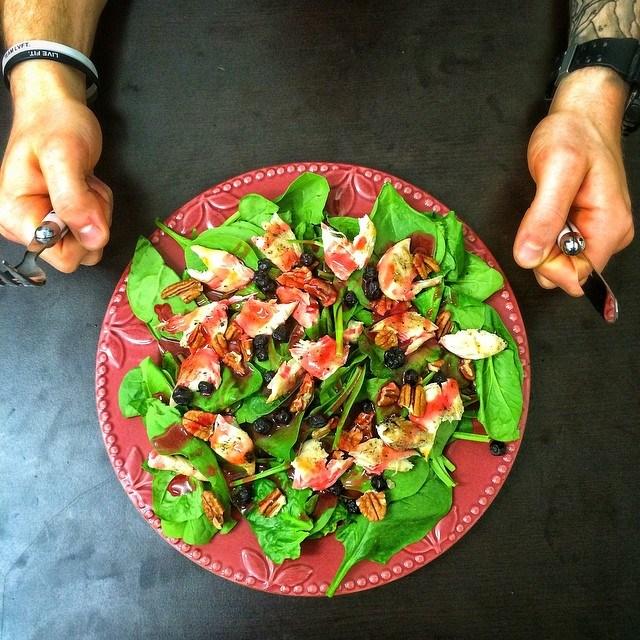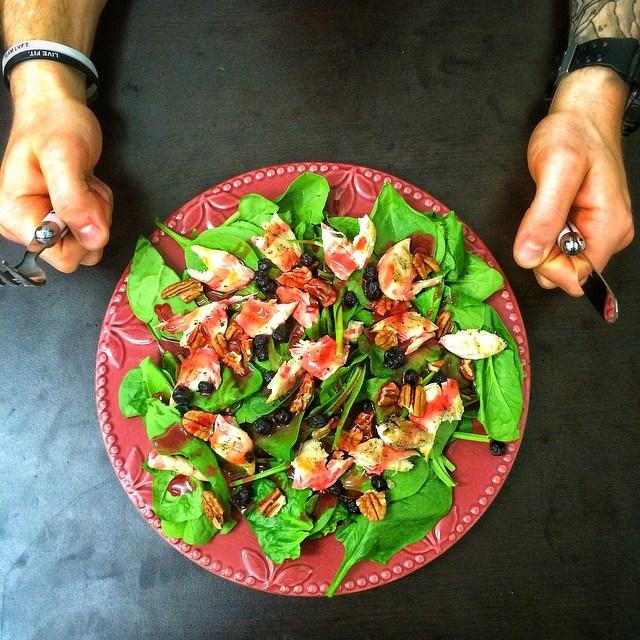 43.) Start A Hobby – Start a hobby that's active. Golf, tennis, pick up basketball, rec league baseball, or whatever – anything to keep you more active and motivate you to train more.
44.) Visit The Doctor – This is a type of "negative motivation"…. Many of us have worse health than we actually realize, so seeing a doctor can be a reality check for us to get serious and make a difference in our body.
45.) Keep A Goal Card – Write out your top 3-5 goals that you WILL hit within the next 90 days, 6 months, and 1 year – then keep that card on you at all times. Look at it daily. Don't stop reminding yourself.
46.) Reminder On The Mirror – Write your top 3-5 goals on your mirror that you WILL see every single day.
47.) Listen To The Mind Vs. Muscle Podcast – Guaranteed to be sexier and more knowledgeable after 3 episodes, backed by studies (Check it all out HERE).