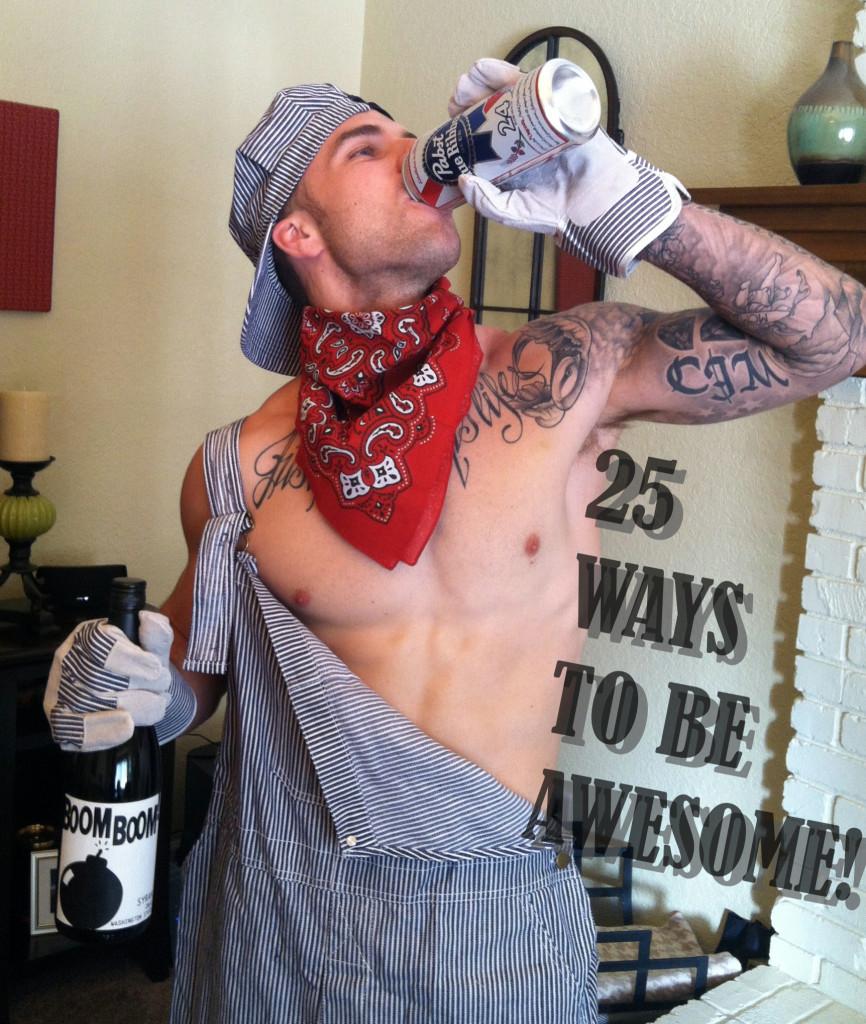 Being awesome is to say the least, well its awesome. So in my opinion everyone should be awesome or at least trying a bit harder to be awesome. So how can you be more awesome?
1.)  Be a Go-Giver. Everyone likes a person willing to help out or give, plus paying it forward will help you grow tremendously.
2.)  Train. Plain and simple, you can't be 100% awesome unless you train. Look better, feel better, be better.
3.)  Travel. Life is about experiences and traveling helps you experience a wide variety of awesome things.
4.)  Smile and Smell Good. This means have clean teeth and buy a nice fragrance. Can't be awesome with broccoli in your teeth and smellin' like a gym bag… [I'll admit… that's a Drake quote…]
5.)  Hangout With Your Family More. Your family is full of the people who have literally been with you since day 1, some that you would not be here without. Thank them, do something nice for them and hang with them more.
6.)  Keep a Journal. Writing is an extremely underrated and powerful tool. Right your daily thoughts, accomplishments, training notes, diet log, etc.…
7.)  Drink More Water. I shouldn't have to explain this one…
8.)  Cook More, or Learn To Cook. Cooking allows you to be in complete control of what you consume, which leads to better health. And chicks dig guys who can cook, period.
9.)  Sprint. Too many people are wasting countless minutes on treadmills when they could be sprinting. Sprinting builds more muscle, burns WAY more fat, and if you're a guy it helps with testosterone.
10.) Read More Often. Reading is another amazing and powerful tool people don't use enough. Helps you educated yourself and will create better brain development.
11.) Go Green. Green veggies are way to beneficial to our bodies for us to skip out on them. Try to get some in each meal.
12.) Lift Heavy Shit. No matter what your goal is or where you're at in your fitness journey, you should incorporate heavy lifting into your program. [Safely!]
13.) Warm Up. If you get in the habit of not warming up properly before training, you're likely to get hurt. Trust me, I've skipped my warm up and got injured more than once.
14.) Avoid Inflammatory Foods. They're not great for most people and don't help you look good. These include dairy, soy, legumes, sugar, white flour, and wheat.
15.) Sleep 8 Hours a Night. Although this can't always be possible, get at least 6. This is important for too many reasons.
16.) Break The Rules. Sometimes you need to let loose, cheat on your diet, go party or simply just do whatever you want. Life can't always be serious.
17.) Be Active. This doesn't mean just workout, it means go do stuff. Go for a hike, swimming, camping, jeeping, or whatever floats your boat. Get out and go do stuff!
18.) Set Goals. People who set goals are the people who accomplish many things in life.
19.) Squat & Deadlift. These are two primary lifts that nobody should be leaving out of their program.
20.) Plan Rest Days. Have one day each week for complete rest.
21.) Create a Routine. Everyday I wake up and go through my daily routine, without it I'm half as productive. With it I become more and more productive as time goes on.
22.) Improve Tissue Quality. The more you can take care of your muscle tissue, the less often you'll be sore and the better your movement will be.
23.) Limit Beverages. You really should only be drinking water, tea and black coffee. Everything else is packed with unnecessary ingredients.
24.) Be Part of Something. Whether it's a sport, group, church or gym. Being a part of a community or movement of like-minded people will propel you forward in life.
25.) Subscribe to My Blog. I only write about things that will improve your life and happiness. I truly care and want you all to be a part of Team Boom-Boom!
[Subscribe at my Home Page at the right Side Bar ]