10 Ways To Boost Metabolism & Burn MORE Fat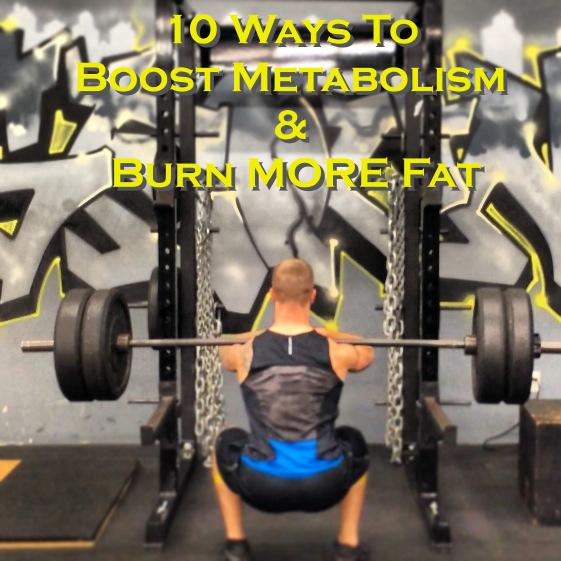 1.) Drink More Water.
– A study published in the Journal of Clinical Endocrinology and Metabolism showed that drinking water (at least 17oz.) raised the body's metabolism by about 30%. This raise happened within about 10 minutes and lasted between 30-40 minutes. So keep water close and drink frequently throughout the day to help boost your metabolism.
2.) Build More Muscle.
-This is simple, muscle burns more fat at rest than fat does. Muscles need more energy (calories) requirements just to simple maintain the mass of a muscle, whereas fat sits around without much requirement of any energy at all to maintain.
3.) Spice Meals Up.
-Spicy foods and spices have been shown to raise metabolic rate by simply consuming them. So start utilizing chili and cayenne peppers in your meals to help raise metabolism. 
4.) Turn Up The Workouts.
-This correlates directly to point number two, because turning it up notch in the gym will build more muscle. Not only will you build more muscle but also turning the intensity will create a bigger caloric deficit and also create the EPOC effect. The EPOC Effect is defined as the Excess Post-Exercise Oxygen Consumption period. This can create more fat burning and a higher metabolism speed for 16-24 hours following a workout, even while you're sitting around! In simple terms, you continue to burn fat even after you are completely done working out and if you workout almost every day… its like an on going process!
5.) Get Your Omega-3's.
–Omega-3's balance blood sugar and reduce inflammation, helping to regulate metabolism for further fat loss. They also have been linked to helping the resistance of specific hormones that can conflict with weight loss. This is why it is crucial to get a good amount of fish products, fish oil and omega-3 eggs in your diet.
6.) Eat As Much As Possible, While Losing/Maintaining Weight.
-There is something that happens when we eat called TEF (Thermic Effect of Food), which is simply the amount of calories we burn from eating food. The more you eat, the more you can burn… But before you go pigging out on junk to lose weight, understand that you want to find someone who can create a caloric intake for you that is suitable for your body composition and weight. The key is to lose weight on as many calories as possible; this leads to longer lasting weight loss and a healthier metabolism.
This is also a reason why whole foods are always recommended, because a larger amount of food typically will add up to fewer calories then junk food will. Therefore we can consume more of it while boosting our TEF and continue to stay under our calorie limit.
Another big point to make on this subject is about protein. This is very well a huge reason why protein is a large ratio of almost every weight loss diet. But we'll get into that on the next point…
7.) More Protein.
-Protein should be the staple in any fat loss orientated diet, as stated in bullet number 6. Protein is needed for great metabolism for 3 main reasons. First off it has a greater Thermic Effect than any other nutrient, which means we burn the most calories from eating when eating protein.
Secondly it helps regulate insulin and blood sugar levels when consumed regularly, which in turn can be linked to improved fat loss and metabolism.
And last but not least it helps us build muscle by the amino acid profile content within the protein. This simply means we will build more lean muscle tissue, burn more calories from having more muscle on our bodies and in turn will burn more fat.
8.) Sleep More.
-Sleep deviation can lead to over eating and feeling hungry even after you've already eaten, this can lead to compromising your body's ability to metabolize carbohydrates which can lead to fat storage.
9.) Stay Away From Sugar.
–When you eat sugary foods, you essentially can turn your metabolic switch into fat storage mode. High blood sugar levels can lead to increased levels of insulin, which is the body's signal to store energy that we didn't use as fat.
10.) Drink Coffee In The Morning.
-Caffeine can increase the ability for our body to speed up the central nervous system, which makes it a great metabolism booster. Caffeine will increase energy levels which allows us to train harder, work harder and do things more efficiently to burn more calories. Coffee directly has this effect, along with the added bonus of containing great antioxidants to further enhance health. A study published by Journal of Applied Physiology even showed that consuming coffee after an exercise increased muscle glycogen by 66% in endurance athletes. In simple terms it allows us to replenish nutrients, post workout carbs, even more efficiently after draining them in an intense training session. So if you don't already, consider black coffee in the morning and some extra caffeine around training to help boost your metabolism.