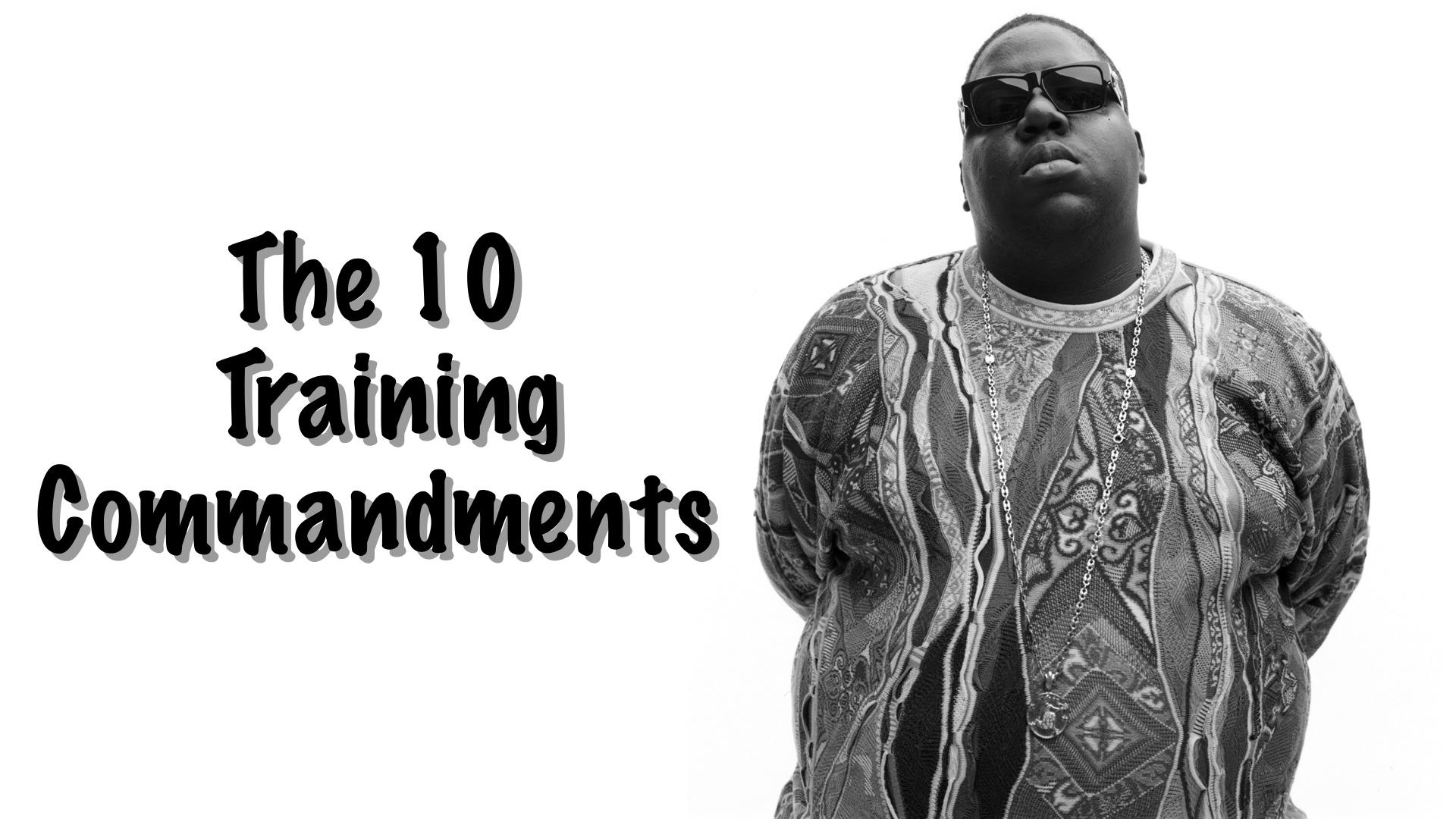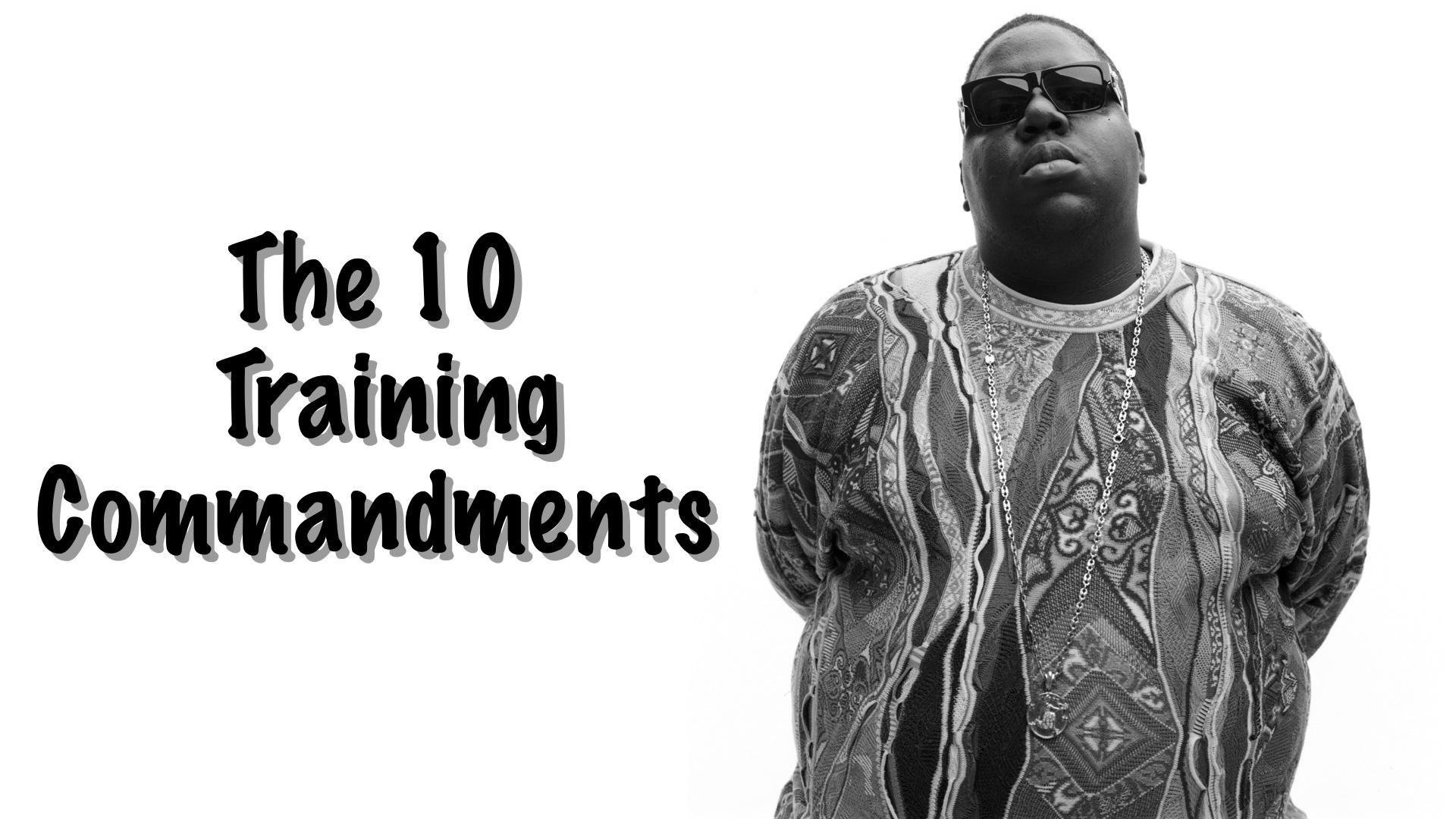 After the popularity of my article, "The 10 Diet Commandments", I decided to bring the heat with another Hip-Hop inspired fitness post.
Wouldn't be right to only focus on one aspect of the spectrum, so today I'm bringing you…
"The 10 Training Commandments"
#1 – Thou Shall Train With Resistance
Commandment #1 is plain and simple, just train!
I believe bodyweight training has its place too and I definitely implement it into my programs, but I am firm believer that 99.9% of people will benefit more from adding some type of resistant training into their plan. Whether it's barbells and dumbbells, Kettlebells, sleds, suspension training, band work, cable machines, or all of it together…
The point is that we use an external resistance to apply force against us while we train. Even the science behind it is simple and supports this. External resistance will break down the muscle tissue more and cause our body's to adapt more – which will lead to muscle growth, strength gains, and energy (calories) to be burned.
#2 – Thou Shall Lift 3x Per Week or More
This is dependent on the person, obviously, but in general I do suggest that most everyone trains with weights 3+ times per week. It all depends on your training history and experience, personal goals, calorie intake, and other lifestyle factors like sleep, schedule, work, life stress, etc.
Most studies and coaches agree with this theory as well, so it's proven! Training the body and/or each muscle group 2-3x per week is superior for strength gains, muscle mass gains, fat loss, and general body composition improvements.
[ This is one big reason why I suggest having a coach who can look at your personal lifestyle and help determine not only what the best frequency is, but exactly what needs to be done in those sessions as well – Click HERE to join my Online Coaching Program that takes care of ALL of that and more. ]
A great place to start is lifting 3 times each week, focusing on full body strength training, while splitting it all up evenly with 1-2 days between where you can rest or perform some form of cardio.
#3 – Thou Shall Progressively Overload
"Be not afraid of going slowly, be afraid only of standing still." – Chinese Proverb
Everything in life needs to slowly improve, because without growth we're at a stand still and being at a stand still means we will not reach the end result.
Something I see so often, also something I experienced myself for years, is people doing the same things in the gym over and over again. That or they're simply not periodizing their training in order to ensure proper progressions.
To simplify this as much as possible and essentially get all the answers, just check out my recent article "Are you even progressing?"
Progression in simple terms is just making sure that each week you're adjusting and improving what you're doing, whether that is adding weight, reps, sets, weekly frequency, or just changing variations entirely each cycle.
The point is, you need to pick one of them and run with it consistently, or you just will not progress. Without progressing, your body wont adapt optimally.
#4 – Thou Shall NEVER Skip The Compounds
Seems to be a pattern with these commandments thus far… It's a hell of a lot simpler than we make it! (I was a victim to this as well, don't worry)
So what do I mean by "The Compounds".
I mean the big, basic, compound lifts like squatting, deadlifting, and pressing.
I don't want you to even consider doing a curl, a fly, lateral raise, or a glute kick back until you have ensured that you're squatting and deadlifting, if you're a guy bench pressing as well, on a weekly basis at least 1-2 times per week.
That being said, isolation movements have their place… But their place is in the back seat, behind the driver and copilots "Deadlift and Squat".
And while I do believe all men should be heavy bench pressing as well, unless injury prevents it, that doesn't mean women shouldn't be doing things like Dumbbell Floor Presses, Kettlebell Overhead Presses, and other forms of press movements.
DO THE BASICS! They have the most bang for your buck, I promise you.
#5 – Thou Shall Warm Up
I don't care if you're 16 or 66, you need to warm up. Take it from someone who used my youth as an excuse to always just jump right into training and as a result ended up with more nagging injuries than any young lifter should have to deal with.
The point is, prehab is just as if not even more important than rehab.
So before you start crushing weights, make sure you're hitting the foam roller, doing some hip, ankle, shoulder, and thoracic mobility at the very least.
I don't typically recommend static stretching before training as it can prevent optimal strength gains, but dynamic warm up's are also a great way to get ready (movement based stretching).
This also doesn't mean you need to be "That guy" who warms up for longer than he trains and because of it, barely lifts shit because his warm up drained him too much.
Get in, warm up for anywhere between 5-15 minutes, feel prepared, and get after it.
Here's a good example of a very basic warm up just about anyone can do to prepare for training (Basic Warm Up).
#6 – Thou Shall Lift Before Cardio
This is not a debate of cardio timing… Trust me, the Internet has plenty of that shit out there.
This is making a statement.
Strength Training is MUCH more important than Cardio.
If you do not have a solid strength-training program laid out for you to do 3+ times per week, don't even worry about cardio.
Get that locked down, and then you can consider adding 1-2 days of HIIT cardio in and after ALL OF THAT… Then you can consider adding a bit of LISS cardio on other days, after training, or even adding finishers to training.
But at the end of the day, nobody besides bodybuilders and bikini/figure competitors in prep mode should really consider doing two-a-days or extra cardio without locking down an extremely solid and specific weight training plan. 
#7 – Thou Shall Be Present
Don't focus on this morning's shitty workday, what you have to do after the gym, your workout finisher, cardio tomorrow morning, or anything else besides the rep and the exercise you're currently working on.
This is a HUGE lesson that I learned by studying the greats. They didn't think about anything besides what they were doing right then and there, which is why they had the most strength and the greatest physiques.
Ensure you're pushing your limits, perfecting your form, and embracing that movement. 
#8 – Thou Shall Be Fueled For Training
Without proper nutrition, you will not train well. I do like IIFYM but at the end of the day, if you fill your calorie intake with junk food you will not give your body the fuel it thrives off of – I guarantee it.
Best way to fuel your body the right is simple:
-Balance your protein and fats throughout the day
-Eat majority of your carbs that are not veggies around training
-For muscle gain, strength and performance, have some, not a ton, of carbs pre training (about 1-2 hours, dependent on person and digestion)
-For fat loss, save majority if not all of your heavier carbs for post training
-Fill 90% of your diet with REAL food, like things made from the earth… Or things that had a face at some point
#9 – Thou Shall Train "Movements" Not "Muscles"
This is something I learned in school, because my teacher kept referring to things as push, pull, hip hinge, rotate, etc…
And I kept saying, "You mean, like… Chest, back and hamstrings??"
If you focus on the movement patterns instead of body parts, you're likely to move much more functionally, have less injuries, more strength gains, probably lose way more body fat, and you will still hit all the muscle groups frequently.
So separate your days with full body sessions and hit all the movements. Knee dominant (squat or lunge), hip hinge (deadlift or thrust/bridge variations), pushing (vertical or horizontal), pulling (vertical or horizontal), and rotation or anti-rotation movements (planks, carries, etc.… "Ab stuff").
This knowledge and way of programming changed my physique tremendously and I saw MUCH better results with all my clients because of it.
#10 – Thou Shall Stay Consistent
And of course, the least sexy advice in the fitness and nutrition industry….
Consistency. This simple term, not easy but simple, is king and ruler of results. Nobody who looks unbelievable or has incredible strength got that way overnight, just like anyone who is rich and owns a million dollar company didn't acquire it in a day.
Do things right, do things well, and keep doing things that way – for a long time.
Having support, accountability, and a coach who helps you achieve that consistency is very often the missing piece in many people's journeys. Big reason why many people are in my Coaching Program and exact reason I myself hired a coach as well.
#11 – (BONUS) Thou Shall Have a Specific Plan/Program
You know I love to over deliver, so I had to throw out an extra commandment for y'all!
Just like the commandment above, commandment #2… Shit, all 10 of these commandments really.
Achieving results works a lot better, easier, and more "stress free" by making the investment of having a coach.
Would you do your own plumbing? Car repairs? Accounting?
No. You hire experts for that shit and when it comes to your body, the most important and valuable aspect of your being in my opinion, you should hire an expert to help you with that as well.
Why guess, stress, or continue to get overwhelmed with what to do, how much to do it, when to do it, what to eat around it…. When someone can give you the answers, catered to your lifestyle and goals.
Click HERE for just that and get the results you should be getting by now.