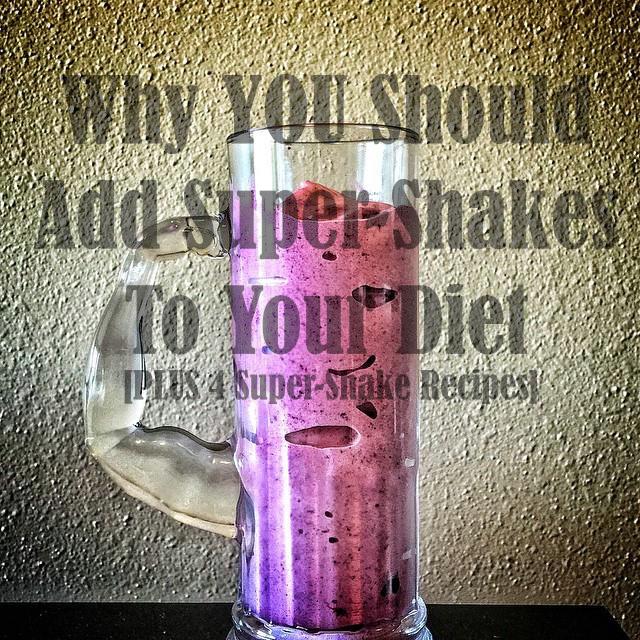 Super-shakes are an awesome addition to almost anyone's diet and so many people are failing to take advantage of them, today I'm going to show you how, why and which one's taste the absolute best!
Maybe you have a busy work schedule or you hate cooking full meals all the time.
You have a hard time eating a solid meal after a workout or need something you can carry with you on the go.
Maybe you need a way to get in more fruits, vegetables or even protein into your diet.
Well the answer for all these issues lies within the blender!
The "Super-Shake" is something I implement into my diet almost every single day of my life. For me it's a matter of reaching my calorie goal and getting in the nutrient dense fruits I know my body will benefit from.
Oh and I can't forget the number one reason I make Super-Shakes…. THEY TASTE AMAZING!
Why would I go to Jamba Juice or some public smoothie bar, where I can get a smoothie that is full of syrups, added sugar, and who knows what else, when I can make a better tasting smoothie that supports my physique goals right in my own damn kitchen?!
Exactly. I wouldn't. So I make them, every day!
Now you may have different reasons then me for adding in a Super-Shake but its most likely one of the reasons listed above.
The biggest one I run into with clients is veggies. You can throw a handful of spinach in a fruit smoothie, not taste a single bit of it and get some great nutrients out of it.
In fact there are a ton of different nutrients that are probably lacking in your diet that you can throw into a blender and get through a Super-Shake.
For example, I noticed that I wasn't getting many Omega-3 fats because I'm not one to eat a lot of salmon or fatty fish. The answer to this was easy; throw some ground flaxseed into my Super-Shakes.
Maybe you don't get your veggies, throw them in. Maybe you need more fiber; mixed berries are full of fiber and many other great nutrients. Most people have trouble hitting the amount of protein they need daily; throwing one or two scoops of protein powder in a Shake will solve that.
Ok so maybe you get plenty of good foods, good fats, you eat your veggies, and you don't have trouble hitting your calories… But you are eating chicken and brown rice out of a container while driving to work after the gym, which you hate doing.
So make a super shake to support your post workout needs! Some almond milk, a banana, little bit of oats, chocolate whey protein, and a spoon of peanut butter would make a great meal that's easy to drink in your car and taste WAY better then chicken and rice!
So I think you've caught my drift by now of why I'm such a big fan of super shakes, hopefully I've even convinced you to join "Team Super-Shake" and get your blender out of the pantry.
But now you don't know what to put in the blender, which one tastes the best, or which one is the most suitable for you goal… Well you're in luck; I got some recipes to help you with all that!
Below is one recipe for those focused on fat loss, one for those looking to build more muscle mass, and one for those who need to get more greens in their diets [Most likely 85% or more of you ;)].
But remember, these are my person favorites to provide because they're the ones I've found to be the healthiest and the most nutrient dense shakes you can make.
But all's it takes is some creativity! So don't be afraid to make your own!
The Lean Machine [Great Post Workout Shake For Those With Fat Loss Goals]
Ingredients:
5 Cup Mixed Frozen Berries
6oz Unsweetened Almond Milk [Consistency up to you]
1-2 Handfuls of Spinach
2 Tbsp. PB2 Powdered Peanut Butter
2 Tbsp. Ground Flaxseed
1 Scoop Vanilla Whey Protein
Nutrient Facts:
345 Calories
10g Fat
30g Carbs
10g Fiber
35g Protein
The Gainer [For Those Looking To Gain Mass/Size & Like Chocolate Banana w/ Peanut Butter…. AKA Everyone!]
Ingredients:
2 Medium Sized Brown Spotted Bananas
¼ Cup Dry Oats
6-8oz Cold Water
1 Tbsp. Peanut Butter
2 Scoops Chocolate Whey Protein
Nutrient Facts:
Calories 575
Fat 9.5g
Carbs 65g
Fiber 8g
Protein 60g
The Green Machine [For Those Who Need To Get Their Greens In!]
                  Ingredients:
6oz Unsweetened Almond Milk
1 Handful Spinach
1 Handful Kale
1 Cup Frozen Mixed Berries
1 Scoop Vanilla Whey Protein
2 Tbsp. Ground Flaxseed
Nutrient Facts:
Calories 345
Fat 10g
Carbs 28g
Fiber 10g
Protein 32g
Post Workout Apple Pie [For Those Who Need A Quick Post Workout Meal That Taste Like Apple Pie!]
                  Ingredients:
3oz Plain Greek Yogurt [Standard Single Package Size]
2 Tsp. Cinnamon
1 Large Honeycrisp Apple
¼ Cup Dry Oats
1 Scoop Vanilla Whey Protein
Nutrient Facts:
Calories 420
Fat 7.5g
Carbs 45g
Fiber 10g
Protein 45g