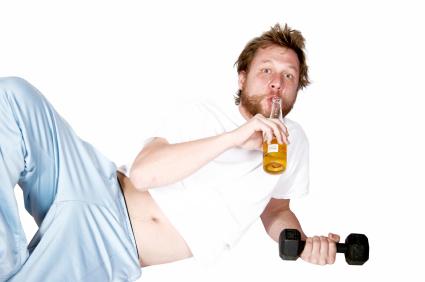 After reading the title I'm sure your all a bit confused, why would you train under the influence? Well, ask yourself this. Wouldn't it be great to look amazing and be able to party when you want? Nobody wants to be the one that has to ditch out of a get-together or party because, "Their training to lose weight". I'm definitely not hating on that! In fact I am that guy most of the time and I know that training is more important and alcohol will decrease your results. But how come? and how can we get away with a little drinking here and there?
Drinking and exercising can be a very difficult conversation to go over with clients, simply because they don't usually want to give it up. I go over this with all my clients and most of them just understand that alcohol is not going to help you burn more fat or build more muscle. But I have had a few clients who like to ask why until they get a scientific answer explaining why alcohol doesn't allow your body to burn as much fat. I will admit that my answers aren't always as good as I feel they should be, because, let's face it its slightly confusing.
But what made me really want to dive into this subject and get to the bottom of why alcohol doesn't allow us to achieve optimal results… I'm about to turn 21!!
Now this isn't the only reason, I also want to give my clients and all my readers the best answer to this question. But I will admit that I'm pretty excited to finally be of age to drink and I plan on finding the best way to allow myself to enjoy some beer on my cheat day without killing all the results I've worked so hard to achieve.
Now I'm definitely one of the most dedicated fitness enthusiast I know of and that's how I should be because I am a trainer. I need to be a role model for clients and someone to set an example for those looking to get fit and healthy. If it came between training or drinking, I would go with training without a doubt. But I also love to have fun and know that it is important to allow yourself to go out and have a good time every once in a while.
So it's time for me to break down why alcohol has a bad effect on our training results and how we can get away with drinking on occasion.
Weight Gain
• First things first I want to explain exactly why drinking alcohol can lead to weight gain, because it's not that alcohol makes you fat. If you drink in moderation and drink the right types of drinks you will not immediately gain a bunch of weight. Theres a few main reasons most people gain weight from drinking and I will explain them, one reason is because they drink the wrong type of drinks. Most people go out and drink lots of beer and a bunch of mixed drinks. Most times you don't even really know whats in the mixed drinks you buy, it just has a catchy/fruity name so you buy it. It tastes great and you order a bunch until your drunk. But what you don't realize is that to sweeten the alcohol and make it taste good they add syrup to it which is like liquid sugar. Another reason is that most alcohol is very high carb and will usually result in fat storage. The type of carbs from alcohol isn't burned efficiently like most healthy carbs, this is because it cannot be converted to glucose for energy. When carbs cannot be converted into glucose for energy, they cannot be burned during exercise therefore resulting in fat storage. So imagine this, you buy a mixed drink that has a ton of sugar from all the syrup (sugar is a horrible carb source FYI) and on top of that the alcohol in the drink is also a bad carb source that cannot be burned efficiently. That's just a bunch of bad carbs being stored as fat.
⁃ SOLUTION- Don't drink lots of beer and mixed drinks! Simple as that! The best way to avoid all that crap is to drink shots and chase with water or lime. You can also just drink something on the rocks, this will take out a lot of the simple sugars involved with the mixers. It will also take out the carbs and calories from all the beer. If you cannot stand taking shots, the last best option is a mix drink with something sugar-free. Rum and DIET Coke or vodka with SUGAR FREE Red Bull are good ones, but be clear on the diet or sugar-free part because bartenders can be lazy and they also don't really give a shit about your diet.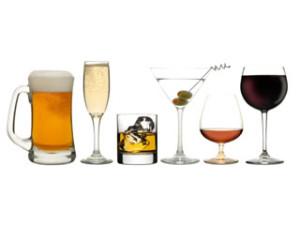 Metabolism
• Metabolism is a tricky term that gets thrown around much to often in the wrong context. I've always heard people using it as an excuse, "I have a slow metabolism so I gain weight easily" or "I have a fast metabolism so I can eat whatever I want". Neither are completely true and are bad ways to look at metabolism and dieting. But I will admit, alcohol has a different effect on metabolism and the way your body burns calories then most carb sources do. Alcohol is readily absorbed by the digestive tract, but the problem is that your body cannot store or burn the alcohol in the form that the alcohol is in. So your body must convert it into a different substance called acetaldehyde before being able to remove it from your system, this process happens in the liver. So the alcohol does not directly slow down your metabolism, but it makes your body slow down the burning of other calories consumed so that it can burn off the acetaldehyde (converted alcohol) first. So think of it like this, if you ate a burger and then drank some beer your body is going to convert the alcohol and then begin to burn that before trying to burn off the burger. That means the burger will most likely get stored as fat instead of being burned off.
⁃ SOLUTION- If your going to drink make sure that your diet for that day is as clean as possible. Don't eat a cheat meal and drink alcohol, treat the drinks you have as a cheat meal. That also means that your diet for that day should be slightly calorie restricted because alcohol does contain carbs and calories. You should also try to get a good training session in that day so that when it comes time to drink, your body is already absorbing the meal you have eaten before hand from the workout you had performed.
Drunken Munchies
• We all know what the drunken munchies feel like and its pretty damn hard to fight the temptation off. But why do we get so hungry when we drink, is it just because were drunk and things sound tasty? Not exactly, it actually can be caused by an effect that alcohol has on some of our hormones and also because of a disconnect from ones hunger or desire for food/nutrients. According to studies done at Princeton University, the hunger increasing hormone called gelanin is produced when alcohol is consumed. Therefore the more alcohol you consume the more gelanin will be produced causing you to become more hungry when intoxicated. This links directly to the disconnect of ones hunger while intoxicated, simply because if you have high gelanin and are very hungry but you also have a disconnect with your hunger and desire for nutrients your more likely to eat unhealthy foods while intoxicated.
⁃ SOLUTION- This is the hardest solution to provide because it comes down to self-discipline and self-control. So next time your drunk just keep this article in mind, because it is important to ignore the delicious looking pizza and go for the salad or chicken and veggies.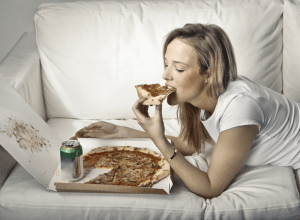 Muscle Growth
• When it comes to building muscle, alcohol is not the best addition to your diet. It can have a negative effect on protein synthesis and also on some key hormones used to build muscle. Protein synthesis is one of the main muscle growth processes within the muscle, it is the process in which cells build protein. There has been studies in the pass showing that individuals with diets containing alcohol experienced greater levels of muscle atrophy (loss of muscle), over a 14 week time period. One of the key hormones in building muscle is testosterone, in males and females, and it has been proven that alcohol can have a negative effect on it. Testosterone helps the protein synthesis process and also helps the growth hormone in our body's, both keys to building muscle. Because of the role testosterone plays, it will lead to helping your body adapt to the stress its been put under allowing it to grow stronger, leaner and more muscular. So when it is lowered because of drinking alcohol, it can also lower your chances of making those gains. The growth hormone is another key hormone when it comes to building muscle and it works along side with testosterone and protein synthesis also. Studies have shown a significant drop in this hormone during sleep after drinking or if you are drinking on a regular basis.
SOLUTION– The solution is easy for this, time your drinking very precisely. If you know you have a hard training session planned the next morning, do not drink. Your protein synthesis will not be working efficiently and your hormones will be lowered. Alcohol lowers testosterone temporarily, about 24 hours to be exact, so the last thing you want to do is lower it before a morning training session. With the growth hormone reduction during sleep after drinking, the same solution applies. You do not want to lower it the sleep before a good training session, especially since sleep is very important when it comes to recovery and being able to train hard.
So now that you got the in's and out's of drinking alcohol and its effects on your training results, you should be able to make smarter decisions. Notice that I did not say "Do not drink!" That's because I understand that people like to enjoy some drinks or go out on special occasions. I have clients who collect beer taps and enjoy the experience of trying new beers at new bars. I also have clients who are huge party animals, which I have helped to dial down a bit, but I think its ok every once in a while. The point is that I wanted to help everyone find a way to enjoy themselves on occasion without becoming fat or losing the results they've been fighting so hard for. So remember the solutions in this article! Plan your timing when it comes to drinking and training. You must plan the types of drinks you will be drinking for the night so you do not fill up on carbs and simple sugars. Remember to eat a good meal before drinking, slightly drop your daily calories, and have that meal after a tough training session if possible. Hopefully this will help you be able to enjoy the summer a bit, in fact it's just in time for the 4th of July also… weird how I timed that out 😉