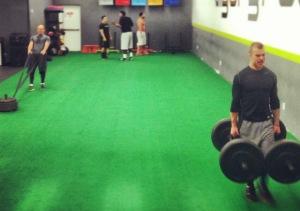 Everyone always wants to know, "What's the absolute best way to burn fat?!"
And I can't blame them! Hell, I've been trying to figure out that same exact thing during my entire career.
But the funny part is, the answers are actually pretty simple and there are just two things!
And no… it's not the stair master, p-90X or Shaun T's "Hip-Hop Abs".
Dietary consistency and sprints. Yup, that's it!
         [Couldn't resist this… Those are Cheeseburger Nike Airmax's!]
Find a diet that clearly works for you, by clearly I mean that you can see the results slowly happening. Fast dieting, AKA crash diets, don't always work because you're likely to rebound without the right coach helping you diet back out of them.
So find something flexible, something that you can LIVE your life without binging or failing at your diet approach multiple times a month. This can be tough to figure out, believe me I have been there! So find a coach that truly cares and can help you get the diet plan that will fit you, your goals and your lifestyle.
But this article isn't about the first step to burning as much fat as possible; I have plenty other articles on nutrition. Today we're going to talk about sprinting!
So why sprints? Well first things first… Just look at a sprinter.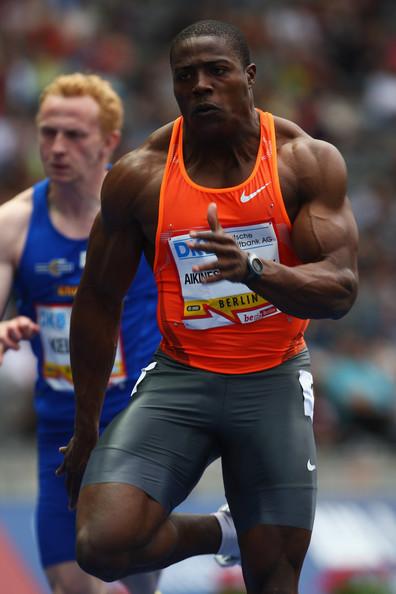 In fact, I will put another example just so you know it isn't just that one genetic freak.
Now lets take a look at a female sprinter as well to prove my point against the gender argument as well.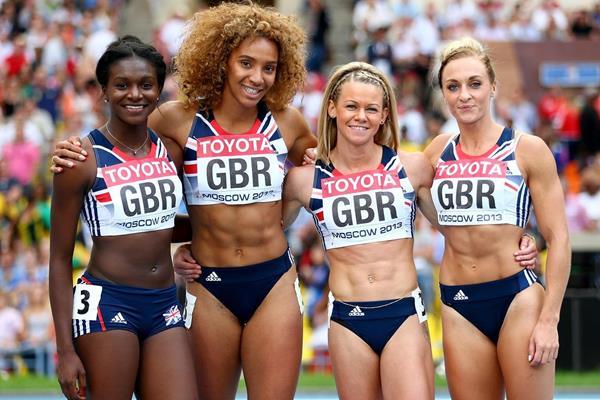 And for the last argument I would ever get against sprinting, "What about low intensity?"
Because I feel like that argument is out dated now, at least I hope, I wont even post a picture of the typical marathon runner because we are all tired of seeing the Sprinter vs. Marathon comparison picture.
So do I even need to ask what all these people have in common? I doubt it, but I will anyway…
THEY ALL SPRINT! A LOT!
The craziest part is that I can guarantee I know people who lift weights and train more in the gym then all these people, shit I may even weight train more often. But I can guarantee they sprint more than me or anyone else I know of.
So why is sprinting so beneficial for fat loss and getting shredded? Well, the list is big but I will start with the deepest point in the body.
-The nervous system gets fired up beyond belief from sprinting and the benefits to that are massive. Starting with the fact that it revs your body up to have optimal performance. Firing the CNS will allow your body to recruit more muscle fibers leading to better performance, more explosive movements and the most strength you're capable of pushing. All those benefits have direct influences on fat loss.
-Sprinting causes a hormonal response in our body that positively influences fat burning and muscle building, which in turn will also lead to more fat loss. Sprinting will release endorphins, produce more growth hormone, and can boost your testosterone levels while controlling your cortisol levels, if performed correctly with the right rest periods. All these hormones have a HUGE impact on fat loss by relieving stress hormones, lowering the fat "blocking" hormones, and improving the hormones that allow us to build more muscle and use more energy [AKA burn more calories].
-The EPOC effect is another great benefit to sprinting, also a benefit that comes from other high intensity weight lifting. EPOC stands for Excess Post-Exercise Oxygen Consumption and put simply it means that your body takes in more oxygen from higher intensities of training and will continue to do so long after you have completed the exercises, in fact it continues for upward of 24 hours.
In a slightly scientific explanation, the EPOC effect describes the way your body utilizes oxygen. In order to perform high intensity training our body is required to use more oxygen, this causes our blood cells to constantly draw in more and more oxygen as we train. But when we stop training, the blood cells continue to do so. This has an effect on fat burning by building more muscle fibers, improving strength, repairing lactic acid/lactate metabolism, improves endurance for future training, and also has more hormonal benefits.
-Last but not least, it builds a TON of muscle! Sprinters legs are jacked! Now I understand many females aren't interested in building huge legs like us guys are, but I can promise you that building massive legs will not happen from sprinting alone, especially if you're a female. The point is sprinting will, without a doubt, build more lean muscle tissue and the more muscle tissue we have, the more calories we burn. Our body has to use more energy [calories] to sustain muscle mass on our body, so just having the muscle alone will burn more fat. But it also creates better performance, which leads to more calories burned during training. On top of all that, having lean muscular legs is the sexiest way to shape your lower body!
So now that you know the benefits of sprinting and the potential it has for fat loss, its time to implement! Before you think about doing a two-a-day, hitting the treadmill or going for a jog… remember that sprinting takes half the time and has 10x the benefits!
An easy way to start this out is by finding a field or a hill, I prefer hills because it has less hip extension so you can save your legs a little bit to hit the gym hard that week as well.
Shoot for about 25-35 yards in distance and just sprint at about 75-80% of your maximum speed. Slowly walk back and let your heart rate calm down a bit, this will be your recovery. Repeat this cycle for 6-8 rounds, each week add 2 rounds until you reach 14-16 rounds and then add 5-10 yards and back down to 8 rounds again and less rest periods.
The only way I suggest going up to 90-95% of your maximum speed is if you're an athlete competing, have a rest day the day following or an upper body dominant lift the next day. People underestimate the effect sprinting can have on your body's fatigue levels.
So the key here is to start slow and build it up. But regardless, ditch that elliptical and sprint away!
Humans were born to be strong, lean and move heavy things extremely fast. So being explosive is part of our nature and part of the reason our ancestors were much leaner than we are today.
If you struggle to lose weight, burn fat, establish a diet plan, or anything regarding you reaching your goals, please click the picture link below for a free strategy session with myself so I can assist you in reaching those goals.