Food fads come and go. An acai bowl one year, hemp hearts the next. Superfoods are promoted all the time and while most of these foods have merits, there's one that stands above the rest. 
This super-super-food has been eaten by people since ancient times. I'm talking about organ meat – liver, kidney and heart etc.
What makes organ meat so special? (And often superior to the muscle meat we're used to eating?) Well actually, a lot. That's why I decided to write this blog.
As far as nutrient density goes, organ meats are second to none. Gram for gram, they're the most concentrated source of vitamins, minerals, healthy fats and essential amino acids.
Nonetheless, many people shy away from organ meat, or often referred to as 'offal meat', (derives from the term "off fall," so any part of an animal that falls away when it is butchered) not just because of the taste they are not (yet) accustomed to, but also because they don't know how to prepare it. 
In this blog I want to explain what actually constitutes as organ meat, discuss the most outstanding nutritional benefits of organ meat and how you can start incorporating organ meat into your diet on a regular basis with some simple and delicious recipes.
What is organ meat?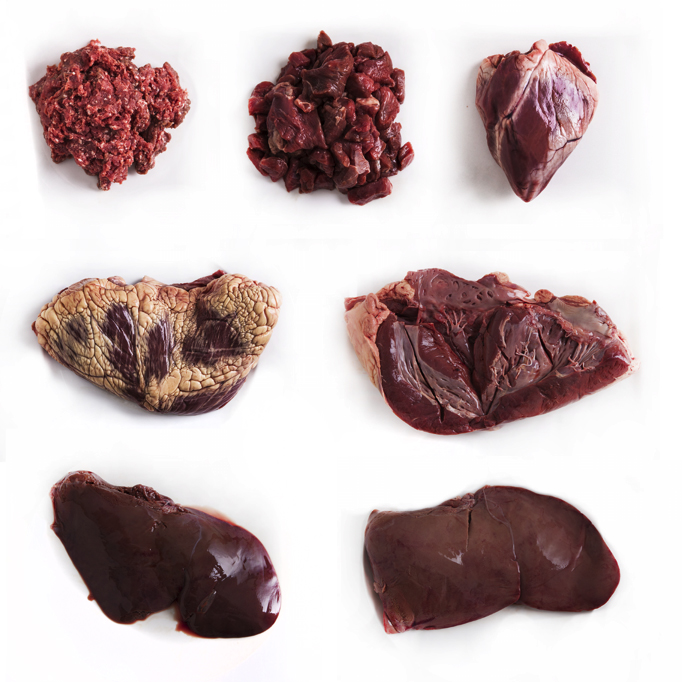 There are several different types of organ meat, some of which are better known than others, including:
→ liver
→ heart
→ kidneys
→ sweetbreads/ the pancreas
→ brain
→ tongue
→ tripe (stomach lining)
In most of our western world, livestock is generally harvested for its muscle meat. However, certain animal organs are still consumed as popular dishes all around the world, including duck liver in France, beef tongue in Latin America, and pork liver in Germany. Asian cuisine also often includes many parts of an animal's body, including kidneys, stomachs, and intestines.
From health to budget to the environment, there are many benefits that make eating organ meats worth the effort of sourcing and learning how to eat it.
Nutritional benefits of organ meat
You can kind of think of organ meats as nature's multivitamin (at a fraction of the cost)
Vitamin B

Iron

Phosphorus

Copper

Magnesium

Vitamin A

Vitamin D

Vitamin E

Vitamin K

CoQ10

Folate

Choline

EPA + DHA

Amino Acids

Collagen
Generally speaking, organ meats have some of the highest concentrations of naturally occurring vitamin D in food. Liver is also an unparalleled source of vitamin A which is excellent for eye health and reducing inflammation. Heart is the number one source of coenzyme Q10 (coQ10) which slows aging processes, it is important for cardiovascular health, and improves energy levels. Kidneys contain 5x the recommended daily amount of B12 plus a significant amount of riboflavin (vitamin B2), selenium which decreases oxidative stress and enhances immune function. Organ meat also contains about 1.5-3x the amount of collagen that muscle meat has (skin, hair, nail, joint health…). And so much more!
So what exactly does that mean? By consuming more organ meat you can
Lower your risk of Alzheimer's Disease
Thiamin, also known as Vitamin B1, is present in liver. Studies have shown that thiamin can help prevent risk factors for Alzheimer's disease, including memory loss and plaque formation. (1)
Increased Energy
Animal organs, especially the liver and kidneys, contain iron. Many people suffer from iron deficiency. One of the main symptoms of iron deficiency is fatigue and lack of energy. Eating organ meat will increase your blood's iron count. People with iron deficiencies can eat organ meats (especially liver) to increase their energy levels.
Organ meat also contains plenty of Vitamin B12, which not only helps convert food into glucose for energy, but supports memory, nerve function, and mood. Contrary to popular belief, B12 is not bioavailable in plant food sources. Obtaining B12 from whole food sources, such as liver and kidneys, provides the best way for our bodies to utilize this crucial vitamin. Kidney is a particularly high source of Vitamin B12, with just 1oz containing 7.8mcg.
Reduced Risk of Cancer
Riboflavin, also known as Vitamin B2, is an important member of the B-Vitamin family that appears to protect the body against certain types of cancer. Riboflavin is found in organ meats, particularly the kidneys and livers. Studies have shown that riboflavin helps reduce the risk of lung and colorectal cancer. A riboflavin deficiency has been shown to be a risk factor for cancer of the esophagus.
Reduced Risk of Heart Disease
All meat organs (except intestines) contain high amounts of Vitamin B12. In combination with folate (also present in meat organs), Vitamin B12 helps moderate homocysteine levels in the blood. High levels of homocysteine are a risk factor for cardiovascular disease.
Stronger Immune System
Many organ meats are high in zinc, including the liver, kidneys, and heart. Zinc is essential for your immune system to work properly. People with a zinc deficiency are more susceptible to infection.
Vitamin D also plays a key role in supporting our immune function and is extremely hard to get through food. If you're not supplementing with Vitamin D and spend the majority of your time indoors, it's likely you're deficient. However, not all Vitamin D is equally beneficial – The bioavailability of D3 (cholecalciferol), the most biologically active form of Vitamin D, is far superior to that of D2 (ergocalciferol). Organ meats have some of the highest concentrations of naturally occurring vitamin D (D3) with liver at the forefront.
 Cardiovascular Health 
CoQ10 is a super nutrient which plays a vital role in energy production and the prevention of oxidative stress. CoQ10 has been shown to reduce blood pressure, improve arterial health, and dramatically cut the risk of heart failure. Rather than starting a CoQ10 supplement, the most cost-effective and efficient way to add CoQ10 to your diet is by consuming beef heart, as it contains 4 times the amount found in muscle meat. (2)
Optimal Joint Health
Amino acids are vital for nearly every biological process in the body – and especially for healthy joints. Heart contains twice as much collagen and elastin as does muscle meat (which means it is rich in the amino acids glycine and proline), and is essential for connective tissue and joint health. Just 3.5 ounces of beef heart contains 28.5 grams of amino acid-rich protein, compared to 19 grams in 3.5 ounces of grass-fed beef.
For a Pain-Free Life 
The protective qualities of omega-3 fatty acids against on-the-rise conditions like arthritis and rheumatoid arthritis are well known (as they lower overall inflammation). Organ meats are loaded with the omega-3 fats EPA and DHA, which must be obtained through diet. One 4oz portion of brain contains about 1 gram of both EPA and DHA.
Radiant Skin 
Vitamin A promotes cell turnover, inhibits the activity of sebaceous glands and prevents comedone formation known to cause acne. Carotenoids, the plant source of Vitamin A, must be converted to the more-usable form, retinol by the gut mucosal barrier – an inefficient process for many as it requires great health of the small intestine. Liver, on the other hand, is the most concentrated source of retinol, with just 2oz containing 22,145 IU. And because Vitamin A is a fat-soluble vitamin, it must be consumed with fat in order to be absorbed and utilized – just another reason why organ meat is a better source than plants.
Healthy Moms and Babies 
Folate (not to be confused with the synthetic form – folic acid) is critical to the development of healthy babies in the womb. While your doctor might have recommended a folate supplement, primitive tribes instead fed expectant mothers liver – which has high folate content – after a successful hunt. 
Cautions
People with the gout disease should avoid organ meats, as they contain high levels of purine. Foods rich in purine can contribute to the progression of joint damage for people with gout. People diagnosed with hemochromatosis, also known as an iron overload disease, have too much iron in their blood and should therefore also limit their intake of iron-rich organ meats.
Organ meat quality
It is vital to know how the animals whose organs are being eaten were raised before slaughter. Aside from the moral implications, organ meats obtained from stressed and mistreated animals can cause all sorts of problems. For example, fatty deposits can build up, particularly around the heart and kidneys. Essentially, if the animal has led an unhealthy life, their internal organs will not be healthy either. It is therefore recommended that organ meats should be sourced from a farm that uses organic practices and puts its animals out for pasture.
So which organ has which health benefits?
Liver
 The most nutrient dense organ meat, and it is a powerful source of vitamin A. Once again, vitamin A is beneficial for eye health and for reducing diseases that cause inflammation, including everything from Alzheimer's disease to arthritis. Liver also contains folic acid, iron, chromium, copper, and zinc and is known to be particularly good for the heart and for increasing hemoglobin levels in the blood.
Kidney
Highest in Vitamin B5 and iron (particularly beef, lamb, ox, bison), also contains plenty of omega 3 fatty acids and therefore has anti-inflammatory properties.
Brain
Brain meat contains omega 3 fatty acids and nutrients like phosphatidylcholine and phosphatidylserine, which are good for the nervous system. The antioxidants obtained by eating brain meat are also helpful in protecting the human brain and spinal cord from damage.
Heart
The heart is rich in folate, iron, zinc, and selenium. It is also a great source of vitamins B2, B6, and B12, all three of which are in a group known as B-complex vitamins. B vitamins found in organ meats have a cardioprotective effect, meaning they protect against heart disease. B vitamins are also associated with maintaining healthy blood pressure, reducing "bad" cholesterol, and forming healthy blood vessels. They are beneficial to the brain and have been found to reduce the risk of Alzheimer's disease, dementia, depression, and anxiety.
Heart meat is also a great source of coenzyme Q10 (CoQ10). This antioxidant and can help treat and prevent certain diseases, particularly heart disease. CoQ10 has been shown to slow down the aging process and to improve energy levels.
Tongue
Tongue meat is rich in calories and fatty acids, as well as zinc, iron, choline, and vitamin B12. This meat is considered especially beneficial for those recovering from illness or for women who are pregnant. Folate is the vitamin in organ meats considered beneficial for fertility and for helping avoid fetal defects in a baby, such as spina bifida and heart problems. In addition, vitamin B6 can help during the morning sickness phase of pregnancy.
How to get started with organ meat 
Most people are so put-off by the very idea of eating organ meats, that they can't even complain about the taste – since they have never actually tasted them! However, once you've mentally pushed that aside and you actually taste organ meats (and see how great it makes you feel), I promise you'll find it isn't as bad as you might have expected.
And if the thought of eating liver, heart, or kidneys is more than you can handle, there are some alternatives to eating organ meats conventionally that can provide the same benefits. Whether your complaint is the flavor, texture, or inconvenience these quick and easy recipes don't have an overpowering "organ meat" taste and can be a good way to start for "newbies" :).
Chicken heart or beef tongue are great organ meats to start with when trying a new recipe, because the texture is similar to steak. Liver and kidney have a slightly different texture, still mild in taste and easy to prepare but could be mixed with lean ground beef to 'blunt' the taste.
Here are my tips for making any offal recipe a success:
→ Soaking organ meat in lemon juice will help draw out impurities and improve taste and texture. For example, simply place your cut up liver in a bowl, barely cover with water and add the juice of one lemon. Soak for a few hours and pat dry prior to cooking. (Not a must though, if you don't have the time)
→ Resist the urge to overcook. Well-done organ meats have a tougher texture that's hard to swallow (literally). 
→ Don't forget to add spices and herbs to enhance the flavor.
→ If you're just starting to cook organ meats, follow recipes exactly. Cooking organ meats can be very different from preparing muscle meats.
As mentioned, one of the easiest ways to get started is by mixing ground beef with ground organ meat like kidneys. Using a food processor, grind organ meat, one onion, and spices of your choice until they are well-blended or simply ask your butcher for ground meat. Add in ground beef and pulse until combined. You can play with the ratio 3:1 or 1:1 depending on how brave you are :). Once all the ingredients are combined, you can form them into patties, cook it as you usually would your 'pure' ground beef or give the meatloaf recipe below a go!  One other tip –  Getting your hands wet makes forming the patties easier, because liver carries more moisture than ground beef and can be sticky.
If you are not sure your local butcher supplies organ meat check out the links in our resources section below.
Ingredients (serves 4-6)
 1 lb lean ground beef 

1 lb ground beef liver

1 ½ tsp sea salt

1/2 tsp ground black pepper

1 egg

1 medium onion, finely chopped

1/2 – 1 tsp chili pepper flakes, optional

3 tsp fresh thyme, minced

1 tsp fresh oregano, minced

3 cloves garlic, minced

½ cup sugar-free ketchup;

1 tbsp honey, optional

½ tbsp Worcestershire sauce, optional
Instructions
Preheat your oven to 350 F/ 175 C.

Heat a medium-sized skillet placed over medium heat, 

In a large bowl, combine the meat, salt, pepper, egg, onion, mushrooms, chili pepper, thyme, oregano and garlic. Mix well, making sure to break-up the meat. 

Lightly grease or spray loaf pan and fill it with the meat mixture. Place in the oven and cook for approximately 15 minutes.

Meanwhile, in a small bowl, combine ketchup, honey and Worcestershire sauce to make the sauce for the top of the meatloaf.

After cooking for 15 minutes, gently spread the sauce on the top of the loaf.

Continue cooking for another 40 minutes

.
Ingredients (serves 4-6)
one large onion, sliced 

About 2 lbs of chicken or beef livers

2-3 cloves of garlic, diced

handful of sliced mushrooms

5-6 slices of bacon, regular or turkey

salt and pepper, other herbs or spices to taste
Instructions
Crisp the bacon in a big skillet (I recommend using a deep cast-iron skillet if you have one). Once the bacon is cooked most of the way, add the onions and garlic. You can also add greens (spinach, zucchini etc) or bell peppers.

Add mushrooms, as well as any other herbs and additional flavorings you might like to taste (like rosemary, parsley, thyme, garlic powder, paprika, or chili pepper).

Scoot all of that to the side of your skillet and sear the liver slices on each side (for about one minute). Once the meat is seared on both sides, pile the onions, mushrooms and bacon on top of the liver, turn the heat down to medium and let the meat cook through for 5-10 minutes.This will ensure a nice caramelized sear on the meat, as well as making sure it all cooks through.

Service with potato or sweet potato mash, rice or cauliflower rice.
Ingredients (serves 4)
 ½ pound fresh mushrooms, cut into large-ish pieces (optional)

4 kidneys (lamb, deer, beef)

¼ cup flour (gf), you can skip this step if needed

1 teaspoon cayenne

1 ½ teaspoons dry mustard, Coleman's if you can get it

1 teaspoon salt

1 teaspoon ground black pepper

6 tablespoons unsalted butter, divided

Worcestershire sauce

3 tablespoons chicken, venison or beef stock
Instructions
Clean and trim the kidneys as above. Cut each half into 3 or 4 pieces. If you are using the mushrooms, sear them in a hot pan with 3 tablespoons of unsalted butter until nicely browned on their edges. Remove them and set aside for the moment.

Mix the flour with the cayenne, mustard, salt, and black pepper, and dust the kidneys with it.

Get the pan very hot, then add 3 more tablespoons of butter. Brown the kidneys in the butter. You may need to press them down with a spatula, as they will want to arch upwards. Turn and cook another minute or two. Remove them and cut into pieces you'd like to eat.

Return the kidneys and the mushrooms to the pan and add a big splash of Worcestershire and the stock, and shake the pan to meld everything together. Let this cook for a minute or two.

Remove the kidneys and mushrooms and set them on top of toast or mashed potatoes and boil down the sauce for a few minutes—don't let it boil completely away—then pour it over everything and serve with greens like spinach or broccoli.
Ingredients (Makes about 12 skewers)
1 lb chicken hearts

1 cup teriyaki sauce, divided in half

1-2 inches fresh ginger, peeled

2 scallions, thinly sliced

2 teaspoons sesame seeds (optional garnish)

bamboo skewers
Instructions
Start by preparing the chicken hearts. Trim any veins/arteries and remove any blood clots. Slice each heart lengthwise, cutting 3/4 of the way through to open it up so it lays flat. If you find clots upon slicing, just rinse under water. 

Place prepared hearts in a dish with 1/2 cup teriyaki, and allow to marinade 30-60 minutes. 

Light a grill to medium high heat. 

Remove the hearts from the marinade. Thread a heart onto the skewer, trying to keep the skewer as centered as possible within the meat. Repeat the process until you have 4 hearts on each skewer, then repeat until all skewers are formed. 

Place the remaining teriyaki sauce in a small bowl. Use a microplane or fine grater to grate the fresh ginger into the bowl. 

Lay each skewer onto the grill, then brush immediately with the teriyaki/ginger mix. After 2-3 minutes, flip the skewers and baste them again. Cook a further 2-3 minutes. Flip over a final time, baste again then remove the skewers from the heat before the basting glaze has dried. 

Sprinkle with chopped scallions and sesame seeds, and serve immediately.
Chicken Hearts in Creamy Mushroom Sauce
Ingredients (serves 2-3)
chicken hearts – 17.5 oz (500 g)

mushrooms – 17.5 oz (500 g), fresh champignons

liquid cream or oat cream – 150 ml

1 Tbsp Butter (30g)

salt – to taste
Instructions
Cut the mushrooms into slices, saute them in the butter and add the hearts. Brown for about 3-5 minutes. Then add the cream and let the dish simmer for about 10 minutes on low heat. Serve with your favorite side dish like rice or green beans.
Slow Cooker Beef Tongue Tacos (Tacos de Lengua)
Ingredients (serves 6-8)
1-2 beef tongues

1/2 big onion , sliced (White or Yellow)

5 to 8 cloves of garlic

1-2 bay leaves

Sea salt to taste
Instructions
Put beef tongue, onion, garlic and bay leaves in a slow cooker and add enough water to cover the tongue. Cook overnight on low. You can also gently boil it on the stovetop for 2 hours to 3 hours, until the beef tongue turns very tender.

When the tongue is cool enough to handle, peel off and discard any rough tongue skin if applicable.

Cut tongue in 1/2-inch slices across the grain then into 1/2-inch cubes. It can also be shredded or sliced, depends on the dish you cook. If you won't serve the tongue soon, store it in an airtight container or ziplock bag in the fridge for up to 5 days.

When ready to serve, heat oil in a large nonstick or cast iron skillet set over medium-high heat until shimmering. Add tongue pieces and cook, stirring occasionally, until tongue is well browned on all sides, 2 to 3 minutes total. Season to taste with salt and pepper.
After cooking the beef tongue, simply make tacos with it. All you need is simple toppings – homemade salsa, red onion, queso casera, and cilantro.. The beef tongue is so powerful a touch of homemade salsa and fresh cheese was just perfect, you don't need much else.
Ingredients (serves 4-6)
2 pounds beef heart

1 pound beef kidney

1 medium onion diced

2 cloves garlic minced

1 medium cauliflower chopped

1 cup mushrooms chopped

¼ cup parsley chopped

½ teaspoon whole black peppercorn

½ teaspoon salt

8 cups bone broth or water
Instructions
Trim off any connective tissues and large vessels from the heart; cut into 1 to ½-inch cubes. Cut the kidney into similar sized pieces. Leave the fat on both the heart and kidney. Add to a large stockpot.

Arrange the onion, garlic, cauliflower, mushrooms, and parsley over the meat. Season with salt. Add peppercorn.

Pour in bone broth.

Bring to just boiling on the stove over medium heat. Reduce heat and maintain a steady simmer for 2-3 hours until the heart is tender.
Crock Pot / Slow Cooker Option
Trim and prepare the heart and kidney. Put it in the crockpot. Add the remaining ingredients. Cook on low for 4-6 hours, until the heart is tender.
Substitute beef heart and/or kidney with another organ from a ruminant such as lamb, bison, mutton etc. Do not use chicken organs.
Further notes
Although not technically in the category of organ meats, boney parts (like necks, hocks, and backs) are also classified as offal and are delicious once you know their secrets. In general, the trick is to cook them low and slow. This accomplishes two things:
→ Extracts the nutrients from the bone itself, as well as the meat.
→ Improves the flavor of the dish with the good stuff from the meat and the bone.
If you have a foot or another bit with very little meat, you can just toss it into a pot to make broth. Feet and odd bones make a delicious, very gelatinous broth. Or you can add miscellaneous boney bits to pretty much any soup you make, and just fish them out before you eat the soup (an easy way to do this is to make a little bag out of cheesecloth and put the bones in there: the nutrients will all leak out into the soup, but the bones will be easy to remove). Or if you've got a nice thick bone, why not try roasting it to enjoy the delicious marrow inside? Bones and boney bits don't always make a meal all by themselves, but they have an amazing power to take humdrum dishes to a new height of flavor and texture, all with almost no effort from the cook.
Tendons or ligaments
These are easy: toss them in the pot with your broth! Most people don't want to eat the tendons themselves (they tend to be very rubbery), but they add nutrients and body to the broth.
Skin
Skin can be easily converted into the most delicious snack food you'll ever eat: cracklings! These are traditionally made from pig skin, but you can fry up the skin of a cow or even a chicken in pretty much the same way (although for a chicken you'll have to add some fat, since the bird itself doesn't have enough). Be mindful of the higher fat content here!
Blood
Can also be added to soups or stews to enrich the nutrient content.
To wrap it up, let's go back to the basics…
Even just 100 years ago, offal was a staple food in the diet of most western diets.
They might not be the trendiest superfood, but when the obsession with celery juice or cacao nibs has calmed, organ meats will remain one of the most nutritionally-dense foods on the planet. 
In our modern diet we seem to have reduced the power of food to a very specific texture and taste preference overshadowed by sugar, saturated fats and sodium. And in doing so, we've lost sight of nutrient powerhouses like organ meats along the way.
If we consider that diseases are at an all time high and the consumption of this traditional, ancient superfood is at an all time low, we may just see how much we could benefit from bringing organ meat back into our diet.
Hopefully after reading this write up you don't just feel like it will be worth it, you also feel ready to give one of the simple recipes included a go! 
Resources:
Order online
Online may be the best way for you to connect with the meats you want. If this is the case for you, I recommend
US Wellness

– Grass-fed beef, lamb, and bison + nose to tail options, ready made ground meat mix…

Alder Spring

– Grass-fed beef heart (whole or steaks) and liver and pasture-raised pork heart and liver are available. They also offer a Wild Hunter Blend (ground beef with kidney, heart, and liver) 

CrowdCow

– Wagyu heart and grass-fed beef liver from family farms around the US.
Podcasts
https://www.maxlugavere.com/podcast/134-ashleigh-vanhouten
https://barbellshrugged.com/2020/08/12/it-takes-guts-the-most-nutrient-dense-food-you-are-missing-out-on-w-ashleigh-van-houten-anders-varner-doug-larson-and-travis-mash-barbell-shrugged-494/
Book
https://www.amazon.com/Takes-Guts-Offal-Nose-Tail/dp/1628604166
Others
Gibson, G. E., Hirsch, J. A., Fonzetti, P., Jordan, B. D., Cirio, R. T., & Elder, J. (2016). Vitamin B1 (thiamine) and dementia.

Annals of the New York Academy of Sciences

,

1367

(1), 21–30.

https://doi.org/10.1111/nyas.13031

Zozina, V. I., Covantev, S., Goroshko, O. A., Krasnykh, L. M., & Kukes, V. G. (2018). Coenzyme Q10 in Cardiovascular and Metabolic Diseases: Current State of the Problem.

Current cardiology reviews

,

14

(3), 164–174.

https://doi.org/10.2174/1573403X14666180416115428
https://www.webmd.com/diet/health-benefits-organ-meat#2.
https://www.medicalnewstoday.com/articles/319229#are-there-risks-of-eating-organ-meat
https://healthygut.com/articles/7-health-benefits-of-organ-meats/
Recipes:
https://paleoleap.com/paleo-meat-loaf/
https://starbrightsadventure.com/2012/04/23/going-paleo-this-is-the-best-liver-recipe-ever/
https://jesspryles.com/recipe/chicken-heart-yakitori/
https://www.bbc.co.uk/food/recipes/devilled_kidneys_58867
https://omnivorescookbook.com/beef-tongue-recipes/
https://tastycraze.com/recipes/r-41086-Chicken_Hearts_and_Mushrooms_in_Cream_Sauce
https://www.primaledgehealth.com/slow-cooked-organ-meat-stew-recipe/