When counting macros, consistency is the name of the game! I'm sure you've heard nutrition coaches say this, but it's so very true that consistency and adherence are what make any diet successful.
One of the most crucial factors of consistency is preparation.
Preparation includes pre-tracking your food to make sure you hit your daily goals, auditing your grocery list so you aren't tempted by food in your home, and, last but certainly not least, preparation includes meal prep.
If you take the time to plan out your meals and pre-track your food, there is almost a 100% chance that you will be able to stick to your nutrition plan and hit your daily goals.
Even knowing this, many people find it difficult to make the time to meal prep on the weekends before starting their busy week. When no food is prepared and you come home exhausted from work, and you still have so much to do that night, you "have no choice" but to go get takeout. Sound familiar?
Meal prep doesn't have to be pretty (read: Instagram-worthy) or exotic, it is simply a tool you can use and modify to fit your personal macros, preferences, and busy schedule.
Why You Should Prep Your Meals
Meal prep can simplify your routine and your lifestyle while also helping you stick with your nutrition plan.
Prepping your meals for the week does take some effort and planning, but it is totally worth it. Here are a few of reasons why:
1. One and done
Dedicate a little time on just one day of meal prep and you're set up for a whole week of success. Once the week starts, it's easier to stay committed to your nutrition plan because the kitchen work is already done.
2. Meal prep boosts your willpower
You're less likely to impulsively stop by a restaurant if you already have lunch ready and waiting. The more consistently you stick with your plan, the easier it gets!
3. Your waistline & wallet will thank you
Cutting down on meals out not only pumps up your willpower muscles, but also saves you some hard earned cash. Fewer restaurant meals = fewer un-trackable meals = more accurate daily macros AND more money in the bank.
4. You save time in the long run
Yes, meal prep takes up part of your Sunday, but think of all the time (and dishes) you will save each week day! Not to mention the time saved from you not having to run around in the morning trying to figure out what to eat that day…
5. You'll spend less time on your food logging app
Say you prep very similar lunches for the week. Now all you have to do is swipe right to add yesterday's meal to your food log. Less time logging = more time relaxing 🙂
6. Meal prep can help you learn intuitive eating
If you continuously weigh and measure out your meals ahead of time, using different ingredients week to week, you will get really good at eyeballing food portion sizes. This is a great skill to learn so that you can eventually transition to more intuitive eating and less daily tracking.
All of these benefits are SO worth the 1-2 hours you'll spend in the kitchen on the weekend.

Meal Prep Tips
There is no "right way" to meal prep. Try to think of it as more of a learning process to help get you to your individual nutrition and fitness goals. That being said, there are definitely some "hacks" that can help you out.
Here are my top meal prep tips:
Start small
New to meal prep? Start with cooking enough for 3 prepared meals your first week. Along the way, start saving recipe ideas and pre-plan your grocery list for next week. Soon you'll have some favorite "preppable" meals and can plan out your whole week.
Multi-task
If you have a stove and an oven, you can always be cooking more than one thing at a time. For example, you could have fish/steak/ground turkey going on the stove, rice on the next burner, and veggies roasting in the oven.
Use allllll the appliances
I can't be the only one with an instant pot, slow cooker, and all the pots and pans, right?! Brush the dust off those bad boys and use them!! Use your slow cooker to set and forget a stew, chili, roast, or some chicken breast. Meanwhile, use your instant pot to cook up potatoes or beets.
Got a food processor, too? Make some simple homemade hummus to go with the fresh veggies you're slicing, or make some protein balls to add to your lunches.
Keep it simple
Love trying new recipes? Great, definitely go for it! But if you're tight on time and supplies, just keep it simple. Aim to cook two different kinds of protein, a variety of veggies, and your favorite starch. For example, cook lean ground beef with homemade taco seasoning, shredded chicken, slice up some bell peppers, mushrooms, and tomatoes, and boil a pot of white rice. Top each with your favorite seasoning and mix and match throughout the week as needed.
Choose recipes that can be easily divided/portioned out
When in doubt, make a large, family style recipe and split it up into portions for you throughout the week. Good examples would be a big batch of chili, a broccoli or cauliflower casserole, zucchini lasagna, etc.
Cook an extra large dinner
Sometimes you might run out of food mid-week. Don't panic and don't go splurge at a restaurant. Instead, cook an XL dinner that guarantees plenty of leftovers to get you through the rest of week. A good example would be to make a stir fry for dinner with tons of veggies and ground turkey or chicken.
This tip also works if you're short on time on meal prep day. Instead of cooking during the day, wait until dinner and go big. Double up on the ingredients, portion out the leftovers, and crush your goals this week.
Buy already "prepped" foods
One of my favorite recent discoveries is the kits from Fish People that are carried at my local Natural Grocers. Everything you need to make delicious seafood, just add some veggies and dinner is done. Other "pre-prepped" ideas to add to your grocery list include pre-cut squash, sliced frozen veggies, riced cauliflower, or you could consider investing in a meal prep service.*
*Check out NW Fit Meals if you're in Washington! Or Trifecta and Icon Meals if elsewhere around the US.
Structuring Your Meal Prep
If you take anything away from reading this blog post, let it be this…
Your goal when preparing a meal should be to pick a protein and some veggies, plus a starch if you need the additional carbs. Eat real food and keep it simple.
Now let's break it down.
Step 1: Decide how many meals you are going to prepare.
For example, say you want to prep 5 lunches for the week. You could stop there and just make enough food for 5 lunches. That's a great place to start!!
To take it a step further, divide up your daily macros to make sure your prepped meals will keep you on track to hit your goals.
Based on your daily macro goals, you should have some idea of your macro "meal goals" are. For example, my daily protein goal is 150g. I know that I eat 4 meals a day so each meal needs to have about 38g protein (150/4) for me to ensure I hit my target.
I workout in the morning so my lunch is not my post-workout meal and I also don't like having a carb-heavy lunch. For these reasons, I only want about 50-60g carbs in my lunch.
Hitting my fats is never a problem for me so I'm not going to worry about adding in any extra fats…
Think about your meal timing and personal preferences here to decide what exactly you want to cook.
All of the above means I need to make 5 lunches, each with at least 38g of protein and 50-60g carbs.
Step 2: Choose what foods to cook/prep
If you followed the additional notes above to calculate your macro meal goals, you should be able to do some quick MFP wizardry to figure out how much of your favorite proteins and carbs to cook.
To make it easier, use the lists below to choose what to prepare.
Choose 1-2 PROTEIN sources from this list to cook & season to your liking:
Chicken Breast

Steak

Fish

Turkey Breasts

Ground Turkey

Grass Fed Beef

Wild Game
Choose 1-2 CARBOHYDRATE sources from this list to cook & season to your liking:
ALL the veggies

Gluten Free Oats

White Rice

Quinoa

Beans/Legumes

Sweet Potatoes/Yams

White/Red Potatoes

Fruit



If you tend to run low on fats, consider preparing, portioning out, or cooking your carbs/proteins with some of these FATS:**
All Natural Nut Butters

Tree nuts (Almonds, Cashews, Walnuts, Pecans, Brazil Nuts, etc.)

Seeds (chia, flax, pumpkin, etc.)

Avocado

Coconut Oil

Extra Virgin Olive Oil

Grass Fed Butter

Ghee
**Beware that fats are the most calorie dense macro at 9 calories per gram of fat. Make sure you are weighing/measuring fats accurately to not go bust on your fat/calorie goals.
Step 3: Cook up your choices of protein, carbs, and fats to your liking & portion out.
Take over your kitchen using a recipe from below or just gather your favorite sauces and seasonings. Then, cook your ingredients, mix and match, and portion out into individual (non-plastic) containers to hit your meal goals. Not too complicated after all, right?!
Meal Prep Recipe Ideas
No meal prep blog is complete without some recipes! Here are my go-to food prep ideas broken down by meal.
Breakfast:
Instant oatmeal (I always opt for half egg whites & half water to get an extra protein boost)

Apple Cinnamon Breakfast Bowl (on p.15 in the BBP Recipe Guide)

GF cereal with ripple protein milk, sprinkled with casein protein (one of my favorite post-workout breakfasts!)
Lunch:
Turkey burger w/ cheese on top of a greens salad with sweet potato (I love Applegate's frozen organic turkey burgers)

Shredded chicken, steamed broccoli, rice

Chicken in the slow cooker 3 ways:

Curry chicken – 1 lb. chicken breast, ½ can coconut milk, 1 T curry powder, 1 T cumin. Set to high for 4 hours.
Hawaiian chicken – 1.5 lb chicken breast, 1 can BBQ sauce, 1 can crushed pineapple. Set to high for 4 hours.
My fav simple chicken – chicken breast, drizzled with olive oil, seasoned with salt, pepper, and rosemary.
Use your choice of chicken from above to top a mixed greens salad with sliced veggies

Taco Salad (on p. 23 in the BBP Recipe Guide)

Stuffed Bell Peppers (on p. 33 in the BBP Recipe Guide)
Dinner:
Chili

– choose toppings as needed to hit your macros

Steak, asparagus, yellow potatoes

Salmon, rice, beets (again, look for Fish People kits in your freezer section)

Meatza (on p. 39 in the BBP Recipe Guide)

Stir Fry like

this one

– or make your own with sliced veggies, protein choice from above, and simple sauces/seasonings, over a bed of white rice
Snacks:
Hard Boiled Eggs

Rice cakes topped with nut butter/powdered PB & fruit

Sliced veggies & hummus

Cottage cheese sprinkled with everything but the bagel seasoning and cucumber

Greek yogurt & fruit

Any of

these

high protein snacks

Tuna salad
Meal prep doesn't have to be complicated and it doesn't have to require hours of slaving away in the kitchen on your Sunday Funday. Keep it simple by focusing your meal prep on veggies and protein and modify as necessary for your individual preferences and macros.
Once you get the hang of it, most of your meal prep can be done in an hour or two. That small chunk of time can make your diet more nutritious, save you time throughout the week, and save you from temptation daily – all while getting you to your goals faster!
---
To Lock Down YOUR Macros and Specific Nutritional Needs, So That Your Meal Prep Matches The Intake That Allows Your Body To Transform, While Getting Coached, Supported and Held Accountable – Click Here Now.
---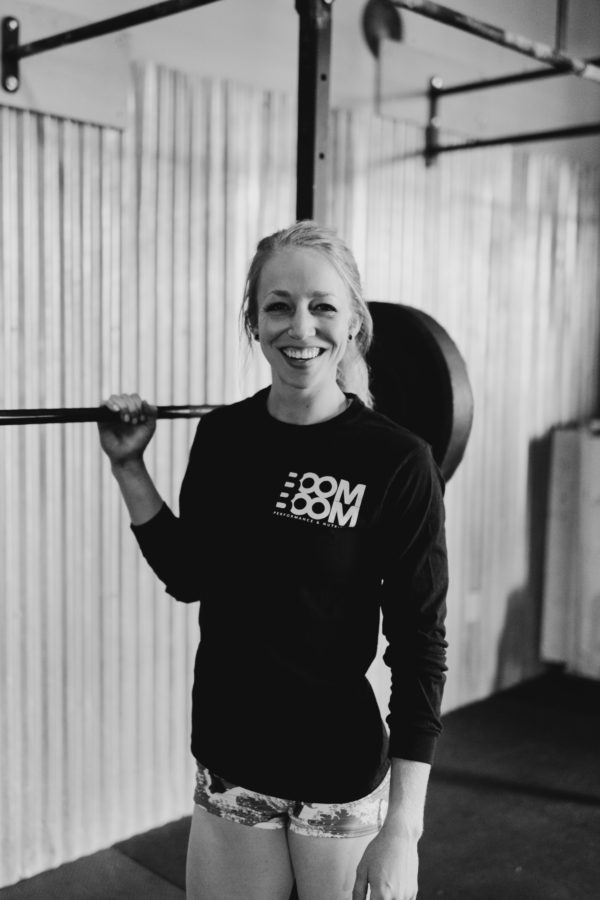 This is a blog written by Caroline Ofenstein. Caroline is Certified With Precision Nutrition Coach, NCI, CrossFit, and is also a Boom-Boom Performance Nutrition Coach. Caroline is our go-to source for CrossFit Nutrition AND bridging the gap between Aesthetics and Performance, which is where she has recently pushes a lot of her focus in order to help people understand how they can achieve both performance and the lean physique we all strive for.