This article does not contain medical advice. If you are experiencing symptoms of amenorrhea, please reach out to your health care professional.
Amenorrhea is the loss of a regular menstrual cycle. While there are times that this is perfectly normal (during pregnancy, breastfeeding, menopause, or pre-puberty), many women lose their periods due to diet or lifestyle factors and it can be scary, shocking, and confusing.
Amenorrhea can be classified as either primary or secondary. Primary amenorrhea is when a female has not ever menstruated after going through puberty. Secondary amenorrhea is the absence of menstruation when you have previously had a period.
In this article I am referring to secondary amenorrhea and primarily focusing on hypothalamic amenorrhea, defined as lack of a menstrual period when no medical diagnosis can be found.
Amenorrhea is surprisingly common for how little people talk about it. Simply asking on my Instagram story if anyone had lost their period I had over 10% of viewers say they have! This is NOT "normal" or "OK" and, in my opinion, is something that needs to be discussed much more in the fitness and nutrition space.
I lost my period in 2018 after a pretty intense cut for a photoshoot and have since had numerous clients come to me in search of hormonal health to get their period back. It can be a long and challenging journey to get your menstrual cycle back, but it is 100% necessary if you want to sustain your health.
The Female Athlete Triad
Amenorrhea is one of the three conditions that make up the Female Athlete Triad. The triple combination of amenorrhea, low energy availability, and decreased bone density is relatively common among young female athletes and was a term coined in 1992 by the American College of Sports Medicine.
Female athletes can have one, two, or all three of these issues but the underlying theme is not balancing the needs of your body and your sport.
The desire to lose weight to improve performance or aesthetics can lead to under eating, plus exercising intensely, which can cause decreases in the hormones that help regulate the menstrual cycle. Lower hormone levels and lower calorie and micronutrient intake will then lead to loss of bone density. This is the triple whammy we want to avoid.
Additionally, this has been confirmed by the American College of Sports Medicine who demonstrated a direct relationship between amenorrhea and bone fractures in young female athletes.
If you don't take the time to repair your hormones and return to regular menstrual cycles, amenorrhea can lead to infertility and osteoporosis.
Why Do You Lose Your Period?
For athletes, stopping your period is a warning sign that your body is under too much stress and does not have enough energy stores to keep up healthy bodily functions.
Let's be very clear here – it is NEVER normal to stop having menstrual cycles just because you are an athlete. Amenorrhea can affect people of different shapes, sizes, and training regimens, but should never be considered a "normal" or acceptable occurrence.
The top causes of amenorrhea are:
Being underweight or having very low body fat can inhibit hormonal function and lead to lack of a period.
Exercising past the point of which your body can recover may lead to disrupted menstruation. This includes too much time spent exercising as well as the intensity of exercise. Excessive exercise also commonly leads to lower body fat and continuously high energy expenditure, both of which can contribute to loss of a period.
Constantly elevated levels of stress can lead to dysfunction of your hypothalamic-pituitary-adrenal (HPA) axis, disrupting hormone balance, and potentially stopping ovulation and menstruation.
Transitioning Off Hormonal Birth Control
Some birth control methods stop your menstruation and when you no longer take HBC pills you may experience irregular cycles. If this is the case for you, you may just need a bit more time for your body to adjust and find its new hormone balance.
**Always be sure to rule out pregnancy if you lose your period.
Family history and eating disorders can also play a role in causing amenorrhea. There can be many other causes of amenorrhea so work with a knowledgeable physician to find the actual cause and right course of treatment for you.
Let's dive into the number one cause I see of a lost period: under eating.
Under Eating & Amenorrhea
Chronically restricting calories can lead to amenorrhea when your body goes into starvation mode and shuts down ovulation, more specifically referred to as hypothalamic amenorrhea. This can also happen if you are a women not eating enough carbohydrates (while still eating enough calories).
An active woman typically needs "around" 2,000 calories per day. This depends on MANY factors, but let's assume that number for the sake of this article.
That fruit you ate for breakfast, plus a few egg whites, a kale salad for lunch, and some nuts and avocado later in the day is only going to add up to about 900 calories and not nearly enough carbs to support your general health or your workouts.
If you aren't eating enough to keep up with your activity level, your body will not be able to support ovulation. Hypothalamic amenorrhea is not necessarily a disorder, but your body's protective response to under eating and/or stress. Your body is basically saying, "heck no you can't support growing a baby right now!"
This is another reason why it's so important to take diet breaks, reverse diet, and/or have refeeds in between fat loss phases and manage the stress on your body.
Listen to The Definitive Guide on Reverse Dieting 
Podcast on iTunes HERE, Stitcher HERE, or Spotify HERE; O
r Watch the video below:
The Cost of Getting Lean
Obviously you need a calorie deficit to get leaner and lose body fat, so how do you balance dieting while maintaining a healthy menstrual cycle?
That is a very tough question as everyone will handle a calorie deficit differently. Your friend may be just fine on a very low carb diet and you might lose your period with the same carb intake.
This is one reason why it's important to work with a coach to have a nutrition plan specifically tailored to you as an individual. And even then, always be aware of the risks associated with prolonged dieting.
There are many strategies to use when your goal is fat loss but any method should include monitoring your biofeedback (digestion, sleep, workout performance, menstruation, etc.) to help you know how far you can push a cut phase.
I pushed a little too hard on my cut and that's when I lost my period last year. It took me reverse dieting to a slight surplus for three months before my menstrual cycle returned. Yes, I gained a little weight back during this time, but I also reaped the benefits of reverse dieting like improved energy, crushing workouts, better sleep, and, eventually, a normal menstrual cycle. For me, and maybe for you, the cost of those six pack abs wasn't worth sacrificing my long term health.
If you have any of these signs/symptoms, it might be time to stop your diet and add in more calories.
Thyroid issues

Hair loss

Constipation

Insomnia

Amenorrhea
It's also important to make sure you are ready for a fat loss phase before cutting calories. If you are already under eating and don't have a period, make sure you return to maintenance level calories and check in on your general health before entering any "diet" or fat loss phase.
While it's so easy to look at Instagram and think you should be able to maintain the leanness of your favorite female bodybuilders or athletes, I urge you not to believe everything you see on social media and consider the value of your hormonal health versus the number of likes on your ab pic.
Yes, there are athletes who maintain a very low body fat percentage and probably have solid hormonal health, but they also probably work with a team of professionals to stay at their best.
And keep in mind those "shredded" pictures you see of athletes are typically taken post-workout or post-pump session, not necessarily how they look every day. And remember that the days/weeks before getting on stage or competing in a sport isn't peak health either. The focus for these events would only be on performance or aesthetics. That's why many professionals dedicate only certain periods of time to fat loss and other periods focused purely on recovery and improving health markers.
More on Periodizing Your Nutrition
in THIS ARTICLE
or watch the video below:
How To Get Your Period Back
So you lost your period… Now what?
The winning combo to get your period back is to eat more and stress less. Easy, right? 😉
First, analyze your energy balance. Are you working out almost every day and eating less than 2,000 calories per day? Then you are probably over stressing your body past the point of hormonal balance.
Take an extra rest day (or two or three…), decrease training intensity, and add in carbs to each of your meals. Work your calories up to your maintenance level or even a slight surplus. This will help decrease your energy expenditure and increase your calorie intake to create energy and hormonal balance.
To get your period back you need to be fully nourished with micronutrients (like zinc, calcium, and vitamin D) as well as protein, carbohydrates, and fats.
Yes, even carbs! As I mentioned above, lack of carbohydrates can impair your HPA axis and cause amenorrhea. If you struggle eating enough carbs, ask yourself:
What kind of carbs have you been eating? Maybe you have an issue with gluten (a common food sensitivity). If so, remove any gluten-contain carbs and opt for rice, potatoes, and gluten free oats instead.

Do you have digestion issues? You may have some underlying gut issues that are worth looking into so you can get back to eating a well rounded diet.
If you're truly afraid of increasing your food intake, ask yourself if you might have an eating disorder. Eating disorders are incredibly common and you are not alone! According to a study by Wiksten-Almströmer et. al., 63% of young women with amenorrhea go on to be diagnosed with an eating disorder. If you think this might be you, please be kind to yourself and reach out to a professional for help.
Keep in mind it will take a minimum of three to six months eating at a higher calorie intake and decreasing stress before you will be able to resume menstruation. This is because it takes a full 100 days to grow a new follicle/egg so be patient with your body and show it some love!
While you increase calories think of how you can decrease stressors in your life and take time for yourself to relax and decompress. Take extra rest days, laugh with friends, wander through an art gallery, meditate, get a massage, go to a yoga class, whatever you like to do! Make time on your schedule to 'refill your cup' and take care of your mental health.
Note on Birth Control Pills
Hormonal birth control (HBC) pills may be prescribed to some women who lost their period. It's important to note that while HBC may cause you to bleed, the bleeding caused by the pill is artificial because the hormones in the pills are inducing the bleeding. In someone with amenorrhea, HBC pills may mask when a natural menstrual cycle resumes.
While HBC pills can certainly be a good choice purely for the purpose of preventing pregnancy, if you are taking them for menstrual or bone health purposes they may not be helping either one. Make sure you do your research and talk with your health care professional to find the solution that's right for you.
I lost my period and got it back within three months of reverse dieting to a slight calorie surplus and decreasing my training intensity. It is possible and if I can do it, you can do it! So please don't go on living without a menstrual cycle and self-induced hormonal imbalance. Reach out and get help so you can truly fuel your body and have the best health possible!
---
Sources & Further Reading
---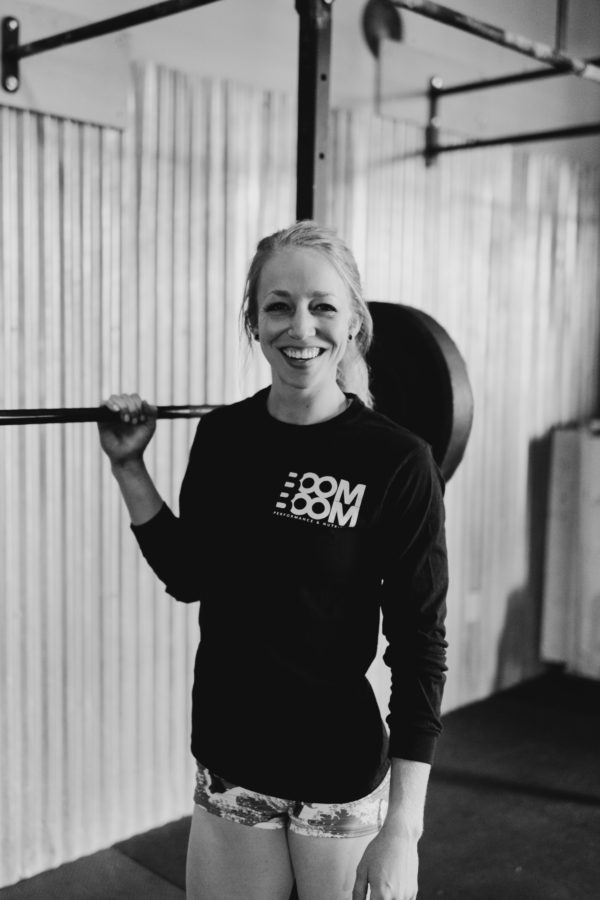 This is a blog written by Caroline Ofenstein. Caroline is Certified With Precision Nutrition Coach, NCI, CrossFit, and is also a Boom-Boom Performance Nutrition Coach. Caroline is our go-to source for CrossFit Nutrition AND bridging the gap between Aesthetics and Performance, which is where she has recently pushes a lot of her focus in order to help people understand how they can achieve both performance and the lean physique we all strive for.