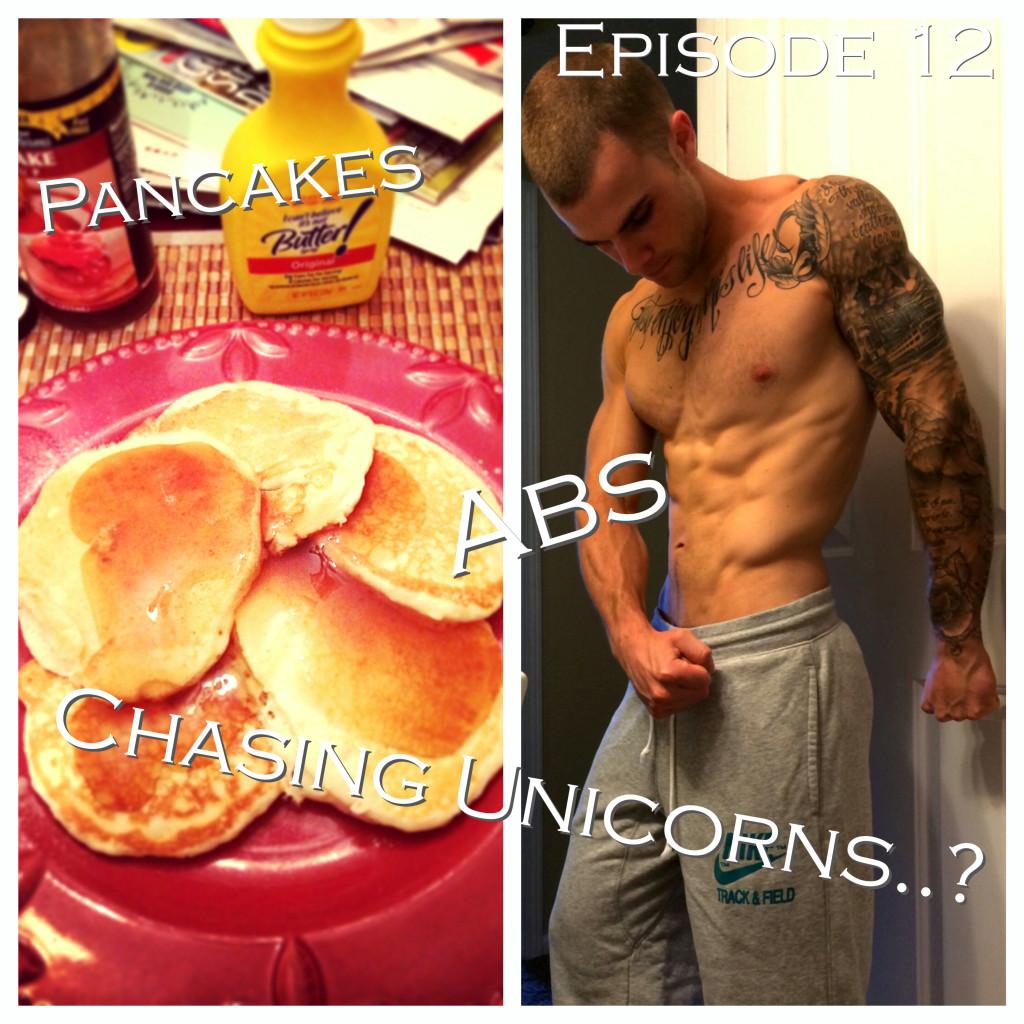 LESS THAN 2 WEEKS OUT!!!!
Wow…. I think it finally hit me that I will be going on stage for the first time to pose in a NPC Physique Competition last week.
I was doing my private posing session with the one and only IFBB Pro Tanji Johnson and as she coached me it became so real… I'm really doing this shit!!
Starting to feel more confident as the weeks go by, body fat is dropping lower than ever, I'm getting my posing down a bit better [still nowhere near perfect], I bought my trunks, paid my entry fee and even signed up for my tanning! Damn!
So yeah… it's really going down people! I'm actually excited to be honest, simply because I have worked so much harder at training and dieting then I ever have before in my entire life, so I want to present what I've worked for…. I also want the huge plate of Trapper's Sushi that will be waiting for me afterwards!
So lets recap a little bit about this past week, which was mentally one of the toughest weeks I have faced yet.
I felt as I was getting to that point where I was shutting down, more so than ever. My body felt fatigued and depleted, my mind wasn't staying as positive as usual and I was starting to get nervous.
But then I received an unexpected email from my coach…. It went like this.
Shelby: "Solid week, leaning out right on track. When was your last refeed/cheat meal?"
Me: "What'd you mean…? 12+ weeks ago! Haven't gone off track at all since we started."
Shelby: "Cool. Have some sushi or pancakes tonight."
Me: "I love you Shelby…." [Ok I didn't say that, but I thought it!!!]
He then told me the basics of a refeed like don't go crazy, keep it at 1-2 servings, low-fat/protein, etc…
So I went to the store that night bought some Bisquick Pancakes and it was the happiest moment of this entire 12-week journey so far! I was literally dancing while flipping pancakes as Kirsten was laughing at the dinner table!
On top of it being mentally about that time for me needing it, it was the exact same night I had planned Kirsten's refeed meal as well! So we both got to enjoy carbs together.
Now if you know me, I love nutritional science. That is my forte and I study it more than anything. Lately I have been studying refeed/cheat meals and reverse dieting post competition, simply because I am looking to stay shredded after this show and I LOVE FOOD.
So when I told Kirsten she needed to eat 100+ grams of carbs in one single meal, after she has been depleting for 2 weeks leading into this show…. She looked at me like I was crazy and trying to sabotage her.
But thankfully she trusts me, so she ate those carbs. We both filled out, felt a little bloated and passed out in a carb comma.
We also both woke up rejuvenated and lifted heavier than we have in the last couple months! I was more filled out, stronger, more vascular and actually just as shredded with the added muscle pump. So I was most definitely happy.
Sunday came and we were both back down to our regular weight, again looking even leaner. Monday is here and were both down a pound and even leaner!
Now, this will keep going until we hit our baseline weight. But you see, sometimes you need to trick your body into burning more fat by utilizing hormone production and playing a trick on your metabolism.
Thank god for pancakes!
Now realize I am not saying that everyone needs to have pancakes or 100g of carbs in one sitting per week to get shredded, because everyone's different. So my advice is to consult with your coach. Some people needed it twice a week, some once a week, some once a month and some wont need it at all until they lose excessive body weight.
I also want to point out the difference between a "Refeed" and a "Cheat Meal" so that people understand the difference and benefits.
I refeed is just as it sounds, your refeeding your glycogen stores to maximize recovery, spike insulin and "reignite the fire". What I mean by reigniting the fire is that your increasing the benefits that the hormones ghrelin and leptin have on fat burning and also increasing the rate of your metabolism. This is because carbohydrates have the greatest effect on these factors, which is also why I recommend slightly lowering protein and fat intake on these days so that nothing interferes with the overall hormonal production and also to ensure you don't double the calorie intake needed on a refeed.
Now when you go back to your clean eating or low-calorie diet, your fat burning is much higher and you are consuming less. Perfect storm for fat loss!
"Cheat Meals" in my opinion are more of a mental break so that you can get away from the typical stress that comes from a long-term diet. They can work the same way; especially if you choose a high glycemic carbohydrate meal, but do not have the same benefit of high carb/low-fat/low protein meals for refeeds.
I will typically give cheat meals to those clients I know need a break from dieting and I will suggest refeeds for those who don't necessarily mentally need it, but are hitting a plateau in their goals.
I know I went on a little tangent with the whole refeed/cheat meal thing… but hey! I love to teach, especially nutrition!
So back to the recap, those pancakes helped me tremendously mentally and physically and because of them I believe I will actually be a little leaner on stage now. Plus my girlfriend is happy with me, which is always a plus.
So in todays article you get two lessons, first being the education on cheat meals and refeeds [for more on this, in-depth, check out Mike Samuel's article here].
Secondly I will give you this…
Always Set Goals & Make Them HUGE
Ever since the day I looked in the mirror, realized I was unhealthy and overweight and decided to give my life to fitness I had one major goal my list…
That goal was to get on stage in a competition. Realize that I didn't even think it would ever be possible, especially from where I was at, but I knew if I shot for that I would end up being much better off then I currently was.
But now I am about to step on stage and accomplish that goal and it feels unbelievable.
So what I am telling you is simple, shoot for the starts and chase the unicorns.
As ridiculous as that may sound, it is a core value of mine and also of some of the most successful people I know. If you chase what others may think of as impossible, you will be the one to prove them wrong and achieve your success.
Nothing is impossible; shit is just really hard so you need to work your ass off to get there!
When I step on stage, it isn't a product of a 13-week program that can get you shredded. It is the product of a 3½-year lifestyle change and mission to be in the best physical shape I can be.
Setting a very high goal, which at the time seemed impossible to myself and all of the negative people who doubted me, is what led me to this point. It is what drove me and what pushed me to reach for the sky.
The Sky Is The Limit,
In Strength & Persistence, Boom-Boom Out!
 [ If you would like Nutritional Coaching, Meal Plans, Training or all of the above contact me at [email protected] ]