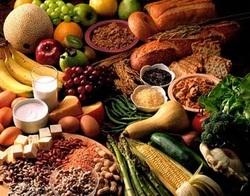 So many people have a confusion towards carbs and don't know how to treat them as a nutrient. I have read many articles that set people up for failure by either giving them bad information about carbs or making them fear carbs. Well I'm here to tell you how it is and give you a short and straight up post about how you should be treating carbs. 
---
CARBS ARE NOT THE ENEMY!
This is the first thing I want to point out because it's the biggest point I need to make in this blog post. So many articles and fitness fads going on telling people that carbs are bad and you need to be on a low carb diet to lose any body fat, hell I've even fallen into this before. But the truth is that you just need to train hard, lift heavier weights and eat the right carbs at the right time. First things first you need to get in the gym to lose any weight or body fat and the type of training you perform will dictate what type of carbs you have. Figuring out the type of carbs to eat is where most average Americans go wrong. As you already know most Americans are eating tons of sugars and breaded foods that are almost always processed. This brings me to my next point…
CARB CHOICES
So many people choose the wrong types of carbs and sometimes are even tricked to thinking its a good carb. Obviously you should not be eating any junk food that is packed with sugar or any processed "white" breaded foods. But where people can be tricked is with "Whole Grain" or "Multi-grain" labels that make things seem healthy. First of all if it does not say 100% whole wheat as the very first ingredient then it is not truly whole grain or good wheat bread. A lot of times you'll see in the ingredients bleached, unbleached, refined, etc. This means the grain isn't in its full form which is the bran, germ and endosperm. If it is not a true whole grain parts of the grain have been removed. Now that I got that squared off I'm gonna go into the better types of carbs to choose, which all depends on your specific goals. If you're trying to lose weight or body fat then bread or breaded foods, whole grain or not, are not going to be the best choices. This is because of the way it affects your insulin levels and glycogen system, it is considered a slow carb because of its low glycemic index level. Which means it keeps your insulin spiked for a longer period of timing causing your body to burn less fat. If you're a hard gainer and need to add some pounds then you can definitely add some whole grain bread into your diet. Now if your goal is fat loss or to stay lean then your best choices are going to be fruit, veggies, and specific starches. 
             -Fruit
Your best choices when it comes to fruit are always going to be berries, this is because its low in fructose and so high in its antioxidants. If you have just trained, preferably strength training, it is ok to have a brown spotted banana. Bananas are very high in fructose so it's not always the best choice, BUT when a banana has become brown and spotted it has a few different POST workout benefits. The brown spots mean that the starch is becoming glucose, the banana will then have more digestive enzymes which will help in whey protein assimilation, and its protein concentrations increase. Another good post workout carb as far as fruit goes would be an apple. It falls in the middle of the spectrum when it comes to glucose and has a decent amount of carbs. 
     

    -Veggies
Veggies are simple, EAT AS MANY AS POSSIBLE! Veggies are packed with nutrients and fiber and are one of the healthiest things we put in our body. Deeply green colored veggies are preferable the most important to get on a daily basis but an easy rule to follow is to get as many different colors on your plate as possible. Al veggies have benefits and many at that, so eat them up!
 

        -Starches
This is where people get the most confusion and it can actually be very simple. First, as I said before if you're looking to lose fat then just take breads out of your diet. Then decide which starches you would like to eat, these starches are potatoes of all kinds (sweet, yams, russet, red, etc.), multiple kinds of rice (jasmine, wild, long grain, brown, etc.), quinoa, pumpkin, and squash. One of the most important things about starches is when you eat them, which is the next point I will make.
TIMING YOUR CARBS
This may actually be the most important thing about carbs and another big place people go wrong. People eat carbs all day every day and that is the worst choice they can possible make. When you wake up first thing in the morning your body is in a fasted state which means its at its peak for a lot of hormones that help burn fat and your insulin is low and at its best level to burn fat. So why would you ruin all that by having oatmeal, toast, hash browns or fruit for breakfast?!?! It doesn't make much sense as far as fitness goals go, so instead start your day with fats and proteins. Eat an omelet with veggies and solve that problem in a delicious  and more satisfying way. Carbs are meant to have POST workout and not any other time. A lot of people think they need carbs pre workout because "carbs are energy" which is true if you take it with a grain of salt. Carbs put you in relax and digest more rather than fight or flight mode, so why would you want to be in rest and digest mode right before a workout? You wouldn't. So if you eat your carbs within 2 hours after your workout the carbs will go into your glycogen system much quicker and more efficiently and you will get much more out of your food. Even if you can't hit that ideal 2 hour window after your workout it will still benefit you if you have the carbs POST workout rather than PRE. Another factor of timing you carbs is which carbs to have on which days, this can be simplified also. Strength training (lifting heavy weights) calls for much more energy and puts a lot more stress on your body and muscles, so on your strength training days you should have your starches because they are higher in carb content and higher on the glycemic index chart. On your cardio/conditioning/rest days your should stick to fruit because it is lower on the GI chart and because the workout called for less stress on the body and energy system. This should put carbs in place and give you a better understanding on how they should be consumed.