We've talked about periodization a few times prior to this post on the BBP blog, but the end of the Open is another great time to emphasize the importance of having a periodized training and nutrition plan.
Whether you're a seasoned athlete or this was your first ever taste of CrossFit competition, having an exit strategy post-competition is always a good idea to make sure you will continue improving your fitness.
Periodizing means splitting up your overall, long-term goals into smaller blocks of focus. You aren't (or shouldn't be) going for PRs in the gym every day the same way you shouldn't be cutting for fat loss year round. Instead, you should dedicate certain time periods to strength and gaining, other times for physique if you are so inclined, and another time for competition. These different time periods all require different recovery protocols and different caloric intake.
Having a plan for after your competitive season is similar to having a plan for after your diet phase. Do you want to spend weeks or months in a calorie deficit, finally hitting your aesthetic goal, and then binge your first weekend off your diet and gain all your weight back? I'm guessing your answer is no…
Having a plan to transition out of your diet is one key step within nutritional periodization and helps you can sustain your results and not end up in a vicious cycle of yo-yo dieting.
This post-diet plan very similar to how you should have a plan when transitioning out of your competitive season, whether that's with CrossFit or another sport's season.
Think of periodization as your map when you're on a summer road trip. You hit your first city & had a blast, but now it's time to get back on the road and head towards your other stops. You need to check the map and figure out where you're headed next to make sure you stay on your trip schedule and hit all the cities you want (AKA continue on the path to your long term fitness and nutrition goals).
Periodization for Fitness Athletes
A CrossFit athlete's year might look something like this:
In Season – several months of competition season, peak performance is our main priority (AKA The Open for CrossFitters).

Post-Season/Recovery – after competition, recovery of Central Nervous System (CNS), hormone balance, and overall health are the focus.

Off Season – reevaluate goals, build strength and skills, balance lifestyle and aesthetic goals.

Pre-Season – ramping up training and calories, preparing for competition season.
If you just finished competing in the Open and aren't signed up for any other competitions soon, that probably means you are ready to head into post-season and off season. Finally finishing and making it through the last Open workout isn't the time to ditch your recovery plan just because the tough workouts are over. Make sure you have an exit plan to start the transition from being all in on competition to focusing a little more on recovery and how to improve for next year.
The week following intense competition should be focused on recovery and transitioning. You are transitioning towards your off season which is when you get to focus on improvement. Every period of your training is important so if you're done competing, go all in on your other goals like gaining strength for next year or changing your physique.
Your goals for this transition period should be focused on hormonal recovery, GI recovery, and defining any other off season goals like strength gains or physique.
Post Season for Recreational Athletes
Was 2019 your first ever CrossFit Open?! You're officially a badass!
Even if you decided to do the Open for the first time this year just to have fun with your local gym/box, you should still make a plan heading into your off season.
Your transition post-season should include:
Adding in relaxation/recovery/active rest days

Sleeping at least 7 hours every night

Eating 90% whole, nutrient dense foods

Adequate hydration & electrolytes

Reevaluating your goals for next year
The transition back to your routine workouts should emphasize recovery and reevaluating your goals. No matter what your WOD scores were, the competitive adrenaline rushes and high intensity sessions definitely left your tank on empty. Take these next few weeks to prioritize active rest days, high food quality, hydration, and sleep.
I'm guessing you discovered some new weaknesses during the last five weeks of Castro's WODs so pick one or two and commit to working on those skills for the next few months. As your training intensity comes down, consider adding in an accessory day specific to the weaknesses you want to improve.
Not sure where to start? Follow these steps:
What was the toughest/most challenging Open workout for you?

Why was it so hard? Was it the heavy weight, the skill, or another reason?

Make a goal based on improving the above weakness.

Work with your CF Coach and/or Nutrition Coach to make a detailed plan for how to get to those new goals.
If gymnastics movements and fat loss are your main goals, the off season can also be your time to head into a calorie deficit and work on aesthetic changes.
Macro Changes Post Season
Since your focus is shifting from competition to improvement/your off season goals, your nutrition protocol should also change.
To focus on hormonal recovery, we can manipulate macros to be more balanced and bring fats up. Athletes in season will have fats pretty low and the bulk of their calories coming from carbohydrates to fuel performance. Now we can start to add some healthy fats back in and bring carbs down, staying close to maintenance level calories.
Example Macros:
In Season – 2300 calories = 150g Protein | 315g Carbs | 50g Fat
Post Season – 2300 calories = 150g Protein | 280g Carbs | 65g Fat
Inflammation in the body will likely persist the few weeks following competition so even though you are scaling back on workouts, keep calories up and stick to mostly whole foods that you know your body has no issues digesting. Focusing on eating mostly whole foods, getting at least 7 hours sleep, and adding in more relaxation/recovery time will help your body flush inflammation and ease into post season mode.
If you have physique goals for your off season, we can start to work into a deficit now that training intensity is coming down. Varying your workouts and adding in more recovery means we can safely decrease carbohydrate intake to go for fat loss goals. Work with a coach you trust to cut in a way that still keeps you on track for your future athletic goals.
Example Macros:
In Season – 2300 calories = 150g Protein | 315g Carbs | 50g Fat
Post Season – 1800 calories = 150g Protein | 165g Carbs | 60g Fat
Flexibility
Decreasing stress from training and competing means you have some flexibility with your food choices as well as your workouts and schedule. Take this time to recharge. Your entire year can't be go, go, go, so appreciate the deloading, extra rest, and flexibility.
Enjoy the flexibility of your off season, but don't indulge so much that you have to dig yourself out of hole before next season. Keeping at least some dedication in your off season can make it an incredibly productive time of year. Take care of your body and mind so that you're ready to go again next year when competition season rolls around!
It's easy to ditch your nutrition after competition season, but remember that the off season is your chance to get better for next year. Where do you want to be this time next year? How are you going to get there? Make a plan for the next few months and give yourself a timeline so you can get to your goals faster and easier.
Want more information on how to structure your nutrition for peak performance? Download the Performance Nutrition Manual HERE!
---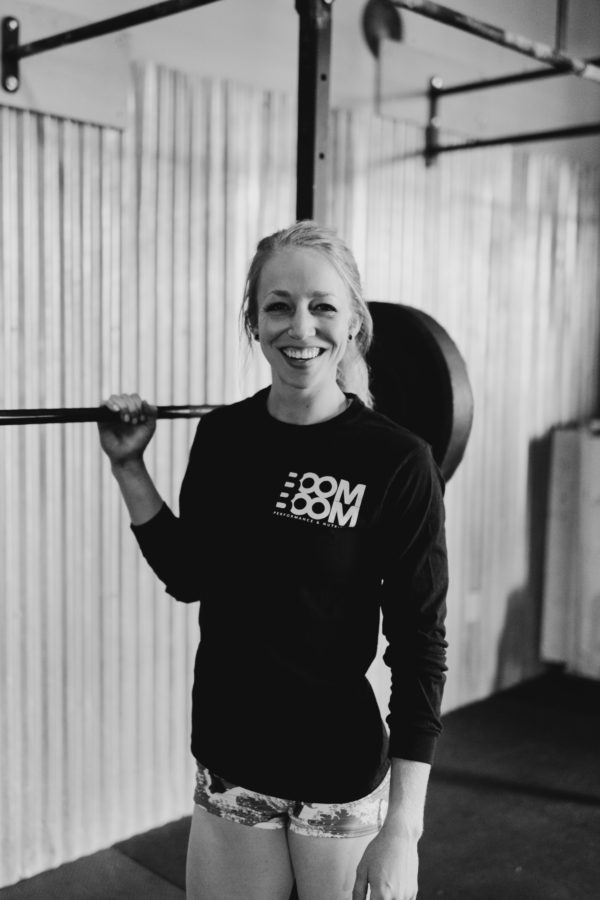 This is a blog written by Caroline Ofenstein. Caroline is Certified With Precision Nutrition Coach, NCI, CrossFit, and is also a Boom-Boom Performance Nutrition Coach. Caroline is our go-to source for CrossFit Nutrition AND bridging the gap between Aesthetics and Performance, which is where she has recently pushes a lot of her focus in order to help people understand how they can achieve both performance and the lean physique we all strive for.