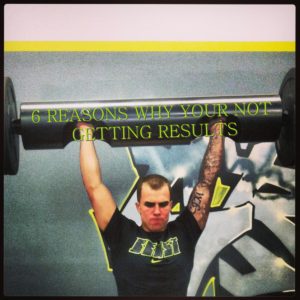 Most of us are doing many little things throughout the day and week that are slowing down our results of building muscle.
Remember that when I say building muscle, I don't always mean bulking up or getting big. Building muscle directly relates to burning fat, so all of these tips can usually go both ways.
My goal is to break down the little things many of us do that can hinder our results of looking great, regardless of what your goal is. 
Too Much Overall Volume
This means a couple of things. First being, don't train every single day. In many cases less is more, yes that saying is relevant and has good meaning. If you train 7 days a week your body is breaking down more than it can recover. People do not understand that recovery is when we are getting most of our results, so get your rest day in along with your sleep and watch the results come.
Nutrition
This one is obvious, without proper nutrition how can you get optimal results? You cant. The problem most people have is meal portion and meal timing, they don't know how much they should be eating or when to eat it. In fact most people do not eat enough to actually burn fat. Most of the people, who don't eat enough, also aren't getting enough protein. Protein should be the biggest percentage of your diet. This will help burn more fat, recover more muscle and also build up more muscle. Another problem people have is a fear of carbs, but carbs are good! Everyone should be eating some carbs, just at the right times so your body can benefit from them. Now I'm not expecting you to understand the exact amount of calories and carbs you should be consuming, so find a coach that can help you! If your serious about getting results, a coach is a necessity. [Confused on carbs? Click here for the rundown]
Mobility
People do not take mobility as serious as they should; in fact I didn't either for a long time. But than I got injured… and injured again… and again and this just led to my training getting delayed, which slowed down my results. After I finally got the point that I needed to work on mobility and tissue quality, I haven't been injured since and I am seeing better results than ever. If your ankle isn't mobile, you have no business doing deep squats. If your shoulder isn't mobile, you have no business doing overhead presses. Now this isn't to scare you from exercising, it's to prove to you that you should be warming up properly with mobility exercises daily. Work on your movement, start training harder and then the results will come quicker then ever.
Too Much Fat
Although this would usually fall into the nutrition portion of this post, I wanted to give it a separate section because I know too many people who fall into this category. So you're getting enough protein and your dropping your carbs pretty low, so the rest of your calories should come from fat right? Not completely. This is why the right carbs at the right time are very important. Too many people load up on "Healthy Fats". Now don't get me wrong, they are healthy. But you cannot over consume these nutrients. People know that almonds are healthy so they eat multiple handfuls, but they don't realize that a SMALL handful of almonds are about 16g of fat. A small handful is very easy to eat, so people keep going. Avocados are great for you; an avocado is also 23-30g of fat depending on size. Cooking oil, this one adds up very quickly as one tablespoon is 9+ grams of fat. One tablespoon is barely enough to cook with. I could name more, but I think you get the point and since fat has the greatest calorie content this can really crank up your calories and fat gain. So watch your fat! It should only take up 35% of your diet at most. (Unless specific diet calls for it)
Go Heavy
The first statement I made was too much volume, which is 100% correct, but when you are training… LIFT HEAVY SHIT! Excuse my French but this is something I am a firm believer in. No matter what your goal is, you need to lift heavy. It stimulates the central nervous system, stresses the muscular system (along with every other system in the body), burns more fat, and uses more energy (calories). So at the end of the day if you want to build muscle, burn fat, get lean, and/or increase performance you need to start pushing some weight.
Sleep
Last but not least, get some sleep! In fact not just sleep, but rest and recovery in general. You should be taking advantage of every minute in and out of the gym. Sleep is also one of the biggest ways to release stress, along with lifting weights. So if you can crush weights in the gym and get great sleep on a weekly basis, you will be in the best shape of your life. When sleeping you also release many hormones that are needed to regulate muscle development, burn fat, recover properly, and manage stress levels. So do whatever you need to do to make sure you are getting 6-8 hours of sleep each night, so you can see the great results you deserve. [Check out a post on sleep to get the scoop on how to achieve it easier]
[If you need help achieving any of this, whether you live in Seattle or not, you can contact myself and team here for coaching guidance to your goals, tell them Boom Boom sent you! Or email me directly at [email protected]]