I've had the pleasure and opportunity to write training programs for a decent list of WWE and AEW Wrestling Superstars. Chad Gable, Bayley (female champ), Otis, Aaron Solow, and Cash Wheeler.
During this time, I've built a specific training method that I believe is the perfect blend of moving and performing like an athlete, but looking like a physique competitor.
I've also gotten a TON of questions asked since starting with these guys, asking me what I'm doing and how I go about periodizing their training plans.
Well… today… I finally decided to write an article breaking down my method; exactly what I do and how I program for these superstar athletes.
Get a glimpse of what Chad Gable (WWE Star) has to say about it (click to go to post) and then proceed to read the details to learn how YOU can train this way, too: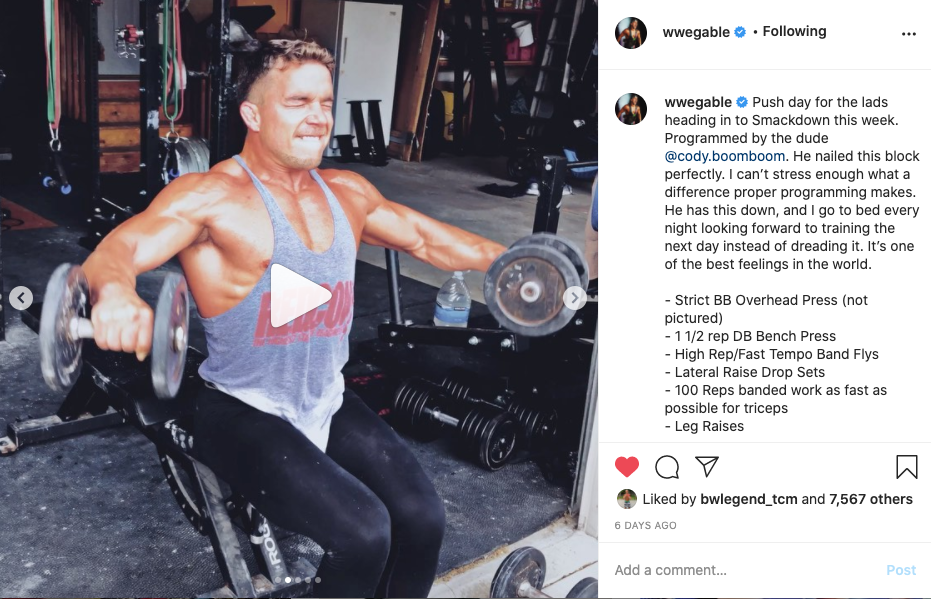 PERFORMANCE BODYBUILDING
The name fits it perfectly, don't ya think?? How to perform like an athlete and look like a bodybuilder (Sample Programs, HERE). And when I say bodybuilder, I'm really not talking about someone who competes and physically steps on stage to showcase their physique – I'm talking about anyone who bodybuilds. That means the everyday gym goers who are jacked, the garage gym meatheads who look like fitness models, and the ex-athletes who still look like they could run on the field and hang with the young guns.
Bodybuilding is simply the art of building your body. So really, it's for anyone and oftentimes the name intimidates individuals into NOT training like them – because they assume it's some advanced concept that doesn't apply to them.
WRONG.
Bodybuilding will improve your body composition and is the most ideal way of training if you want to lose fat or build muscle. It's also extremely helpful for anyone who wants to feel better (stronger joints, ligaments, and tendons) because of the controlled tempos and lower loads.
The thing that most bodybuilding programs don't give you, is that athletic feeling. In fact, many times poorly written bodybuilding programs (commonly written) don't prioritize how well you move or how powerful you can be (max force generation). But both of those things are critical to your strength and muscle mass being built, but also your longevity in life because if you destroy your joints you will degrade overtime AND if you're not working your central nervous system with power development programming, good luck being sharp, responsive, or able to react (falling is one of the leading causes of death in elderly individuals, this may help that).
Ok, so… now… the fun part. How do we do it? I'll show you right now by breaking it down into individual concepts and specific methods that build up to the performance bodybuilding method:
THE TRAINING SPLIT
The training split for an individual depends greatly on how well they recover and how often they can consistently get to the gym. So for me to say that a Performance Bodybuilding Program is ____ days per week, wouldn't be honest. See, it's not a program – it's a method.
It's like principles and methods; principles never change, methods do. That means we have principles in place with this program, which I'll go over soon, and the method in which these principles are practiced changes.
But there are a few things within this that help guide you to decide which training split is best for you, individually:
| | | |
| --- | --- | --- |
| DAYS PER WEEK | SPLIT | NOTES |
| 3 | Full Body | Higher frequency (3x), lower volume, higher intensity. |
| 4 | Upper/Lower | Moderate frequency (2x), moderate volume, balanced intensity. |
| 5 | Upper/Lower + Push/Pull/Legs | Moderate frequency (2x), high volume, lower intensity. |
Obviously step 1 is understanding what you can literally commit to, because even if you feel called to the 5 day split and you really like the idea of following a higher volume program… it won't work, at all, if you can't get to the gym that often!
Now, there are going to be a lot of you reading this who can workout every single day. You're committed, you want to look like a WWE superstar, and you LOVE the gym (I feel you, that's me too).
However, you still shouldn't be in the gym every day. That's a recipe for burnout, injury, and a declining level of motivation.
Which is actually one of the reasons I don't prefer to train 6 days a week with any of these people. It's just too much intensity to have that high of volume. If you look at the notes, you'll see that when volume is lower – intensity needs to be higher. These are our two toggles to dial up results and aesthetic changes, but we cannot crank them both up simultaneously without under-recovering or over-training. So we need to choose one that works best with the split you select.
A 3 day plan is higher frequency, because it's full body and you're hitting most all muscle groups in every session. But it's also lower volume, because you're only there 3 days a week. So in this program, we'll be targeting some heavier loads and drop sets that increase acute effort and intensity in a given session. This would look something like hitting some sets in the 3-5 rep range (high intensity, low volume) and following it up with a drop set with 50% of the weight (moderate volume, maximal effort). We also will be using some failure training concepts in this split, because again with less days in the gym we need to push closer to failure more often – not only to stimulate the stress response required to get you growing, but also because we can recover from more failure training since the overall volume is lower per week.
A 4 day plan is moderate frequency, because it's an upper/lower split and you're hitting each muscle group 2 times per week. This tends to be the most commonly used and optimal split for 80% or more of individuals I work with (this includes myself). It's easier to manage the stress applied, it fits most people's schedule/lifestyle, it leaves the perfect amount of room for conditioning (more on this in the energy systems section), and isn't over-kill on any one aspect (volume, intensity, frequency). This balanced approach keeps your body balanced well. There will still be some occasions where we take movements to failure and we're still going to be practicing all intensities (heavy load-low rep, moderate load-high rep, low load-speed), because without overdoing it we have that ability.
A 5 day plan is the more advanced version of this Performance Bodybuilding Program and is exactly what I have Chad Gable and Otis on currently (as I'm writing this). This starts to lean more into the bodybuilding realm, because we have more days per week to add more volume. So for any individual who has hit a plateau, is very advanced, or simply wants to put on maximum size – this is the split for them. We're able to keep frequency moderate at 2 times per week, with an upper/lower + push/pull/legs split. This allows us to have a couple days per week where we're hitting low rep speed and strength work, while also having a few days per week for higher volumes with moderate loads to maximize hypertrophy.
Now, regardless of what split you select you're going to be following the same Performance Bodybuilding Principles. Some of these will be more or less emphasized depending on the split and a few of them will slightly alter, but for the most part it's written in stone because this is the method!
EXERCISE SEQUENCING
First we have to define what exercise sequencing even is; it's pretty damn simple… how are you structuring the daily training session? That will give you your exercise sequencing strategy. It's how we layer the program and build out the day, one exercise at a time.
Things to be aware of when sequencing each training session are:
→ Movement Preparation
→ Energy Demands
→ Fatigue Management
→ Posture and Joint Health
See, a program should never just be a list of exercises (which you commonly see with inexperienced coaches)… it should be a properly layered exercise system that allows you to optimize your movement patterns and energy levels for each exercise, manage fatigue properly to keep performance high throughout the entire session, and avoid injuries or joint pain at all costs.
So how do we layer a training session inside a Performance Bodybuilding Program?
| | |
| --- | --- |
| MOBILITY PREP | Pretty simple and probably obvious… you need to warm up! This should be about 5 minutes of some low intensity cardio or dynamic movement to get your core temp and heart rate elevated, then some specific mobility work to open up your movement (ankles, hips, t-spine, shoulders). |
| ACTIVATION | Activation exercises are designed to get specific muscles fired up and working properly, in order to help better execute more complex movement patterns. This could be hamstring curls before squatting or face pulls before bench pressing, for example. |
| CNS PRIMING | Being explosive at the beginning of a training session is vital for optimal strength development, but also for longevity in the gym. Our nervous system is what drives high effort and intensity performance. It can help us move more explosively, be more efficient, keep form tighter, and recruit more high threshold motor units and muscle fibers. This could be throws before benching, jumps before squatting, or even short distance sprinting prior to lifting. |
| METRIC BASED STRENGTH | Here's where our compounds are placed. At this point, we're prepared and primed to lift heavy, so we place our most taxing and risky exercises here. The movements that require the most physical energy, mental focus, and skill in order to execute (to avoid injury, because risk is higher). Squat, bench, OHP, and deadlift are your primary lifts (or variations of them) which you'll track progress weekly. |
| PRIORITY ACCESSORIES | The most important accessory exercises often require the most energy or mental focus – which is why they come right after the compound lifts, while you still have the gas required in you! Usually staying in the 6-10 rep range, going a bit heavier, and working complex unilateral movements, here. |
| LOW DEMAND ISOLATION | Need more bicep growth? Some side delt work? Extra glute pumps? Here's where you throw it in. It's very  important for the body composition changes you desire, but it still doesn't take much energy or thought to get them done. So we place them here, after all the important high demand work is completely done. |
| *METABOLIC | We save metabolic work for last, because your performance on all of the above will tank if you perform the metabolic work first. And although your metabolic work would probably be better if you did it prior to all of the above, too… you don't need maximum intensity to get benefit from metabolic work, nor is it as important as the above – so we save it as an optional finisher. This could be cardio/conditioning, density circuits, or even some ultra high rep metabolite sets (think 20-30 rep curls). |
VOLUME AND INTENSITY
(Sets x Reps x Load = Total Volume or Tonnage)
This is a classic definition often used by powerlifters for periodizing progressive overload, but it can be complicated and a bit over complex in my opinion. So it's not necessary to always do this, unless you're a very advanced lifter who is solely focused on competing in powerlifting or being as strong as possible.
For hypertrophy, in the aesthetic world, we have a different way of tracking volume and two specific points of volume to be aware of:
Sets Per Muscle Per Microcycle
Microcycle is defined as your training week and although most people will say volume is your sets per muscle per week. The only time we see this being incorrect is when the microcycle is going to last longer than a calendar week – for example, if you're following a weekly undulated periodization model (changing intensities week to week), you may actually have a 10 or 14 day microcycle. Week 1 would be sessions A, B, C, D, and week 2 would be sessions E, F, A, B.
In this program or method (Performance Bodybuilding), we're using a calendar week for the microcycle – regardless of which frequency you choose. Therefore we're going to go with the term "per week" when discussing volume.
What I tend to look at with this method, is the massive bell curve showing how much volume you should personally be doing, because everyone is going to vary in a few different things:
→ Training Experience
→ Resilience of the Nervous System
→ Lifestyle Stressors
→ Dietary Intake (Calories/Macros)
→ Sleep and Recovery
Because of these 5 things (and probably more), your personal volume threshold will be different from the next guy/gal. Use this infographic as an example: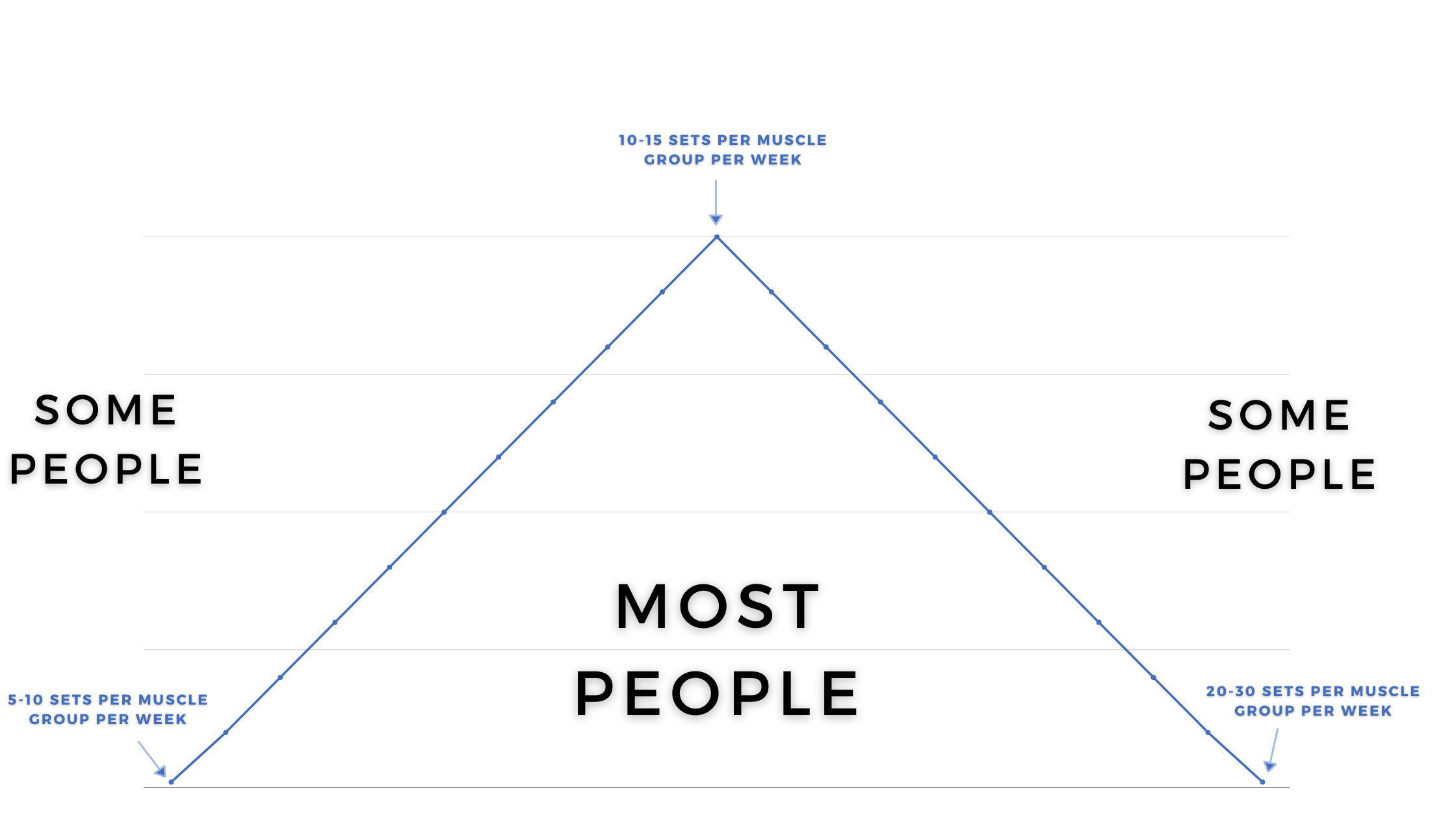 I couldn't figure out how to make a bell curve, so you're getting a pyramid of some sort. But I think it paints the picture well! MOST people are in the middle ground, but some people are on either end of the spectrum (ultra high or fairly low).
And the reality here is that no one end of the spectrum is better than the other, honestly. Some people respond BETTER to lower volumes, whereas some respond better to very high volumes – both of which have been documented accurately and in research.
So how can you determine which end you fall on? And what do I focus on when programming for my clients using a performance bodybuilding approach?
First and foremost, personal experience. You should be taking note and tracking progress as you're going through your training career and therefore be in tune with how your body responds.
Secondly, a coach provides this. I know when my clients can handle more or need less, based on biofeedback and proper coach-client communication.
But there's also a way to look at this when initially setting up a program: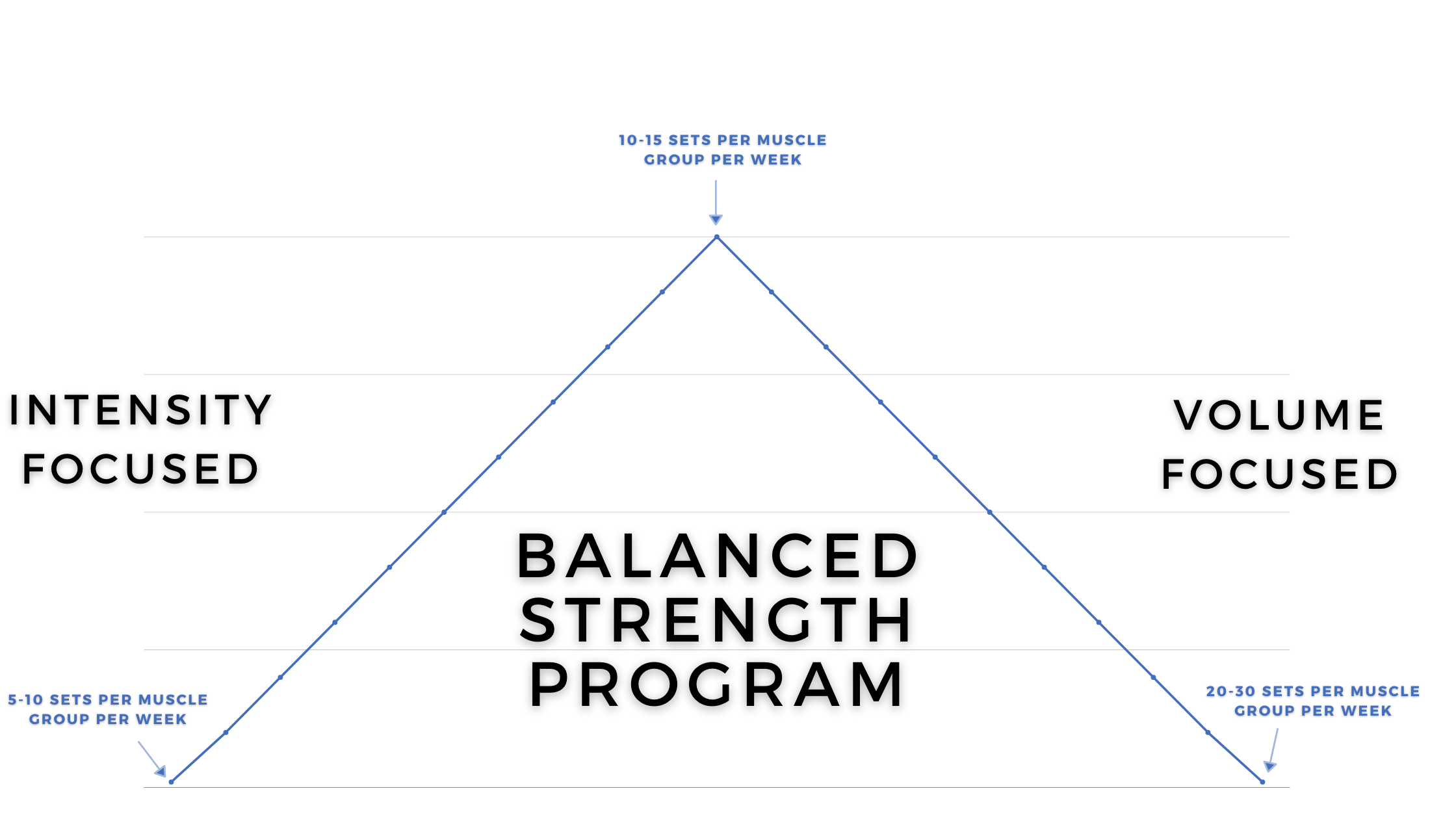 Pretty simple… as intensity increases, volume needs to decrease. As volume increases, intensity needs to decrease. 
Intensity is defined as load on the bar, so we're talking about intensity as a relative metric to your max effort strength or 1 rep max. However the same can be applied to HIIT cardio, extremely high effort sets, and anything else that pushes your overall intensity higher and pushes your CNS closer and closer to burnout.
The reason this is so important to understand, is because both intensity AND volume are needed when we consider the goals of a performance bodybuilding client. They want to look good, perform well, be strong, and ideally avoid injury.
So what do we do…?
Like most things, we fall right in the middle! Most likely in the 10-15 sets per week range with an even balance of both higher volume sets (8+ reps), higher intensity sets (3-7 reps), and power focused sets (1-4 range, explosively).
This leads us to having about ½ of our total work done, focused on hypertrophy. Because we don't need a TON of intensity to gain strength (we're not training to be a powerlifter here), we're going to use just enough to increase strength and performance while keeping a heavy focus on hypertrophy (a big part of the goal is still muscle growth and strength does come from hypertrophy training done right, too).
About ¼ of the training will then be dedicated to high load/intensity strength work. 
The final ¼ of training will be dedicated to speed, power, and plyometric work.
PERIODIZATION PLAN
Because we're focusing on a daily undulated periodization plan, this section will be pretty simple and straightforward.
We're not working in a block fashion, which would imply that an entire block of training is focused on just ONE single outcome. Then as that block comes to an end, the outcomes shift. We may see an accumulation phase (volume), intensification phase (intensity), and a realization phase (max effort testing). But by the time you get back to a volume phase, it's been 2+ months and you'll need to retrain some of those attributes.
A daily undulated or concurrent approach, works on all of the above simultaneously. This may be less optimal in a specific setting like powerlifting, because their primary target is getting as strong as humanly possible. But with someone interested in moving well, getting strong, and looking good aesthetically – we can't take long periods of time ignoring specific attributes, ranges and adaptations. We have to simultaneously work on all of them, to slowly but surely improve all of them together.
The Westside Conjugate Method does a really good job of this and made a lot of these principles notorious. They have a max effort and a dynamic effort day, which is VERY similar to how we set up a performance bodybuilding program – however we implement more hypertrophy work, than dynamic work.
The value in this periodization style is not only that we can build muscle, get strong, and increase explosiveness all together throughout a training block – but also because it allows us to wave intense stimuluses to the nervous system to aid recovery.
I'll share an example program below for you to see how this looks put together, but we may have 2 days per week where we're pushing the loads pretty high and trying to reach near failure, through intensity. Then have 2 days per week where we're doing some dynamic explosive work, followed by direct hypertrophy work. Having explosive work prior to hypertrophy work can also be beneficial because CNS dominant training (think speed bench, plyos, throws, etc.) is great for recruiting more motor units and muscle fibers to the show. Once these come in, hypertrophy of those muscle fibers is easier and performance is better due to more motor unit control being present. Not to mention power work is a CNS stimulant, so it'll jolt you into hard training like a shot of caffeine will.
Over the course of the weeks, we'll take a linear approach to all of our reps and work in 3 week blocks. This means every 3 weeks, movement patterns stay but the exercise selections change. This provides variety and a novelty stimulus, while allowing progressive overload to stay in place due to the repeated bout effect (doing the same thing again and again, to progress more effectively).
This means our compounds may shift week to week from 7 reps, to 5 reps, to 3 reps, while adding load. After that final week, new variation comes in and we shift back up to 7 reps to repeat the linear progression in the next 3-week block.
Our hypertrophy work will do the exact same thing, but working from 15 reps, to 12 reps, to 10 reps and sometimes from 10, to 8, to 6 reps – in order to keep volume fairly high.
Lastly, our power work will follow suit as well and shift from 4 reps @ 60%, to 3 reps @ 65%, to 2 reps at 70%, usually with an accommodate resistance strategy (i.e. adding bands to speed work).
If we're following a 4-day split, we'd have 2 max effort strength days and 2 power-speed days. The compounds would stick to those two focuses, while the accessory work that follows would stick to a bit more of a hypertrophy focus. 
If we're following a 5-day split, then we'd have power-speed development directly before the strength work. For example, you may have Speed Bench Press for 4 sets of 3 reps at the beginning of your session, with Heavier Bench Press for 5 sets of 5 reps directly after. Here we're priming the CNS and putting your body in a state of higher performance, before our main compound lift of the day. Can do this with the squat and deadlift, as well.
ENERGY SYSTEMS
There's really no way for me to give a FULL breakdown of the energy systems that support performance and conditioning in a simple blog like this, let alone a small section of a blog. This is a topic that deserves some studying and textbooks, honestly.
But what I'll do here is briefly explain which energy systems are with our control, which ones I primarily focus on inside this method, and why we need to be including some metabolic conditioning in the first place.
→ Anaerobic
Alactic
Lactic
Glycolytic
→ Aerobic
Oxidative
I've bolded Anaerobic and Aerobic, because those are the two main ones to focus on for now (until you want to get DEEP into the variations of those two, which are where the others fall into place and periodization can bridge the gap between them).
Here's a brief quoted definition of both forms of conditioning:
"Aerobic exercise is any type of cardiovascular conditioning. It can include activities like brisk walking, swimming, running, or cycling. You probably know it as "cardio."
By definition, aerobic exercise means "with oxygen." Your breathing and heart rate will increase during aerobic activities. Aerobic exercise helps keep your heart, lungs, and circulatory system healthy.
Aerobic exercise differs from anaerobic exercise. Anaerobic exercises, such as weightlifting or sprinting, involve quick bursts of energy. They're performed at maximum effort for a short time. This is unlike aerobic exercises. You perform aerobic exercises for a sustained period of time."
Inside the Performance Bodybuilding Programs, you'll want to implement BOTH forms of conditioning/energy system work, because you need to develop both systems for well rounded athleticism and strength.
Aerobic conditioning tends to get left behind by most, because it's looked at like "cardio" and for some can be pretty boring. Example would be rowing on the rower for 30 minutes straight… hard, sweat inducing, not overly intense, and somewhat mundane. Why would you want to do that?
Aerobic Conditioning has LOADS of benefits that directly and indirectly translate to you building more muscle, being more defined, and getting stronger over time. Some of these include:
⇥ Health and Longevity.
⇥ Recovery Speed and Efficiency.
⇥ Better Blood Flow.
⇥ Insulin Sensitivity.
⇥ Fat Loss.
⇥ Build Capacity To Handle Oxidative Stress.
⇥ Strengthen Immune System.
⇥ Build Aerobic Base (Foundation For Strength).
One of the prominent reasons I tend to focus on this form of exercise for anyone looking to be an athlete who performs well and looks even better, is because of the improved recovery abilities that come along with it.
As we improve our aerobic base and capacity, we improve our oxidative energy system and the ability to utilize oxygen more efficiently and effectively. This translates to better recovery between reps, sets, and training sessions throughout the week. It also leads to a better overall sense of fatigue management (i.e. better able to handle grueling workouts).
Lastly, I tend to prioritize this because anaerobic conditioning is very similar to the weight training you're already doing in the first place. Think about these scenarios for a sec…
HIIT Conditioning – You exercise explosively (sprint, swings, assault bike, prowler, etc.) with a maximal or near maximal effort, for 10-30 seconds at a time. You then take a much longer rest interval than the work interval itself, so that you can fully recover and perform at the same intensity again. 
Resistance Training – You exercise intensely (squat, bench, deadlift, lunge, pulls, etc.) with a maximal or near maximal effort, for 5-15 reps (also 10-30 seconds) at a time. You then take a much longer rest interval than the work interval itself, so that you can fully recover and perform at the same intensity again. 
What's the difference here?
Explosively vs. Intensely
That's it. Which can actually be the same thing, I just use different verbiage because the goal isn't always to be explosive when lifting heavy weights (the intent might be, though, even though the bar velocity doesn't actually match your effort).
Now, does this mean we don't want to perform any anaerobic conditioning?
Not at all, because there is value in doing non-eccentric loaded anaerobic conditioning – things like the assault bike or prowler, for example. Great energy system developer, but much easier on the muscular and skeletal (joint) system than a set of heavy squats will be. You can also prioritize your intensity in a different form than overall load, too.
We also have to remember that the glycolytic system is tied to this and when we're doing glycolytic work, we're starting to bridge the gap between the anaerobic and aerobic system (making the unsustainable, somewhat sustainable). An interval in this category would look like a max effort 40 second bike sprint, followed by a 2-4 minute rest.
Clearly beyond aerobic and sustainable, but also far beyond a true anaerobic effort which may only last 7-15 seconds. This type of energy system work uses a lot of glucose and can be a great way to enhance an athlete's ability to handle lactate accumulation.
But not only the physiological gets trained, the psychological gets a huge benefit from this too. 
Have you ever WANTED to do a 40 second sprint on an assault or air bike….? DOUBT IT. Why is that? Because it sucks! Plain and simple. But being able to grind your way through that, mentally strengthens you.
Now, there are 2 ways to program this, depending on the split you choose. 
If you're running a 5-day split, you'll go with a full day for aerobic conditioning. The reason is simple; you have 5 full days of anaerobic training, with your strength days. Adding even more anaerobic work will be extremely taxing on your central nervous system and overall level of fatigue.
If you're running a 3 or 4-day split, you'll split it up pretty much evenly OR favor aerobic conditioning slightly. Examples would be 1 full day for aerobic conditioning and 1 full day for anaerobic conditioning, if you're running a 4-day split, or 2 aerobic and 1 anaerobic days if you're running a 3-day split.
Lastly, you need to have a VERY brief understanding of how to periodize this over time. So, I made you an infographic to break it down in the most simple form: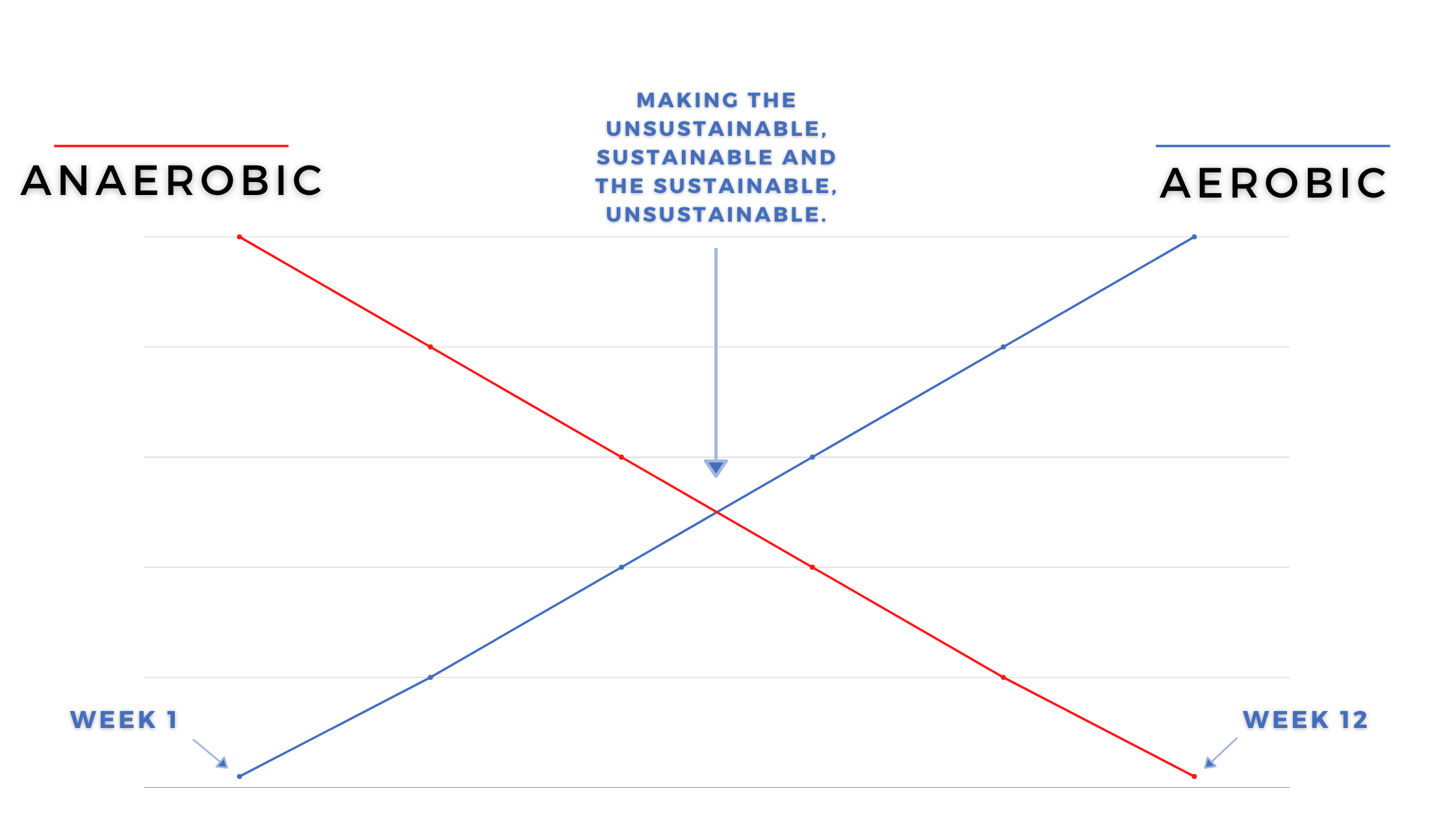 I'm using a 12 week block as an example, because that's a very good general timeline for a full periodization cycle. Beyond 12 weeks, you'd simply repeat this process by going back upwards on each end of the spectrum.
What we're doing here, though, is simple. We're making sustainable conditioning (aerobic/oxidative), unsustainable (anaerobic/glycolytic). Meanwhile, we're making the unsustainable conditioning (anaerobic/glycolytic), sustainable (aerobic/oxidative).
Example:
⇥ Session A, Week 1: 30 Min Assault Bike @ Sustainable Pace
⇥ Session B, Week 1: 10 Second Sprint @ Max Effort Pace, 120 Rounds
⇥ Session A, Week 2: 15 Min Assault Bike @ Sustainable Pace, 2 Rounds
⇥ Session B, Week 2: 12 Second Sprint @ Max Effort Pace, 18 Rounds
⇥ Session A, Week 3: 10 min Assault Bike @ Sustainable Pace, 3 Rounds
⇥ Session B, Week 3: 15 Second Sprint @ Max Effort Pace, 16 Rounds
⇥ Session A, Week 4: 7.5 min Assault Bike @ Sustainable Pace, 4 Rounds
⇥ Session B, Week 4: 20 Second Sprint @ Max Effort Pace, 14 Rounds
This is a sped up periodization scheme, but it paints the picture well. At times I prefer to have 2 weeks in a row at the same level of intensity/duration, because progressive adaptation has a bit longer than a single week to occur (ideal). So this would be an 8 week plan, in that case.
But what we're doing here is shortening the sustainable efforts, but increasing the rounds. In other words, lowering duration while increasing volume (sets, not total time) – therefore also increasing intensity and making it more anaerobic as the duration drops lower and lower.
For the anaerobic work, we're doing the same but in the reverse fashion. The duration gets longer, intensity lowers slightly, and volume decreases. We're literally bridging the gap between aerobic and anaerobic conditioning and by the end of the cycle, what was once 30 min of biking becomes 10 second sprints on that same bike.
SAMPLE PROGRAMS
Now, to conclude this program design article – I want to give you some literal program samples in order to a.) test this method out for yourself and b.) get a taste of what's included in our membership / inner circle – The Tailored Trainer.
So, CLICK HERE NOW and grab your FREE Performance Bodybuilding Sample Sessions (Full Week of Training)