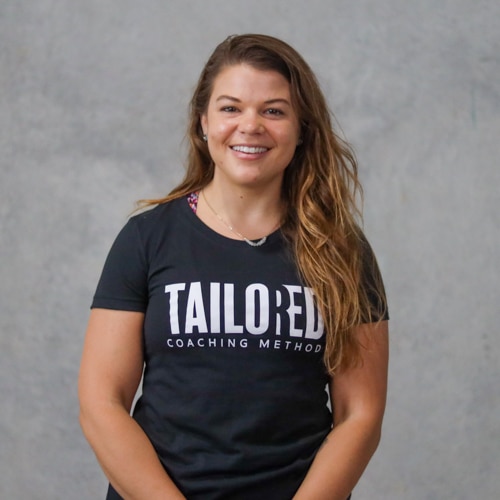 My name is Rose! Growing up people called me "Rosie". And now, you can call me whichever you like!
I'm originally from Tallahassee, Florida. Equal parts curious and athletic, I've always been driven by my love of learning and sports. I started dancing at just 3 years old. What started as a childhood hobby developed into a hopeful career. But, by my mid-late teens I began experiencing hormonal imbalances. At the time, not much was understood about PCOS and hypothyroidism. I struggled with weight gain, self-esteem, and feeling like I didn't belong in the aesthetics-driven performance and dance community. Instead of allowing my hormonal imbalances to completely discourage me I decided to explore them more deeply. I strayed from dance and found weight lifting and martial arts, where I felt my strength and body type were celebrated.
After graduating from Florida State University with degrees in Philosophy and Creative Writing I was inspired by my personal experience and interest in health and decided to change paths to pursue it at a professional and academic level. I became a personal trainer and strength and conditioning coach which allowed me to begin helping people on their journeys in health and fitness, and also assist in developing the Florida State boxing team.
After a year of investing in my career as a coach I decided to uproot, and move to San Diego. Southern California is known for having its finger on the pulse of martial arts, and healthy living. I began a Masters program in Exercise Physiology and Nutrition Sciences where I was able to experience academic lab work, and everything that goes into understanding the science behind health. Around this time I also found Brazilian Jiu Jitsu which fulfilled my need to be athletically challenged and competitive.
In 2015 I dedicated my time almost exclusively to training and competing in Brazilian Jiu Jitsu. Through the competition scene I witnessed athletes making drastic weight cuts in order to compete. I had always been competitive, and wanted to perform well in competition, but was uncomfortable cutting weight given my history with hormonal imbalances. Despite being a lifelong athlete I felt I never looked like the athlete that I was. This motivated me to commit to seeing me as my best self. I employed the help of Cody back when it was just him at Boom Boom Performance. With Cody's help I learned that I did not need to cut weight to be successful in competition, I learned how to fuel myself properly for performance, while simultaneously experiencing the leanest version of myself, and the strongest version of myself. With his help I have competed in four different weight classes, and have found success in all of them. Most recently, I was able to become a National Champion in my heaviest weight class, yet.
All of that is to say, I understand how to cut sustainably, how to lean bulk and gain strength when necessary. I have experienced the benefits of all phases of dieting, and I am excited to share my experience and knowledge to help others achieve their goals, and create the body and lifestyle they have always wanted.
For me, Nutrition Coaching is about so much more than food. It's about freeing yourself from the limiting beliefs about what you are capable of and what is possible. It's about realizing your true potential to enjoy life and create the lifestyle you want. Getting a coach was the best decision I ever made, and I am honored to be able to give back.